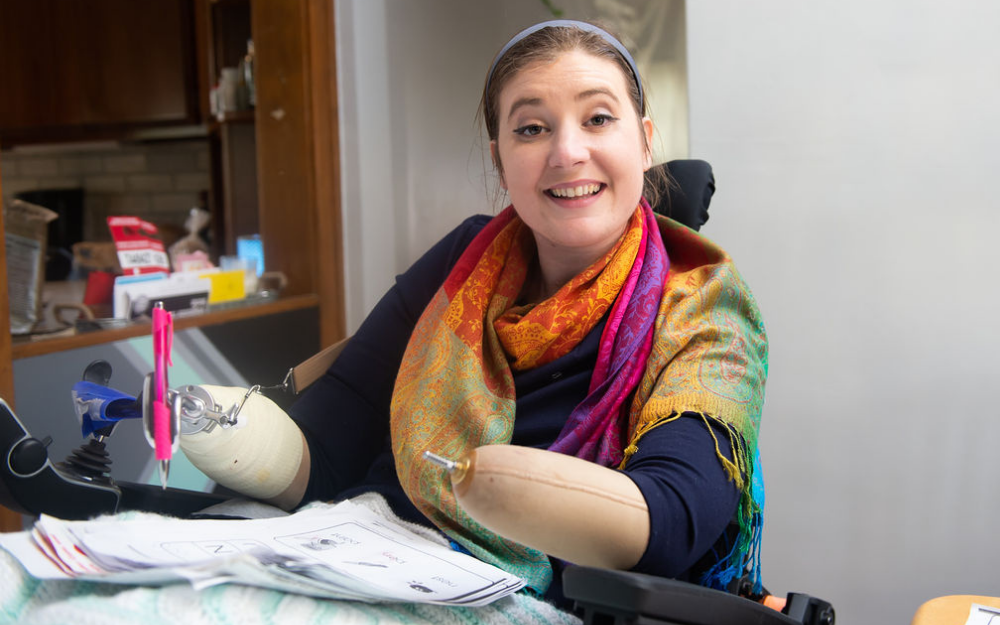 A Salam Elementary School Kindergarten teacher contracted a dangerous virus last February. It radically changed her life.
Samantha Tadych, 29, was living her best life. She loved her job as a kindergarten teacher at Salam Elementary School, and students and staff returned the favor. She and her longtime boyfriend, Sam Duneman, had bought a three-bedroom bungalow in Wauwatosa with the future in mind. Tadych was a fit and healthy young woman who loved to travel. On both Monday, February 10 and Wednesday, February 12, she went for a three-mile run.
It may be a long time before Tadych is able to run again.
On Friday, Valentine's Day, Tadych wasn't feeling well enough to go on a date with her boyfriend. She had told her principal, Khawla Asmar, that she would be taking the day off to go to the doctor. On February 14, she went to Urgent Care and was given Tamiflu and an inhaler.
By Sunday, Tadych's breathing problems had become more acute. Duneman took her to the emergency room at Froedert Hospital. She was completely exhausted and had trouble standing up. "They took her back right away," Duneman says. "At that point, I had no idea what was going on."
Tadych was experiencing the failure of all her major organs – heart, lungs, kidneys. When Duneman found out what was happening, his reaction, he said, was "complete disbelief."
Tadych herself remembers little of what immediately followed. "I woke up in the ICU," she says, after ten days "that I wasn't aware of."
Arriving in the hospital, she was immediately intubated, she said, "in such a hurry that I had paralyzed vocal cords" and placed on two machines, an Impella Device to assist the heart, and an ECMO life-support machine for use "during life-threatening conditions such as severe lung damage from infection."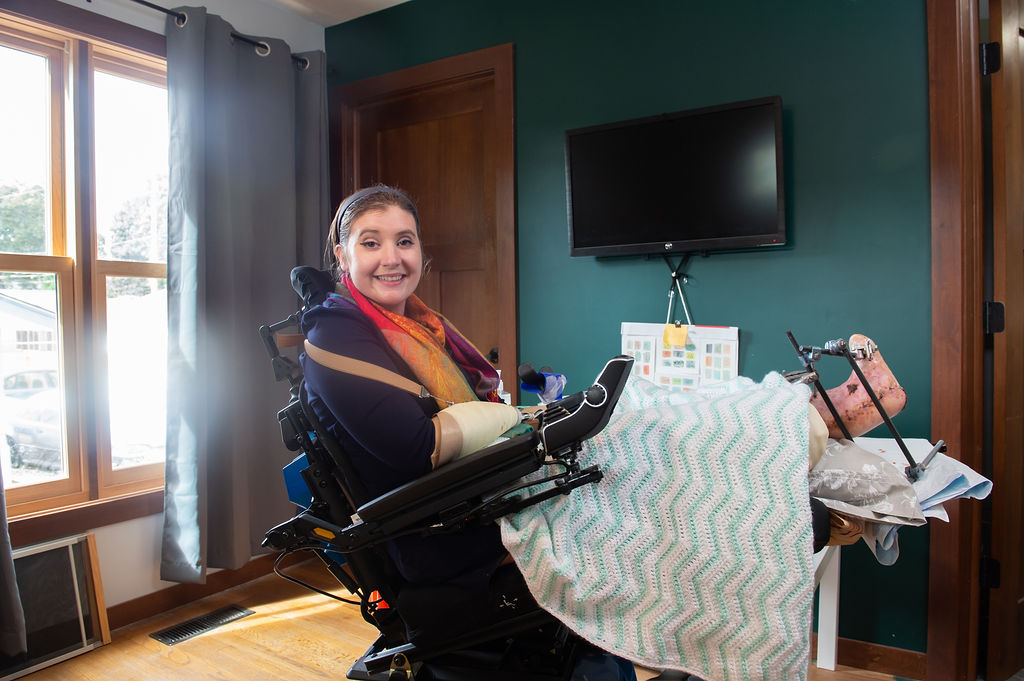 When her parents called the hospital, a doctor answered the phone in Samantha's room and told them, "She's in grave condition." Samantha's mother Jackie thought, "That doesn't make sense."
Samantha said that her doctors were "trying their best to fix things the least invasive way, but it didn't work. They had to leave [my chest] open for two days because I was bleeding too much."
At first, family members were able to visit Samantha in the ICU. "The doctors would look at the machines and talk among themselves," Jackie Tadych said. "Then they would do a head to toe" – explaining how each part of her body was functioning, brain, heart, kidneys. "You're longing, begging for whatever of God. Samantha was the good one, who rarely drinks, is into healthy eating, is nice to everybody."
When Tadych regained consciousness, very thirsty, and still intubated, she had just awoken from a dream in which she had rubber bands wrapped around her hands and feet. When she examined herself, she saw that "my hands and feet looked quite different, like they were mummified. They were black."
Tadych became so severely ill because her flu had developed into pneumonia. "There was strep in my bloodstream, and it turned my blood septic," she said. Samantha Tadych had gangrene in her extremities.
In and out of delirium, Samantha said that "at first I didn't understand what was happening." She saw her caregivers as "these magical people" who would "do anything to save this chick," and asked one of her nurses, "What medicine will fix this?" The nurse responded, "Oh, sweetie, we're going to have to take them. You're not going to have them anymore." At the time, Tadych said she thought, "Just take them. They're so ugly."
The surgery to remove her hands took place in April. Samantha had spent her 29th birthday, March 18, in the hospital. That was the same week the statewide coronavirus lockdown order was issued by Governor Evers. After that, her family was unable to visit her in person. But her sister bought her an Echo Show so they could make video calls. Her first hospital stay lasted until May 16. In July, right after her grandfather passed away, Tadych went back to Froedert for a surgery to amputate her right leg. A day later, she underwent an eight-hour surgery to save her left leg. She retains her left leg for now, after tissue and skin grafts to rebuild it. "I'll always look like a burn victim down there," she said matter-of-factly. "My right leg is Peggy," she said, "My left leg's Frank," short for "Frankenstein."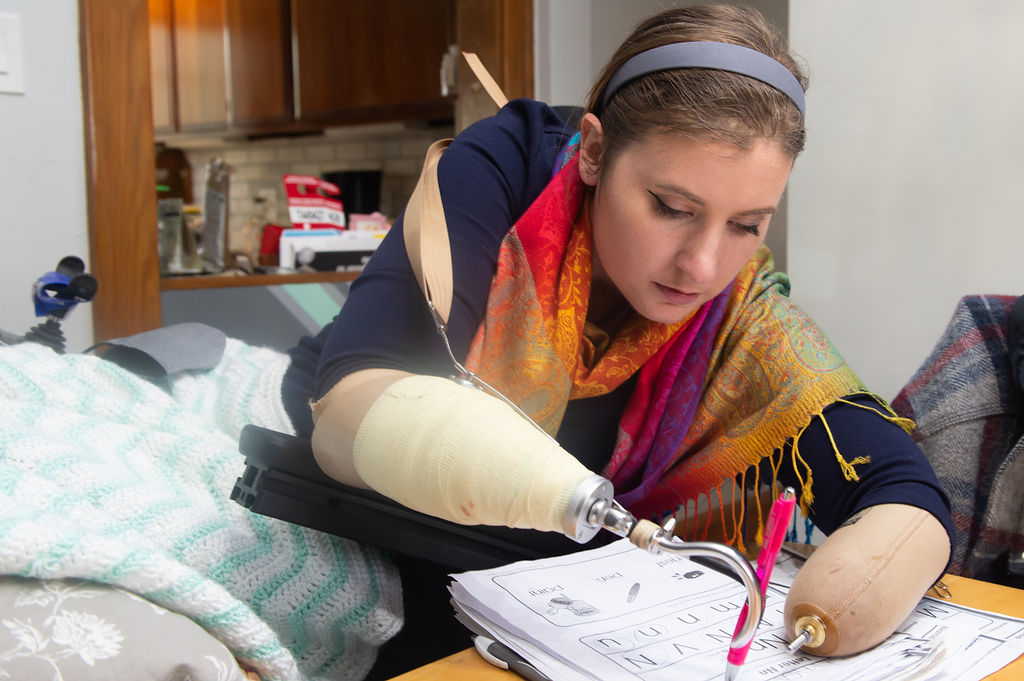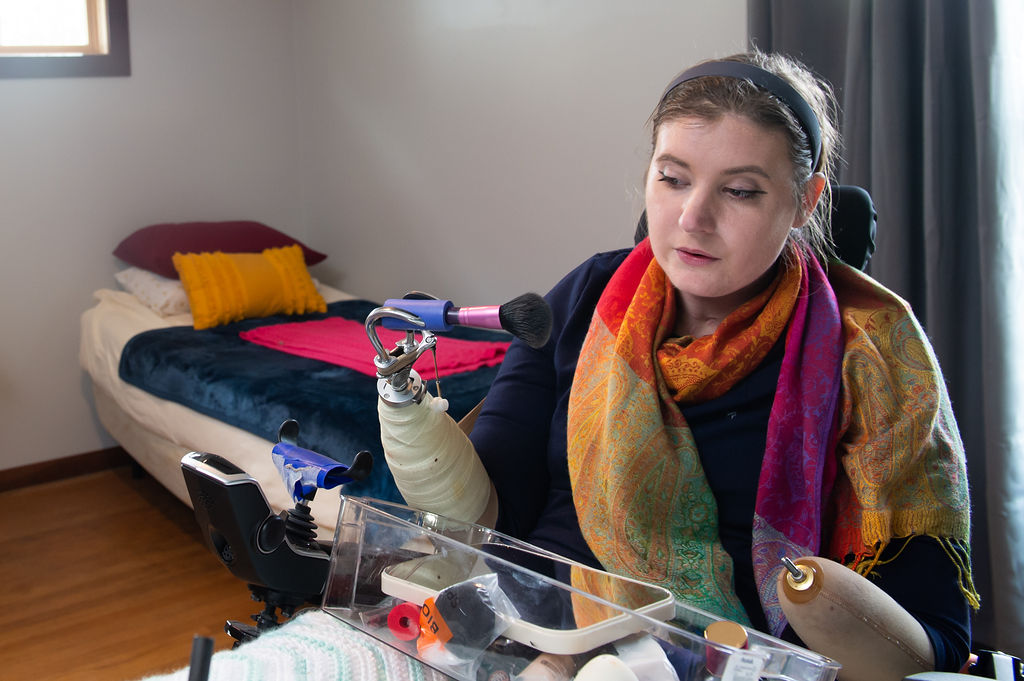 Tadych praises the Froedert staff, who, she says, "were just amazing. The nurses in ICU would wash and braid my hair. I made a TikTok video with my CNAs. They made sure you still feel human."
Once, during a procedure, a tech played "The Sounds of Silence," by Simon and Garfunkel. When Tadych found herself crying, "he wiped away my tear."
Samantha has been home since September, in a newly remodeled house with a brand new platform cutting across the front built by Duneman and her father, Dave Tadych. She moves around by herself on a powered mobility device. Her parents, her 33-year-old sister, Danielle, and her boyfriend are her caregivers. Of her boyfriend, she says, "He's not scared of me. He built me a ramp and an ADA bathroom identical to rehab."
She tells people, "This is the new normal, so don't hate on it." It is very likely that Samantha will walk and even run again. But she is less concerned with getting high-tech prosthetic legs than arms. "I'm not trying to minimize the struggle of people who've lost their legs. I just want to hold a cup of coffee in my hand and bring it to my mouth. Or go get a cup of coffee and drive to work."
Someday, Tadych hopes to go back to teaching. "I think it would be good for children to be around me, awareness-wise, that I had to learn differently too." Asmar, the Salam Elementary School principal, says Samantha's illness "broke our hearts. She's a beautiful soul. We never had a problem with her in this building."
The regard Salam Elementary had for her "was mutual," says Tadych, who was in her fourth year of teaching there and misses her job. "I loved it. I would have all these babies from all over the world. And it's just a beautiful culture in itself."
Children are still important to her. Her two-year-old niece now blows her Aunt Samantha kisses with her fist, and now that she has her body-powered prosthetic that ends in a stainless steel hook, "My nephew thinks I'm cool again," Tadych said.
For now, she says she loves being home. She can make phone calls with a stylus and use an iPad. She's able to drink water and eat regular food again, instead of tube feedings, water boluses, and mush. And when the time comes, advances in prosthetics will give her the ability to perform a wide range of tasks. Custom silicon prosthetics available today are designed to look like human hands.
Her surgeons, "did nerve moving to the [skin] surface. When it's time to get biomechanical arms, I'll be ready." As far as her legs are concerned, "a running blade would be great." For now, Tadych is opting out of further surgery. "I don't want to go under again," she says. "I have really great teams that work with me," she says. But she acknowledges that "recovery takes a while."
In the meantime, she looks forward to being a bridesmaid at her sister's wedding a year from now. "My goal is to walk down the aisle," she says. Duneman says he believes Samanatha is "doing awesome. She's very upbeat and happy."
"Emotionally, I try not to go to the scary place," Tadych says. "Once I'm ready to be independent, I can't imagine how scary that's going to be." But, she adds, "Insha'allah (God willing,) it won't be forever."