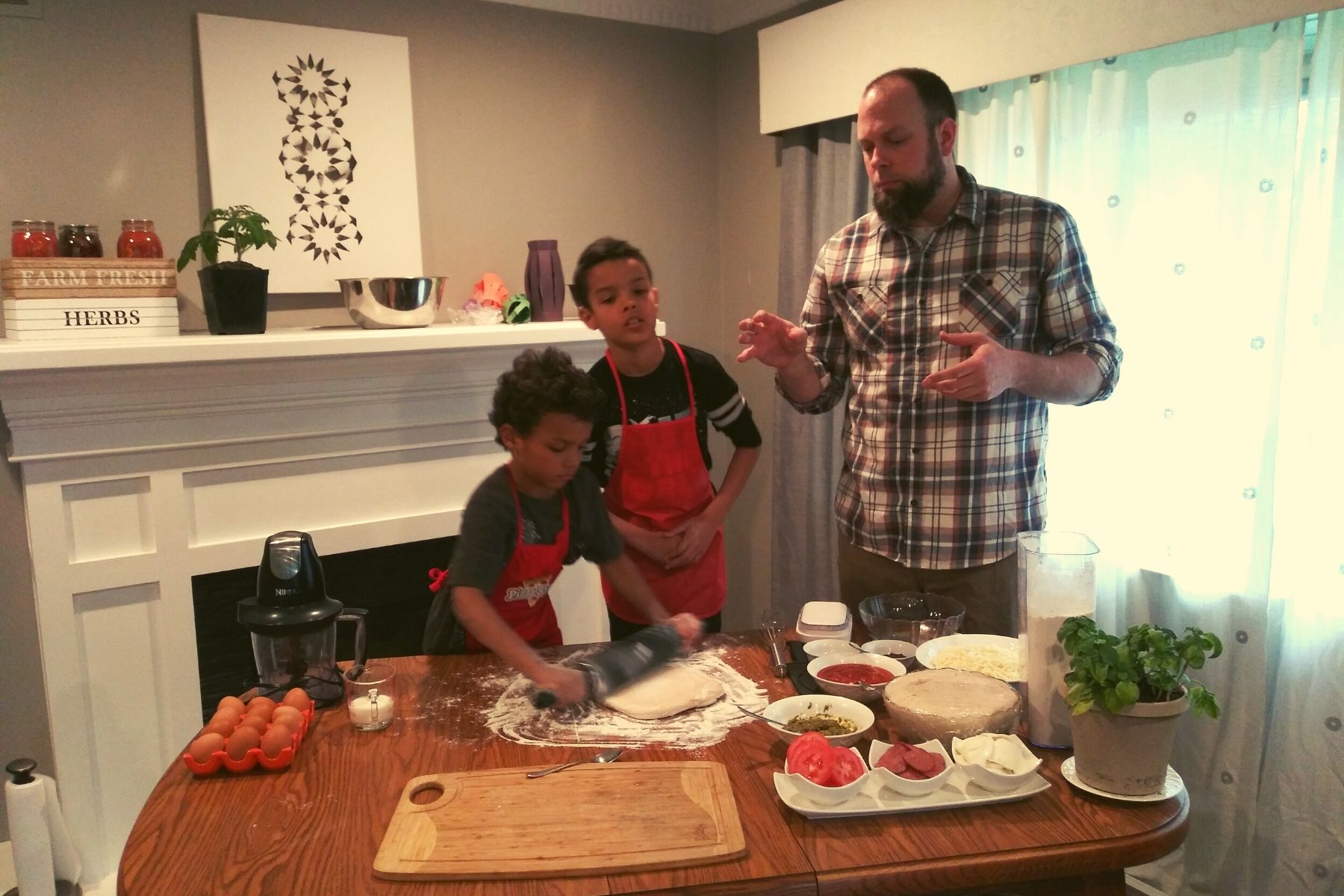 Josiah Roell with sons Ayyub and Adam
After a long spring day of fasting during Ramadan, Wisconsin Muslims adhere to a carefully prescribed ritual for breaking their fast before iftar. "The prophetic way of breaking the fast is with dates and water," said Imam Noman Hussain of ISM West. "Prophetic," said the Imam, "refers to something the Prophet (PBUH) did and encouraged."
The dates and water are preceded by "a short prayer, so we use the last couple minutes" of the fast "in supplicating." After the dates and water, we have the fourth prayer of the day, the sunset or maghrib prayer. After that prayer, people sit down and have dinner," Imam Hussain said.
These ritual observances are unchanging. What has changed this year is that many people have more time to cook while sheltering at home to deter the spread of coronavirus.
Jenan "Jennifer" Heaton-Jassar, owner of the Jennifer @Hair Therapy 132 salon has been posting pictures of her mouth-watering food on Facebook. "Usually at Ramadan, everybody has invitations and guests and feasts, but now it's just the immediate family," she said. But that hasn't dampened her enjoyment of the process. "Cooking really is a labor of love," she said. "Your energy goes into that food. If you're happy when you're making it, that food is going to come out amazing."
Heaton-Jassar describes her cooking as "Palestinian/Jordanian style." Among the dishes she has been making is qatayif – an Arabic dumpling made with yeasted pancake batter. The fillings include ground walnuts, sometimes with raisins depending on family tradition, or cheese from the Palestinian city of Nablus on the West Bank.
Qatayif is a sweet treat served after dinner with coffee. The dumplings are fried until golden brown, then dipped in sugar syrup and served hot.
For the main course, Heaton-Jassar may prepare sambusak, a fried pastry filled with either meat, cheese, or a spicy vegetable mixture. "What you put inside comes down to your own family tradition and the region," she said. She makes the dough for sambusak herself, though during busier times, she might use store-bought wraps folded into triangles, which she said is the "easy, cheating way."
Heaton-Jassar's family likes a version of sambusak with potato, feta cheese, and green onion, but "that's my thing, not an Arabic thing," she said. The potato "helps absorb some of the water so you don't have oil spattering."
Rahena Azid, a member of the Rohingya community who came to Milwaukee from Malaysia, is sheltering at home with her family of three adults and two children. She likes to make chanabut, a traditional Rohingya dish made with black chickpeas, or siyaju made with yellow split peas. "Every house has it," she said, "maybe 98 percent [of] Rohingya have these dishes."
But the Malaysian influence is also evident in a chicken and rice dish called "naisiayam." Azid said, "Most of us mix [cuisines]. We like Malaysian food, Thai food. Indian food too."
Alicia Razvi, the owner-operator of Wooly Thyme Micro Farm in Stevens Point, told WMJ she and her family were "making haleem tonight." Haleem is a Persian dish handed down from her husband Shabbar's Iranian grandmother. "It's a lamb, lentil, rice-porridge dish that we serve with caramelized onions and homemade yogurt."
Razvi said her daughter Aaliyah "served us some vegetarian dishes as part of a science assignment at school" that included "orange cauliflower (like orange chicken from Panda Express) and black bean and quinoa pizza burgers [with] brownies for dessert. Our meals alternate between many different ethnic entrees but mainly focus on Indian and American faire."
Families with children, especially those who are fasting for the first time, often combine American dishes with more traditional food. Imam Hussain said he has "very young kids, [but they] insisted on fasting, so we ask them, 'What do you want to have tonight?' Which might be chicken nuggets or pizza." The day we spoke, iftar was going to consist of grilled chicken.
Iman Ahmed with her mother
A member of the Somali community, Iman Ahmed said she keeps her cooking "really simple." She makes a traditional Somali dish called sambusi, a dumpling stuffed with ground beef, and shredded carrots and then fried. Her family also likes malawah, which is similar to a crepe. "We add a little bit of sugar, and the sugar melts. The kids like it."
Ahmed also serves suqaar, a Somali beef stew spiced with cumin that contains red bell peppers, green peppers, potatoes, carrots, and thinly chopped onions. She buys halal meats at a Somali-owned grocery, Garden of Eden on Mitchell Street, but says there are "actually lots of halal stores throughout Milwaukee."
Ahmed, an elementary-school teacher at Guidance Academy, an Islamic school in South Milwaukee, is sheltering at home with her husband and three boys. "I'm in an interracial marriage," she said. "He's German-American and I'm Somali-Canadian," so the family brings all those cultures to the table, Somali, Canadian, German, and American.
While sheltering at home, her husband and sons hosted a four-part cooking show online. On one episode, they made a sourdough flatbread or pancake called "anjelo" or "anjero" depending on what part of Somalia you're from, she said.
"I'm about 95 percent vegetarian, so we tend to get a lot of our food from our backyard garden," said Ahmed, who also raises her own chickens. Ahmed likes to emphasize healthy choices in her cooking. "We tend to eat what we grow," she said. "But I don't want my kids to miss out on how I grew up," so at the start of Ramadan, she served traditional Somali food.
Whatever the cuisine, this unusual year has not prevented Wisconsin Muslims from joining their brothers and sisters around the globe in observing Ramadan.