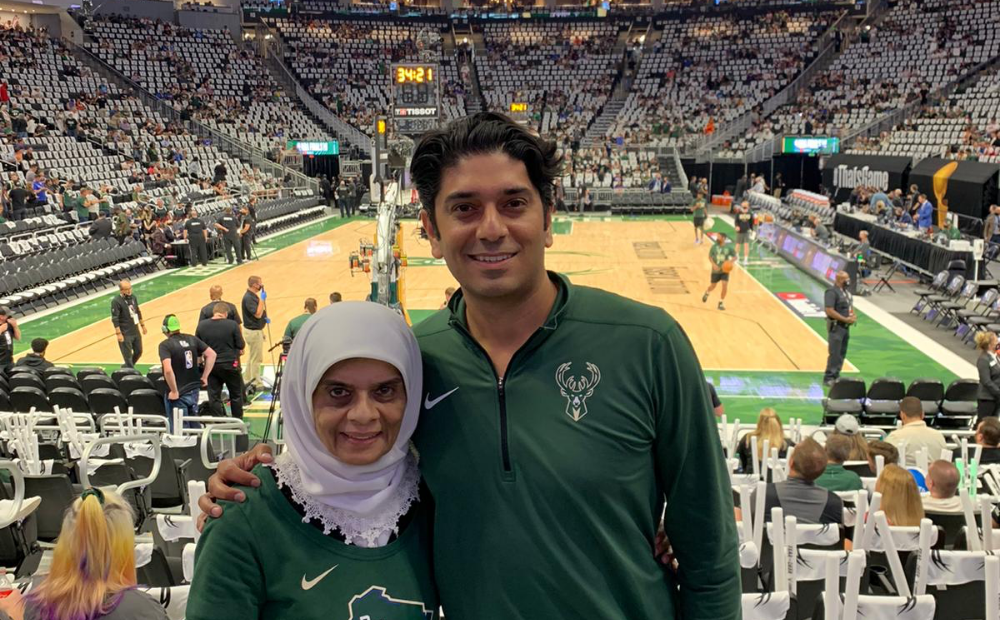 Naheed Arshad and her son Kasim are diehard Bucks fans.
With the Milwaukee Bucks in the NBA Finals for the first time in nearly half a century, fans in Milwaukee's Muslim community hope to celebrate a Bucks-in-6 NBA championship on Eid al-Adha, winning the title at home. 
The Bucks won the NBA championship once, in 1971 in four straight games, when superstar Kareem Abdul-Jabbar played center.
A win tomorrow in Game 4 of the 2021 NBA Finals will bring the Bucks to a tie with the Phoenix Suns. They are trailing 2-1 in the best-of-seven series. Game 5 is in Phoenix on Saturday and Game 6 in Milwaukee on Tuesday.
"If the Bucks win on Wednesday, there will be Game 6 in Milwaukee on the Eid, so I just cancelled everything, all our plans," said Naheed Arshad of Mequon.  
Arshad usually joins family and friends for Eid dinner at Rodizio Grill Brazilian Steakhouse in Milwaukee where they prepare the meat according to Muslim dietary rules especially for this occasion. But when the Bucks won Game 3, she called her friend, Orusa Mozaffar Hassan of Brookfield.
"What do you think?"
They both agreed. "This is so historic," said Arshad. "As a fan, you have to be confident that there's going to be a Game 6. We've got our tickets. We'll go to prayer and do everything, but we cancelled the dinner." 
Orusa's husband, Mushir Hassan said they too are hopeful. "If we (the Bucks) can figure out a way to defend their guards and hit our shots, we can do it. Giannis (Antetokoumpo) has been a super hero. We need Khris (Middleton) and Jrue (Holiday) to step up again and be a force. 
"We plan to be watching from home," he added, "although our eldest daughter is asking to go to downtown to the Deer District with friends. I think it is important to experience this moment."
And they aren't the only ones.
Jafar Amin of Milwaukee said he is holding his breath. "I'm expecting the best but always prepared for the worst," he said. He is no fair-weather fan; he has been there for the Bucks "through all the highs and lows," never missing a game, even when it has meant watching them at 4 a.m. in Kuwait or South Africa.
Ameen Atta of Milwaukee plans to be in the Deer District where more than 20,000 fans gather outside the Fiserv Arena and watch the Bucks on big screens. The second-year student at the Qalam Institute, an Islamic Seminary in Dallas, Texas, has been able to spend this playoff run at home and in the Deer District. "It's among the craziest experiences I have ever had," he said.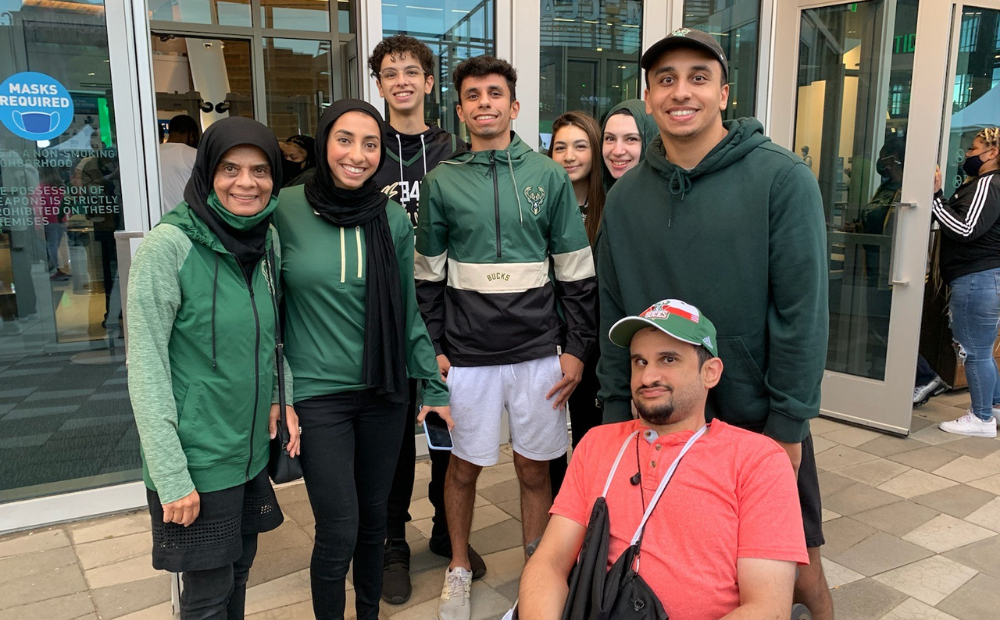 Naheed Arshad, Ameen Atta (back row in glasses) with siblings and cousins outside Fiserv Forum
Becoming a fan
When Arshad grew up in London, England, she played netball, the English version of basketball, in her high school. "I was always into sports – the tennis team, the field hockey team, the netball team." 
When she came to the United States in 1981, she started watching collegiate basketball. Then Michael Jordan was drafted by the Chicago Bulls in 1984 and dominated the professional game for more than a decade. "He made everything look so easy," she said. Upon moving to Milwaukee in 1986, Arshad started following the Bucks.
In 2001, her son was graduating from high school during the Eastern Conference semi-finals. "We were on the bleachers at the University School of Milwaukee graduation and this was pre-cell phone days. Someone down the bleacher had a radio and we were passing the score down the row," she recalled. The Arshads dashed in and out of the reception, and rushed home to turn on the TV to see the Bucks lose by one point in Game 5, she said. "We missed on a single shot. For the rest of the summer, I had that vision in my head. If only we got that layup!"
Orusa Hassan of Brookfield lived in Chicago and was 14 when Michael Jordan came on the scene. "I got into basketball," she recalled. "I loved the Chicago Bulls." 
Her husband, Mushir Hassan, grew up in New York as a Knicks fan. "I was always a basketball fan and knew all about the legendary Bucks team of 1971, which went 66-16 in the regular season before winning the NBA championship.
"I decided, 'When I get older, I was going to get season tickets,'" Mushir said. "I'm fortunate we've had season tickets for 10 years."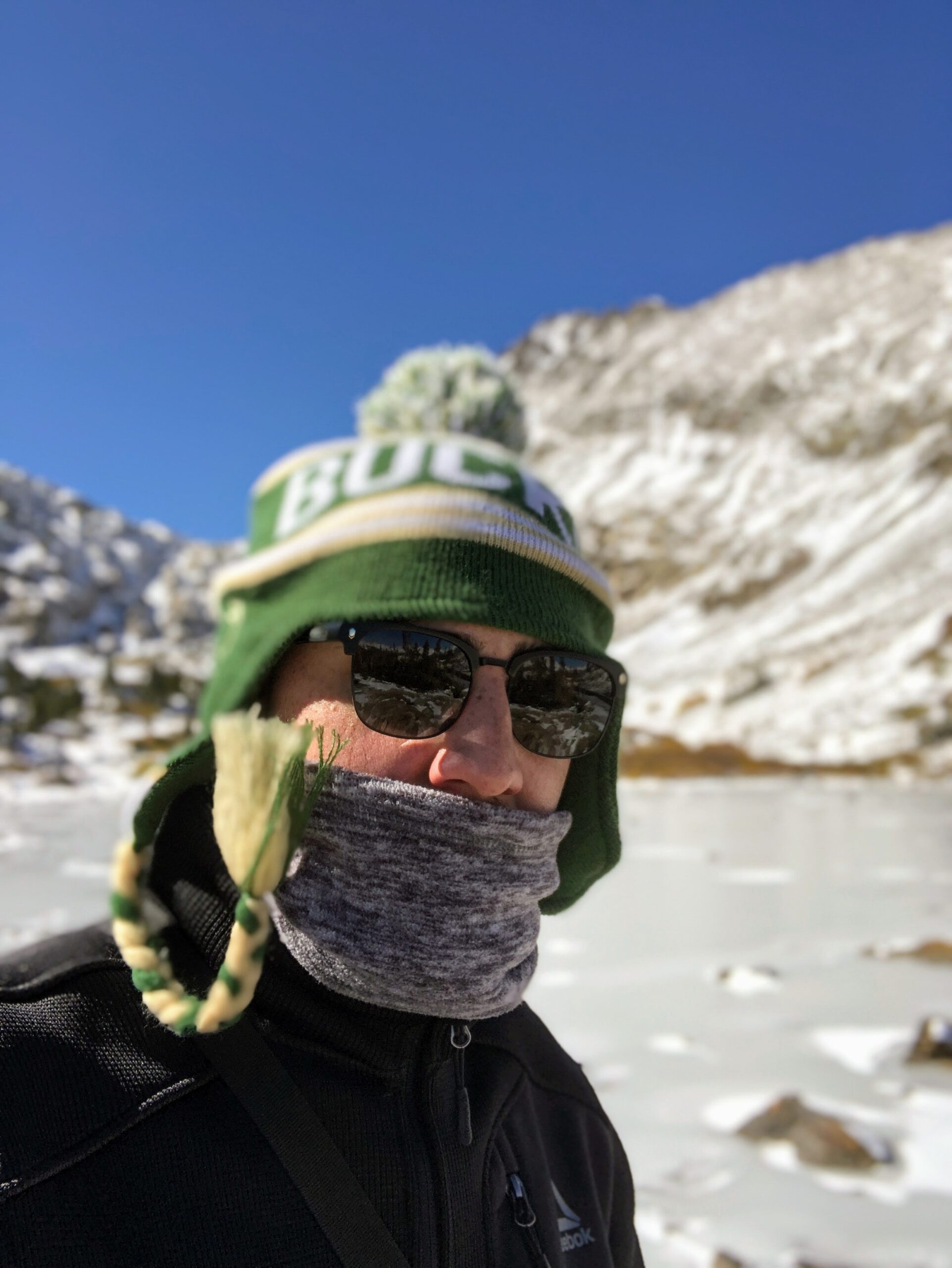 Jafar Amin of Milwaukee became a committed fan the years the Bucks drafted Giannis (2013) and Jabari Parker (2014), he said. He likes the Bucks because they are about hard work, not glitz and glamour.
"Wisconsin teams – the Brewers, the Packers and the Bucks – all have that same aura of misfits who get together and make magic happen," he said. "They are not the L.A. Lakers, who buy every single player they need. The Bucks took Khris Middleton, as an afterthought, a Round 2-pick, a filler. Jrue Holiday, was a non-perennial All-Star, known in the league as a professional, a worker, no glitz. And Giannis was a street salesman in Greece. 
"Anyone who started watching the Bucks when I did can see it as a testament to Wisconsin, that hard work eventually pays off. They look for success in the long term and put in the work. Now we are enjoying the fruits of their labor.
"We practiced the same ideology when I was a soccer coach at Salam School – always shoot for the top but work hard. Make sure it happens in reality.
"With the Bucks, I count my blessings," said Amin. "Before this year, just to make it to the playoffs and to be in headlines was more than you could ask."
Likewise, Ameen Atta started following the Bucks when Giannis was drafted. "I was in 5th or 6th grade. We didn't know if he was going to be good or not. He was an interesting pick, obviously straight from Greece and completely new to the U.S. He has grown in the U.S. He progressed. The team progressed. Now he is a great player on a great team."
Atta said becoming an ardent fan "has been a wild ride. I watch all the games. I am very active on social media, posting about the Bucks. They are all I talk about.
"I would go to all the meet-and-greets they did since I was in middle school. Before I could drive, I would tell my mom and have her drive me down there to a Pick n' Save. One of the best athletes in the world and when I was in middle school, there was just a small crowd at a grocery store. Back in 2013, I think they won 13-15 games all year."
Atta follows the Bucks consistently. "I try to catch a few games in person every year. Most are during the school year and they have games every two or three days, so I am watching on my laptop or pull it up on my phone. "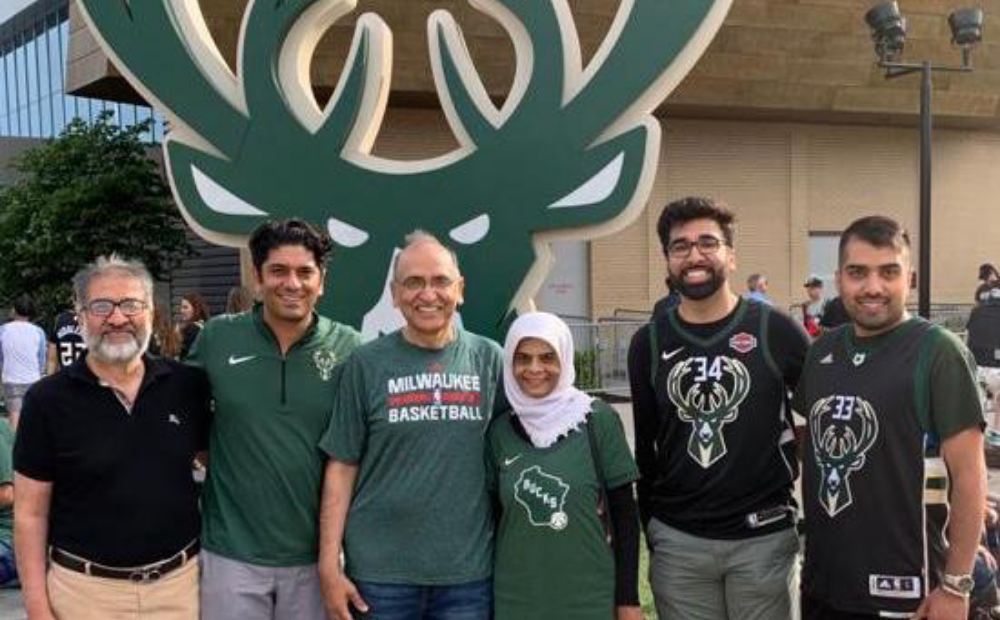 The Arshads at a recent Bucks' game.
The thrill of the game
Arshad has been a season ticket holder for three years. "I'm the most senior in our group, the most diehard. I'm right up there. And the only auntie. My daughter and son are also really into it." 
She also bought a set of $10 tickets to watch away games in the arena on the big screen. 
"We are so exhausted after the games," she added. "We've had an early dinner and then gone straight to the game. I've been on my feet cheering the whole time. And we are so into the game, upset when we are losing, thrilled when we are winning. When I think we might lose, I feel so upset. 
"I'm there with my Bucks. I've got my scarf on. It's great to be at the arena where that's what brings us all together. We have one thing in common. 
"Even within the family, it makes us so connected to young people. I share season tickets with my nephew."
The Hassan family buys 10 pairs of season tickets and most games are a father-daughter outing "We let them pick the games they want to attend," his wife Orusa said. "It is a nice bonding time for the girls."
The Hassan girls have grown into big fans. "They know how to analyze a game," Mushir said.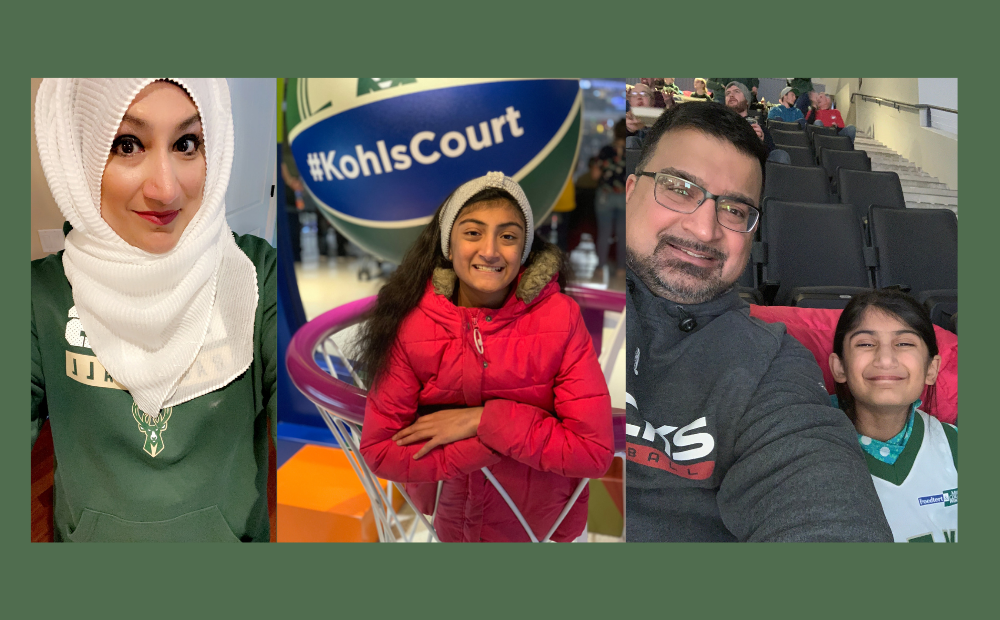 The Hassans are confident the Bucks will win.