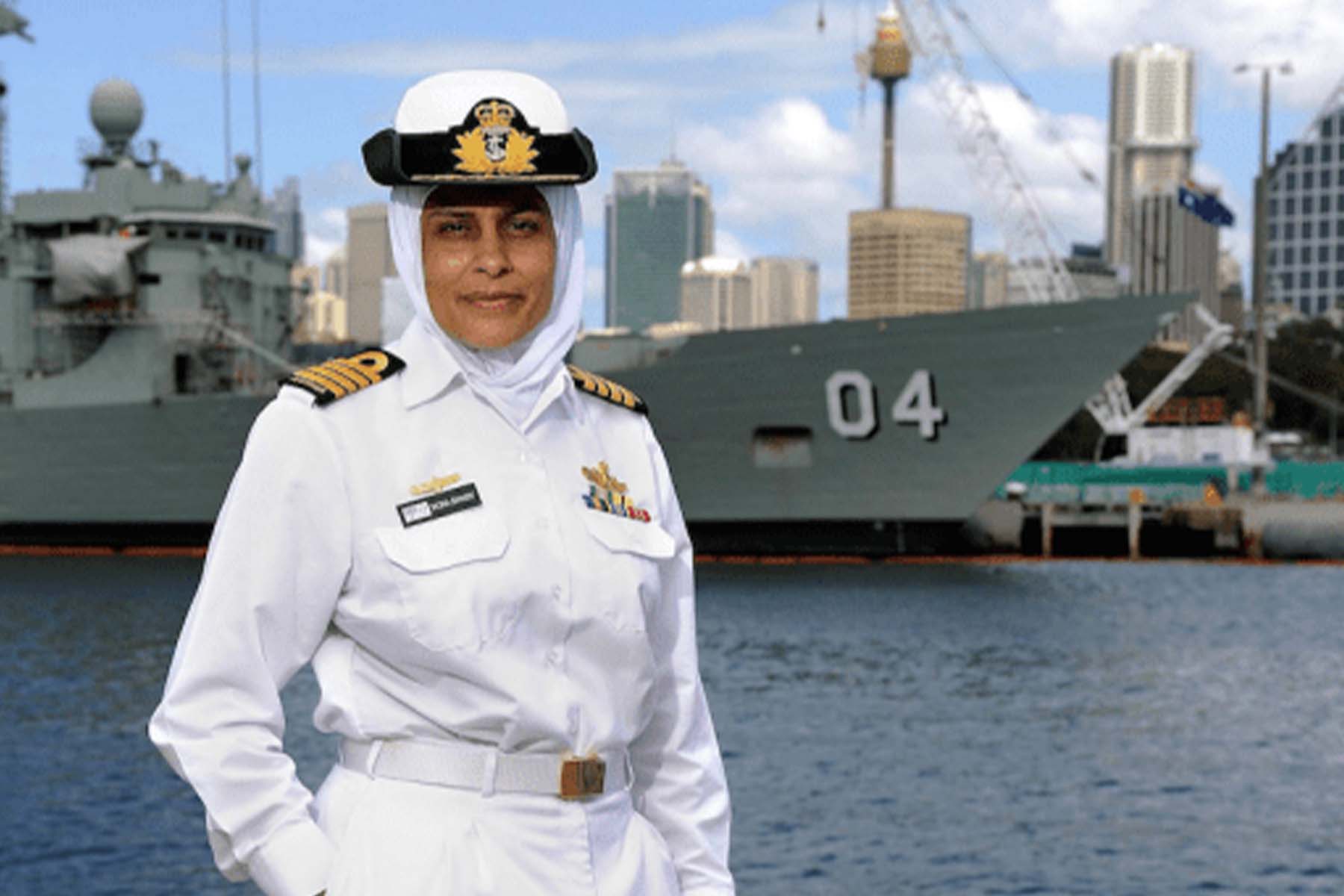 You know what we love more than sharing about women who break barriers? Women who break barriers and shatter expectations along the way. That is precisely what we thought of when hearing the story of Captain Mona Shindy, who is the Australian Navy's first Hijab-wearing Muslim captain. Oh but her accolades don't just end there. She is a Navy Weapons Electrical Engineer and the Chief of Navy's Strategic Adviser on Islamic Cultural Affairs.
Her journey to making history in the Australian military was a long road, but well worth it as she is now representative of the increasingly-diverse Australian population as well as part of a generation of women breaking the mold that their mothers and grandmothers weren't able to do.
As a 3 year old girl Mona migrated from Egypt to Australia with her family and settled in the beach suburb of Maroubra, in Sydney. Her father sadly passed away when she was only 14, so Mona got to see her mom raise 4 children on her own.
"She is a strong lady and she gave us the right steer, looked after us and got us through university. It wasn't easy because we had no other family in Australia and we were quite isolated," she told Viralwomen.com.
That situation made her focus on her studies and allow her to achieve the success she has today. Mona now has 3 children of her own, and has been in the Navy for 26 years after following in her older brother's steps.
Along with her aforementioned roles as well as being the Director of Littoral Warfare and Maritime Support for the Royal Australian Navy, Mona says her job as the Strategic Adviser on Islamic Cultural Affairs is an important one especially when it comes to communication and cooperation with Muslim allies.
"It is about bridging the understanding gap between the various communities. I am surprised when I brief my colleagues at how much they enjoy learning about Islam," she said.
While her role is certainly vital to the changing and ever-diversifying world, Mona says she has experienced negativity toward her for her faith. At a time in our history when we turn on the news and see horrific stories about terrorism happening all over the world, it can be tough for Muslim men and women to stand up for their faith when it has been hijacked by a small minority who seek to use religion as a weapon for warfare. It is important to hear more powerful voices like Mona's in the world who can be effective in dismantling stereotypes and preconceived notions about what a Muslim woman looks like.
In an interview with the Canberra Times, Mona talks about how she has dealt with negativity specifically directed at her. She was featured in an article on another major Australian newspaper and one of the comments underneath came from a person who called her "filth".
"That's reality, that's what's out there. You've got to live with it in the perspective that Muslim people in Australia have lived with varying degrees of comments over the years," Mona told David Ellery at the Canberra Times.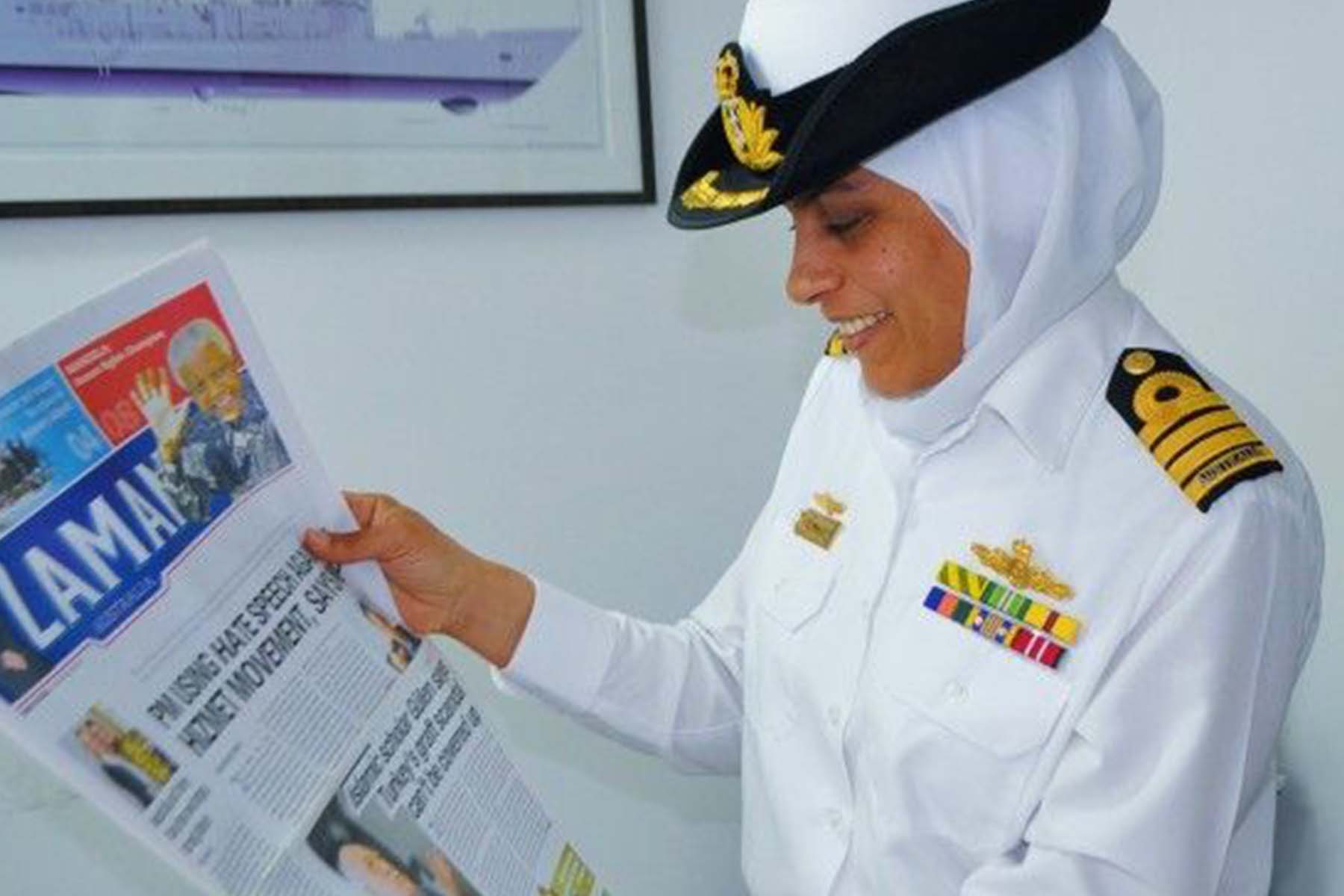 "Maybe when I was younger those things might bite a little bit and hurt. As I've become more philosophical about the issues in the world today I find myself reflecting on why it is people are making those comments," she added.
After close to 3 decades in the military, there's no doubt she would have seen her fare share of difficult situations, making her a tough and formidable woman!
She spoke in detail about how education, not anger, is the answer to breaking down the dominant narrative surrounding Muslims today in the West. Like many Muslims who are raising their voices to condemn any terrorist attacks done in the name of Islam, Mona calls them "abhorrent" and "evil", but says it is the moderate Muslim community who are affected the most.
"The ramifications that are there for people of the Islamic faith from the actions of these groups are even more significant than they are for non-Muslim. It is Muslims that are on the ground fighting with their lives against these groups; it is Muslims that are fleeing from the activities of these groups, it is Muslims who are investing time and effort into protecting their children against the lure of these groups," she said.
Muslim women in the Australian Navy have only been allowed to wear the Hijab since 2013, when the Vice chief of defence force, Vice Admiral Ray Griggs, who also appointed Captain Shindy as the cultural adviser, recognized the need for diversity and inclusiveness.
"I got a lot of flak, and I still get a lot of flak, from people who don't agree with this view. Not only do we get more diverse views and better decision making but the available talent from which we can draw is bigger than it otherwise would be," he said.
Mona's presence in the military has clearly made a huge difference and impacted many, as she was named the 2015 Telstra Business Woman Of The Year, an accolade which celebrates the most ground-breaking and accomplished women in Australia annually. In a post-ceremony interview with Martine Harte from Engagingwomen.com.au, Mona says the attitudes of hate toward Muslims in general has not made her shrink back in fear from her public role, in fact it has made her speak all the louder.
"This current reality makes me even more determined to work for a world where we don't look at things like religion, gender or any form of difference for that matter," she said.
In a statement about the significance of her award, Mona had this to say: "As a senior military officer and engineer, project director and business leader, being successful as a female has always just been one piece of the puzzle. Effecting necessary change, in business practice or community attitudes, requires strong leadership by example."
It is a great reminder to all of us that we can lead by example in our lives and change the world for the better.