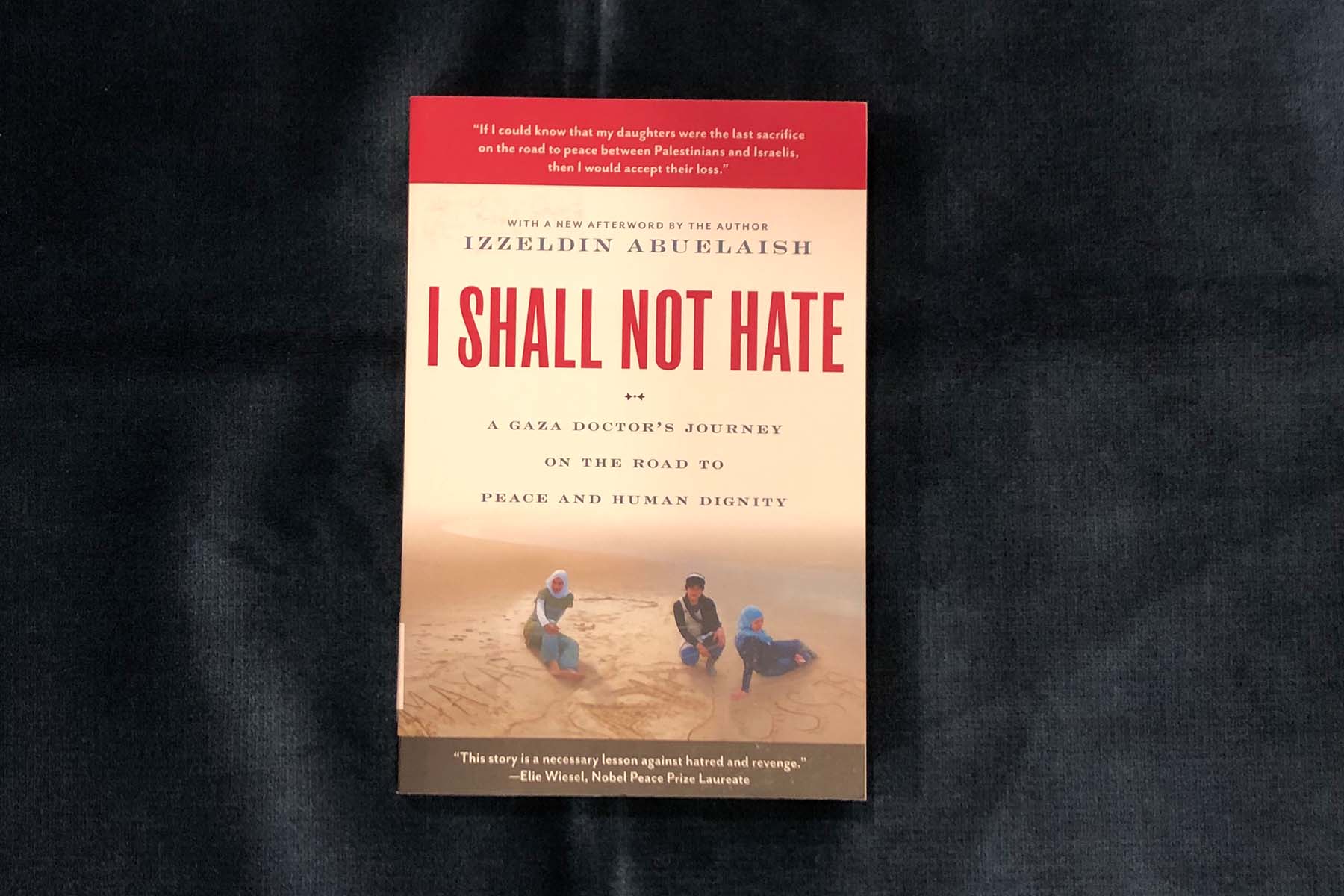 Elise Bellin, Librarian of the Islamic Resource Center, wrote this book review as part of an ongoing series that focuses on a range of books within the IRC collection as a service to the community.
I Shall Not Hate: A Gaza Doctor's Journey on the Road to Peace and Human Dignity
I Shall Not Hate: A Gaza Doctor's Journey on the Road to Peace and Human Dignity by Izzeldin Abuelaish
ISBN: 9780802779496 (2012)
Izzeldin Abuelaish has seen a lot. Born in 1955 in the Jabalia refugee camp following his parents' expulsion from their ancestral farm in 1948 by the creation of Israel, Abuelaish worked hard to bring his family out of poverty and support his entire extended family. He became the first Palestinian doctor to work in both Gaza and Israel and would go on to use that successful practice and his position as a trailblazer to advocate for peaceful Palestinian-Israeli interactions and to humanize each for the other. He has fought long and hard towards the idea that neither side would be able to forgive or accept the other without allowing ordinary people on both sides to participate in regular human interactions.
When Israel invaded Gaza in 2009, the test of his devotion to this principle came at the cost of several family members. When an Israeli tank sat outside of their building, Abuelaish believed himself safe due to his public championship of peaceful coexistence. Unfortunately, war seldom is fair. His home, in which he housed his entire extended family, was shelled and two of those shells killed three of his daughters and a niece. As his desolate cries of anguish and pain went out live on the Israeli TV news show, for which he regularly was a phone contributor, and an outcry went out worldwide, he could have taken the easy route and called for vengeance, villainized the people he saw as having taken the shot. But he didn't. Instead, he has continued to passionately fight for his conviction of the possibility of peace between the two sides, understanding the humanity that both share. These days, Abuelaish resides in Canada for his family's safety. He continues in his fight to bring peace to the place of his birth.
A simple narrative given power and compassion by the personal reflections of an upstanding and impassioned individual, this memoir is a must read in the fight against hate and an honest and badly-needed look at life in Gaza as seen by a native. We are given in Abuelaish's own words what he went through and accomplished and his core values. We get to see Gaza as only he can tell.
So little is seen in mainstream media today of the reality of Gaza (or other similar areas of global conflict) by the Western world that many people often don't realize the entirety of everything that is going on in the region unless they know to specifically seek it out. And that which is given us in the flood of information these days causes us to be overwhelmed and unsure rather than more informed. It makes it difficult to remain informed on important matters with so much else unimportant and unwanted forced there instead. People become insular and self-centered as they struggle to wade through the morass that counts as daily information. We lose sight of those outside of ourselves and forget to seek out the truth. In truth, we could use more mainstream narratives like this one illustrating the reality of a people too often ignored.
Founded in 2010, the Islamic Resource Center (IRC) is the first Islamic public lending library in Wisconsin. The IRC aims to provide resources to educators, students, health professionals, interfaith groups, and any members of the Milwaukee community that want an accurate understanding of the Islamic faith, its practices, and its people.