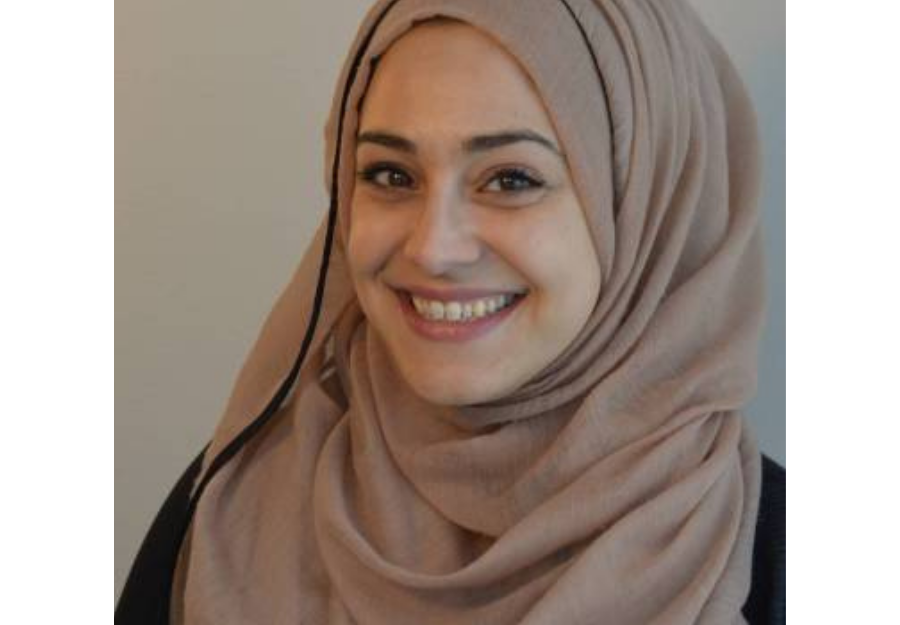 Reema Ahmad, Wisconsin advisor to the Movement Voter Project
"Reema delivered Wisconsin," said Yasser Ahmad of Greenfield proudly about his oldest daughter's impact on the 2020 presidential election.
While one may think that is an overstatement, a loving father's view on his progeny's success, facts show there is no doubt Reema Ahmad's work in grassroots organizing throughout Wisconsin as the state advisor to Movement Voter Project had a significant impact.
Ahmad was just off a phone call with CNN political commentator Van Jones when she spoke with the Wisconsin Muslim Journal this week. "It sounds much more glamorous than it is," she said. "I'm on a call with people around the country who feed him information about the election."
Van Jones is not the only one consulting with this young woman who has her hand on the pulse of Wisconsin's grassroots political movements and a strong background of political organizing in Chicago. Ahmad is quoted in The New York Times and The Atlantic, the Democratic National Committee consults with her and she has been sought out as a campaign advisor to Democratic candidates.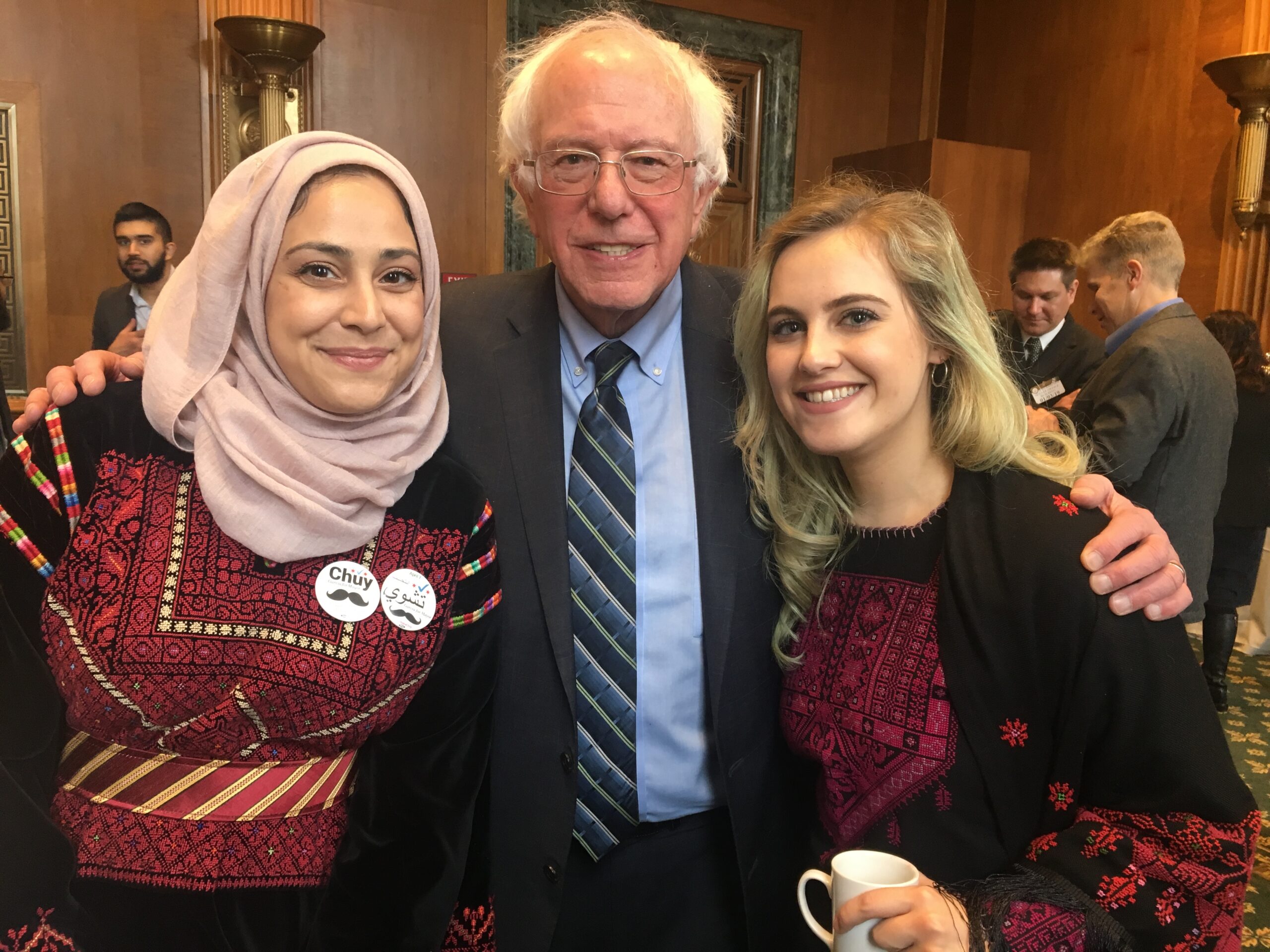 Left to Right – Reema Ahmad, Senator Bernie Sanders and Ameerah Ahamed.
Ahmad frequently serves as an expert speaker in conferences on grassroots organizing. She even has an entry on Key Wiki, a site that aims to "expose the political left in America" created by a New Zealander who has been called a "conspiracy theorist."
In her interview with the WMJ, Ahmad described her work as the Wisconsin advisor for Movement Voter Project and director of its Muslim Voter Project as "making some inroads" and "laying the foundation" to roll back 10 years of active political work by Republicans and conservative think tanks in the state. She also shared her views on the importance of activism today and what motivated her to engage in it.
Moving Wisconsin
"I was very lucky to start working with MVP," said Ahmad. "We are a donor advising platform that helps support grassroots organizations by giving grants and different tools and technologies that make organizing better.
"One large part of my role has been supporting the ecosystem of grassroots organizing in Wisconsin. I work with over 40 partners all over the state, doing a little dreaming and scheming on how could we make our visions for a better world and a better place for our communities possible. We begin to imagine what it would look like if our communities were fully resourced if we had our needs met and could then just focus on building power. Then I get to work, roll up my sleeves and get the money to make that happen.
"I came to this work because I have been organizing for over 14 years and one thing I've seen over and over again is a lack of resources and investment in grassroots organizing, especially in communities like my own – that's Muslim communities, Arab communities, communities of color, immigrant communities.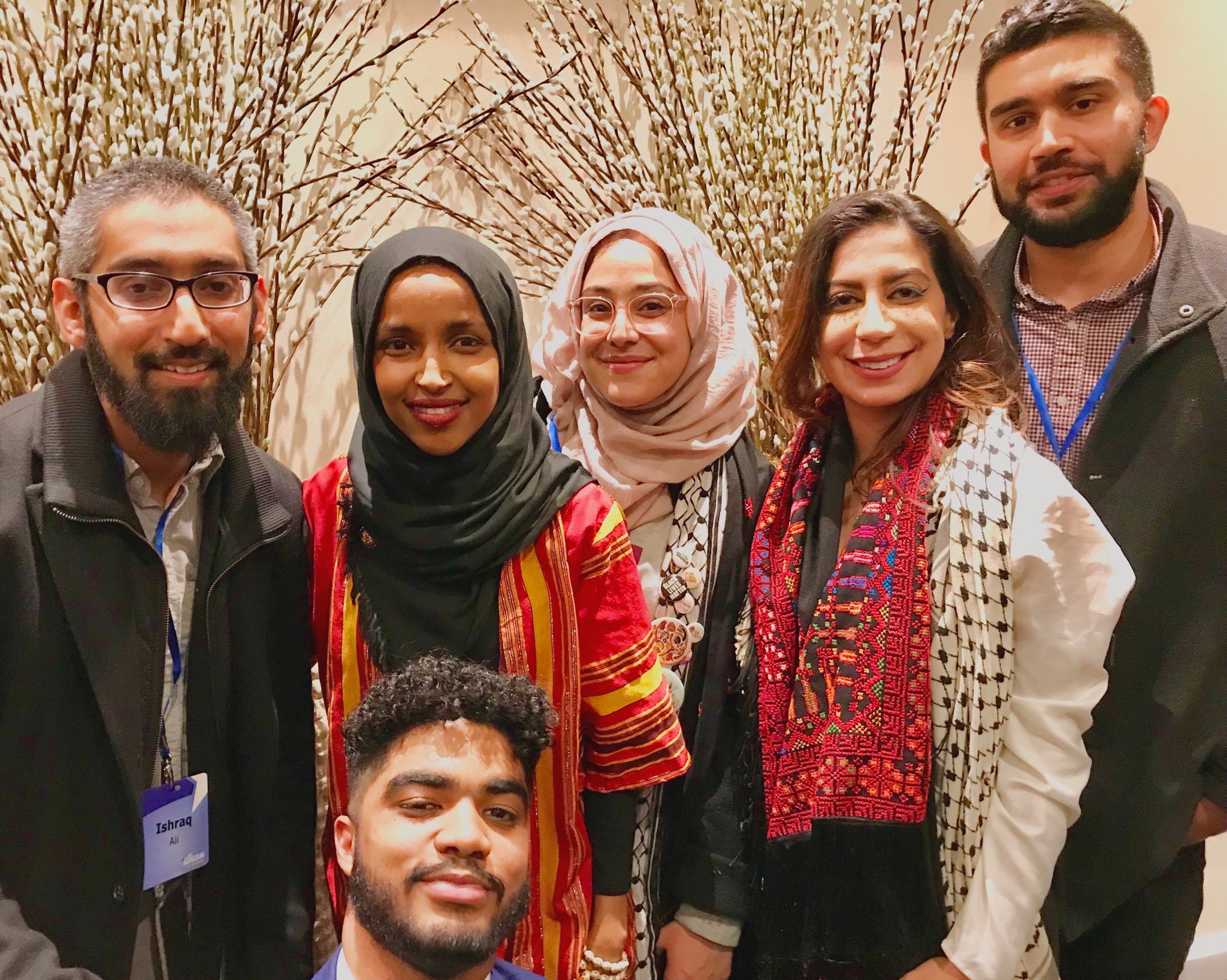 Reema Ahmad, Congresswoman Ilhan Omar and others.
100% growth in Wisconsin's grassroots movements
"When I think about the organizing that made this election year possible, it simply didn't exist or didn't exist at this scale at all four years ago," Ahmad said. "It is humbling and amazing to see how much our communities are able to build. A lot of them are in Southeast Wisconsin – Racine, Kenosha and Waukesha counties. In three years, I've seen 100% growth."
That's why when Ahmad is brainstorming with fellow Democrats who worry about "how we are going to lead from the middle when the left is too radical," she has to keep on "her poker face."
"I'm thinking, do you understand who brought this victory? It was communities of color. Black and brown majority cities from Milwaukee to Detroit, Philadelphia, to Atlanta that delivered this election at the margin.
"Despite everything our communities—and I am not speaking of only Muslim and Arab communities—have experienced over the last four years and especially in the last few months, not everyone sees how we are disproportionally impacted. The reason why people came out is not because they are super excited about Biden. They came out because of all these issues" impacting communities of color.
Wisconsin still has a long way to go to push back "the deregulation and disinvestment in communities, organizations and institutions that accelerated under Gov. Scott Walker," Ahmad said. "You don't have to look too far to see the severe impacts – the way student organizing on campuses and unions have been undermined, and deregulation has hurt our communities, big and small."
That's why "efforts in our state now to build back organizing in a way that is more grassroots and therefore more authentically representing the voices and needs of communities across the state" are important.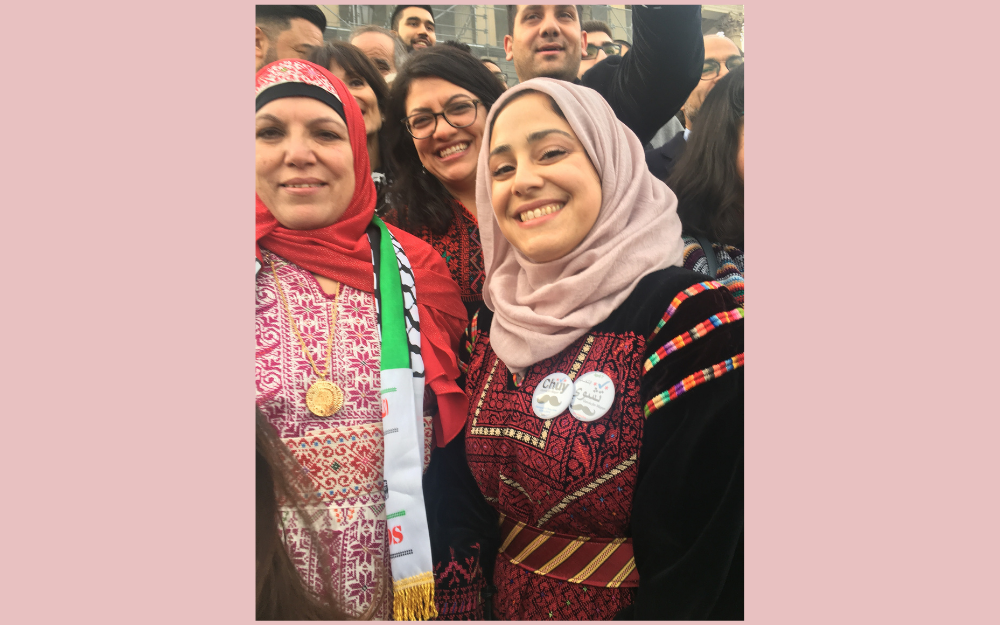 Reema Ahmad, Congresswoman Rashida Tlaib and Others.
Managing a campaign in Illinois for a Muslim candidate
"I had first heard of Reema when she was a community organizer in the Chicago area. She was working on electoral organizing specifically for Muslim, Arab and Asian communities," explained Harish I. Patel, the director of Economic Security for Illinois, an economic empowerment and inclusion coalition. He recruited Ahmad to serve as his campaign manager in 2015 and 2016 when he ran for Illinois State Representative.
"Reema Ahmad is an amazing human being," Patel told WMJ. "Reema was an inspiring, effective, and fierce force behind my campaign. She was able to bring such a diverse community of folks together.
"Reema knows who she is, her roots, her community and has a vision bigger than anyone campaign and that makes her deeply grounded in values.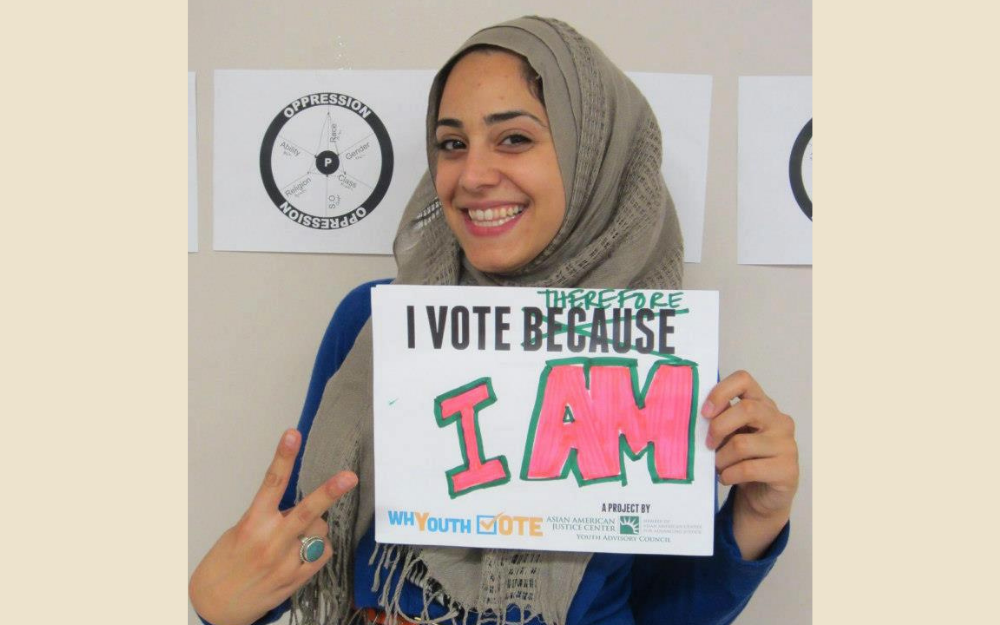 If you came to any of our campaign events, you would have seen multi-ethnic, multi-religious, multi-class and intergenerational community affairs, and that is because she made everyone feel so comfortable and inspired them to be part of something big."
Patel lost the race but won 41% of the vote, "which was a big win," Ahmad said. "It was a win having a true progressive in the race to amplify issues of BIPOC communities and working families in the city and state.
"It also meant a lot to have a young Muslim person running: showing our communities that we, too, can lead and we lead when we unapologetically stand for the issues faced not only by Muslim American communities but many marginalized and minority communities. Together, we are the majority." His campaign was an example of "the broad coalitions of different communities that we had to form in the last 4 years to get to a victory this month."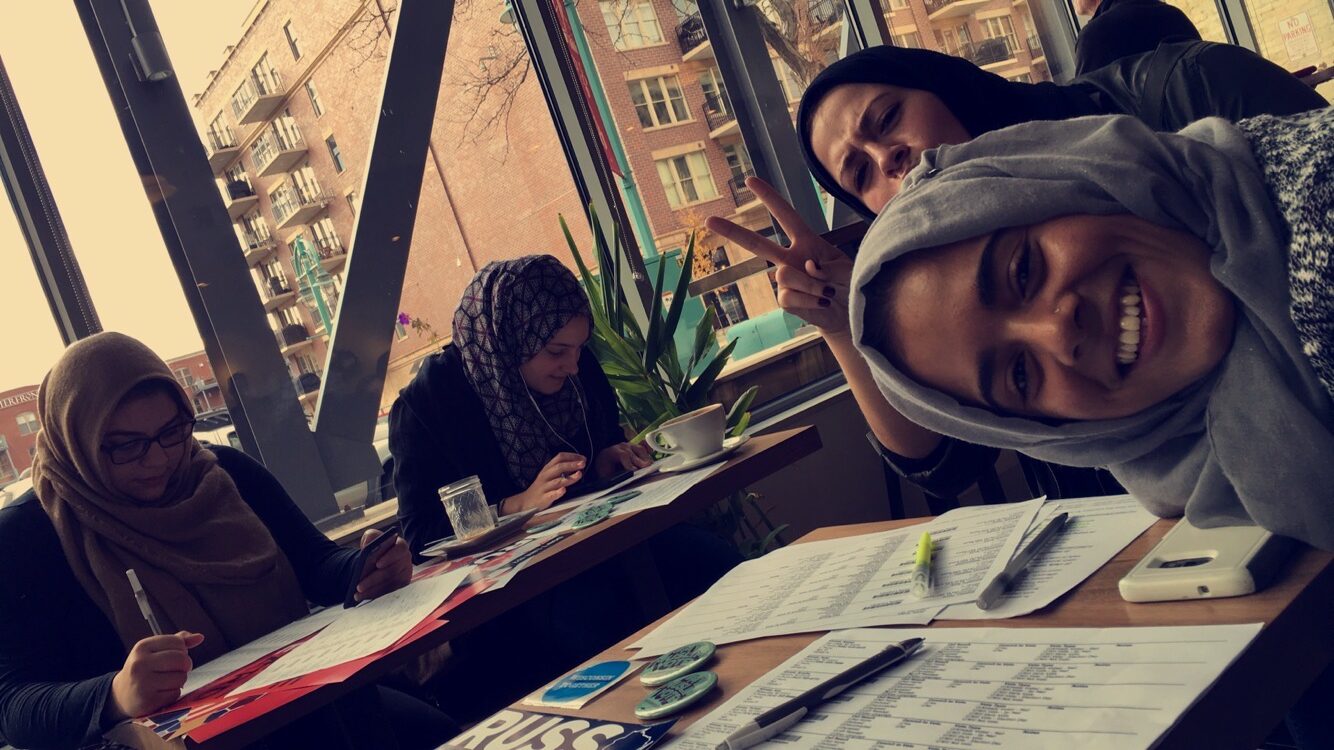 Reema Ahmad and volunteers called Muslim voters to urge them to vote in 2016
election.
Leading with her heart
Those who know Ahmad best describe her as selfless and kind – a giver.
After Biden's victory, one of her five younger sisters, Halah, posted on Facebook:
"Reema Ahmad deserves so much recognition. Since 2016 and before, she has worked tirelessly to build power in minority communities in Milwaukee, Wisconsin, and Chicago—building civic engagement and building connections between major campaigns and POC communities that have often been overlooked or disenfranchised … Reema is someone who builds power through real relationships, tireless work, and sincere allyship, and that backdrop of her organizing made her the best person for Movement Voter Project to a position in Wisconsin."
In an interview, Halah explained her sister's "deep, sincere and wholehearted investment in relationships. "Just yesterday I watched her hauling a Santa's sleigh-like bag of care packages she sent out. Every one of those gifts was thoughtfully put together based on her coworkers' interests or particular things they like. And on top of that, she chooses carefully what local businesses to support, and going through the USPS to support the postal service, and on and on."
The first of six daughters, "Reema fundamentally shaped our family," said Halah, who is eight years younger. ""Within our family, she's always invested in her siblings' success and happiness.
"When we were growing up, Reema would always rope us into her work and school life. She would bring us to events, get us to canvass (which can be nerve-wracking because it involves talking to strangers) and bring us younger sisters to events throughout college.
"She cultivated a sense of awareness about the world and our own agency in it, and modeled what it was like to speak up even when your point of view may be in the minority, or something people are very unaware about, like being Palestinian and Muslim and hijabi and immigrant and many other identities that make up her experience.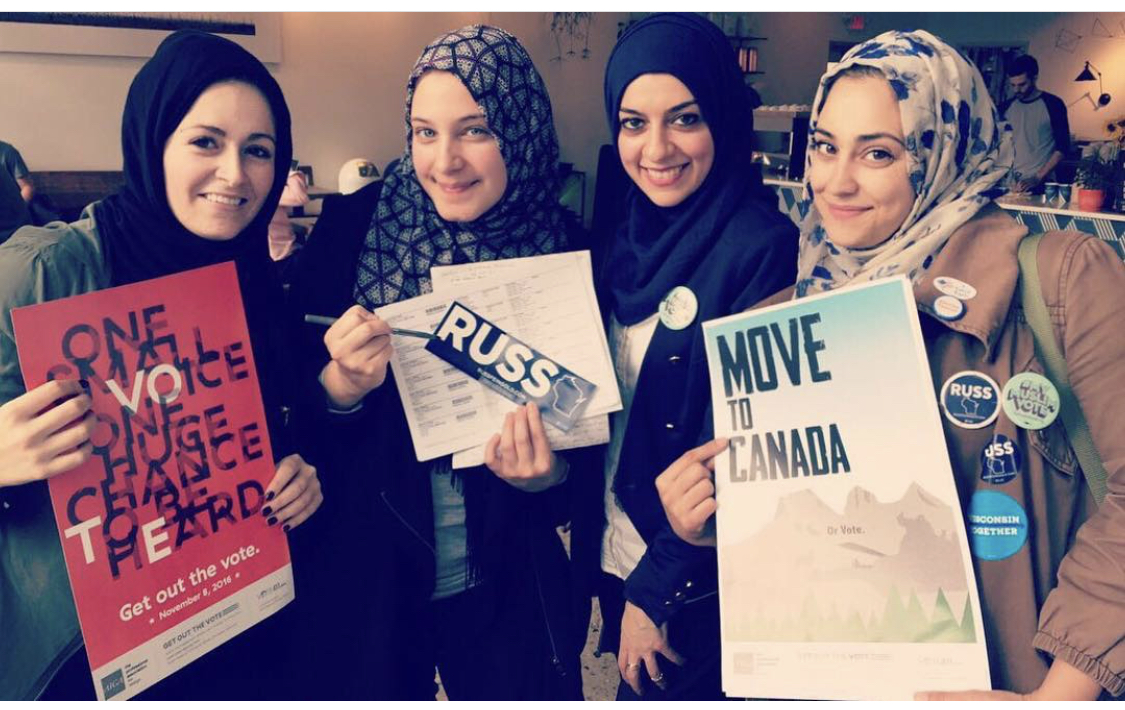 From left to right, Eman Atshan, Sommer Ahmad, Baraa Omari and
Reema Ahmad get out the vote for 2016 U.S. Senate candidate Russ Feingold.
"Reema got us all hooked on Harry Potter and protagonists like Hermione, and she would take us to Harry Potter birthday parties at the library and get involved as a volunteer. Perhaps we sisters were practice and training for the role she plays for many other people—empowering their voices, pushing them to participate and hold onto their agency and narrative, to trust themselves and uplift their experiences even if they're in the minority. Reema does that thoughtfully in every part of her personal and professional life.
"Sometimes it is frustrating from a sister's point of view. She deserves more credit, more care for herself. Deserves a big reward."
"What is Reema like?" Without a second of hesitation, her father Yasser Ahmad responded, "Very kind. Extremely selfless.
"I remember an incident I learned of from a friend. She had the opportunity to go out of state to a more prominent university, but she didn't. She told a friend of ours that she didn't want to be away and her sisters grow up without her.
"When they need something, they don't call her mother and me. They call Reema.
"When she graduated from Marquette University, she was offered a good job but she went to work part-time for CAIR instead. Twice a week she had to take the train to Chicago. She worked hard, invested her time and what she was paid did not even pay for the train ride. She wanted to do it because she would help the Muslim community. That's who she is."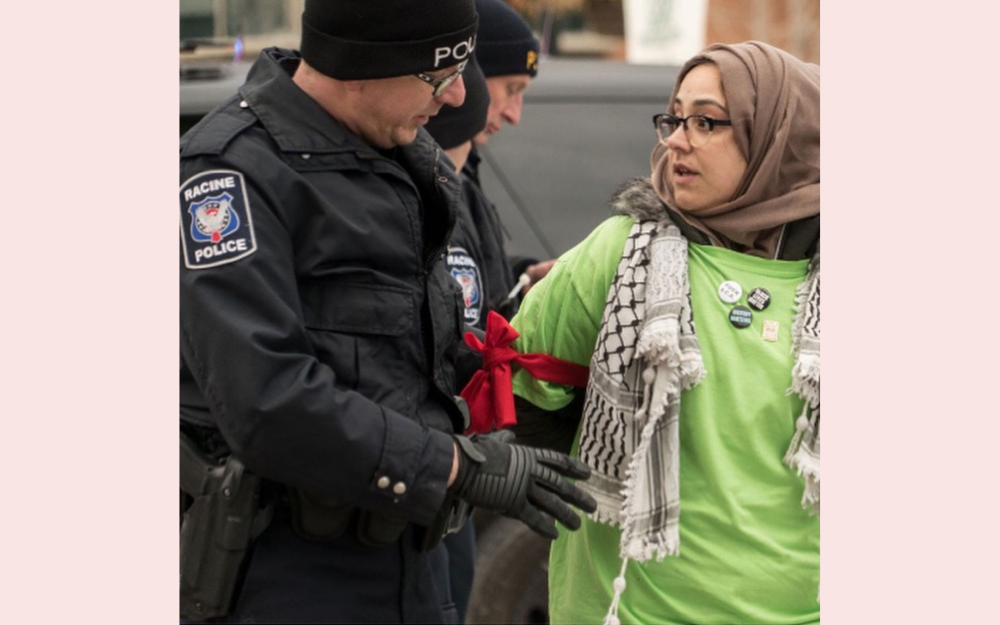 Ahmad was arrested by Racine police in March 2018 for protesting outside House Speaker Paul Ryan's office, calling for a vote on permanent legislation for DACA.