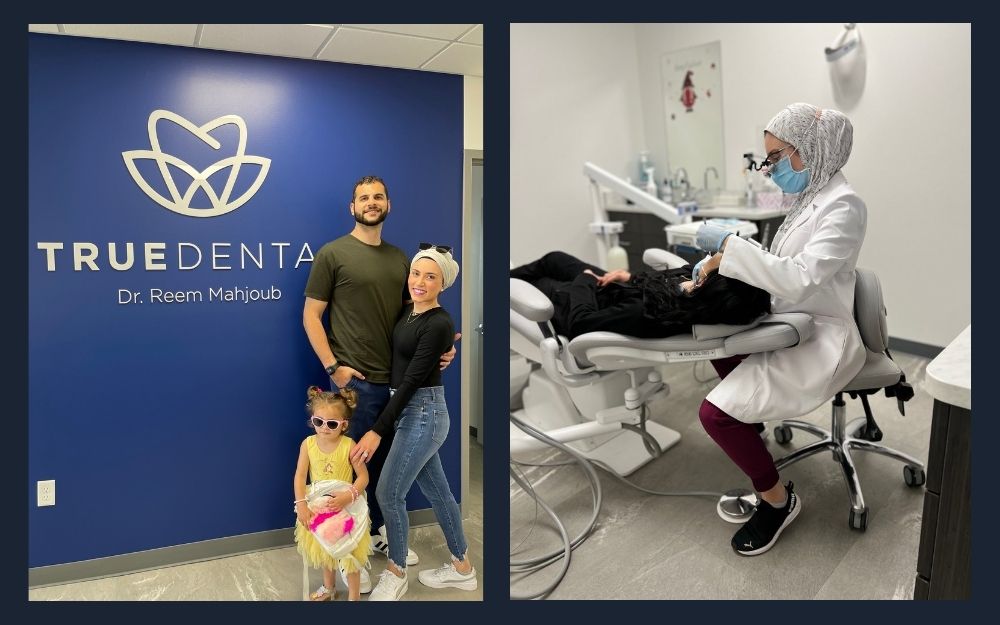 Dr. Reem Mahjoub with her husband Rayyan Najeeb and their daughter Yara celebrate the opening of True Dental on Milwaukee's Near West Side in February 2021.
"When our parents talk, they joke that we cracked the code on work-life balance," said Brookfield businessman Rayyan Najeeb about his life with Dr. Reem Mahjoub, dentist and owner of True Dental, 613 N. 36th St., #100, Milwaukee. "We see work as enabling life rather than work being life. Opening her own clinic allowed Reem to be in control of her time."
"And to provide the kind of care I'd want to receive if I were the patient," Mahjoub said.
True Dental marks its first anniversary in February. In an interview with Mahjoub and Najeeb Monday, the couple shared how Mahjoub, 31, is bucking some common assumptions to create a meaningful practice and rewarding family life.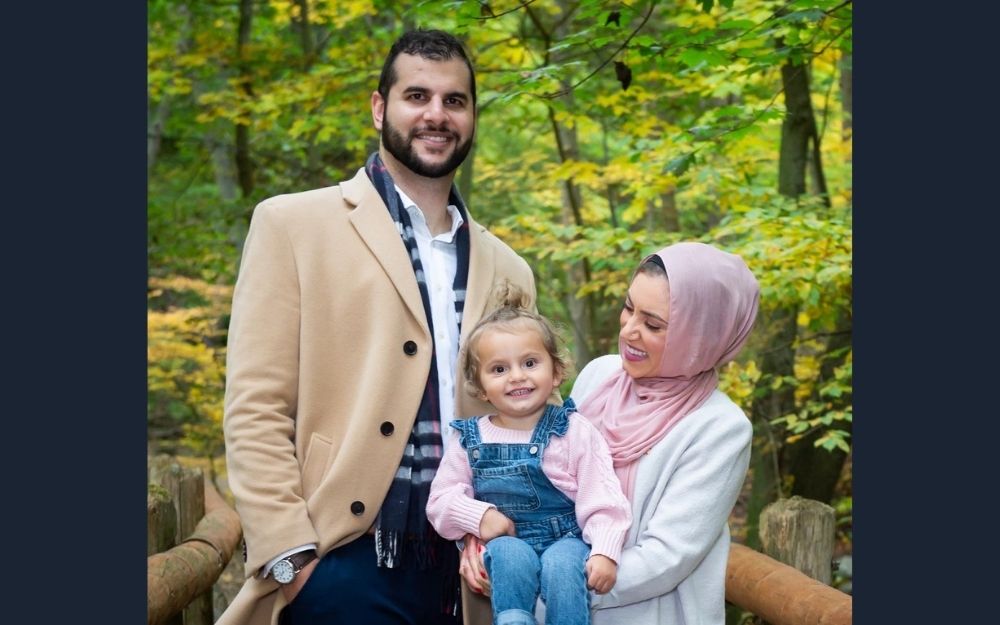 Rayyan Najeeb and Reem Mahjoub of Brookfield with their 3-year-old daughter Yara 
Following her gut
Many may assume opening your own business, especially in the medical field, is not the path to work-life balance. More challenging still, who would open a dental clinic in the middle of a pandemic? 
Or cater to low-income patients in an underserved city? Many dentists move to the suburbs where they expect their practices will be more financially viable. 
Mahjoub turned all those assumptions on their heads.
A doctor's daughter from Ohio, she planned to follow in his footsteps. As an undergraduate, she majored in biology and minored in chemistry, but also had a minor in studio art and certificates in Arabic Studies and Conceptual Foundations of Medicine, a program that explored medical ethics, social problems and methods of the biosciences.
She wanted to be an OB-GYN. Then, her sophomore year, she took "Introduction to the Health Sciences," a course where students explored nursing, pharmacy, dentistry and medicine. "I thought it would be fun, and I would understand medical school and how to get there a little bit better." 
Halfway through the course, she found herself drawn to dentistry. "The students seemed a lot more chill and dentistry has a lot of art to it. You have to have an eye for it," Mahjoub said. "I had always been in art classes in high school and college. I was always painting, sculpting and drawing. And I always loved science. This was a perfect mix of both and I would still take care of patients."
Mahjoub didn't think about it long. She volunteered in dental clinics and shadowed a few dentists. In weeks, she made the switch. "It was a good decision," she reflected.
She especially enjoyed the waxing lab, where dental students work to better understand the shapes of teeth. "You'll sit and wax teeth. Every angle has to be correct. I just loved it! I loved sitting there with a little burner and spatula, building teeth, seeing how accurate I could be."
She graduated magna cum laude from the University of Pittsburgh then went on to its School of Dental Medicine, graduating in 2016 as a doctor of dentistry. 
Mahjoub's marriage to Najeeb in 2016 brought her to the Milwaukee area. She did a one-year residency then worked in private practice in Mequon, Sheboygan and Milwaukee's Northside.
By January 2020, she felt she had the experience, know-how and confidence to open her own clinic. "When I got to the point where I realized I was a mentor for my colleagues, I felt I could do it on my own. 
"I said to myself, 'Ok, that's it. I'm going to get the ball rolling. I'm going to find a location and put the plan into action.' Then all of the sudden, March 2020 came and everything shut down."
She had just found a location when the City of Milwaukee stopped giving out building and construction permits. "We had to sit tight for a while and see where things were going.
"Al hamdulilah, they started giving out permits again in August and we were able to start the process.
"Everyone was like, 'You're working in people's mouths. With Covid, how is that going to happen?' People forget that dentists are all covered up anyway; we are always wearing masks and glasses. We had the whole PPE thing long before Covid." 
Playing to her strengths
"One of Reem's most notable qualities is she does everything fast and well," Najeeb said. "She has a fast mind and understands things she reads quickly. I'll show her a funny joke and she is laughing as soon as she sees it. She does the dishes in 15 minutes and they're spotless. Her dental colleagues remark on the speed and high quality of her work."
Speed and accuracy helped her crack another code—how to make a living serving the underserved, Najeeb said. "So few dentists are in the city because other dentists don't find it cost-effective to serve patients on Medicaid.
"We were asking ourselves, 'How do we maximize the value she can create?' Najeeb recalled. "One, she needs to be running her own business. She is so capable."
Mahjoub's ability to deliver a high standard of care so quickly herself, to put together the right team, train staff and create an efficient process to turn over rooms has created a clinical work flow is financially viable, he explained.
The second ingredient was having the right location. The office needed to be in a location with a large population of the underserved and a place where they already came. They chose the location because of its proximity to Pro Care Medical Group, 3727 W. Wisconsin Ave., where primary care doctors, specialists and diagnostic testing labs are located.
"It's a clinical ecosystem in one place," he said.
"There isn't another Medicaid dental office in a 3-5-mile radius. That is basically the city of Milwaukee," Najeeb noted. "She has been able to support that population."
"Her talent in endodontics, doing root canals, is exceptional," Najeeb added. "Insurance companies rank her at the top for providing that care to patients. That brings people from far and wide, as far away as Racine.
"Another thing about Reem is that she is easy, breezy," he said. "She doesn't let things get to her; she just keeps moving forward. The way she problem solves is quick and pragmatic. And it has rubbed off on her staff. They manifest the same style."
Najeeb credits Reem's family for that quality. "Her siblings and parents are her best friends. They are always reinforcing each other, very supportive, always positive. Everyone always shows up for everyone else. 
"It has become a part of her character. She has no time for negativity, even when things are difficult. I didn't really know how amazing she is until after we were married."
Practicing her way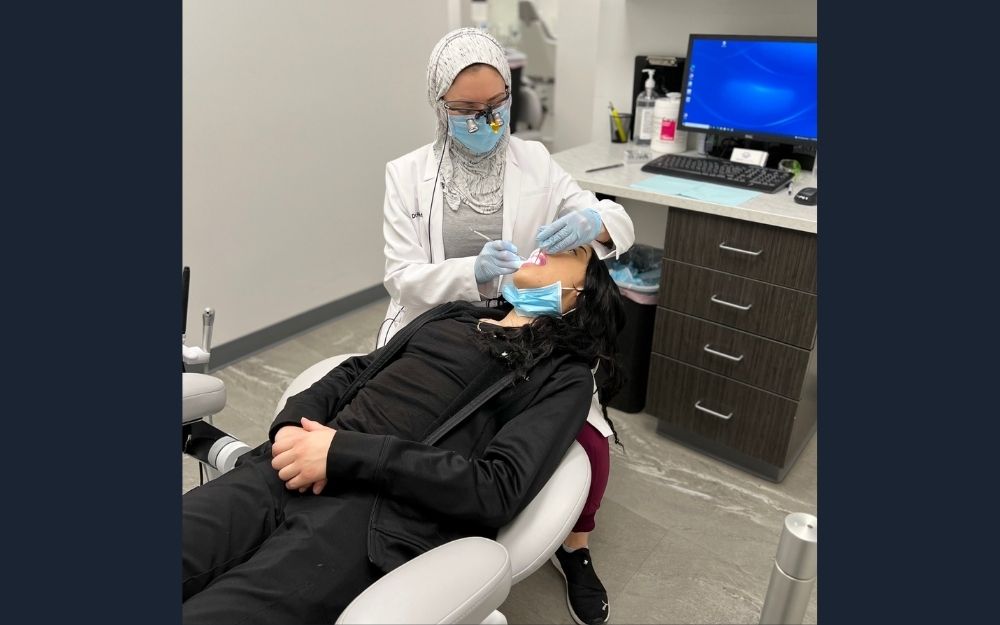 "The main reason I wanted to open my own clinic was to give my best patient care to my patients," Mahjoub said. "I wanted to do dentistry my way, in my environment, providing patients with the experience I would want to have as a patient. A lot of times, the only way to really do that is when you are on your own."
She designed the clinic with its seven patient treatment rooms, offices for the providers and a large breakroom for staff, with her own style and priorities in mind, Mahjoub said. "It is very clean and crisp, just how I like things to be." There is no carpet. She wants everything to be "bleachable," she said.
"I put a washer and drier in the office so we arrive in our normal clothes, switch into our scrubs and, at the end of the day, put our scrubs in the washing machine and leave in clean clothes so we aren't walking around the grocery store in scrubs. It's the little things.
"We have a little TV in each patient treatment room and will ask them what they want to watch. Is there something that will relax you while we are working? That might mean movies or cartoons for kids, whatever it might be. Every step of their experience is meant to be positive."
Mahjoub wants staff as well as patients to feel cared for, she said. That is why the staff's breakroom is spacious and stocked with snacks, coffee and appliances. There is even a blender for making smoothies.
Mahjoub also carefully designed the patients' experience. "For whatever reason, patients are really afraid of dentists. Maybe it's anxiety about what's to come. I believe in keeping it simple and having every step of the process be comfortable."
It starts with a visit to True Dental's website, where patients can learn about procedures, watch educational videos about dental care, find information about how insurance works and send questions or notes directly to Mahjoub.
"From the time they call to make an appointment, I want that process to be seamless and comfortable," Mahjoub said, "to have someone friendly answer the phone. Whoever brings them back to ask them how they are doing, show them attention, respect and care so that by the time they are sitting in the chair, those first couple of interactions that they've had have been positive and their anxiety has gone down. Then I come in and say, 'It's ok. Nervous is normal. It's alright. You are here. That is the important thing.'
"I hired an amazing team, people I worked with in the past. I know them well. They are just amazing with the patients.
"We treat the patient's right. We show them respect. We acknowledge their nervousness and anxiety. We don't dismiss it. We try to make them as comfortable as possible in the dental chair so we can get the work done. We help them understand what needs to be done, help them understand what is going on in their mouth, present it in a way that is not overwhelming. 
"Sometimes we have to tell a patient you need to have all your teeth out or that you have a very serious gum disease, but we have to tell it in a way that they can absorb it without jumping out of the chair and running out of the office. My biggest thing is the patient experience."
Her team includes two receptionists and four assistants, and two other dentists who have recently joined the practice. One of them specializes in implants, expanding the scope of services offered, she said.
Finding work-life balance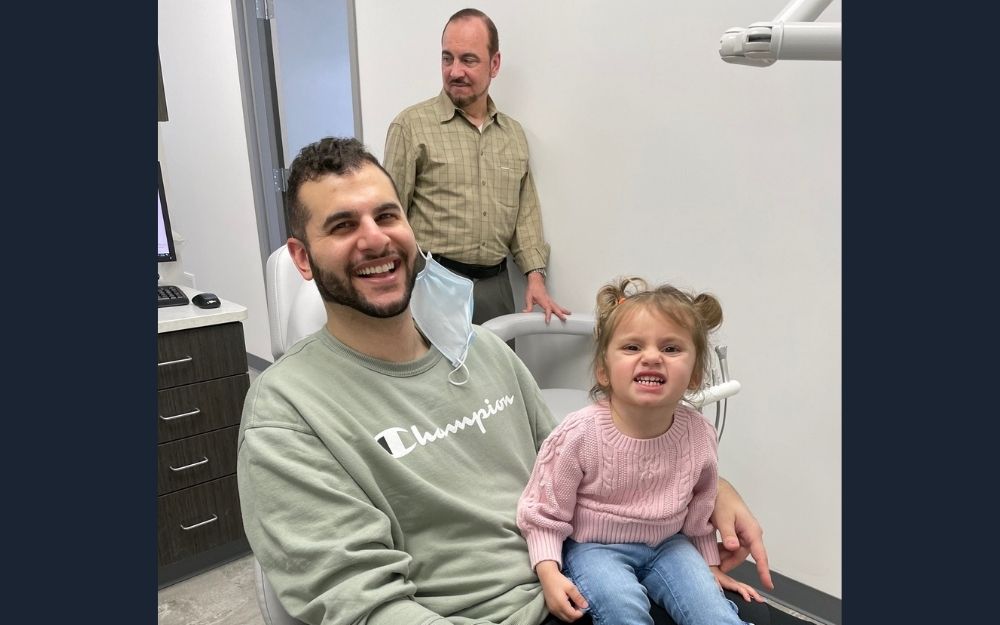 Dr. Reem Mahjoub's daughter Yara, 3, knows to show Mom her teeth when she sits in the chair, Mom says. (Shown sitting on her father Rayyan Najeeb's lap. Mahjoub's father-in-law, Dr. Waleed Najeeb in the background.)
Mahjoub's a mother, "first and foremost. It trumps everything else," she said. That's another reason she loves her job. "A great thing about dentistry is the flexibility," she said. 
She typically works from 8 a.m. to 3 p.m. and is able to spend the rest of each day with her daughter Yara, 3. She and Najeeb found a nanny who takes Yara to activities, classes and to see friends, and provides care throughout Mahjoub's workday.
"We found a really good nanny who provides education," Najeeb added. "She has a daughter a year older than ours who sets goalposts for her. Also, both our families are 100% supportive." 
"I'm really proud of being a working mother," Mahjoub said. "I'm just so happy I can show her this is something I accomplished. She is still little but she recognizes our logo and says, 'That's your True Dental.'
"I would never pressure her into any career but I hope she would someday choose dentistry and it is something I could pass on to her.
"I am really happy that I found this balance – being a dentist but not letting it consume me. That's why I love it so much, because I found that balance."