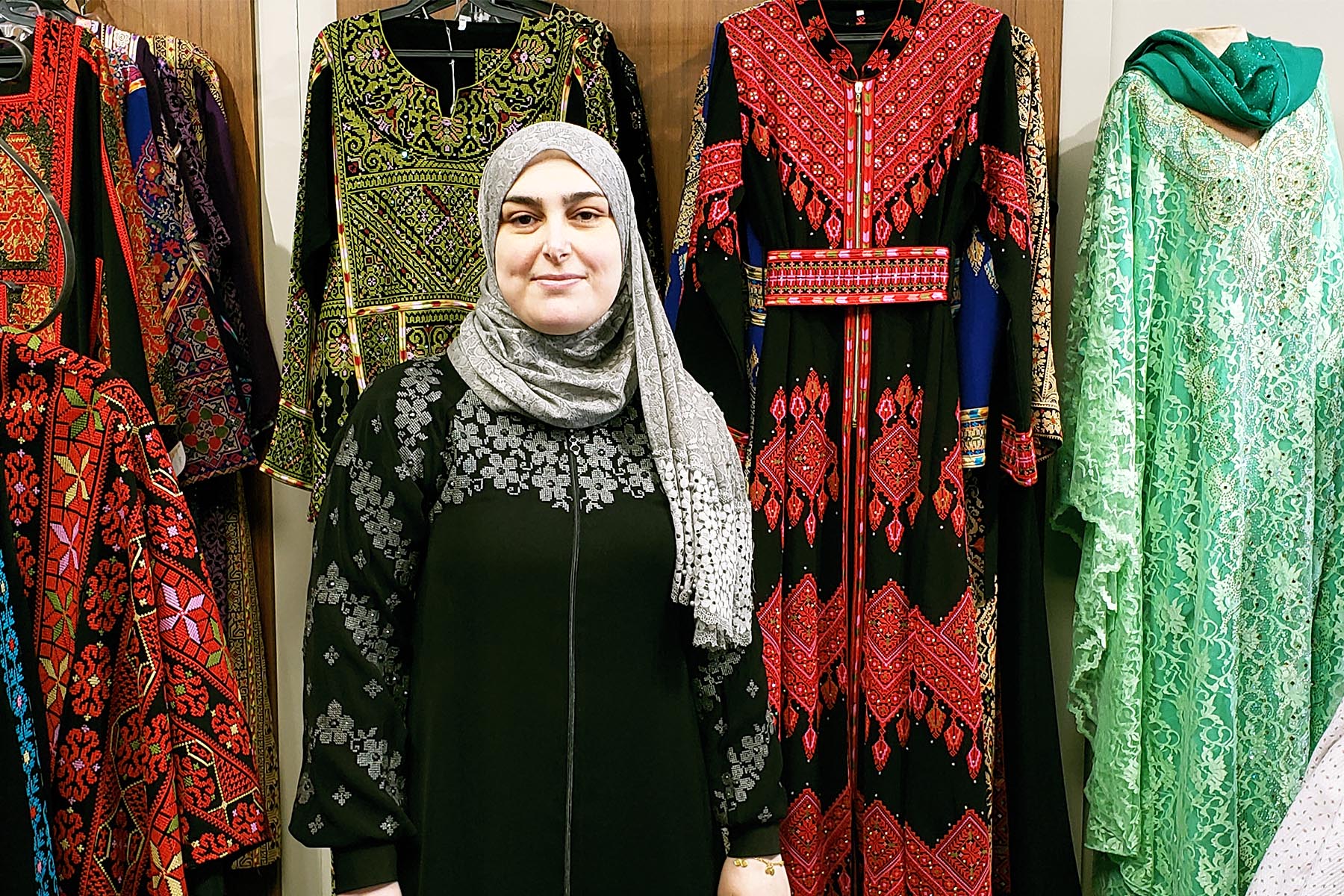 Until recently, Muslim women in Milwaukee interested in purchasing modest attire had few options. They could purchase clothes while traveling or place orders with friends and relatives who were; they could make their own clothes; or they could buy clothes online.
But all that is beginning to change. On busy West Layton Avenue, a strip mall where most of the signs are lettered in Arabic is the location of the first retail store in Milwaukee to offer modest fashions for Muslim women. Morjana has been in business since 2013, says its proprietor, Ibtisam. The store meets women's need to be "modest and fashionable," she says.
Ms. Ibtisam started her business working out of her home, making clothes for women who had "a hard time finding" them. "When I started my business, I already had customers," she says.
As her customer base grew, Ms. Ibtisam began ordering clothes from Jordan for close friends.
She had been working at home for a year when she realized she was going to need a store. "I told my husband, 'I'm going to have a women's clothing store.'" She and her husband drove around town looking for possible locations. At the time, the Pita Palace at the corner of the parking lot on West Layton was a Radio Shack.
For its customers, Morjana is more than just a clothing store. It's also a place where women share community. The day I visited, a young woman and her mother entered with two little boys. Greetings of "Salam Alaikum" were exchanged. Employees began chatting with the newcomers. Women tried on clothes and came out of the fitting room to get everyone's opinion while the children played among the racks.
"There is good energy between me and my customers," Ms. Ibtisam says. "It's a family atmosphere. We have a bond." A customer remarked that, "I can't live without coming here every couple of days."
But Ms. Ibtisam's customer base is not confined to the Muslim community. Morjana's owner says she has Mexican customers who buy scarves to wear to church. Some fellow Americans buy shawls or scarves to wear around their necks. "People like to decorate their houses with scarves," she says. And "Americans walk in just to learn about our culture. We're helping other people who are learning about Islam."
The fashions at Morjana are mostly imported from Jordan and Palestine and include the brands Noor Collection, Tuba, and Tavin, known for its tunics.
Morjana also sells prayer rugs, scarves, purses, jewelry, perfumes and colognes from Dubai, and small lanterns containing candles, used for suhoor during Ramadan. Tablecloths made of organza and velvet are beaded and hand embroidered.
Among the store's unique items are verses from the Koran in Arabic, worked in metal and framed. They are made by a Chicago artist. "He can customize any verse for you," says Ms. Ibtisam. Clothing and accessories start at $20 and go up to $300, depending on the piece and where it's from. The store carries many sizes, but Ms. Ibtisam can alter any size to fit.
Ms. Ibtisam continues to do custom work for weddings and special occasions, which, she says, "costs a lot of money." She does alterations on any garment, not just the ones she sells. "I started alterations to help customers," she says.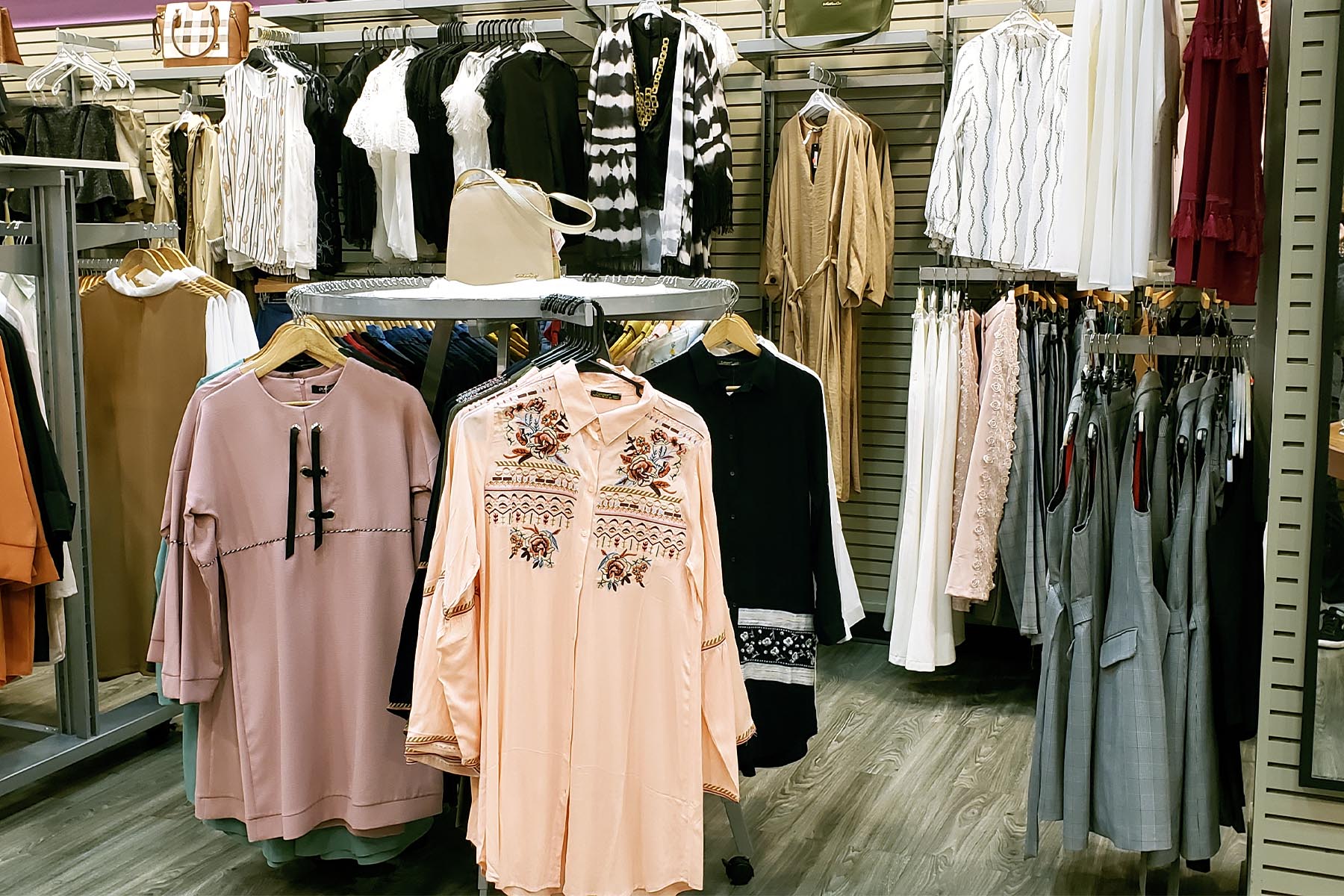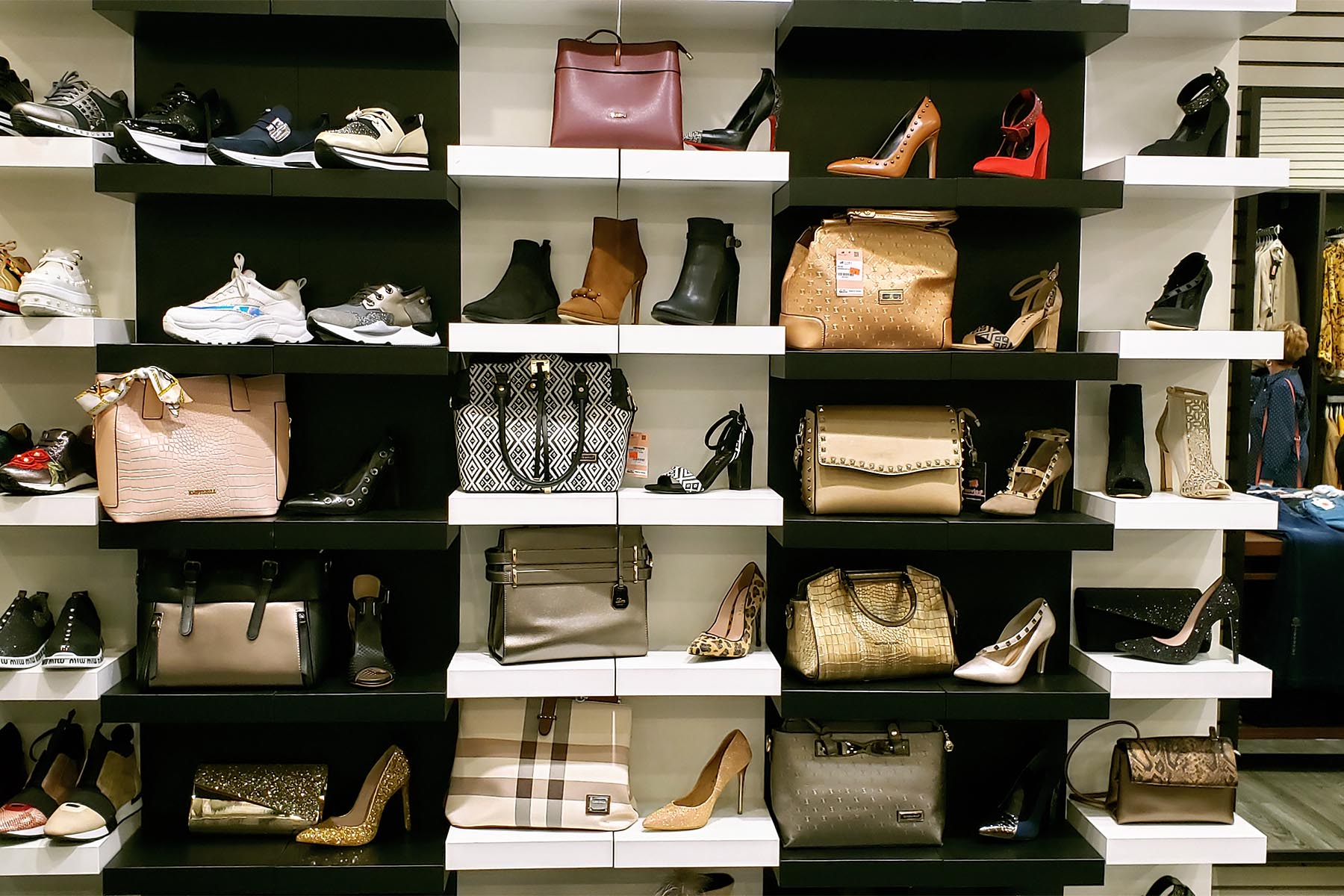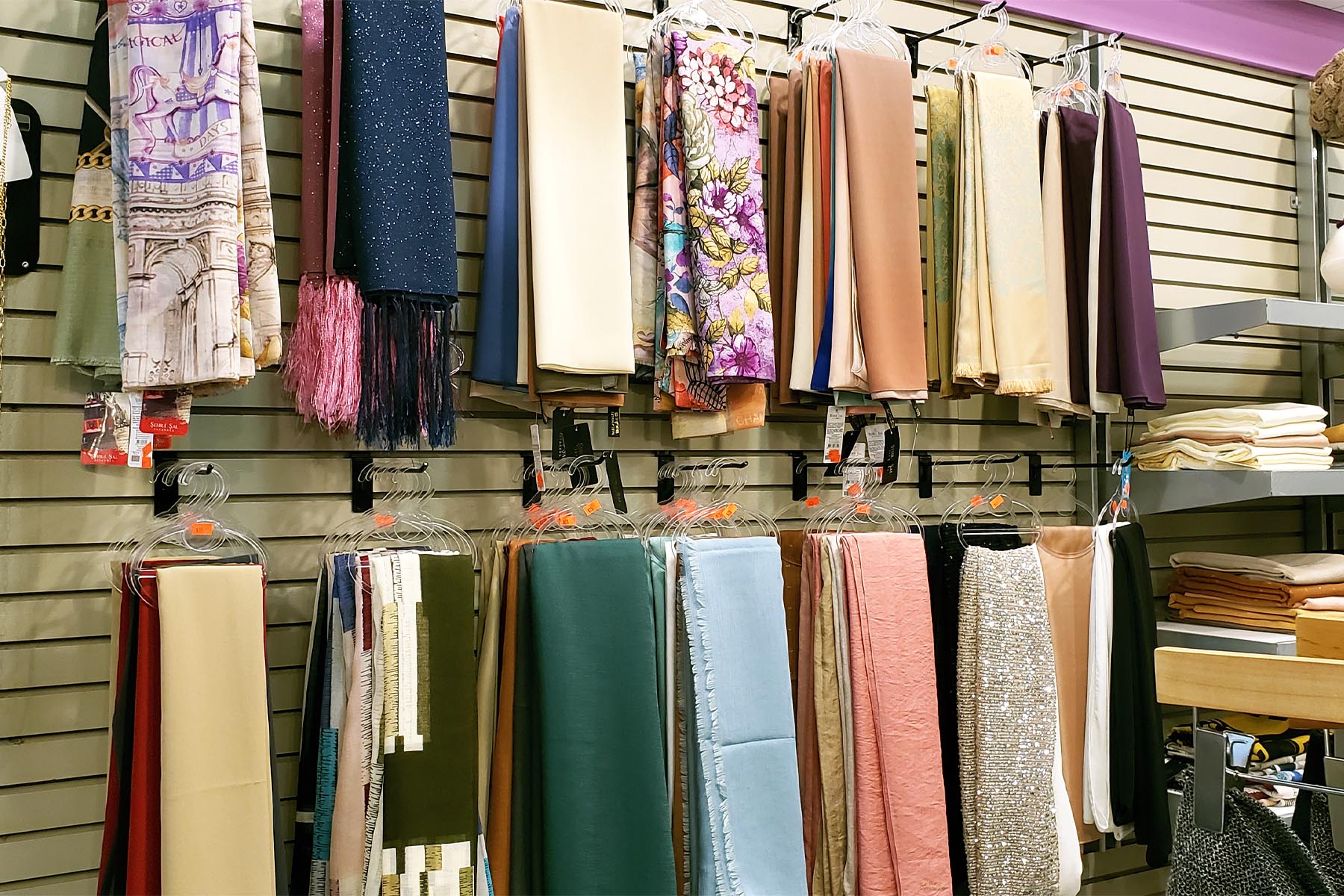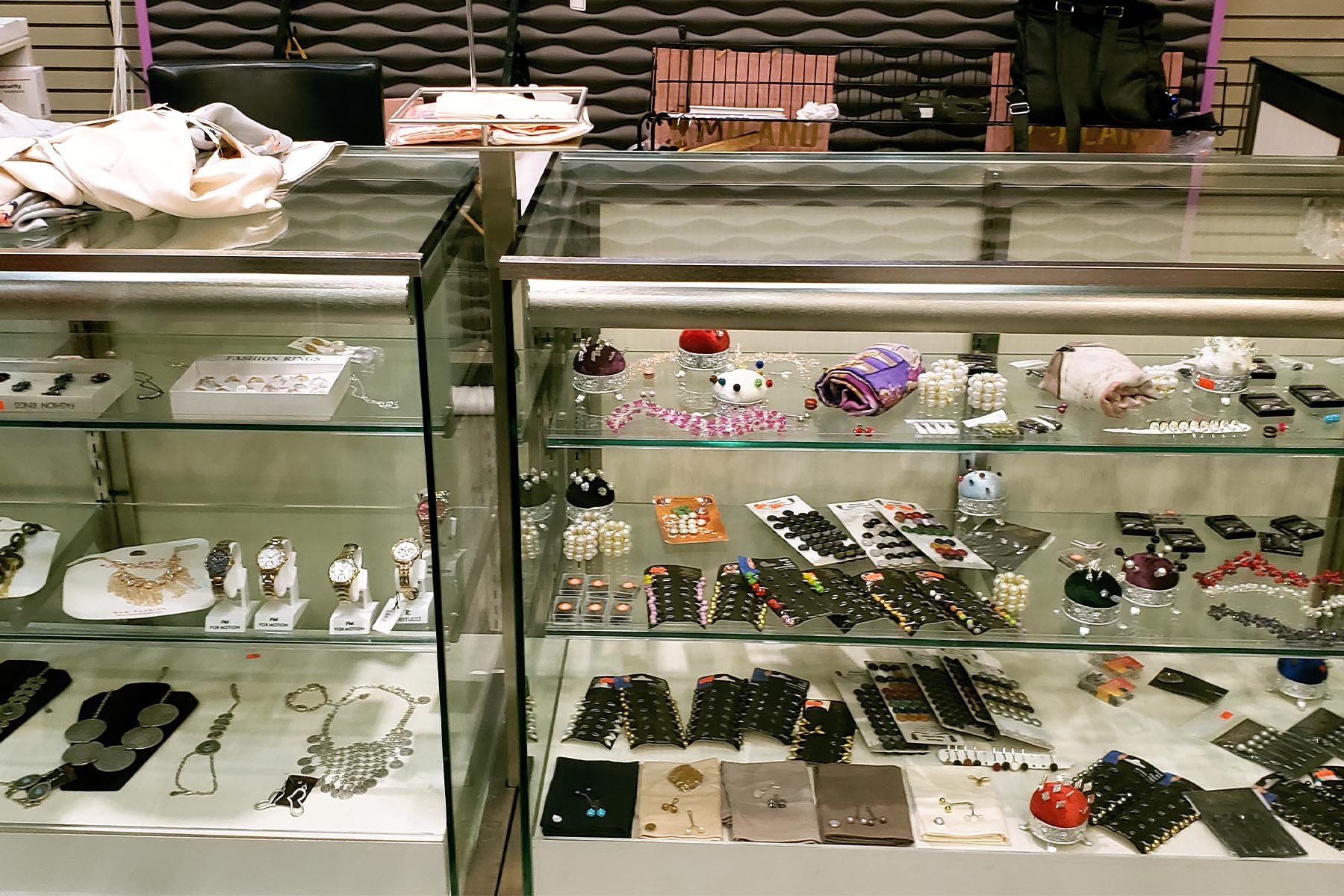 Milano at Southridge Mall opened its women's store on Black Friday, 2018. A men's store has been in business at the Mall since 2008. Milano specializes in imported, European designs, according to its owner, Mohammad Hussein.
The store is unique in that it sells both modest and non-traditional attire. "Everybody [is] welcome," says Mr. Hussein. An entire section of the store caters to what might be called modest formal wear, lovely gowns that are purchased by non-Muslim customers for proms and graduation. Modest tunics are sold alongside pencil skirts and ruffled tops.
On the day I visited, Mr. Hussein, who is well over six-feet tall, epitomized European fashion in a dress shirt and tight blazer worn with jeans. A slim young woman working behind the counter wore a white hijab and a long-sleeved blue dress.
Milano's designers include Mondo, Alvina, Armena, and Polim Pier. "My family has been working in fashion since the 1950s in Puerto Rico," Mr. Hussein says. The family branched out in the Caribbean and into Texas. "I came here," he says.
Mr. Hussein traveled to Turkey in 2008 and began doing research. He talked to brokers in Chicago "to find out how the import aspect worked." The store has always carried what Mr. Hussein referred to as "religious wear" and then added fashion clothing. Milano's men's store positions itself as the only store in Milwaukee that sells European fashions for men.
"We target people that like to wear modest clothing that is still in fashion," Mr. Hussein says.
"It's hard [for women] to find modest clothing." Milano has customers who are Jewish, Christian and secular.
One of the shop's unique features it that it only carries one piece per size, so customers can have the feeling, "I'm the only woman wearing that," Mr. Hussein says. "That's what most people like these days." No woman wants to see someone else wearing her outfit.
Special-occasion dresses come in the $250-$300 range, but the store offers 20% discounts during graduation and prom season.
While the options in the city are increasing, achieving a modest look can still require extra attention. Amanda Ali, 23, the program manager at IRC, does a lot of her shopping at TJ Maxx and on Rent the Runway, an online store that rents designer pieces by the month.
However, Ms. Ali says, "A lot of the clothes are not modest, so I have to layer pieces." To achieve the right look, she relies on every woman's first fashion adviser. "Sometimes when I leave the house, my mom will say, 'Why don't you put a different color cardigan over that?'"
Morjana Fashion
867 W. Layton Ave.
Milwaukee
Milano Fashion for Women
Southridge Mall
Greendale