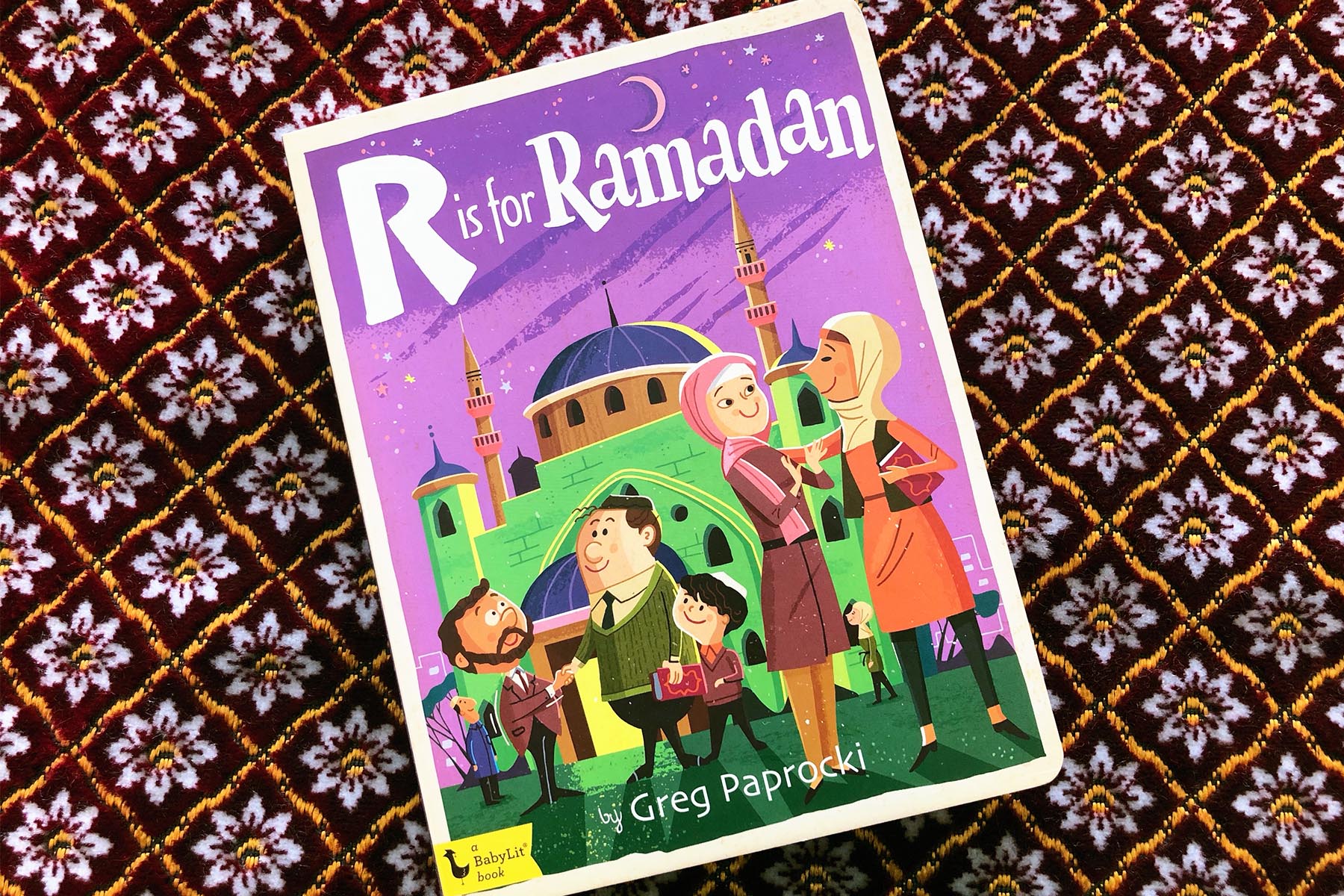 Elise Bellin, Librarian of the Islamic Resource Center, wrote this book review as part of an ongoing series that focuses on a range of books within the IRC collection as a service to the community.
written and illustrated by Greg Paprocki © 2019– ISBN:9781423651659
Often, I find that books for certain ages or topics can be difficult to find, especially when it is regarding a minority community like the growing population of Muslims in the US. High-quality board books can be one of those tricky categories that not enough people create as of yet. Much easier is the search for picture books or adult titles. The extremely young and the middle grades just get forgotten. But, with every new book in a given category, the search gets that much easier as more individuals are inspired by and therefore produce such titles.
It is exciting to get a chance to review R is for Ramadan, as it is indeed a high-quality ABC board book that specifically deals with a Muslim topic (items, concepts, and activities related to Ramadan) with a wide slice of the population represented to ensure that all can relate to the book that was just published earlier this year. Each page is dedicated to a specific letter of the English alphabet with a specific concept illustrated. The book covers everything from "A is for azan (ah-ZAN)" to "Z is for zakat (zuh-KAT)" with each concept beautifully illustrated.
Although many of the illustrations seem to fall somewhere between a Peanuts comic strip (curly cue hair illustrated with a simple spiral across the head, wide open faces drawn with simplistic yet expressive shapes) and the timeless illustrations of Hanna-Barbera Saturday-morning cartoons (in the manner in which the setting and background is dealt with) from the late 1950s-early 1960s combined with elements all writer's own.  This makes for an entirely retro-modern appearance pleasing to the senses with an understanding of the universality of the concept (and the religion).
Some of the letters cover concepts only a Muslim will be immediately aware of and there is no glossary or explanation of the concept except for the illustrations, but with each illustration being grounded in a strong understanding of what those concepts are, it is fairly clear for the non-Muslim what each topic entails. Others, like generosity, hospitality, and prayer are fairly straightforward to all and add in there the occasional "balloon" and "yay," and we get a fun book that young Muslims can either call their own or use to share their culture with a friend.
Founded in 2010, the Islamic Resource Center (IRC) is the first Islamic public lending library in Wisconsin. The IRC aims to provide resources to educators, students, health professionals, interfaith groups, and any members of the Milwaukee community that want an accurate understanding of the Islamic faith, its practices, and its people.