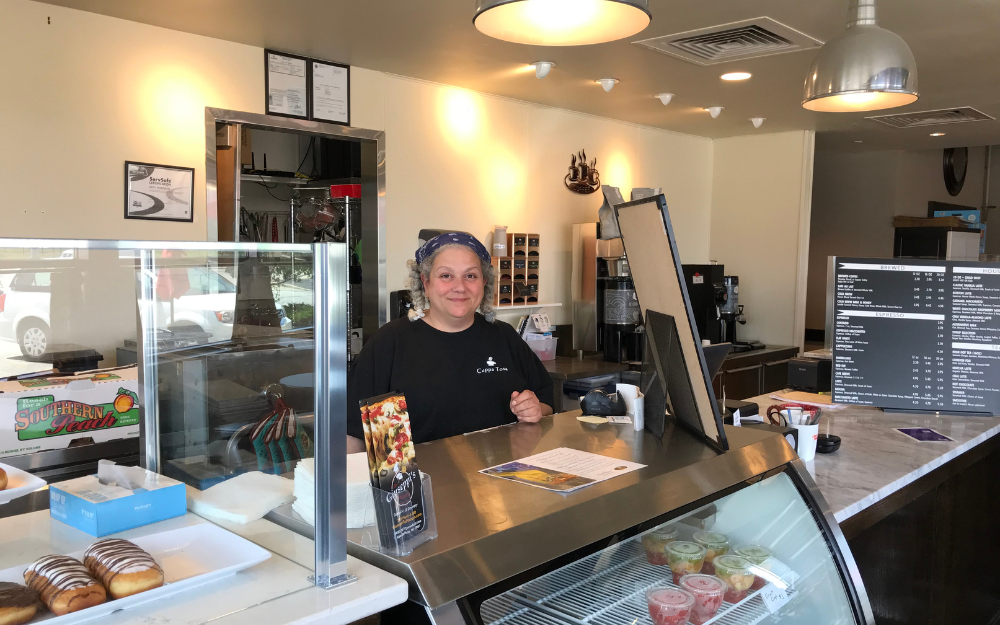 Photo by Cherrie Hanson
Vita Fugarino, proprietor of Cuppa Tosa coffee shop and café in Wauwatosa, WI., added halal chicken to her menu after she opened in 2020.  Cuppa Tosa offers a craft espresso bar, lunch paninis, salads, soups and homemade desserts.
In July, the first event of its kind will be held in Milwaukee as Halal Restaurant Week draws patrons to participating restaurants not necessarily known for serving halal options. The event's organizer, Bushra Zaibak, was determined to reach beyond restaurants serving traditional dishes from predominantly Muslim nations or that were already permanently halal. 
The resulting lineup for Halal Restaurant Week is a world tour of cuisine available in Southeast Wisconsin from 18 of the top restaurants in Milwaukee, Wauwatosa, Brookfield, Mequon and New Berlin. Whether you're hungry for burgers or wings, Mexican or Chinese, Korean barbeque or corned beef, you'll find delicious options prepared according to halal guidelines. Pork and alcohol will not be used in any of the dishes. Beef and chicken will come from animals humanely slaughtered according to Islamic law.
It's an event that would have been almost unimaginable in Milwaukee or anywhere in the U.S. until recently. The rising numbers and prominence of Muslim communities across America has led to the establishment and spread of a network of Islamic-oriented farms and processors including Crescent Foods, one of Halal Week's sponsors.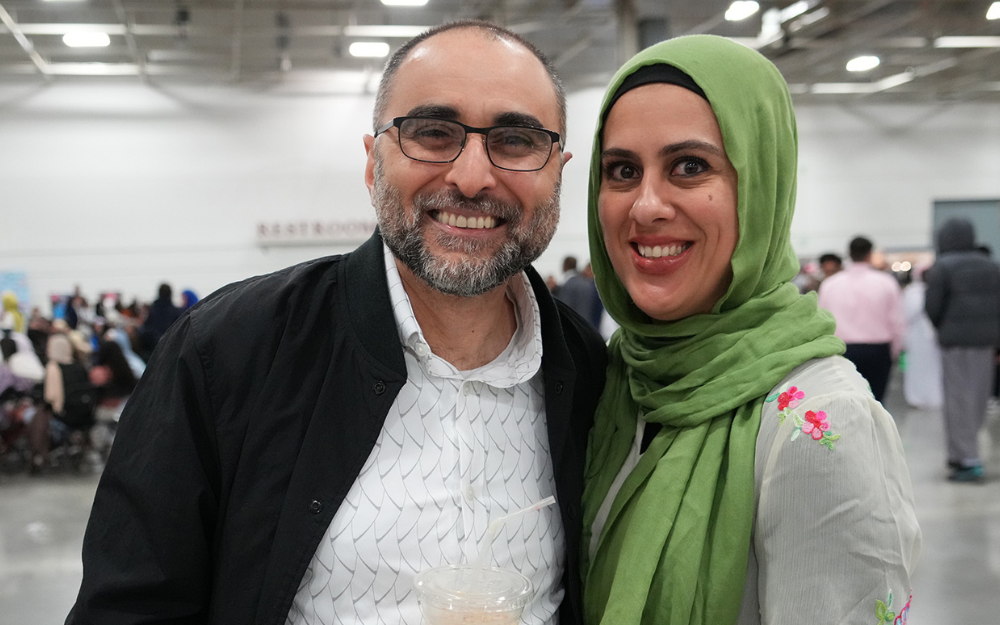 Photo by Lee Matz
Milwaukee Halal Dining Week event organizer, Bushra Zaibak, contacted restaurant owners who weren't already serving halal to explain the benefits of sourcing from halal vendors. Many of the participating restaurants in Halal Week will be making halal a permanent menu option. (Pictured with her husband Hashim Zaibak, founder of Hayatt Pharmacy).
"Crescent's meat and chicken just became available at Meijer," Zaibak says. "If I had called on restaurants five years ago, accessibility would have been an issue. Now, halal foods are available through Cisco, Restaurant Depot, Purdue and other major vendors. Prices for halal meat are comparable or better than other meats."
Non-Muslims have also become interested in halal products as part of the growing awareness of where our food comes from and how it is processed, spurred by exposés over an industrialized agricultural system that favors quantity over quality and pushes health and safety aside. By contrast, Crescent Foods, according to their website, raises only grass-fed cattle and lambs and cage-free chickens. No hormones or antibiotics are used. The animals are not electrocuted but are hand-killed swiftly, their blood drained.
"It's a higher quality meat," Zaibak continues. "In doing Halal Restaurant Week, I reached out to vendors who already used halal like Guadalajara—they love their chicken! Once a restaurant begins to use halal, they don't go back!"
However, not everyone Zaibak contacted to participate in Halal Restaurant Week responded favorably. "I called over 100 restaurants—the challenge was getting past the person who answered the phone and to the person making the decisions," she says. "I was surprised that many of the restaurants already had some halal products. But there were people who said 'No.' One said, 'I cannot tell you how much I'm not interested in this!' Others said they had enough business already."
As always, the power of Zaibak's personality, her high energy, overcame many obstacles. Born in Chicago to Palestinian immigrants, she came to Milwaukee 22 years ago with her pharmacist husband, Hashim. He was district manager for Osco and then CVS but was troubled by the direction taken by the big pharmacy chains. "Quite often patients couldn't afford insulin or other medications. He'd have to turn them away. 'Is this really how it should be?' he asked."
Eleven years ago, Hashim and Bushra founded Hayat Pharmacy as an alternative. It was a daring move, reembracing the lost spirit of the old corner drug stores in an age of corporate consolidation. "You have to find things they're not doing," she says of competing against the big chains. "You have to do things they don't want to do—payment plans, free delivery, counseling in homes—in neighborhoods where they don't want to go."
With a growing network of pharmacies in Milwaukee and several around the state, why take on a project like Halal Restaurant Week? "As a person, I get bored and do crazy things!" she answers. "This must be one of my craziest!"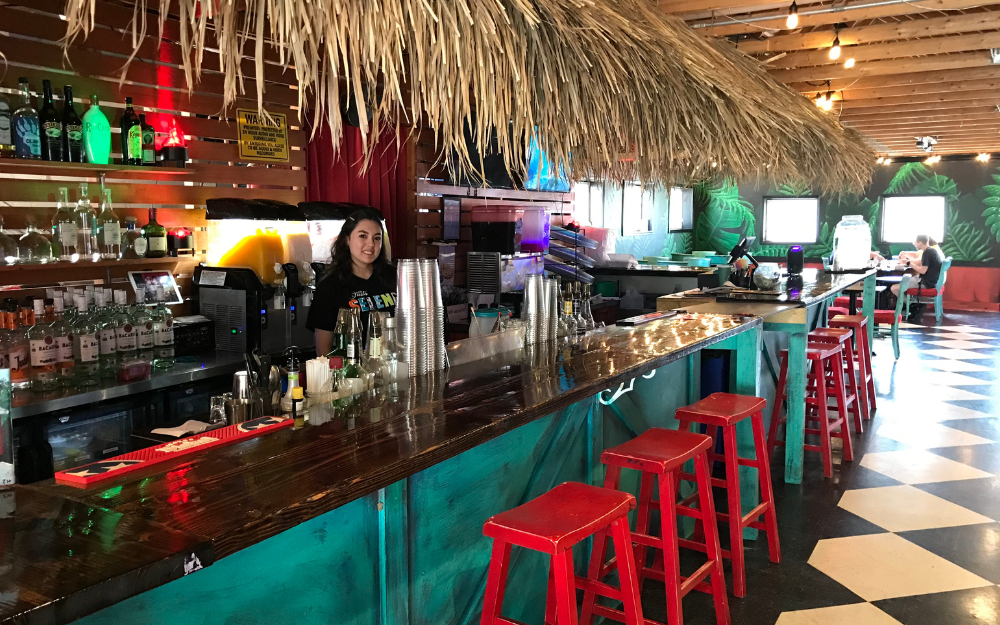 Photo by Cherrie Hanson
Antonella Mantilla is the manager of Chucho's Red Tacos in Milwaukee, WI, a bright Mexican restaurant specializing in birria, a slow-cooked stew, tacos and empanadas. Chucho's is participating in the first ever Halal Dining Week in Milwaukee.
The energy and good spirit she brings to every endeavor convinced the owner of Cuppa Tosa (418 N. Mayfair Road, Wauwatosa), Vita Fugarino, to add halal chicken to the menu after she opened her coffee shop-café in September 2020. Cuppa Tosa is a sponsor of Halal Restaurant Week. "Bushra called me to cater a PTA event and asked if I had any halal," Fugarino recalls. "I said, 'I don't mind' (adding it to the menu). You have gluten free people, you have vegans. Why shouldn't we incorporate another community?
"We do a lot of catering with Froedtert Hospital and on Innovation Drive," she continues. "There is a large Muslim community working in this area and I get quite a few requests for halal—more than even vegan. To stay in business, you need to be able to accommodate many needs and wants."
Other participants never considered halal until Zaibak cold called. For Dave Sobelman, owner of one of Milwaukee's great burger joints, Sobelman's, Zaibak's enthusiasm overcame his doubts. "I couldn't say no," he says. "I was surprised to learn from her that a lot of restaurants in Milwaukee, not-Muslim owned, are serving halal meat." He liked what he learned. "It's a very good quality, the cattle aren't shot up with anything—they're humanely treated." 
Because the original Sobelman's on St. Paul Street is always busy and packed with customers, and because his staff will venture into the unknown when preparing halal burgers and patty melts, Sobelman is focusing instead for Halal Week on his Marquette University campus venue (1601 W. Wells St.) where he can closely supervise the kitchen to ensure against cross-contamination that could occur if burgers are prepared in pans where bacon had been fried. "I don't want to do anything wrong," he says.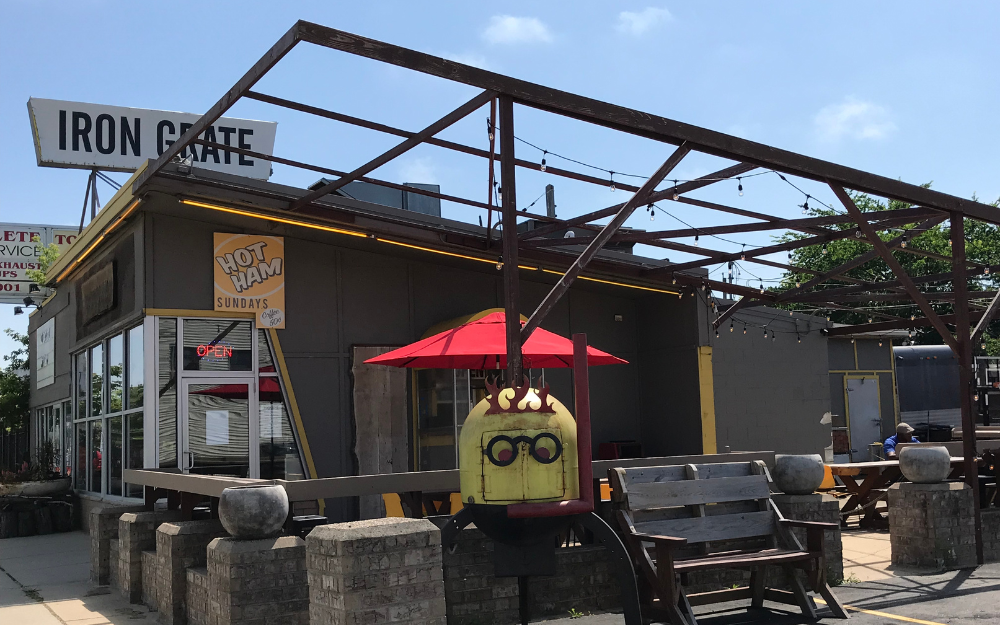 Photo by Cherrie Hanson
Iron Grate BBQ a live fire cooking restaurant built and designed its own smoker, who they refer to as Edna.  Owner Aaron Pattin is one of 18 restaurateurs participating in Halal Dining Week.
Although to restaurateurs, Halal Week might appear to be a one-woman show, Zaibak had assistance, especially from her children and their friends who made a video promoting the event and handled social networking. "I never used TikTok," she admits. "They helped me figure out how to post things." The tech-savvy kids also provided Halal Week with an app and passport allowing diners to collect points and enter a raffle contest.
Halal Restaurant Week will run from July 9 through July 17, with some restaurants participating on one day only and others on multiple days. 
Will Halal Restaurant Week return in 2023? "Maybe it'll be biannual with a winter and a summer version," Zaibak says, adding that she hopes the restaurants experimenting with halal foods will continue after the week is over. "Come out and enjoy the food and support the restaurants," she urges. "I'm so grateful to them.
For more information, check out @eathalalmke on Instagram, or Halal Restaurant Week on Facebook.
Participating Restaurants
Amilinda, 315 E. Wisconsin Ave., Milwaukee
Carini's Southern Italian Restaurant, 3468 N. Oakland Ave., Milwaukee
Chuchos Red Tacos, 4511 S. Sixth St., Milwaukee
Cuppa Tosa, 418 N. Mayfair Road, Wauwatosa
Giuseppe's Pizza, 14185 W. Greenfield Ave., New Berlin
Five O'Clock Steakhouse, 2416 W. State St., Milwaukee
Guadalajara, 901 S. 10th St, Milwaukee
Safehouse MKE, 779 N. Front St., Milwaukee
Sobelman's, 1601 W. Wells St., Milwaukee
Sobelman's, 332 Williams St., Waukesha
Onesto, 221 N. Broadway, Milwaukee
Iron Grate BBQ, 4125 S. Howell Ave., Milwaukee
DanDan, 360 E. Erie St., Milwaukee
Tomkens, 8001 W. Greenfield Ave., Milwaukee
Top Corned Beef, 3109 S. 92nd St., Milwaukee
Merge, 1932 E. Kenilworth Place, Milwaukee
Mr. B's Mequon, 11120 N. Cedarburg Road, Mequon
Mr. B's Brookfield, 18380 W. Capitol Drive, Brookfield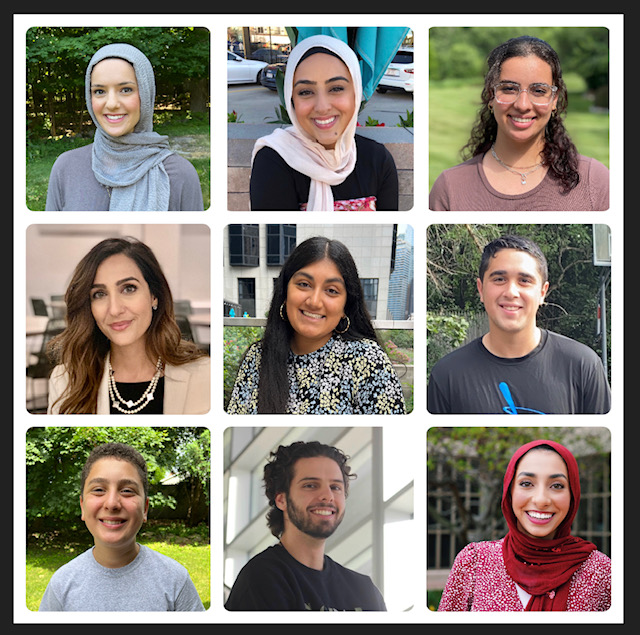 Bushra Zaibak made a photo collage of the volunteers who worked with her on Halal Restaurant Week. Top row: Hanan Kaloti, Janna Zaibak, Jamilah Arabiyat. Middle row: Sahar Ahmad, Rayyana Hassan, Ali Zaibak. Bottom row: Omar Zaibak, Mohammad Kaloti, Jehan Salous