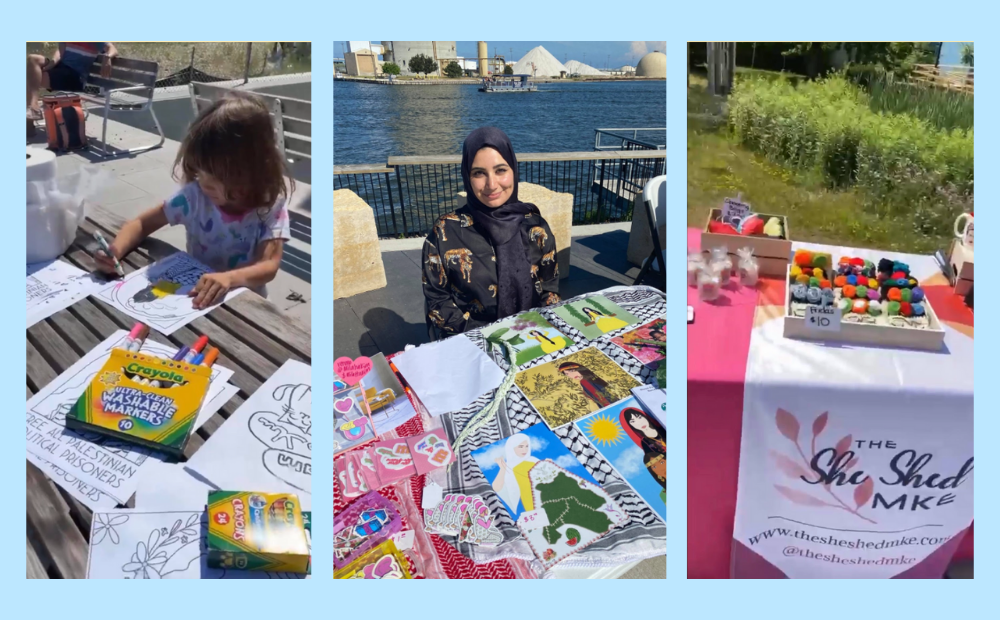 Milwaukee Harbor District hosts its first Muslim and MENA artist event. From left to right: A child enjoyed coloring; Nada Alzalloum, founder of Bloom For Growth, displayed her work; The She Shed MKE table.
For the Culture: A Muslim Creative Cultural Experience, Saturday, June 19, marked a breakthrough for Muslim and Middle-East-North-Africa artists. For the first time ever, Milwaukee's Harbor District, southeastern Wisconsin's new hotspot, hosted an event featuring their work. It also created one of the first opportunities since the pandemic for these artists and other People-of-Color (POC) artists who were also invited to exhibit their work.
It was organized by Fanana Banana, whose mission is "to elevate Muslim creatives by providing them with a platform to showcase their artistic talents." Co-founders Amal Azzam, 28, and Nayfa Naji, 24, stated, "We were provided with the opportunity by Harbor District to host a culturally immersed event for our Muslim/MENA community. The chance to create an event catered to our community was something we didn't want to pass up." 
Featured artists and vendors included Arab Feminist, Asmaa's Art, Bloom For Growth, Divine Afrah, Honcho Truck MKE, Mila Hakim, Milwaukee Hemp Company, Rumaneh Nourish, She Shed MKE, Spicy Freza Apparel, Wood Flow and Wrap it Up!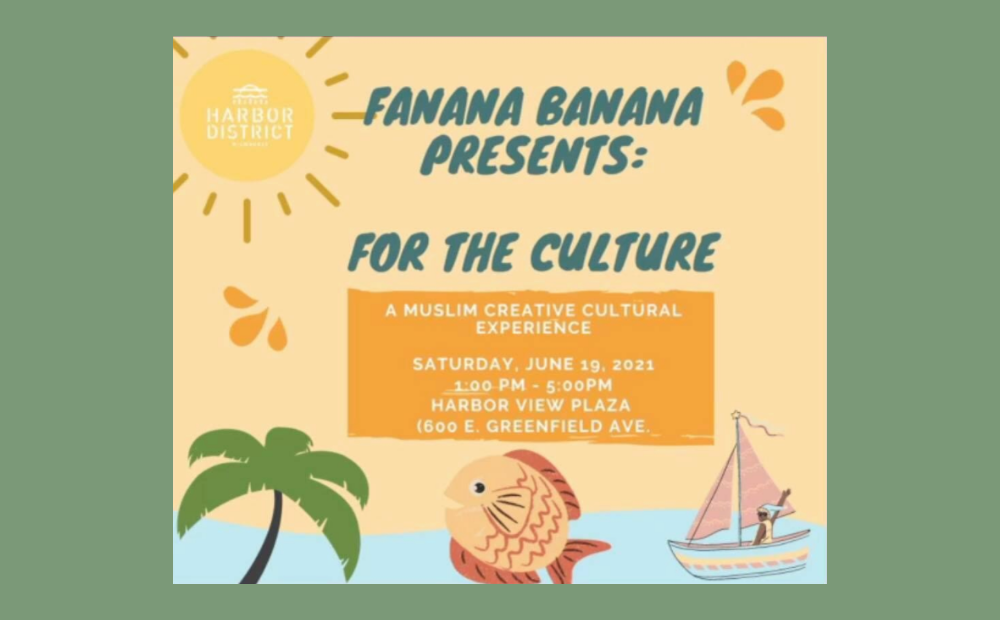 Fanana Banana flyer for the event
Making a difference to Muslim and MENA artists
As a young MENA artist myself, I know personally how important this event is for artists, both for the exposure and for the opportunity to share our culture. My platform, Arab Feminist, displays work representing intersectional feminism in Middle Eastern women, as well as the struggles of refugees and Palestinians. I shared a table with Nada Alzalloum, 28, of Oak Creek, founder of Bloom For Growth, a non-profit organization that combines art and compassion to raise funds and support people in need, as well as to promote understanding. A young woman from Minnesota visited our table to ask about our work. We chatted about our heritage and its representation. She purchased several pieces and, what's more, learned a good bit about our culture.
"These events are different because it's a Muslim person doing it, inviting people of color and uniting us in our goals," Alzalloum said. "We usually don't have this freedom of expression and inclusion in other spaces. We never really had a voice before or a place at the table." 
"It helps me see what other art is out there and meet new people," said Asmaa Abdelsattah, 20, of Oak Creek, founder of Asmaa's Art. "It helps build unity through community building while connecting the Latinx community artists and Muslim artists in Milwaukee.
"I have been wanting to start this art business and said inshallah khair. This event helped push me out of my comfort zone to get started," she added. 
Muslim/MENA art offers a unique perspective
"These art events help bring awareness of what is going on in Palestine and of the beauty of Islam," Abdelsattah said.
Alzalloum said her art "is inspired by my pain and sadness. It comes from the struggle of being a displaced person, knowing I can never go home, and the feeling of otherness, knowing my life and my family have been stolen from me.
 "I feel the pain of everyone else and I feel it's an extension of mine although my circumstances aren't as bad as others," she added. "I'm very happy but there will always be that pain in my heart for my people, my home being destroyed and the family life, culture and education that was stolen from me. I want my life back. I want us all to have our lives back. 
"We are so talented and full of passion but we never get to express or showcase it. These events are a bold statement of our perseverance. We Palestinians exist and we will continue to exist."
Creating opportunities for other POC artists
Aidee Bustos, 27, of Milwaukee, founder of Spicy Freza Apparel, a Latinx-owned fashion brand, said events like For the Culture: A Muslim Creative Cultural Experience benefit her brand when she's invited to join in. Events "like this help maximize the brand's exposure, networking and sales," she said. "All events bring much needed exposure to small businesses, especially after the pandemic."