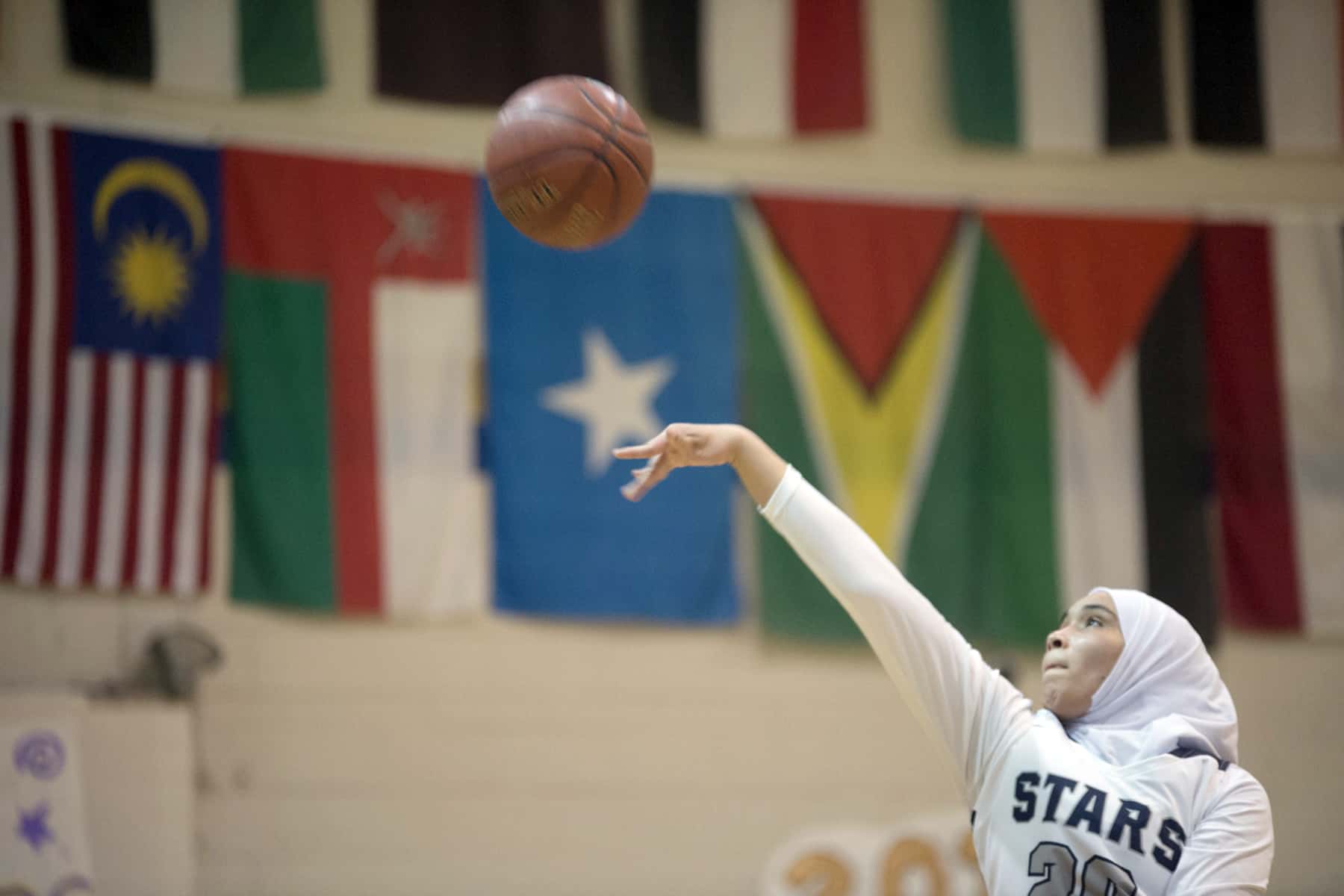 The sports program at Milwaukee's Salam School began the season in relative obscurity, but over the past few months has captured national media attention for its all-Muslim varsity girls' basketball team. For its second to last match of the season, against Carmen Schools of Science and Technology on February 12, the home crowd was packed with parents, local fans, and news reporters.
The young athletes stormed the basketball court, confident, assertive, and ready to show what they were capable of. They wore their hijabs wrapped tightly over their heads, to prevent them from becoming loose during the game.
The headscarves were a powerful and visible symbol not only of their pride in their faith but also of the changing landscape of high school athletics, showing the erosion of its gender barriers and stereotypes, and allowing teams like the Salam Stars to compete in a more inclusive and diverse program.
The Salam Stars are one of a few all-Muslim varsity basketball team in the country. Members of the team includes Rula Sarsour (2); Nadira Ali (3); Esraa Salim (4); Weaam Kaid (10); Zayna Tubeishat (11); Safiya Schaub (20); Heba Badwan (24); Lojain Gamar (30); Jenin Ismail (33); Jumana Badwan (35) and Nida Afzal (42). Kassidi Macak is the team's coach and their manager is Sumaya Abdi.
"The only thing that is different is what they wear on the court," said Coach Macak. "Otherwise, they are just regular teenage girls."
The Stars dominated their opponents throughout the February 12 game, winning 56-43 to the supporting uproar from the auditorium's packed crowed. Due to heavy snowfall that night, and the distance their opponents had to travel for the final February 14 game with Eastbrook Academy, that match was cancelled. The final tournament will be February 19.
In a recent interview with the Quad Brothers Sport Show, Coach Macak said "the best part of coaching is seeing them grow, seeing them improve not just in basketball but in leadership."
Salam School has had a waiver from the Wisconsin Interscholastic Athletic Association for years, allowing the girls to compete while wearing a headscarf, long sweatpants to cover their legs. and long-sleeved shirts as part of the school's athletic uniform requirement.
The trend in sports reflects the long way professional sports has come, with companies such as Nike now selling performance hijabs for female Muslim athletes. Other schools in the United States, like Deering High School in Portland, started offering lightweight headscarves for female athletes in the hopes of encouraging more Muslim girls to play in sports.
Associations such as International Boxing Association (AIBA) have also changed their policies to allow Muslim athletes to wear the hijab and compete free from religious restrictions.
Despite challenging stereotypes and changing perceptions by their example, the Salam Stars continue to face anti-Muslim hostility when they are playing games in areas outside of Milwaukee.
Their coaching staff encourages the team to brush it off. But Coach Macak acknowledged that because she is not Muslim, she cannot completely relate to how her players feel in those moments.
The Stars are representative of the Muslim population, particularly in a segregated city like Milwaukee, and recognize how their actions on and off the court impact perceptions that people have of Muslims. With support from their peers, teachers, parents, and sports leaders, the girls are able to challenge those negative expectations and excel as athletes. As proof, this season's winning record of 13-4 has defied what the community had expected.
© PHOTO NOTE: All the editorial images published here have been posted to the Wisconsin Muslim Journal's Facebook Page. That collection of photos contains the WMJ watermark for attribution, and may be used for private social media sharing.