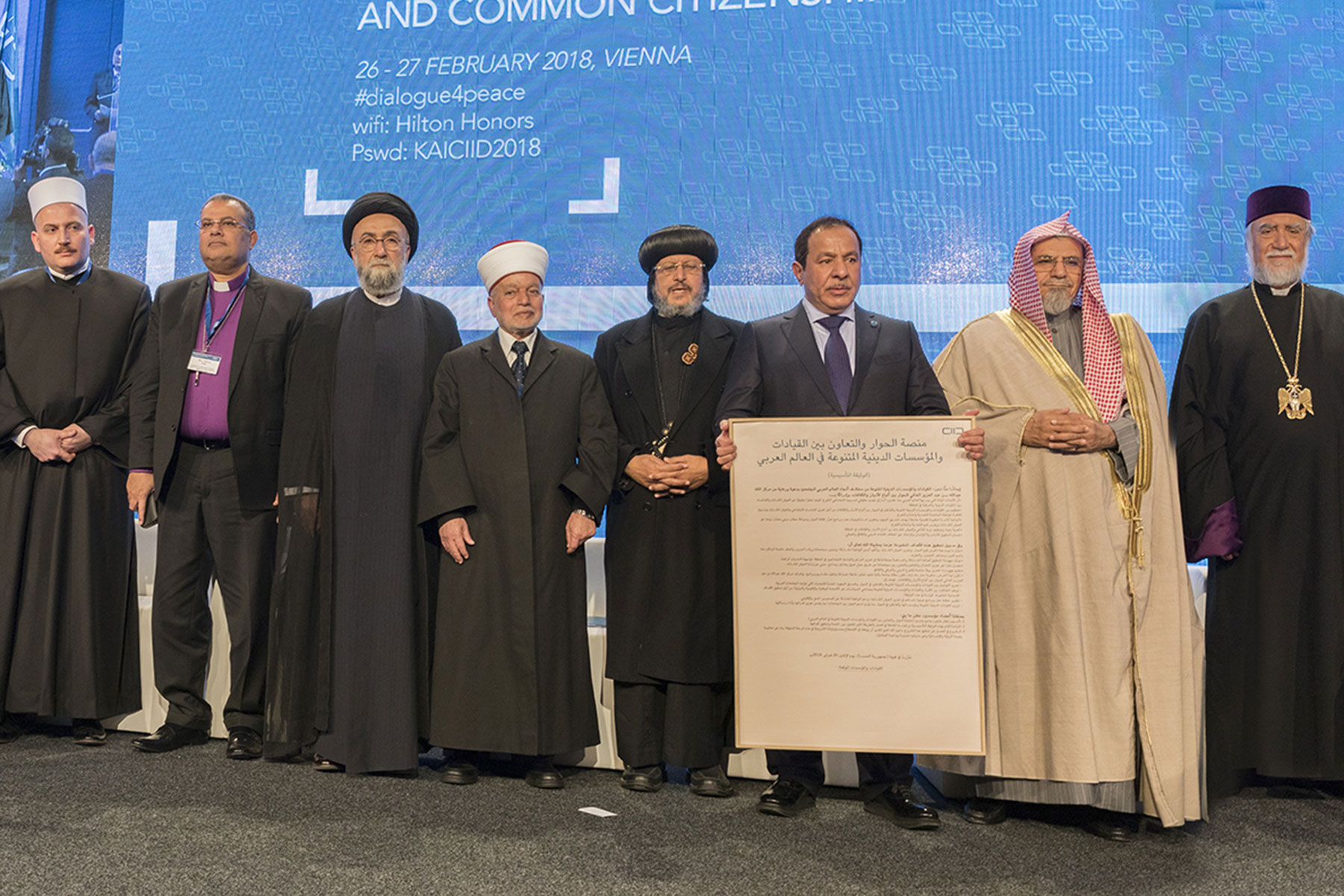 "As We Built Our Civilizations Together. We Must Build Our Future Together." – KAICIID Statement
Twenty-three of the highest religious authorities from Muslim and Christian institutions across the Arab region committed themselves on February 27 to work together to rebuild and protect their communities from the effects of violent extremist rhetoric and actions.
In a historic initiative, they launched the first interreligious platform to advocate for the rights and inclusion of all communities in the Arab World, to combat ideologies exploiting anxiety, and instigating hatred, and sectarianism, and to jointly address the toughest challenges their communities face.
"For too long, we have allowed religion to be hijacked and used as justification for causing pain and suffering. With the launch of this platform, the leaders of religious communities say 'enough' to this manipulation and misuse," said Faisal Bin Muaammar, KAICIID Secretary General. "There has been enough talk, and not enough action. Through this platform, we will set a visible, tangible example of interreligious cooperation. People need to see that religious communities, working together, are much stronger than any extremists, and that cooperation brings concrete benefits to everyone."
The members of the platform will work to promote social cohesion and common citizenship in their communities. Some of the planned activities of the platform include training for clergy on how to empower young people to resist violent extremism, and the development of religious education curricula to promote respect for all religions. The members of the platform will also regularly meet with national and regional policymakers to advocate for policies and laws that uphold social cohesion.
The closing remarks at the conference were delivered by the Centre's Board of Directors, who include leading voices from five world religions:
Dr. Hamad Al-Majed thanked the Centre for its work promoting interreligious dialogue: "I have seen firsthand the impact that KAICIID's work has in promoting a culture of dialogue in our times."
Dr. Kezevino Aram, Director, Shanti Ashram said: "Those of us who are gathered here are convinced that dialogue must continue, but we must still convince our brothers and sisters of the actual impact of this dialogue. Conflicts have increased, but the desire and the hunger for peace is also expanding."
Bishop Miguel Ayuso, Secretary of the Pontifical Council for Interreligious Dialogue said: "How necessary Peace and Reconciliation are in our days and in our world, so in need of promoting a "culture of dialogue", a "culture of inclusivism respectful of every human person, so as together to promote a solidarity directed towards the common good. The immense movements of refugees and migrants fleeing the horror of war shall find us united in compassion and aware of the urgency to address the present challenges."
Metropolitan Emmanuel, Exarch of the Ecumenical Patriarchate of Constantinople, said: "As a representative of the Orthodox Church, I would like to repeat the words that His Holiness (Patriarch Bartholomew) mentioned in his address: we must have love, not only to our friends but also to our enemies, which is more difficult. And this is the basis of dialogue that is sincere, dialogue, and continuous. And this is what KAICIID has been doing."
Reverend Kosho Niwano, President-Designate Rissho Kosei-kai, said: "The importance of partnership between religious and political leaders has been firmly confirmed at this meeting. This partnership will have to be promoted at local, national and global levels. In so doing, I believe the most powerful tool is a methodology of dialogue. There are some forms of dialogue, namely, face to face dialogue, dialogue through media, as well as dialogue through social media."
Sheikh Ul-Islam Allahshukur Pashazade said: "Indeed, the maintenance and preservation of peace which is above all today`s problems, requires close co-operation of state leaders, public figures and religious leaders."
Reverend Mark Poulson, Secretary for Inter Religious Affairs to the Archbishop of Canterbury and National Inter Religious Affairs Adviser for the Church of England said: "Platforms and the building of them involves preparation and care, and they are only effective if they are locally relevant. We need to be intentional and look beyond the ceremonial. Platforms need to be authentic and rooted in practice."
Rabbi Rosen, International Director of Interreligious Affairs, American Jewish Committee, addressed the participants: "Prejudice and bigotry are nurtured by ignorance and alienation. That is why this gathering is so important. That is why sincere Interreligious Dialogue does promote peace. And that is why we who have the privilege to lead KAICIID are so grateful for your presence and commitment to this path."
The final speaker Dr. Mohammad Sammak said: "We in KAICIID believe that dialogue is a noble humanitarian mission. We are realistic. We know very well that we cannot do it alone. No organization can do it alone. This is a collective human effort. This is why we in KAICIID believe that our Centre is a hub. An international hub for all organizations which share this culture of bridge-building."
The founding members of the platform include Sheikh Dr. Shawki Ibrahim Allam, Grand Mufti of Egypt, Cardinal Mar Bechara Boutros Al-Rai, Maronite Patriarch of Antioch and All the East, Patriarch Aram I Keshishian, Head of the Catholicosate of the Great House of Cilicia, Sheikh Abdul-Latif Derian, the Grand Mufti of Lebanon, Dr. Tawfeeq bin AbdulAziz AlSediry, Vice Minister of the Ministry of Islamic Affairs, Saudi Arabia, Pope Tawadros II, Pope of Alexandria, and Patriarch of the Coptic Orthodox Church of Alexandria, Sheikh Muhammad Hussein, Grand Mufti of Jerusalem and Palestine, Patriarch Yohanna X Yazigi, the Greek Orthodox Patriarch of Antioch and All the East, the Grand Scholar Sayed Ali El-Amine, Reverend Dr. Andrea Zaki, Head of the Protestant Community of Egypt, Druze Sheikh al-Aql Naim Hassan, Head of the Druze Council in Lebanon, Dr. Hisham Qarisa, Head of Al-Zaytuna University, Tunisia, and Dr. Ahmad Al Abbadi, Secretary General of Al Rabita Al-Muhammadiyah Association for scholars, Morocco.
© Photo
KAICIID (King Abdullah bin Abdulaziz International Centre for Interreligious and Intercultural Dialogue)