Exercise and physical activity are good for us. We all know that, right?  So why is it so hard to keep it up?
Some people still make exercise and activity part of their daily lives, even during the pandemic. How do they do it?
In an interview with the Wisconsin Muslim Journal, some avid exercisers shared the hows and whys that help them stay on track.
Know why it matters
Once you know how much difference being active makes, you'll get moving! Just ask Dr. Rula Al-Saghir, a pulmonary critical care and sleep medicine specialist practicing in greater Milwaukee. She can cite numerous studies that show exercise lowers the risk of overall mortality, cardiovascular disease, several types of cancer, hypertension, Type II diabetes, dementia, anxiety, depression, osteoporosis—she can go on!
Or looking from the flip side, exercise improves our ability to think and learn, our sleep and our mood, she said. It helps with weight loss and prevents weight gain, and it improves bone health.
"There are two concepts to keep in mind – being physical active and exercising," said Dr. Al-Saghir. "Being physically inactive is defined as sitting more than eight hours a day. I frequently advise my older patients – because it is so easy to watch TV or read all day—to have an alarm clock by your side. Every hour, leave what you are doing, get up and walk within your home."
Likewise, people in office jobs easily sit eight hours. "That, without any other factors, increases their risk of mortality," she said.
"Adding exercise means more benefit," Al-Saghir said. "Moderate exercise (300 minutes a week – about an hour 5 times a week) is a good goal for most people. Even 'Weekend Warriors,' who do 75 minutes of moderate-to-high exercise on the weekend, decrease their risks of all-cause mortality." In layman's term, they live longer.
"Yet, even exercise has its risk," she noted, and advises middle-aged and older people to consult their doctor before starting a new program. "Falling is one risk. Or a heart attack. For people with asthma, exercise can induce a spasm of the airways.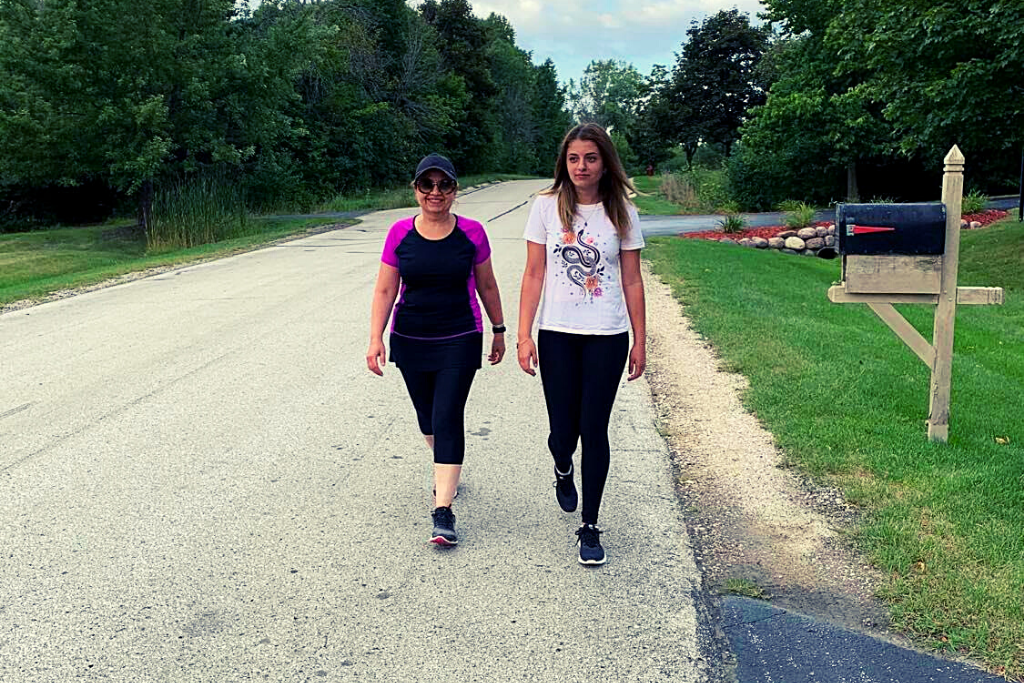 Dr. Rula Al-Saghir and her daughter Maria Qudeimat walk for good health.
"For very obese patients and those arthritis of the knees and hips, I advise them to start with water aerobics. It is easy on the joints and a good way to start moving."
Dr. Al-Saghir practices what she preaches. Pre-COVID, she was a regular at the gym.  She works out with weights at home, uses a treadmill on rainy days and is trying her gym's online classes in yoga, aerobics and stretching.
This summer she has been walking daily, often with her daughter Mariam, who has been home from DePaul University. "Initially, I pushed her. Then, when I felt lazy, she'd say, 'Mom, let's go.' We fast walk for about an hour.
"Just seeing the sky and smelling fresh air was good for us physically and psychologically." Not to mention that walking and talking gave them valuable time together, she said.
Set the right goals
Mostafa El-leboudi, a doctoral student in physical therapy at Carroll University in Waukesha, finds balancing exercise with the demands of graduate school challenging. Not to mention, "the pandemic has been pretty hard on my workout routine," admitted the former Carroll University football player and 2015 Illinois State Champion in powerlifting.
Pre-pandemic, El-leboudi went to the gym three or four times a week for about two hours. "Now, some days, the most I do is walk outside, but it is better to do something than do nothing at this point."
Think long-term, El-leboudi advised. He has a vision about how he wants to be. "I ask myself what can I do to better myself every day. Get up for morning prayer, I try to do that. I always ask myself, 'Does your behavior match your goals?'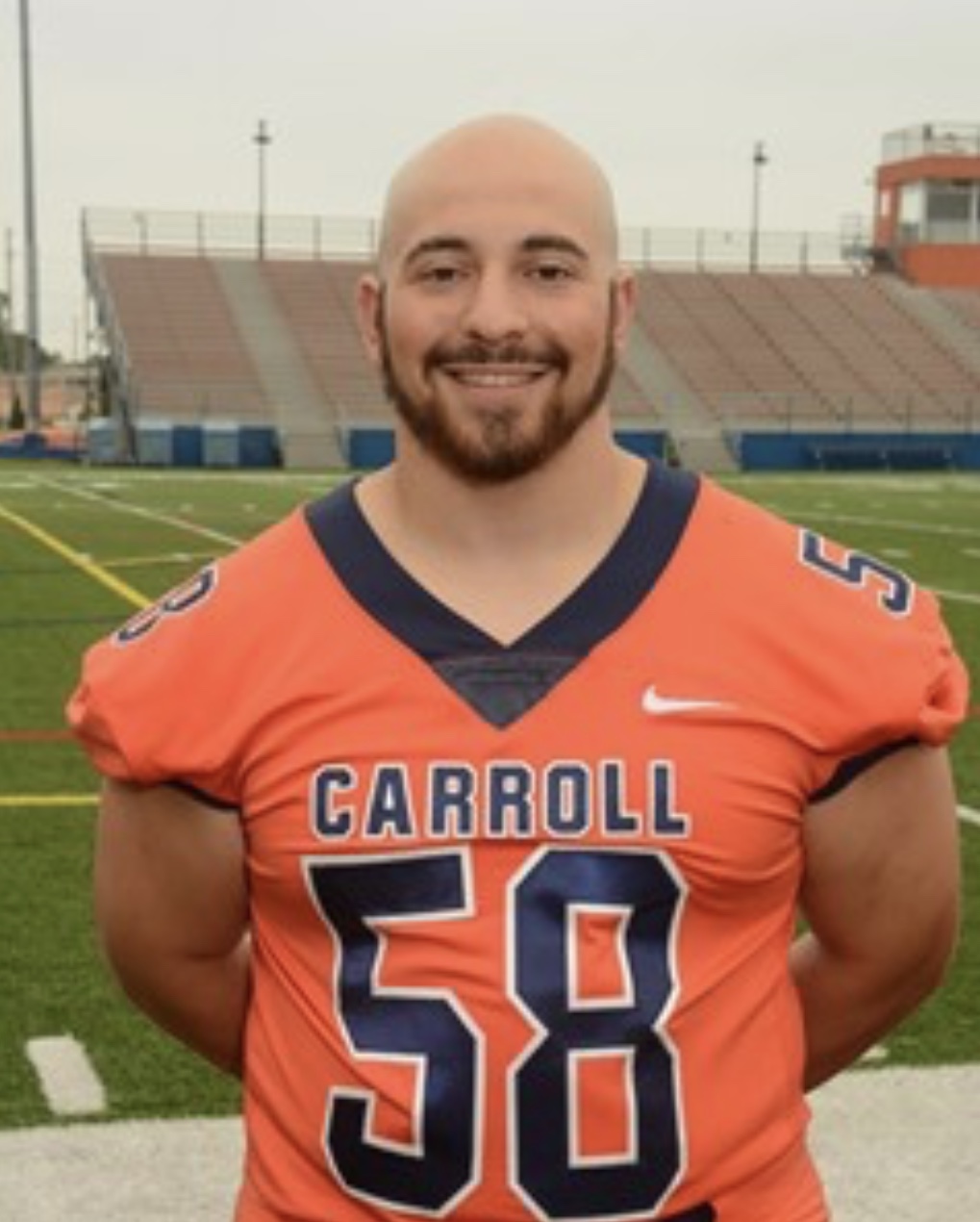 "Being a Muslim has embedded a lot of self-discipline in me that carries over to my sports and academic endeavors," he said.
El-leboudi compared staying fit with his strategy for powerlifting – "remember to leave time to rest between lifts and don't expect to press 500 pounds in a month.
"Set realistic short-term goals to make yourself happy about the progress you are making. Progress slowly and gradually to prevent injuries. Sleep well, eat well and take time for recovery.
"The one thing people underestimate with their workouts is they need to rest between heavy lifting. That is the difference between having quality reps and having an injury down the road."
From years of being an athletic and earning a degree in athletic training, El-leboudi has a few additional tips to help the rest of us keep moving:
Write down your goals.

Invest in some resistance bands to expand your home exercises.

Get your sleep.

Eat well most of the time.

Talk to a medical professional if you have concerns about exercising with any condition you may have.

Don't be afraid to ask questions or ask for help, especially if you have limited knowledge. I still have questions on topics I've been learning about for years.

Exercise with a friend or family member to keep yourself accountable.

There are multiple ways to get fit. Find the way that YOU enjoy and make it fun

Decide to be fit

"Dedicating yourself to being fit is actually a choice for most of the population," said Lorri Adriano-Amin, a health and medical sciences and physical education teacher at Salam School in Milwaukee. Adriano-Amin worked as a registered nurse before beginning her teaching career at Salam School 15 years ago.

"We live in a time with access to excellent healthy options," she said. "A treasure of information now is available to guide us to live a lifestyle of wellness.

"I've always enjoyed being active and strive to stay fit," she said.  "As a Muslim, it's an obligation. Our bodies are a gift from God. We please God and are blessed with good deeds for being responsible when we do our sincere best to stay physically, emotionally, mentally, socially and spiritually healthy."

Before the pandemic, Adriano-Amin was a regular participant in fitness classes at a local gym. "The pandemic it makes it too risky to go to the gym (which I really miss!)," she said. So, since the COVID-19 crisis, she has exercised at home and is active outside. "I lift weights, power walk, bike ride, hike, rock climb, downhill ski, and do some yoga and gardening.  It's not the same as full cardio at the gym but it's steady.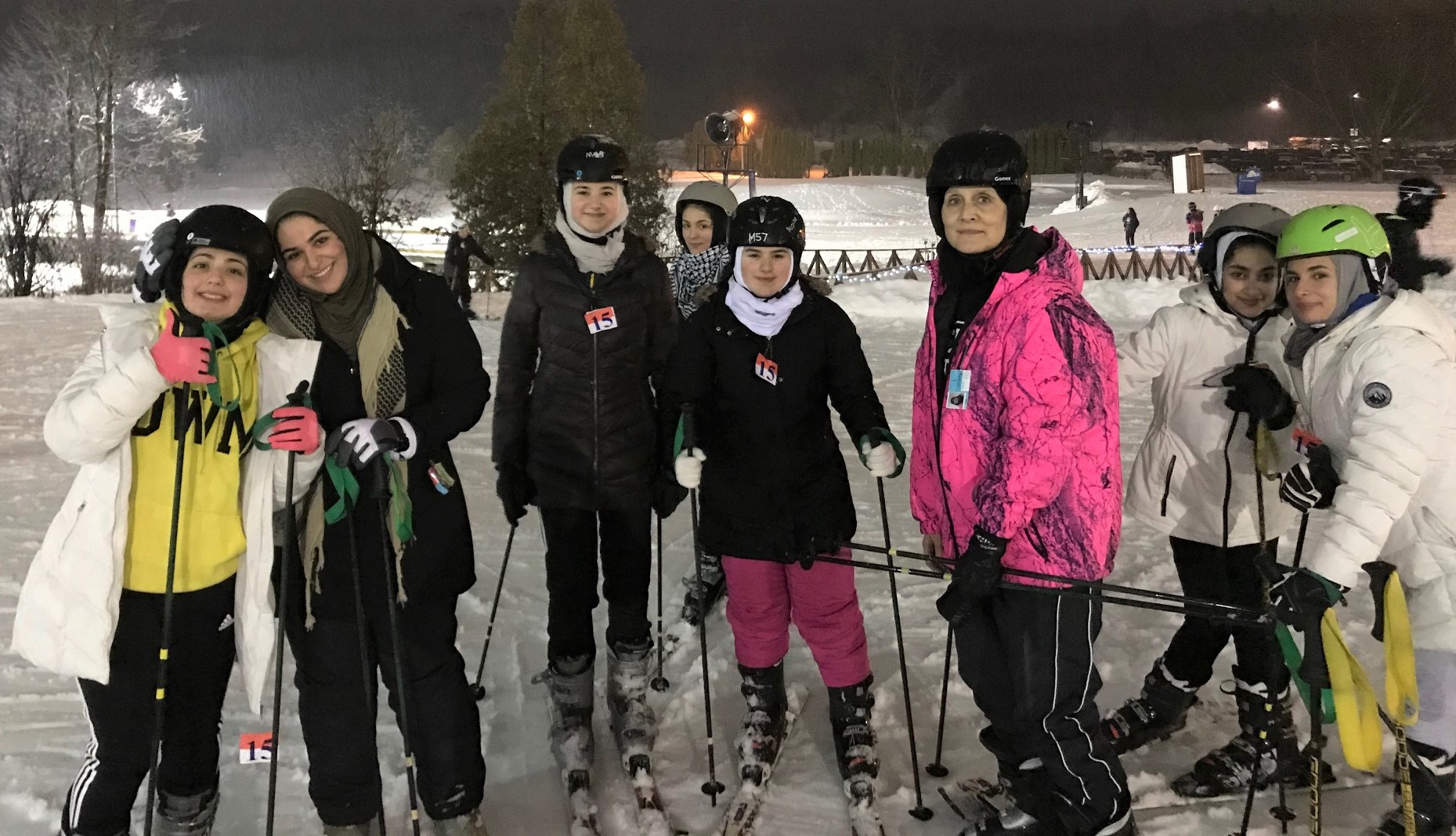 "We live in a fast-paced society, especially in the city.  There is so much stress. That 20-30 minutes of moderate physical activity helps us feel settled, feel good overall, feel accomplished."
As a mother, she encourages her own children to stay active. As they were growing up, she did activities with them. Now that they are older, she shares medical information about "why it's vital to keep our bodies fit. I point out how they'll feel better, sleep better, digest better, have glowing skin, age slower, keep their minds sharp, have more energy and reduce stress.
"When they participate in activities on their own, I tell them I'm happy they enjoy this and choose to take care of themselves. Encouragement helps us all stay motivated."
Adriano-Amin tells her P.E. students to select a favorite activity that suits their interests "and be dedicated to include it in their daily or weekly plan. The main emphasis is to get up and move for their heart and lungs and brain."
For herself, "motivation comes from wanting to stay young in mind, and to keep my body strong and flexible!
"Physical decline can be slowed down considerably, God willing, when we take good care of our bodies through exercise and nutrition. I personally am inspired when I see older people who look amazing physically, which proves age is only a number!"