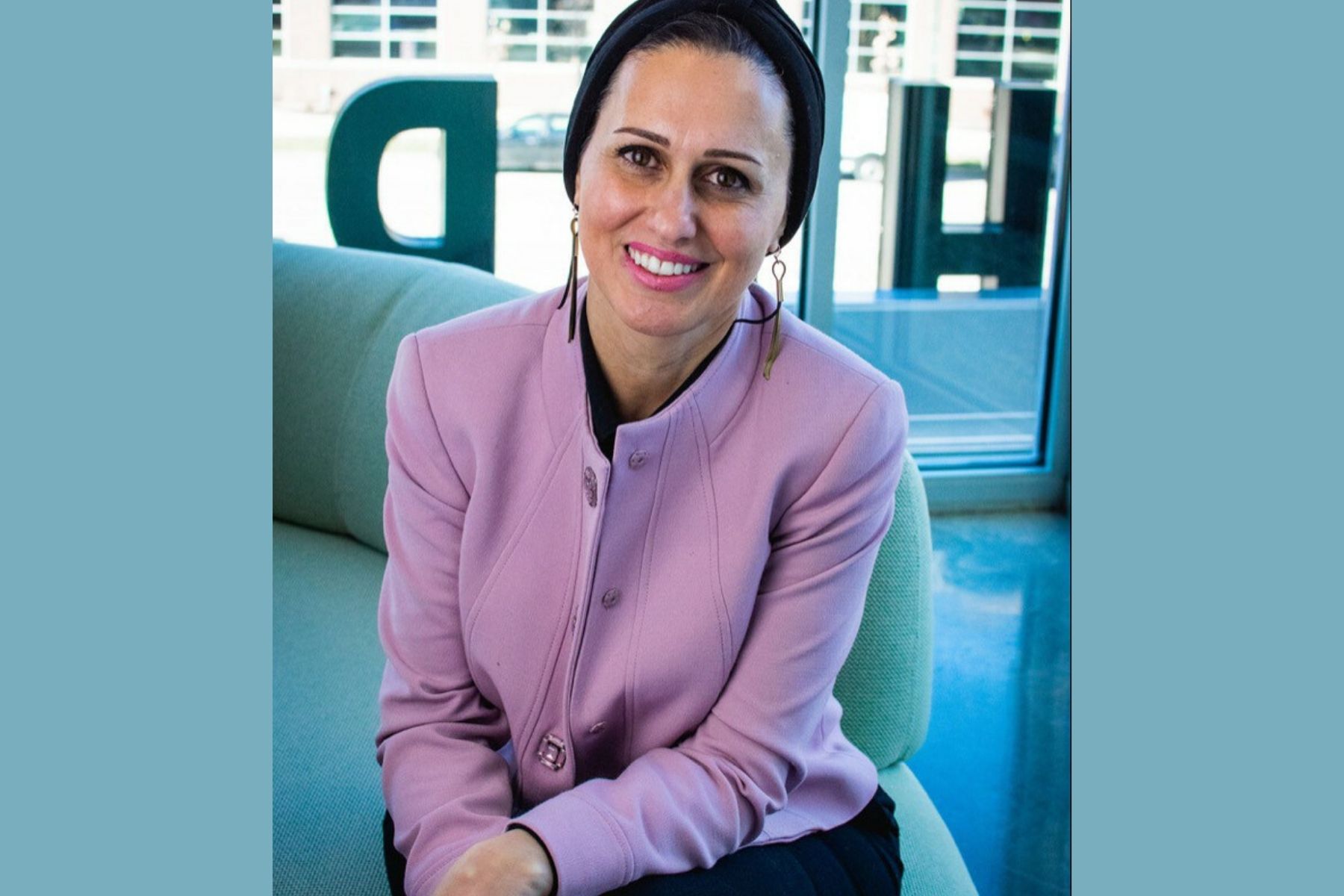 Hana Altaaba, architectural designer with Madison's Strang, Inc.
"I don't have a lot of interesting stories, I'm just an average working mom," said Hana Altaaba, a senior architectural designer with Madison's Strang, Inc.
Maybe, but Strang is an award-winning, integrated architecture, engineering, and interior design firm. And Altaaba has a lot of knowledge about what it's like to work as an architect today.
"The nature of what I'm doing is, I've always been part of a team. This is our industry, you know. Whatever you do is [as] part of a big team. The design process goes through phases. Some people do basically a client meeting in marketing, preliminary design. I've been a part of construction documentation, meeting with the client, doing the conceptual design. That process takes a lot of drafting and software skills."
Twenty years ago, Altaaba said, building design meant using AutoCAD software. Today it means Autodesk Revit, building modeling software, often augmented by Adobe Photoshop and Illustrator. "You have to show the client a nice rendering of 3-D images of the building" both interior and exterior, Altaaba said. "Some people like to go further and do virtual reality. Clients now are expecting to wear the goggles and see the project and zoom around it. They want to experience the building before they give a final decision."
As an architectural designer, Altaaba said, "I now try to focus more on visualization" rather than simply a blueprint unfurled on a table. "Documentation" is the information that is gathered from the client and eventually put in floor plans.
Strang is a full-service firm. "After we do all the documentation, we take the project from A to Z," Altaaba said. That means hiring the contractors, getting the permits, dealing with government entities and any issues that come up during construction, "till we finish and close the project," Altaaba said. "Then we go and inspect the project to make sure that everything has been done to achieve what the clients wanted to have in their new spaces. We're trying to enhance the client mission, take their culture and their experience and put it into spaces that make them successful."
The firm was established in Madison in 1935 by Hamilton Beatty and Allen Strang. Beatty and Strang specialized in small, International Style houses, many of which can still be found scattered throughout Madison. After World War II, the firm moved into the design of larger, industrial spaces. Today Strang focuses its expertise on creating structures for high-tech R&D and manufacturing in the pharmaceutical, biotechnology, telecommunications, and electronics industries as well as academic buildings and corporate offices.
A Milwaukee regional office was recently opened on Busse Road in Waukesha.
Altaaba has been with Strang for five years. Prior to Strang, she worked for 14 years at Madison's Bouril Design Studio on high-end residential buildings.
Altaaba, who was born and raised in Palestine, acquired her architecture degree at the University of Jordan in Amman, and worked as an architect for Jafar Toukan, then the premier architecture firm in Jordan, before moving to Iowa where her husband took an IT job.
"I'm a normal working mom," Altaaba said. "I didn't have my own office because my kids were my priorities." But, Altaaba said, "If you stop working, it's so hard to rebuild yourself." She made sure she never lost her place in her chosen field. "I love what I do. You have to adapt and keep your energy and keep learning." Altaaba said she's glad she never stopped working altogether, because now she'd have to learn how to design all over again, from the ground up.
"My daughter's generation that's coming up is really, really high tech. My generation is trying to compete with the millennials and even generation V, the youngest kids." Altaaba's daughter is a student at UW Madison. Her son is a junior at Middleton High School. Generation V is not so much an age-group as an orientation, a generation defined by its use of digital media.
"You have to keep catching up in technology and software and construction if you want to be a good architect," Altaaba said. "And you have to know the psychology of the people you're working with and how to please. And then you have to be technical and put all these ideas in documentation and at the same time you have to be a lawyer for your clients" by staying informed about building codes and government regulations. "You have to make sure that buildings are safe and know how every detail in the building," including the HVAC and electrical systems, works within the overall design.
Environmental factors are increasingly important in architecture, both how the buildings interact with the external environment, and how they impact employee health. Architects must be familiar with two important certification processes, Altaaba said. LEED (Leadership in Energy and Environmental Design), the most widely used green-building rating system in the world, is provided by the U.S. Green Building Council. And in addition to LEED, building designers also currently seek WELL certification, called the "leading tool for advancing health and well-being" in building design today by the International Well Being Institute, which issues the certification.
Covid-19 has presented architects and interior designers with new challenges. "With CV-19 our thinking about the open office is totally changing," said Altaaba. The pre-covid office was largely conceptualized as the "open office – 50 people in one big open space. Now we have to space people more, partitioning them for safer social distancing," Altaaba said. The mission now is "to re-invent those spaces. Ventilation has to be designed differently. We're rethinking open office design." Altaaba said. "Clients want safe environments."
And that means architects and designers are in another learning, or re-learning phase, figuring out how to respond to the current crisis.
"We're basically behind screens on the computer all day," Altaaba said. For her, that means taking a step back, while working at home, to focus on that re-thinking process. But adapting is second nature for Altaaba. "Ten years ago I decided to wear a head covering, a turban, but I wear it with pride," she said.
However, for Altaaba, one thing will never change. "My coworkers know me from the way I'm interacting with them. In my profession, everyone knows I'm a Muslim." But many people, she said, "have a really wrong image and don't know what Muslims really do. We have to change that image. We're proud of our origins and we're proud of being American citizens too. We're part of this country and part of this tapestry. We act as our religion asks us to do. We respect other faiths and other practices; we are not beautifying our image. This is us."