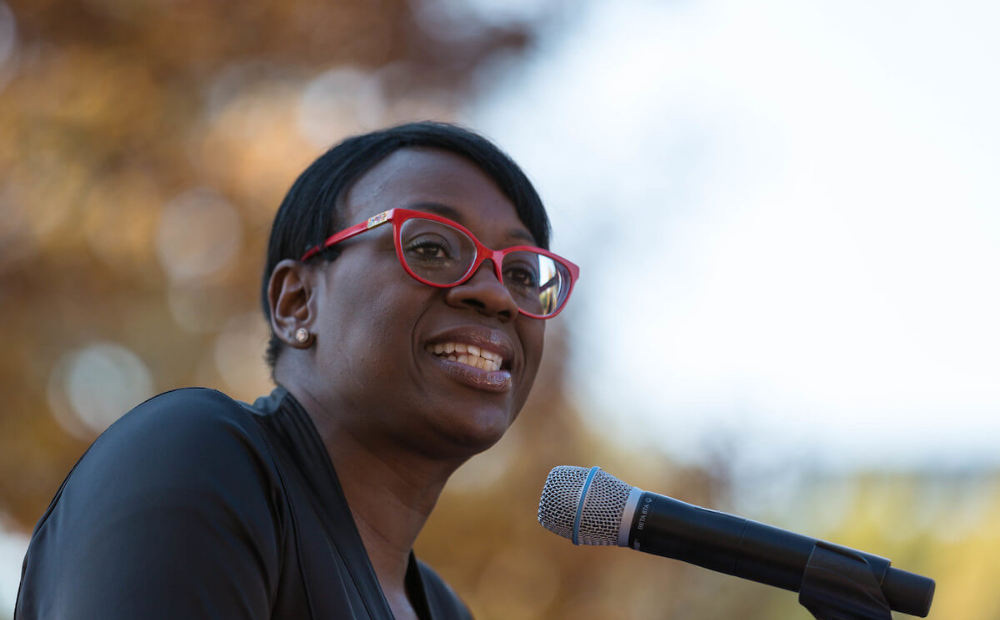 Photo Credit: Lorie Shaull/Flickr
Nina Turner speaking at a rally for social and economic justice in Washington DC, November 17, 2016
It's probably no surprise that the Democratic Party Establishment has all hands on deck trying to stop Nina Turner from being elected to the House of Representatives.
The outspoken national co-chair of Bernie Sanders' 2020 presidential campaign, and congressional candidate in Ohio's 11th district, is obviously not a fan favorite among centrists and her opponent Shontel Brown has been racking up endorsements from various champions of the status quo. Chief among these are Hillary Clinton and South Carolina Representative James Clyburn.
This race is clearly a microcosm of wider battles going on in the Democratic party, but don't discount how Israel is factoring in. Turner isn't a supporter of BDS, but she's called for conditioning aid to the country and tweeted support for Palestine during Israel's most recent attacks. Brown went in the opposite direction, citing the standard trinity: Hamas Rockets, Our Closet Ally, The Right to Defend Itself. The Jewish Insider reports that Brown is set receive endorsements from a group of pro-Israel Democrats Josh Gottheimer, Ted Deutch, David Trone, and Brad Schneider.
This week the lobbying group Democratic Majority for Israel (DMFI) began running a television ad in support of Brown. Just like their ads attacking Sanders during the Democratic primary, they don't actually mention Israel at all. DMFI claims that support for the country is rock solid among Dem voters, but the fact they don't cite it in any of their TV spots is probably a fact worth reflecting on.
DMFI actually first endorsed Brown back in February and sent an email to its supporters attacking Turner. "The stakes in this race are high," it read. "One of Brown's opponents, Nina Turner, has been labeled 'fully anti-Zionist' by her allies and refuses to join some 95% of House Democrats in condemning the BDS movement, whose founders believe Israel should not exist in any borders. Turner also recently endorsed placing new conditions on U.S. aid to Israel — an idea Joe Biden labeled 'terrible' and 'outrageous.' She was also a leader of the (unsuccessful) effort to move the Democratic Party platform in an anti-Israel direction."
"What's more, Turner literally compared voting for President Joe Biden to eating 'half a bowl of shit!," it adds.
The horror, the horror.
The aforementioned Jewish Insider piece on the race refers to Turner as "controversial" and a "source of concern" but casually references DMFI without any qualifiers. Justice Democrats' Waleed Shahid emailed the author, Matthew Kassel, about this. His tweets on the issue are worth reading:
I emailed Matthew Kassel asking why his recent piece refers to Nina Turner as "controversial" and a "source of concern" but is neutral in describing DMFI, a SuperPAC running ads against Nina Turner that takes GOP money and whose board member called for burning all of Gaza.
For context, the piece includes six quotes from people backing Nina Turner opponent, Shontel Brown, and zero quotes from people backing Nina Turner.
He said: "Fair enough, Waleed. Would you like to offer a comment on the ad buy? I can probably update the piece with a quote if you're interested in providing one." I sent a quote naming DMFI's numerous controversies. He replied saying they could no longer fit it in the story.
"please provide a quote." "wait no not that one!"
I wouldn't usually post about this but it's a clear example of a double standard that paints people of color supportive of Palestinian rights as "controversial" while not saying a word about a "Democratic" group receiving GOP money whose board member called for genocide in Gaza.
It's not about Matt, he tries to be fair. It's implicit bias on what is considered "controversial" by press. Backing from a group whose board member said all of Gaza should be burned gets no mention. But any comment on Israel from Ilhan Omar, AOC, Jamaal Bowman is controversy.