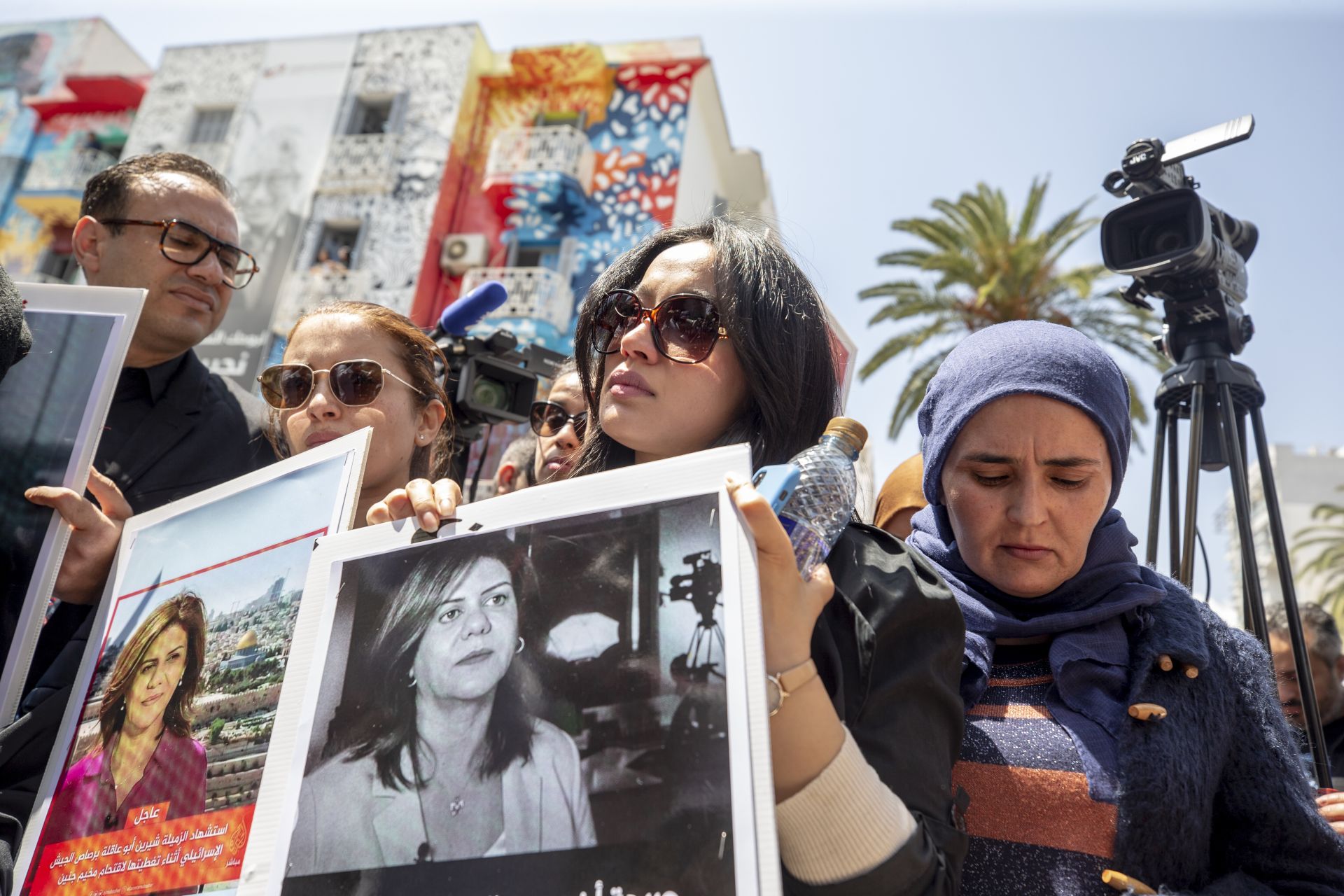 Tunisian journalists protest the May 2022 killing of veteran reporter Shireen Abu Akleh. (Yassine Gaidi/Anadolu Agency via Getty Images)
here are two days that are forever etched in my mind: the day I met Shireen Abu Akleh and the day she was killed. The former was 10 years ago in Washington, D.C., where I worked for Al Jazeera and Shireen was sent from Ramallah to the bureau to work on a range of stories from the U.S. I didn't know much about Shireen personally, except what I had seen of her on the TV screen.
For years throughout the Second Intifada, when I was living in Ramallah, Shireen was the face of war and peace. She was omnipresent on TVs across Palestine and throughout the region. She kept us informed when the internet was patchy and smart phones were not yet ubiquitous. For me, then a 22-year-old journalist who was just starting out, Shireen was a role model: a strong woman who had carved out a name for herself in a world dominated by male war correspondents.
I recall being in awe of her strength but mostly her ability to stay resilient and calm under excruciating circumstances. In Palestine, her name was as well known as that of Yasser Arafat, whose demise she would cover as well. I never once thought I would meet her, let alone be her friend. But 10 years later, in a newsroom far from Ramallah, on the East Coast of the United States, I learned that Shireen would be my colleague for a couple of months at least. I recall a mix of emotions — excited to meet this inspiring woman I had seen carry out her journalistic duties with poise and strength, nervous about meeting someone who had inspired me and afraid of coming off as a silly groupie. But when I met Shireen, it was like everything I knew about her from the TV screen was another person. She immediately embraced me, both physically and emotionally, even though we did not know each other. The face she had on for TV was far from the one I was privileged enough to see: one that was constantly filled with happiness, laughter and cheekiness.
I was perplexed. How did this woman who carried an entire nation through some of its worst moments — especially, for me, the Israeli invasion of the West Bank in 2002 — manage to be one of the funniest people I'd ever met? Obviously humans are capable of so much emotion. But to me, watching this serious person on TV transform into a fun-loving creature warmed my heart. I was immediately drawn to her and our friendship didn't just blossom — it erupted with a bang. Her jokes, laughter, ability to find happiness amid the darkness — all drew me in. I was thankful she had chosen me as her friend.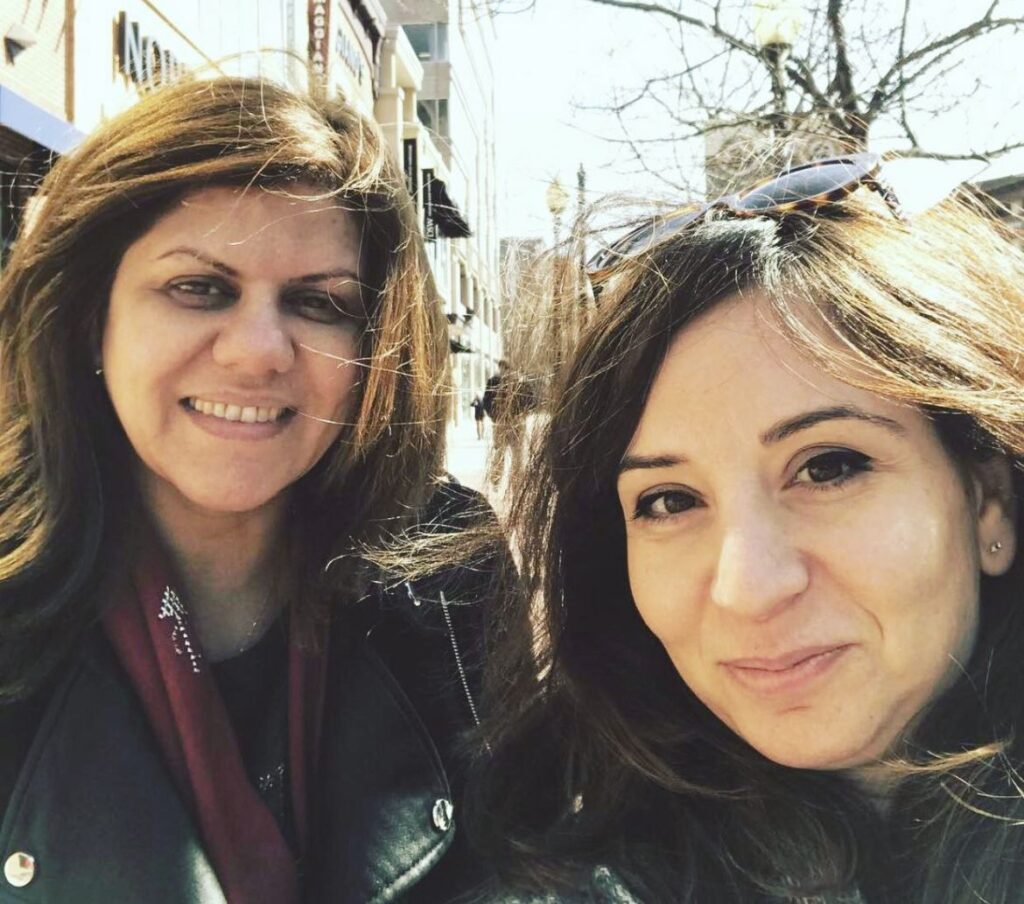 The author with Shireen Abu Akleh in the Washington, D.C. area. (Dalia Hatuqa)
Apart from her funny bone, what struck me the most was how down to earth Shireen was. This woman was an Arab media darling, a household name throughout the region, who brought Palestine into the living rooms of millions. But she was in no way a diva. She was kind and courteous to everyone. There was a touch of timidness and shyness in there too. She was humble despite being aware of her power to relay the stories and experiences of others. She was not afraid to ask for help, to learn, to channel her energy into something new. She traveled across the U.S. to highlight the plight of Black and Native Americans. Before all else, she was humble, and her humility shone through. Her listening skills were unmatched. Despite her years in the field, she still wanted to learn. She retained that hunger for knowledge and was constantly learning.
Shireen's demeanor off camera was striking. She wanted to enjoy her time when she wasn't at work. Like me, she had an affinity for shopping, going out for dinner and dancing. I recall taking her around D.C. to buy new clothes — she always ensured that she bought things for her friends back home as well. We would go into the changing rooms of department stores and start cackling when the dresses we chose weren't a good fit. She was hesitant to make decisions when it came to buying things for others, so we would stand at the store for an hour to make sure whatever she was getting was a good match for their size and personality but also their character and likes and dislikes. She was thoughtful like that. When she went back to Palestine and I stayed in D.C., we kept in touch. I couldn't believe my luck: that I had found a friend in this brilliant journalist who affected the narrative of world events, a brave and intrepid woman who was beloved not only by her own people but also from Morocco to Iraq and shook entire nations with her reporting.
A few years later, I moved back to Palestine, and it was as though Shireen and I had never been across the Atlantic Ocean from each other. There were so many days when I would accompany her to the field. I recall a time when I went down to the Qalandiya checkpoint, where clashes between the Israeli army and protesters had ensued. I didn't have a protective vest or helmet, but but she made sure I got one from her colleagues. When we weren't covering tragedies, we would take the edge off with coffee dates or a friend's birthday party where we danced the night away. Her love for life was contagious. For my birthday, she always gave me presents, even when I thought I was too old for them. She always asked me about my daughter and spoke to me about her family, especially her brother, who worked tirelessly in international development and aid, and her nephew and nieces. When she got her dog, Filfel, the family seemed complete.
One of my favorite memories is of her inviting me over for breakfast at her place one time. She would always tell me how she never liked to cook, but that day she made a wonderful spread that still makes me salivate. She was so proud that she had put the whole thing together: a full table spread out with scrambled eggs, an assortment of olives, cucumbers and tomatoes, manaeesh (flatbread) and white cheese, which she was excited to tell me about because it was homemade. After stuffing our faces with food, we dropped to her couch, flipping through various TV channels that included a Turkish soap that she was following. We switched between that and news alerts popping up on our phones — because the news never stops, even when it's a Friday morning and you're trying to take a much-needed break from the world around you with a close friend.
Iwill never forget May 11, 2022. I had woken up early that day to get my daughter ready for school. I checked the Palestinian journalist WhatsApp group and noticed that they were saying someone named Shireen had been shot. I vividly remember shaking my head at the phone, denying the possibility that it could be her. Shamelessly, I wanted it to be another Shireen. Anyone but her. I didn't have time to plead with the gods not to forsake her. It seemed like it was only minutes between that initial message I saw on WhatsApp and the emergence of a video that I wish I had never seen. That footage is now etched in my mind, stored along with a series of life-altering events, such as my father's illness and subsequent death, and the 2002 Israeli invasion of the West Bank. It was Shireen lying on the ground with her head down. Someone was yelling her name. And a courageous young man was trying to reach her as an Israeli sniper shot at them.
He managed to get to her and carry her to a car, but I knew she was already dead. Her hair, which always looked perfectly styled, was matted in blood; her face was empty and smeared red. Young Palestinian men began to drive her to the hospital. That was the last thing I saw on the video.
The next few hours were blurry. I left a long voice message with a journalist friend of mine telling him what had happened. I was wailing, all the while pinching myself to make sure I wasn't having a nightmare. My nails dug into my palm as I cried into the phone. I couldn't function, so I did the only thing I knew how: bury myself in work. I immediately took to Twitter to unleash my anger. I found pictures of Shireen, and I wrote long threads about her. I was so scared she would become just another Palestinian statistic, another number, another person who would soon be forgotten. Interview offers began to pour in; I took every single one. In three days, I did 21 interviews and wrote pieces in any media outlet that approached me. And every single time I spoke about her, I cried or broke down. Every time, it felt like I was losing her all over again.
By the fourth or fifth day, I was a broken shell. I couldn't speak or eat. I neglected my parental duties. Daytime naps became a habit and nighttime sleep was unattainable. And then there were the bouts of rage that came with the Israeli claims circulating that she was shot by Palestinian fighters, then that she was killed as a bystander in ongoing "clashes" — and finally the admission that she was most probably killed by an Israeli soldier, albeit "by mistake." The fog-of-war narrative did so much damage despite independent investigations by Palestinian rights groups, the U.N., CNN, AP, the New York Times and others reinforcing eyewitness accounts that Shireen was indeed killed by an Israeli sniper. The pain resurfaced every time the U.S. administration did nothing substantial to bring justice for Shireen's family. Shireen was a U.S. citizen, but that passport didn't save her life or hold her killer accountable. The country that espouses freedom of speech as a foundational right did little for one of its own when she was killed for carrying out her job as a journalist.
The day of Shireen's burial was excruciatingly painful. Seeing her pallbearers and mourners being beaten by Israeli police was another traumatic wound, a knife running through my heart again. Unbelievable images started circulating that morning of Israeli soldiers raining batons on the heads of many of the thousands who came to pay their final respects to Shireen. Her coffin was almost dropped. In death, as in life, Israel attempted to silence her, to push her out of the picture, to stop her from telling the story of life in Palestine under their brutal rule. At the entrance to the cemetery in Jerusalem where she now lies, Israeli police added insult to injury, attempting to allow only Christians to enter. Shireen, a Christian, had resented this type of Israeli discrimination between Palestinians of different faiths and worked diligently against it throughout her life. This was of course just one more effort to dampen the commemoration of a national icon, someone who transcended faith, someone whom all Palestinians trusted to tell their story, from the Jenin refugee camp where she was killed to Jerusalem (where she was a "daughter of the city") to Gaza.
Every day since then, I have thought about Shireen. I have also carried guilt with me over how just weeks before she was killed, she had asked me to meet up. I said I would but I was busy with family, and I didn't get a chance to. I look at her message every now and then and wish I had made time to see her beautiful face, to hear her laugh, to have coffee together. The only saving grace has been meeting her family, especially her courageous niece Lina, who has diligently worked to ensure Israel is held accountable for its crime. Meeting her after having heard so much about her from Shireen saved me from the abyss. The stories we shared were balm to my soul. Messaging her at night when I choked on my tears consoled me. In Lina, I found a piece of Shireen. As this year's May 11 approached, snippets of the past year flashed by. The pain is still raw. My only hope is that pouring my grief into these pages will make it easier to face this dark anniversary with the same courage and poise Shireen will forever be remembered for.