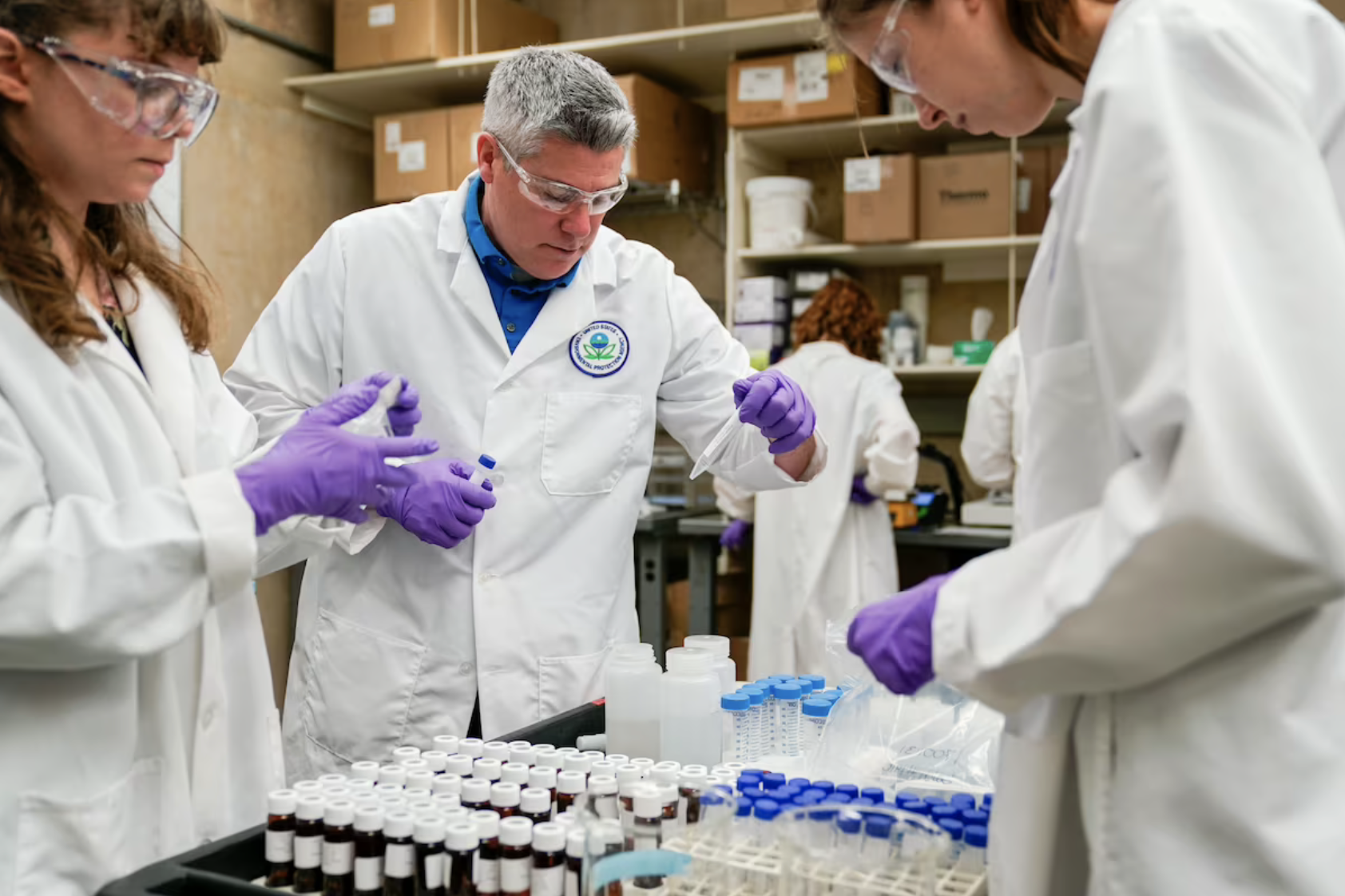 Eric Kleiner, center, sorts samples for experimentation as part of drinking water and PFAS research Feb. 16 at the EPA's Center for Environmental Solutions and Emergency Response in Cincinnati. (Joshua A. Bickel/AP)
The Environmental Protection Agency is proposing the nation's first drinking-water standards for a group of human-made chemicals — commonplace in consumer items — that pose a greater danger to human health than scientists once thought.
The proposal could force water utilities to spend billions of dollars to comply with the EPA's planned limits on polyfluoroalkyl and perfluoroalkyl substances, or PFAS, even though those limits are less stringent than advisory levels for safe consumption the agency set last year. Officials say that small and rural utilities will have access to federal subsidies and assistance, blunting the financial impact of the rule, if enacted.
The proposal would require water utilities to detect and reduce PFAS contamination at 4 parts per trillion. The agency had warned in June that the compounds pose a greater danger to human health than regulators previously thought, compromising people's immune and cardiovascular systems at a lifetime exposure of between just 0.004 to 0.02 parts per trillion, depending on the type of compound.
Agency leaders say, however, that 4 parts per trillion is the lowest level at which they can be accurately measured and detected, making it the most stringent rule the agency could enforce. Its proposed limits would be as strong or stronger than limits from any of about a dozen states that have set their own standards in recent years, agency officials said.
"The experts here felt this was the level of stringency required to protect public health, and that the law would allow for us," EPA Administrator Michael Regan said. "This is a transformative action that we're taking."
PFAS are human-made chemicals found in common consumer products such as cosmetics and food packaging that are used by millions of Americans. Linked to infertility, thyroid problems and several types of cancer, these "forever chemicals" can persist in the environment for years without breaking down.
The threat of long-term PFAS exposure is not fully known, but animal studies show that these chemicals can damage the liver and the immune system, according to the federal Agency for Toxics Substances and Disease Registry. The agency also says PFAS have "caused low birth weight, birth defects, delayed development, and newborn deaths in lab animals."
Its presence in water is now so ubiquitous that it will take billions of dollars to remove, said Robert F. Powelson, president of the National Association of Water Companies, a trade group representing investor-owned utilities. In a statement, he said small and poor communities are likely to be disproportionately affected and that he is asking Congress to step in to require chemical manufacturers and PFAS consumers to pay for cleanup and water treatment.
"Establishing a national standard for addressing these harmful ingredients from the nation's water supply provides clarity to all utilities, their customers and states while placing all water and wastewater systems in the same boat to navigate these uncharted waters," Powelson added. "Instead of coming from the pockets of water and wastewater customers and utilities, the polluters should be held directly responsible for the cleanup costs."
The federal government has not previously regulated the chemicals, but the EPA is considering a move to classify them as hazardous, separate from new PFAS limits for drinking water. Health advocates have called on the Biden administration to act more quickly to address what officials from both parties describe as a contamination crisis that has touched every state.
Drinking-water standards have to take into account cost and technological feasibility, limiting what the EPA could require, said Melanie Benesh, vice president of government affairs at the Environmental Working Group, a nonprofit organization. Considering that, the 4-parts-per-trillion limit has been widely expected, she said.
"This is a historic, important, really health-protective rule that the agency is putting forward," Benesh added. "It's about as low as the EPA could possibly go."
Agency officials say they expect to complete a final rule by year's end, but delays are common on new rules like this. Originally officials said they planned to propose these mandatory drinking-water standards last fall. And a decision on classifying PFAS as a hazardous substance was first slated for February, but that proposal is still in interagency review, the EPA's Regan said.
Regan said he doesn't have a date on when that review might conclude and said he wasn't concerned the agency is running behind. Delays have plagued several new environmental rules promised by the Biden administration, especially at the EPA. Some of the biggest are on climate, with the agency still working on new limits on greenhouse-gas emissions from power plants, cars and trucks, and oil and gas operations.
"Obviously this administration has been very aggressive at looking at all the rule makings across all of our agencies that need to be taken care of," Regan said.