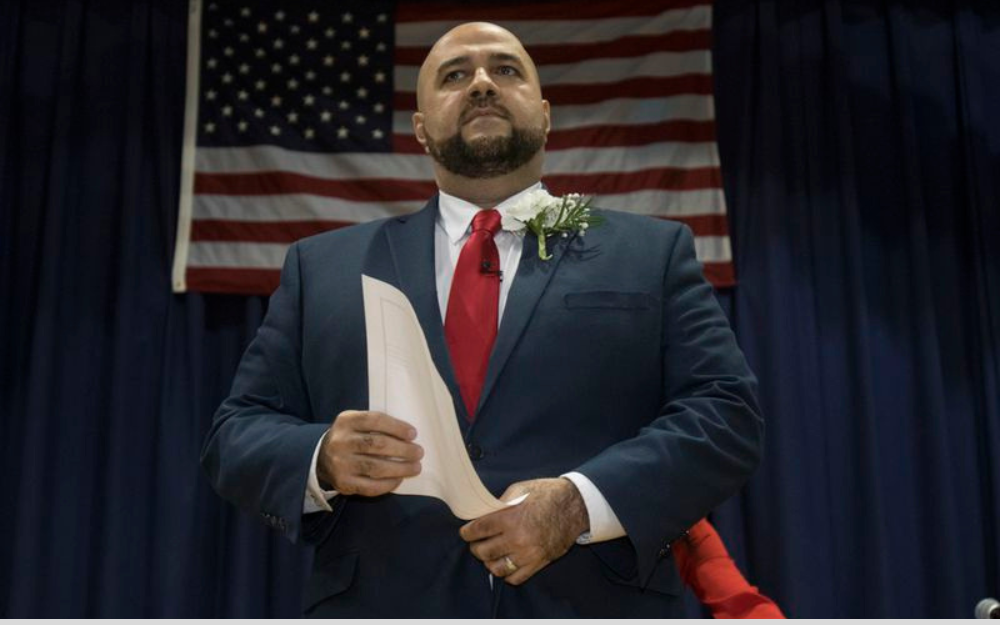 Prospect Park's Mayor Mohamed T. Khairullah calls the meeting to order after he was sworn-in for his fourth term in 2019. Khairullah, who was born in Syria, has become an outspoken leader in the Syrian community in New Jersey and abroad. (Thomas E. Franklin | For NJ Advance Media)
The man who religious groups recognize as the longest serving Muslim public official in the state of New Jersey is being sworn in for his fifth term Saturday.
Mohamed Khairullah, the Democrat mayor of Prospect Park, said he sees his reelection as a symbol of acceptance.
"(It shows that) assumed biases can be melted because people will see you for who you are rather than what could be stereotypical about you or your community," Khairullah told NJ Advance Media.
Born in Syria, he was first elected to the post in 2005, just four years after becoming a U.S. citizen. This November, he won his latest election 728-372 against Republican candidate Maria Emma Anderson.
"It's been beautiful and wonderful," Khairullah said of his time in office. "It's one thing led to another, and it's been a beautiful journey."
Khairullah will be sworn Saturday afternoon at Prospect Park School No. 1. Borough council members Mohammed Hussain and Anand Shah, fellow Democrats, will also be sworn in.
The Council on American-Islamic Relations' New Jersey chapter (CAIR-NJ) said Khairullah's success isn't an anomaly. An increase in Muslims becoming elected officials is "part of a national trend," said Madina Ouedraogo, CAIR-NJ's government affairs manager.
New Jersey has at least 40 Muslims serving in elected office, CAIR-NJ said in a statement. Khairullah said that's the most of any state in the country.
"Muslims are a rapidly growing population in the United States and the election and re-election of American Muslims leads to much-needed political representation for our communities," Ouedraogo said.
Khairullah said he's seen both Democrat and Republican mayors who are Muslim win elections in New Jersey. "We can get over the stereotypes and biases if we serve our communities well," he said.
Khairullah has worked with nonprofits and resettlement agencies to help refugees during his time as mayor, according to
his campaign website
, which describes him as "an American mayor who happens to be a Muslim."
Prospect Park is a smaller borough in Passaic County, with about 6,300 residents as of July 2021, according to the most recent data available from the U.S. Census Bureau. Khairullah said the borough's Muslim population is a minority. He estimates that less than 15% of residents are Muslim, but said that number is increasing with the borough's growing Bengali community.