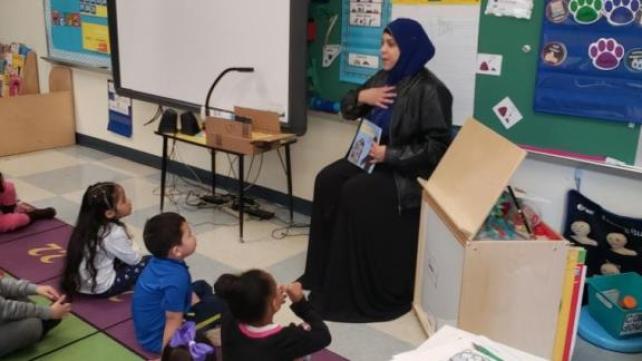 "Once you learn to read, you will be forever free." 

– Frederick Douglass 
I chose to begin this article with that impactful quote, as it really captures the power of reading. What a blessing it is to know how to read. Reading opens the door to the knowledge that feeds our souls. Human beings were created with an ardent desire to seek knowledge, and Islam encourages us to embark on its noble pursuit throughout our lives. I have fond memories of how I developed a love for reading and the people who helped shape that experience. I first learned how to read Spanish in 1st and 2nd grade in a rural Catholic school in Puerto Rico. We learned by sounding out syllables, singing songs, and dictation. By the time I was moving on to 3rd grade, however, my father joined the U.S. military, and that decision would land us in the state of Texas. In this new land, I would have to learn to read all over again in a language I did not understand. 
I vividly remember my first day of elementary school at an Army base called Fort Bliss, in Texas. The experience was anything but blissful. My mother dressed me in my best Sunday clothes, an itchy black and white polyester skirt with a matching blazer. I clung to my father's arm in fear as we stood at the entrance, surrounded by cheerful English-speaking children whose words sounded like muffled gibberish. My father found my teacher, Ms. Mathieson, and introduced himself. As they spoke to each other, I stared at the ground in tears, still grieving the familiar homeland I left behind. Suddenly, Ms. Mathieson bent down to greet me and when she spoke, my heart leaped with joy. She spoke to me in Spanish!
Ms. Mathieson was Mexican American, and she was a fluent English and a Spanish-speaker. She gently reassured me, took me by the hand, and led me to class. During those days, English as a Second Language (ESOL) classes were not common, especially in military schools. I was placed in a regular classroom, and it was only pure coincidence that Ms. Mathieson was bilingual. She single-handedly taught me English in a matter of a few months. How did she do it? Through reading.  
Ms. Mathieson divided her class into two reading groups. One was the red group of proficient readers and the other, the blue group which needed extra help. Needless to say, I was placed in the blue group, but I was not even close to my classmates as far as their level of competence.  The first time I was instructed to read, I was petrified. We sat in a circle, with open books in front of us, and each student read a few sentences. Ms. Mathieson waited until it was my turn and said in Spanish, "Go ahead, read." I immediately protested, "How am I going to read if I don't speak English?" She told me to just do it. I again told her, "But I can't!" She insisted. I looked at the page in front of me and began reading the only way I knew how – in Spanish. 
The word "the" became "tay," "bird" became "beerrd," and so on. Ms. Mathieson corrected every single word and made me repeat it the correct way. It was one of the most embarrassing, yet significant moments of my life. After weeks of reading aloud, I was able to master reading English. Eventually, she moved me to the advanced reading group. 
In retrospect, my first attempt at reading English that day reminds me of the first encounter between the Prophet Muhammad, peace and blessings be upon him, and the Archangel Gabriel. We learn in the story of that first fateful night of revelation, that Angel Gabriel, peace be upon him, pressed the Prophet, ordering him to read. The Prophet, being an illiterate man, responded, "I am not a reader (or reciter)." The angel insisted and grasped him forcefully until he felt distressed, released him, and demanded again, "Read!" The Prophet again responded, "I am not a reader." He pressed him a third time, and said: 
"Read, in the Name of your Lord Who has created (all that exists), has created man out of a clot, Read! And your Lord is the Most Generous. Who has taught by the pen, has taught man that which he knew not." 

(Surah Al-'Alaq, 96:1-5 and Sahih Bukhari)
I may have been a fluent Spanish-speaker and reader in Puerto Rico, but when it came to the English language during my first months in the U.S., I was illiterate. Like the Prophet Muhammad, peace and blessings be upon him, I was told to do what I thought was impossible. Alhamdulillah, all praise and thanks to Allah, with some effort and with a caring and patient teacher, I was able to overcome my fear. I am profoundly grateful to my 3rd grade teacher for not only educating me, but for leading me to the library and helping me pick out a book for the first time. 
Ms. Mathieson would often take her class to the school library. On our first trip, she led me to a section of fiction books sitting on a small, yellow shelf. She chose a book for me to read called Beezus and Ramona by Beverly Cleary. It was about a young, fearless girl named Ramona Quimby and her family. I loved the book so much, I continued with all the following books in the series and more. I can trace my love of books to that little yellow shelf of Beverly Cleary's books. I got into the habit of going to the library at school and checking out as many books as I could carry. I developed a great love for reading. After reading the whole Ramona series, I became interested in Greek and Roman mythological tales. My interest in mythology would eventually shape my perspective on history and world religions, something that aided my conversion to Islam a decade later. 
It was Ms. Mathisen, and later my 5th-grade teacher, Ms. Watts, who inspired me to pursue a career in teaching. Ms. Watts was an African American teacher, who had a no-nonsense and disciplined approach to education. Despite her hard outer shell, she always encouraged us to be confident. Ms. Watts persuaded me to participate in my first spelling bee, and to develop my love of poetry. Both these wonderful educators believed in me and taught me how to explore a whole new world through reading and writing. Because of their guidance, and Allah's mercy first and foremost, the English language was no longer a burden, but a tool that would help me in my chosen career path. 
I earned a B.A. degree in Modern Languages and Linguistics, specializing in secondary education. During my undergrad, I reconnected with my Puerto Rican roots by taking advanced Spanish literature classes. I also worked as a special education and ESOL teaching assistant, helping other children who struggled with English as a second language. I eventually became a high school Spanish teacher and worked in the public school system as a visibly Muslim hijabi. (You can imagine how puzzled my students were on their first day of class when they encountered a Muslim Spanish teacher!). When I had my first child, I stepped away from the classroom and focused on being a mother. That decision would lead me to pursue writing and translating as a career, and later becoming an author.
My next literacy goal was mastering the Arabic language so that I could read and understand the Quran in the language in which it was originally revealed. I learned to read Arabic slowly with many teachers, but this is the only language of the three that I have not been able to grasp completely, but I pray that I will be able to accomplish that someday (I humbly ask you, my dear reader, to make dua for me to achieve it). If anything my literary journey has taught me it is that nothing is impossible if we just read. 
During my author visits to different schools, I tell students about how my love for reading started in 3rd grade and in what ways my experience as a non-native speaker of English set me up to become an author. I also tell them about how my own children inspire me to write and why it is so important to learn about different cultures while celebrating our own individuality. I wanted to teach Spanish because it was important for me to preserve my native language and my identity as a Latina after moving to this country and embracing Islam years later. When I became a mom, it changed my whole perspective, and teaching my own children became a priority. When I found out there were no educational resources for me to teach my children about Islam in our native language, I used my love of reading and writing to produce my own Islamic children's books. 
I self-published my first book in 2010 with the help of my family, after Islamic publishers I queried told me there was no market for children's books in Spanish. No matter what they said, I knew my reality was different as a Muslim Puerto Rican, whose first language was Spanish and who wanted to instill that same love of reading and writing in her children. I was also certain I was not alone. Producing bilingual educational material to teach my own children became a mission to help others. Prior to this endeavor, there were barely any Islamic books for children in Spanish (or bilingual English/Spanish), much less any Islamic literature with Latino representation.
I know I am not the best author, that my books may not be New York Times best-sellers, and that not everyone will love them, but I know the reason why I write them, and I am passionate about this cause. In many ways, I am still that scared little 3rd grader struggling to find her place in a world that does not speak her language. I see myself reflected in my Muslim children's experiences and it motivates me to continue. 
Literature is powerful and it can change lives. I am a testament to that fact, and I hope that I can motivate others who may one day stumble across my writing. 
By Wendy Diaz
Wendy Díaz is a Puerto Rican Muslim writer, award-winning poet, translator, and mother of six (ages ranging from infant to teen). She is the co-founder of Hablamos Islam, a non-profit organization that produces educational resources about Islam in Spanish (hablamosislam.org). She has written, illustrated, and published over a dozen children's books and currently lives with her family in Maryland. Follow Wendy Díaz on social media @authorwendydiaz and @hablamosislam.