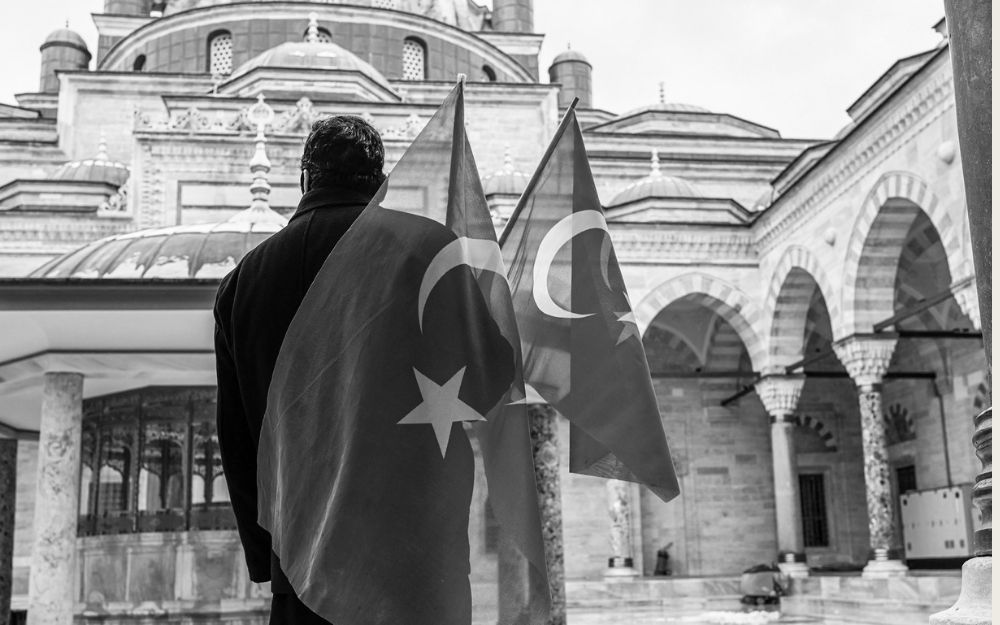 A protester from the Uyghur community living in Turkey stands with flags in the Beyazit mosque during a protest against the visit of China's Foreign Minister to Turkey, in Istanbul on March 25, 2021. (Bulent Kilic / AFP / Getty)
Doing the bare minimum to stand up for human rights isn't an Olympic sport in the Winter Games, which kick off in Beijing tomorrow, but let's suppose it was. Gold medals would undoubtedly be awarded to the United States, Britain, Canada, and the handful of other countries whose high-level officials have chosen to shun the Games in protest of China's persecution of the Uyghurs and other Muslim minorities, saying that the use of mass detention and forced labor amounts to genocide. Silver would go to countries such as Austria, Sweden, and the Netherlands, whose government officials attributed their absence from the Games not to human-rights concerns, but to the pandemic. Bronze would go to the likes of France and the Czech Republic, whose leaders dismissed diplomatic boycotts of the Games as "insignificant" and a "misuse of the Olympic idea."
Majority-Muslim countries, which have largely chosen to ignore the Uyghurs' plight, wouldn't make the podium at all.
Silence from majority-Muslim countries' governments on China's treatment of the Uyghurs is not new. For years, countries that purport to be defenders of the world's Muslims—among them Saudi Arabia, Iran, and Turkey—have largely skirted the issue of China's treatment of its Muslim population in the northwest region of Xinjiang, where the government is believed to have corralled at least 1 million Uyghurs and other Muslim minorities in concentration camps (or, as Beijing prefers to call them, "reeducation camps"). Some of these countries have even aided the Chinese government's efforts by deporting Uyghurs living within their borders back to China, where they are all but certain to face persecution.
The return of the Olympics to China, which is counting on these Games to bolster its global image and validate its authoritarian system, accentuates the silence of governments in the Muslim world. Although these countries are certainly not the only ones that have excused or even abetted China's human-rights abuses, they have essentially given the Muslim world's tacit blessing for China to continue its mass atrocities.
The Muslim world isn't homogenous, of course. It spans dozens of countries on multiple continents and includes a wide array of cultures, languages, and interests. But even with all of their diversity, majority-Muslim countries do occasionally find opportunities to speak with one voice. When it comes to issues such as Israel's treatment of the Palestinians, the Rohingya crisis in Myanmar, and even caricatures of the Prophet Muhammad in Europe, you'd be hard-pressed to find Muslim leaders unwilling to speak out. But on the crisis in Xinjiang, and on China's human-rights abuses more broadly, the response from these countries has been more erratic. Although Turkey and Malaysia have at times offered tepid criticism of China's treatment of the Uyghurs, a much bigger group of countries, including Saudi Arabia, Pakistan, Egypt, and the United Arab Emirates, have gone out of their way to endorse China's policies in Xinjiang. Indeed, all four countries' leaders are among the international dignitaries slated to attend tomorrow's opening ceremony of the Winter Games.
Muslim leaders' words may be varied, but their actions are more unified. In the months leading up to the 2022 Winter Games, none of the world's majority-Muslim countries has answered calls by activists and religious leaders to boycott the Games. "From an Islamic standpoint, supporting an oppressor directly or by extension is not allowed," Imam Abdullah Mu'mini, the chief of staff of the Iraq-based Global Imams Council, told me in an email. "Since we consider what is happening to Uyghur Muslims as oppression, we have taken this very stance."
That Muslim leaders have willfully chosen to ignore the plight of China's Muslims is a testament to Beijing's growing influence. China is one of the most important trading partners of many Muslim-majority countries and, crucially for Gulf states, the primary buyer of Middle Eastern oil. Through its Belt and Road Initiative, China has invested billions of dollars in infrastructure projects across the Muslim world. In doing so, the Chinese government has not only secured its influence; it has also purchased leverage.
In perhaps no country is that leverage more acutely felt than in Indonesia. Despite being the world's largest majority-Muslim country, Indonesia is among the most muted when it comes to the persecution of the Uyghurs. Pro-Uyghur activists attribute Indonesia's stance to Chinese investment in the country and Beijing's concerted diplomatic effort to promote its version of events in Xinjiang. "Indonesia is one of the biggest recipients of [Belt and Road] money, so that is a huge incentive for Indonesia to keep quiet," Emil, a Jakarta-based activist with the Indonesia Save Uyghur campaign, told me. (He asked to be identified only by his first name for fear of retaliation.) He noted that while public support for the Uyghurs has forced the Indonesian government to tread carefully on the subject, that hasn't stopped it from working with Beijing to further China's aims and its own. In 2020, the Indonesian government, at Beijing's request, reportedly deported three Uyghurs who had been convicted of terrorism back to China, in what Uyghur activists called a clear violation of non-refoulement, the international-law principle that forbids countries from returning refugees to places where they are likely to face persecution or torture.