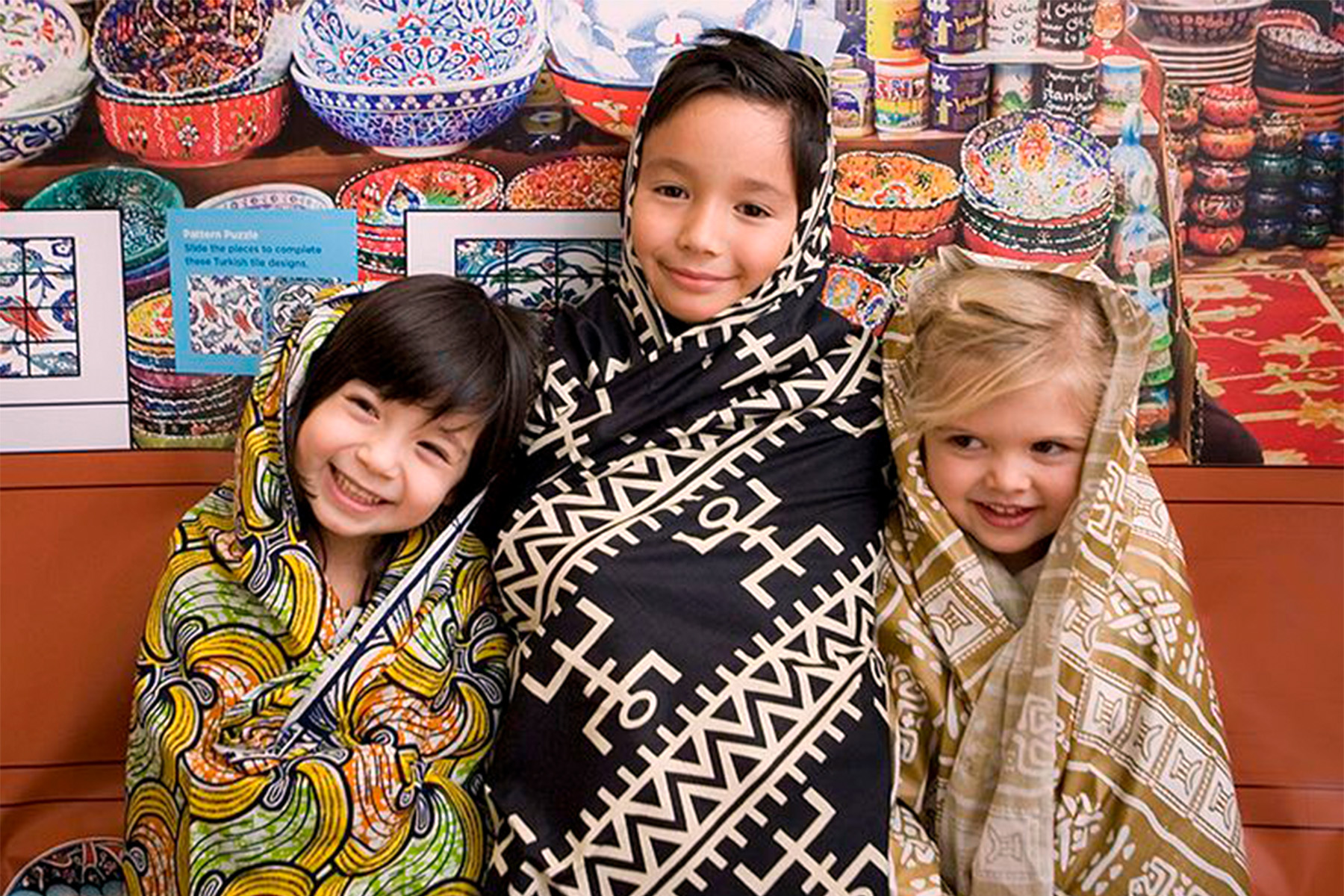 A life-sized Middle Eastern sailboat, dozens of artifacts, and lively demonstrations by local and national Muslim artists are featured in the Please Touch Museum's latest exhibition: America to Zanzibar.
The exhibit is designed to educate children about Muslim culture, past and present.
Children and parents visiting the museum can listen to Islamic music, read about the Silk Road, and explore the global marketplace: an area to practice buying, selling, and trading objects from around the world.
The exhibit's spotlight on Muslim life in Philadelphia comes at the end of the tour. A typical American Muslim home is depicted featuring contemporary music, clothes, jewelry, and a prayer rug. Visitors can also listen to pre-recorded stories told to them by Philadelphia Muslims.
Julie Abara was visiting the museum with her granddaughter. Originally from Philadelphia, Abara has family in Sierra Leone. She and her family in Philadelphia visit the West African nation in the summertime.
Abara said her granddaughter's excitement to see something familiar in a museum prompted her to buy tickets.
"She wanted to show me that, 'look, they have fabrics like we know,' something that she knows," Abara said. "Usually the museum is exploring things that maybe she knows or is teaching her something new. But this is something that, 'Oh, it reminds me of me!'"
Jameel and Jazmeena Austin, both Muslim, brought their son to the exhibit to educate him about his culture.
Jameel said the museum is helping combat the negative stereotypes associated with Islam.
"As you look at all the beautiful images, all the colorful images, and the creativity of everything, you'll realize that Islam isn't hate or a negative religion that's been portrayed in the politics and the media. It's not hate. It's actually a beautiful, peaceful lifestyle," he said.
Jazmeena said the museum will help children understand each other better.
"I think it's very important for our children to be immersed in all different cultures because our schools are very diverse, so they need to be immersed in everything so that they can be more comfortable with children from different places, different cultures, and be able to understand them," she said. "More understanding of cultures brings less hate."
According to the 2010 U.S. Census, 9.6 percent of Philadelphians identify as Muslim.
Patricia Wellenbach, president and CEO of the Please Touch Museum, says the museum wants to spotlight the history of the more than 200,000 Muslim-Americans living in Philadelphia.
"The Muslim community has been a vital part of Philadelphia since the 1600s, and has really made a tremendous contribution to the vibrancy of our city, the depth of culture, the depth of community. And we thought it was important to see this in such a positive light."
America to Zanzibar is open until September 2.