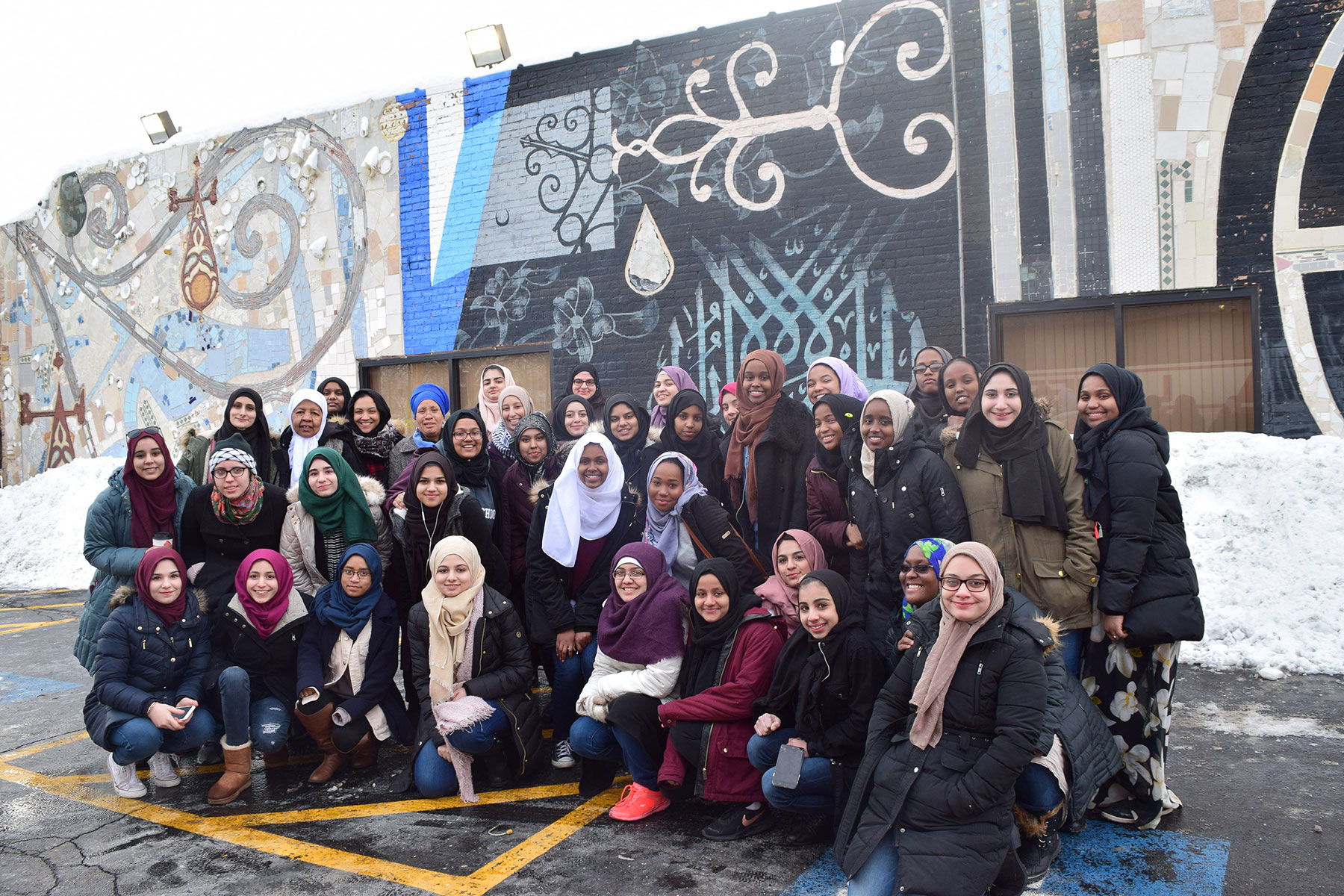 On Sunday morning, February 11th, 2018 a group of 50 girls boarded a coach bus at 8:00am and headed to Chicago on a tour to visit some of the most historical sites in African American Muslim history.
A focus of the history was about the Nation of Islam (NOI), and how it led many people into Sunni Islam. The VIP Girls Youth Program of the Islamic Society of Milwaukee (ISM) worked long and hard to plan the trip, and opened it up to all Muslim High School girls in the Milwaukee area. A large number of Muslims come from immigrant families and many do not know the history of the NOI in America. Many very notable African American Muslims began their journey as members of the NOI, these include Malcolm X, Muhammad Ali and Warith Deen Muhammad.
Sister Laila Muhammad, daughter of Warith Deen Muhammad, and grand-daughter of Elijah Muhammad (a founder of the NOI), rode along on the bus with the group. Once the VIP Youth Committee reached out to sister Laila and told her about the tour, thinking that she still lived in Chicago where the tour would travel, Sister Laila was so excited that she flew out all the way from New Jersey in order to join the group for the trip, and served as a personal tour guide.
The committee structured the trip itinerary of places to visit in order to align with group discussions and dialogue. Most of the girls who signed up for the tour had never heard of NOI. For that reason, there was a discussion circle and a lecture session the night before on Saturday February 10th, 2018 with sister Laila to learn more about the history and the people who played significant roles in how Islam is viewed in America today.
The first site visited was Mosque Mariam, the Head Quarters of the NOI. The group had lunch at Goree Cuisine, and then visited Masjid Al-Faatir, founded by Muhammad Ali and Jabir Herbert Muhammad. The next stop included the IMAN, Inner-City Muslim Action Network, and finally the tour visited the Ephraim Bahar Cultural Center of Chicago where, there was a panel discussion. Four influential speakers talked about how they began their spiritual journey with the NOI, but are now practicing Sunni Muslims.
The trip concluded with an open discussion allowing the youth to ask questions, and express their thoughts and feelings after learning so much new information all in one day. On the way back to Milwaukee, the girls were asked to write a journal entry about their day. Some of those unedited essays are included here to offer insight and understanding about the trip's impact.
A journal by Eisha Shaker
On Sunday February 11th, 2018 a group of female youth from the VIP Program headed towards Chicago to honor Black History Month. Our first stop was Masjid Maryam, the headquarters of the Nation of Islam (NOI). The NOI opened our eyes to how diverse religion truly is. We went over there not knowing much about the Nation of Islam's beliefs but we returned with a whole new perspective of who they are. Although their traditional teachings do not align with our mainstream Islam, their organizational strategies and methods of dawah were extremely eye opening. They entirely exceeded our expectations over and over again from our arrival all the way to our departure. They work closely with their surrounding communities, most of whom are not Muslim. They train their members in martial arts, morals and values, and how to dress, speak, and act as a Muslim. They protect one another and build a sense of community that creates a neighborhood of trust and unity between the Muslims and the non-Muslims. We attended their Sunday sermon where their men dressed in suites and their women dressed in white formal dresses and headpieces similar to the hijab. The staff were very welcoming and Mosque Maryam itself was very beautiful, and angelic. Although at times they seemed kind of militant, their high level of security and gave us a sense of comfort and safety. Everyone was very respectful towards us and we learned so much about them.
Our second stop was Masjid Al Faatir. The land of this masjid was donated by the famous boxer Muhammad Ali and his manager, Jabir Muhammad. Masjid Al Faatir is Mashallah so beautiful on the inside and out, it is the only masjid that was built from the ground up within the city of Chicago. We also talked about the difference between a Masjid or Mussalah designed and built for the single purpose of worship, and a Masjid Community Center that is used for many purposes. One thing we found quite interesting is that there were no bathrooms inside the masjid, rather they were built in a separate building right outside the masjid. The purpose of this was to maintain purity to this beautiful place of worship. The whole place was very clean and the staff was very kind and helpful. The fact that this masjid was built by the funds of Muhammad Ali and his manager made this masjid so much more special to us; because as youth we looked up to Muhammad Ali for continuous years, and seeing where he chose to invest his money really opened our eyes. It made us think about what we would do with our money in the future, from an inspirational and empowering perspective.
We then headed towards the Iman Center of Chicago. Due to our tight schedule and the late time in the day, we were unable to tour the entire IMAN facility. But we did take a look at a couple of their buildings. The beautiful art on the outside of the center left us in awe, we had never seen anything like it. It was incredible to see The Name of the Most High (Allah SWT) artistically painted and displayed on the outside of a building for everyone to see. It was a way to show others how proud these people are of Islam. We learned about IMAN's free health clinic, open farmers market, and the different social justice programs they have in Chicago to better their communities. They strive to improve the conditions of those affected by systematic racism, food desserts, and other flaws of our society.
We then headed to the Ephraim Bahar Cultural Center of Chicago where we participated in a discussion panel with sister Laila Muhammad, the granddaughter of Elijah Muhammad, sister Amatullah Mildred Moore, who was once a part of the NOI and is now a Muslim Chaplin, brother Alif Muhammad, the son of Jabir Muhammad – Muhammad Ali's boxing manager, and Imam Omar of the Bahar Center. This panel was one of my favorite parts of the trip. It was very intelligent to strategically include these speakers who were so knowledgeable on this topic. Their perspective meant so much more because of their relations with these big influencers of Islam.
The panel served as a platform for us to express our thoughts and feelings after seeing so many different people and places we did not even know existed. The panel speakers precisely answered our questions and gave us explanations on things we did not thoroughly understand. They explained the history and transition of NOI, and where they are in their teachings today. And they also identified the grey line that differentiated sunni Islam from the teachings of the NOI. They gave us a taste of a belief somewhat similar to ours with "sprinkles of Islam" that we had never heard about before. We learned a lot from this trip and we also concluded that yes, they do some things in different ways, but the main thing we all have in common will always be: Allah SWT.
The tour stops here. I would like to say that there are two main reasons as to why this trip was able to take place. First, because of the efforts of the VIP Youth Committee. They took continuous hours out of their day to help organize this trip and make it as successful as it was. Everything was organized the way they wanted it to go and it was planned very precisely. Second, I would like to thank our personal tour guide sister Laila Mohammad. She spoke to us beforehand while we were on the bus to gain sense of what to expect when we enter the NOI headquarters. She talked about all the areas we visited and why they are important for us to know.
We all had a major amount of respect for Sr. Laila Mohammad who was amazed when she heard the news that about 50 girls were planning to head to Chicago and take a tour to learn about her ancestors. Therefore, she directly flew in all the way from New Jersey to give us the tour herself. It was so kind of her to do that and she was very helpful when we needed to understand things on the trip. I thank you all for this amazing opportunity that I will never forget, and I pray that Allah SWT grants all those who helped plan this trip Jannatul firdaus inshaAllah.
A journal by Soad Lelana Murry
I was honored, yet humbled to set foot in the most significant place of our historical trip to Chicago, Mosque Maryam. I was greeted by a stream of young women, showcasing their modesty through their gleaming silk white clothing and gloves.
One of the women welcomed me into their large space with such intense eagerness and introduced me to tides of angelic faces sparkling everywhere. It touched my heart to see these women – who hardly knew me – smiling from every direction as if we had been lifelong friends. It was the first time I have truly experienced the Prophet's sunnah (tradition) of smiling. There was a surge of warmth and acceptance, a feeling I have never felt in any other Masjid from the moment I stepped into Mosque Maryam.
Many of the girls and I did not know that this mosque even existed. But I realized that the mosque's popularity or how much it is "seen" in this matter does not define how important it is. In fact, my brothers and sisters from Mosque Maryam taught me that the most vital organs in the body are hidden. No one ever recognizes the importance of the liver, heart, or lungs as much as the head or eyes. But that does not mean that the former organs are not significant. Similarly, our brothers and sisters at Mosque Maryam are those vital organs – the vital parts of the Ummah that helped set the stage for Islam to spread across the U.S.
Of course, I am not going to deny how different their practice is from mainstream Islam. The setup of their Masjid looked similar to a church, and they have a display of the Christian cross intertwined with the Muslim crescent moon symbol. Typically, the women and men stand up with passion when the minister gives his sermons – every Sunday. During these moments, bodyguards stand on the front lines, scrutinizing the audience to prevent overly passionate audience members from storming towards the minister. Also, they are very orderly and punctual about things. For instance, a sister had a precise protocol as to where she wanted me to sit and how I was going to get to that seat. Initially, I felt confused, and thought it was strange. But, looking back at everything holistically, from their contagious courtesy to their firm punctuality showed me important characteristics of a Muslim – characteristics I should strive to emulate.
Their mannerisms were truly genuine, and I believe that we must implement such profound character in our community as well. It is a beautiful experience to look back at because I never knew such a group of brothers and sisters existed. But it does not matter how well-known they are because, at the end of the day, God is the unseen. And what can make the unseen any less significant than the seen when the Lord of the World is unseen.
A journal by Sana Shakir
We never realized how much we truly differ as a human race until an event opens up our eyes to the various cultures and experience some individuals and groups have gone through. For me, this realization manifested itself in the Chicago trip I took with the ISM VIP Youth Program in early February.
Black History Month represented the story of an entire race and their struggle with oppression throughout many centuries. The Civil Rights movement in the mid-20th century played a big part of this story in the United States. Back then, the African American people as a whole simply wanted basic freedoms provided to every white person, but were held back from them by society and the government. Even before this movement, many changes occurred in the African American community, including the re-introduction of Islam, which grew into the powerful Nation Of Islam still in place to this day.
This was the community we were immersed into on our valuable trip. One of the most impactful destinations we visited was Masjid Maryam, whose organization was completely unexpected. Everyone wore pristine uniforms to emphasize their coordination. Lots of security was present to protect the area, which was relieving as there was so much violence occurring and we need protection. We first went into the main hall, which was set up like a church with pews and a center stage, where we heard a talk about how important structure and planning is in such a community. This talk included some ties to Islam, although some of the things said are different to mainstream Islamic beliefs.
Next, we were taken downstairs to a beautiful prayers area, where one of the coordinators answered our questions and explained something that I found very profound; he pointed out that the center hall upstairs was made to be welcoming even to a community of non-Muslims or new Muslims. This was so that the space could be used as much as possible, not just to be packed on Fridays for the khutbah. This fact really opened my eyes to the importance of connecting with the whole community, not just with Muslims, and making good use of expensive space to spread knowledge and share experiences to improve the society surrounding us.
Another memorable location was the mural we saw at the Inner-City Muslim Action Network (IMAN) building. This mural represented many ideals such as peace and love. IMAN also has a free clinic to support the community, as there are so many people who cannot afford to go to a doctor. That kind of love and support amazed me since there are so many lovely movements to help people.
Overall, the trip was impactful and reminded me that there are many communities out there who experience the world in a different manner than we do in Milwaukee. Their livelihood differs, their role models differ, their education differs, but faith can still tie us together and help us stay united.
A journal by Fridarose Jamil
The day started and ended drastically different.
I came in not knowing anything except what I googled the night before. I now know that most of the things that popped up were false. The bus ride there was kind of like the moment before a big test that you did not study for, unnerving. I truly did not know what to expect. When we got to the headquarters I got this feeling of security. Seeing everyone unified, made me feel a sense of community. Honestly, I was taken back by how much it looked like Churches that I have been to. It looked stunning though with the gold and blue calligraphy that adorned the walls. When the meeting was over and we entered the masulah, all of our questions that we had were answered. Throughout the day everyone we talked to was gracious and welcoming. They even gave us bean pies.
Even when we were at the restaurant – one that we filled to the brim, we were greeted with smiles and kindness.
When we went to the masjid that Muhammad Ali founded, we were given an entire tour and prayed thuar and asr. Again we were completely welcomed and treated with such hospitality as if we were the owners.
By this time we were incredibly behind schedule. We unfortunately did not get to go inside the IMAN Center but we were given a tour of the neighborhood and from the outside. As our day drew towards an end, we had a panel discussion and had all of our final questions answered.
Throughout the entire day, we learned so much. I am grateful for the opportunity to learn about the Nation of Islam and their beliefs and customs. I hope one day to see another trip that was great as this one so that we can continue learn like this.
A journal by Nurhayati Ali
My experience in touring the historical sites of African Americans in Chicago was very eye-opening for me. Prior to the trip, I had learned the basic information about the Nation of Islam in my Contemporary Issues in Islam class at my school. So I went on the trip with a good background of information.
But it is one thing learning about something in a classroom setting, but it is a completely different experience when seeing everything in real life. During the trip, we were able to tour Mosque Maryam, Masjid Al-Faatir, the IMAN Center, and the Ephraim Bahar Cultural Center. One of the most memorable parts of the trip for me was when I first stepped into Mosque Maryam. When I walked in, I was greeted very warmly and felt extremely welcomed. The people in charge walked us to our seats, for there was a sermon that day.
Everything was different and new to me. Another memorable moment was the discussion panel at the Ephraim Bahar Cultural Center with Sr. Laila Muhammad, Sr. Amatullah Mildred, Imam Omar, and Alif Muhammad. The panelists gave their perspectives on the Nation of Islam and how it affected their personal lives. The discussion was beneficial for me, in that it was more subjective rather than objective like I had learned in class. It gave me a better understanding of the role the Nation of Islam played in the lives of people.
All in all, the trip was a great opportunity for me to expand my knowledge, especially about African Americans and their significance in society. The trip also enhanced the information that I had learned in class. I hope that in the future, inshallah, I can visit these places again.