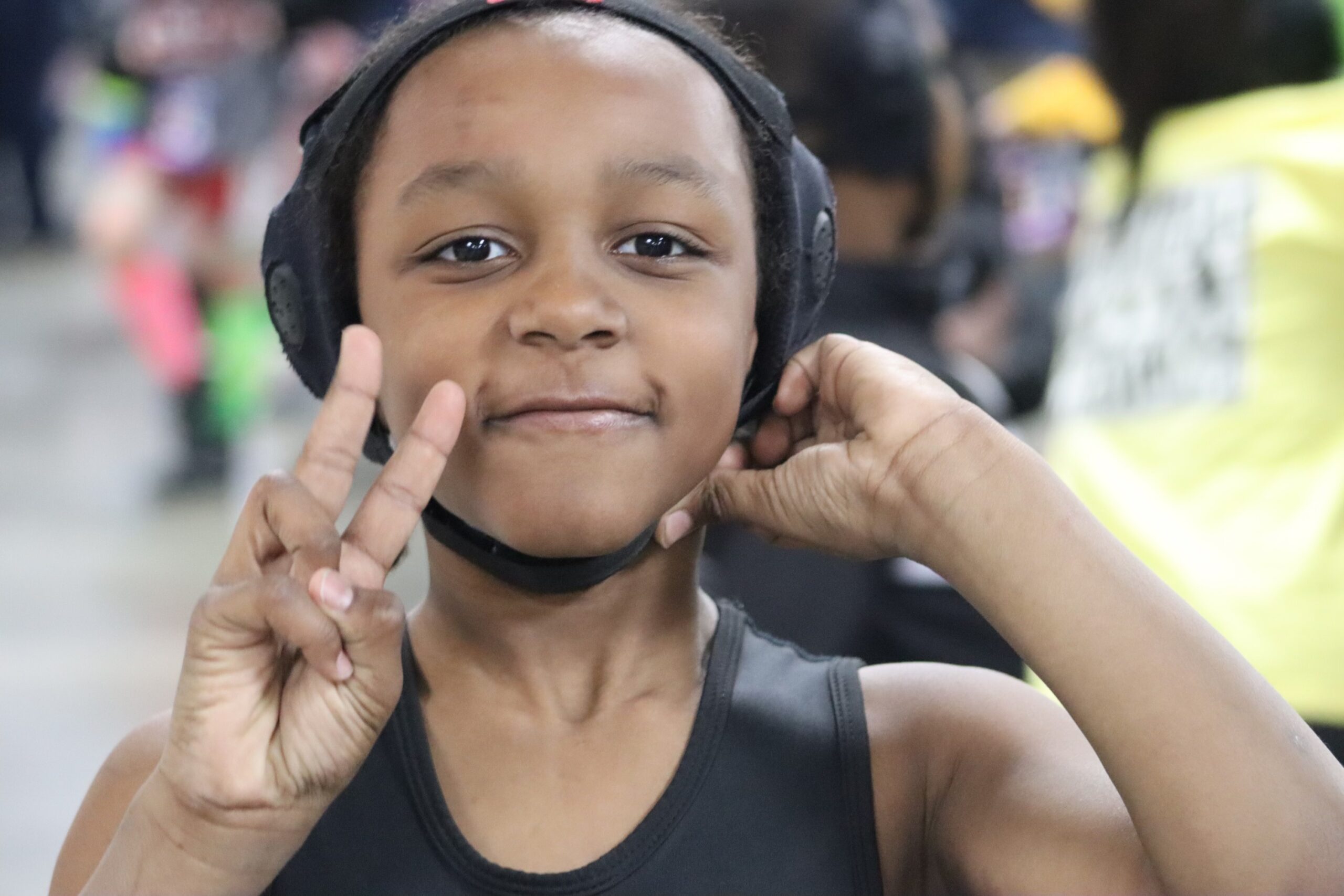 Second grader Mikhail Bachelor of Milwaukee prepares for his preliminary match at the 2023
Wisconsin Wrestling Federation Kids Folkstyle State Championship at the Alliant Energy Center in
Madison. (Photo courtesy of Fardowsa Mohamed)
Ummah Wrestling Club, a new program at the Ma'ruf Youth Center in Milwaukee, had 10 qualifiers, including three finalists, at the 2023 Wisconsin State Championship—a very impressive record for a first-year team of novice wrestlers. 
Six girls and four boys from the Ummah Wrestling Club succeeded in qualifying matches and proceeded to the state championship wrestling tournament Wisconsin Wrestling Federation Kids Folkstyle State Championship March 24-25 at the Alliant Energy Center in Madison. Three of them placed 4th, 5th and 6th place in their age/weight classes, with four other Ummah wrestlers very close to the final podium.
"This is outstanding for our all-beginner, first-year wrestlers," said Ma'ruf Youth Center manager and assistant coach Kofi Ali, who sat down with a reporter from the Wisconsin Muslim Journal last week to explain how they did it and what this program can mean for young people in Milwaukee.
A program to change lives
Ma'ruf Youth Center is a nonprofit organization that aims to improve the quality of life among Milwaukee's disenfranchised and marginalized communities. Ali said he believes wrestling will do just that.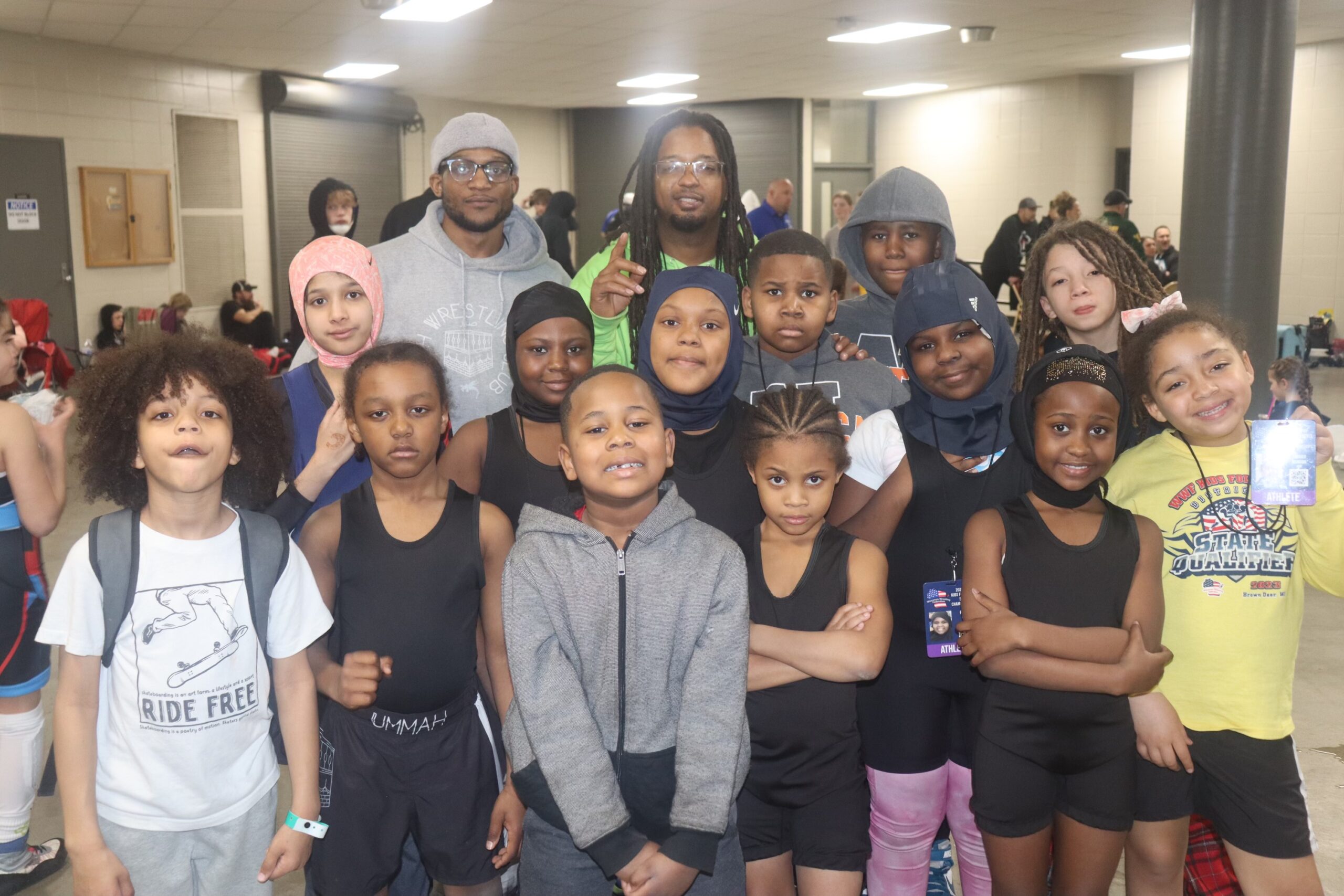 Pictured are Ummah Wrestling Club teammates and their siblings and coaches, (back row, left to right), Kofi Ali and O'Bryan Mungon. (Photo courtesy of Fardowsa Mohamed)
"When I thought about what wrestling did for me and the lack of opportunities for youth to try wrestling, and when I see what a lot of youth are doing today—stealing cars, a bunch of nonsense in school, dropping GPAs and graduation rates, not communicating well, not having confidence in themselves—I thought to myself, 'Wrestling is the solution!'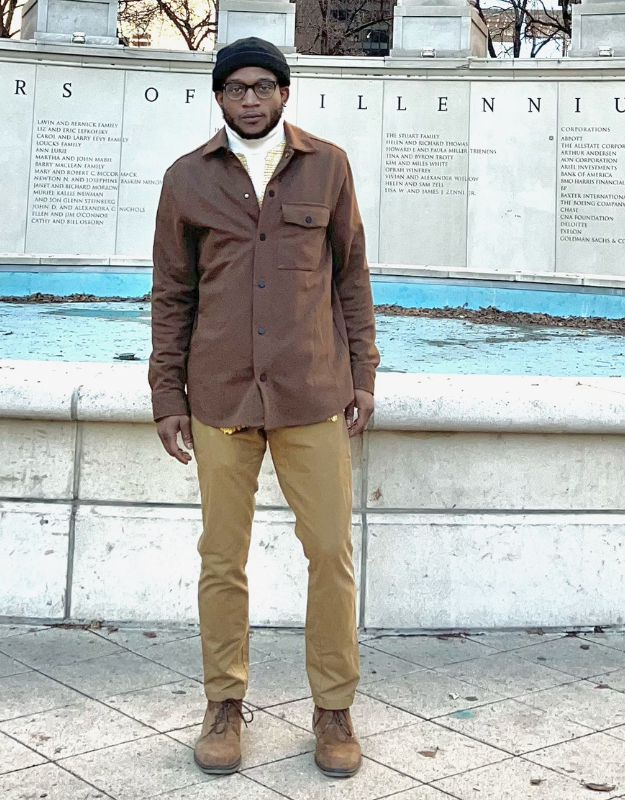 Ma'ruf Youth Center manager and Ummah Wrestling Club assistant coach Kofi Ali 
A wrestler since his freshman year in high school, Ali knows the blessings wrestling gives, he said. He wrestled for Bradley Tech High School from 2005 to 2009 and then for Lakeland College, now Lakeland University, in Sheboygan from 2010 to 2013, where he graduated with a bachelor's degree in nonprofit management, exercise science and sociology.
"If we had a city full of wrestling teams, I don't think we would have as much violence as we do," he said. "I don't think we'd have as much crime as we do. Youth would have places to go, things to accomplish. Wrestling is an opportunity for continuous accomplishment. 
"The biggest thing I learned from wrestling is that hard work beats talent. Humbleness, discipline and hard work beat talent and pridefulness.
"I love team sports but wrestling shows you real accountability," he continued. "It is only you on that mat. You can't blame anybody else. If you didn't hit that move, you didn't hit that move. If you get beat, it is all on you."
Wrestling in the life of the Prophet
"It even led me to Islam," Ali said.
When Ali started learning about Islam, he discovered wrestling played a role in the life of Prophet Muhammad. The Prophet wanted to tell Rukaanah, the strongest man in his tribe, about Islam.
"Rukaanah was like, 'The only reason I will listen to you is if you wrestle me,'" Ali said. "So, they go at it and, boom, Prophet Muhammad picks him up and slams him to the ground. He did it three times.
"Rukaanah asked, 'How could you beat me like that?'
"Prophet Muhammad, peace be upon him, told him, 'I want to tell you something even more amazing. Follow Allah. There is no God to worship except Allah.' Rukaanah took his shahadah (declaration of faith in Islam). 
"The wisdom behind this story is that if Prophet Muhammad (pbuh) had only preached about Islam, if he had not wrestled with him, Rukaanah wouldn't have listened to him," Ali said. "Sometimes you've got to talk to people at their level."
When Ali learned about Ramadan, "it pulled me into Islam even more," he said. "In wrestling, we have to fit into weight classes and we do a type of fasting. Because of wrestling, I know how to fast. That discipline makes sense to me. But I also learned Muslims fast not only from food and water but from doing bad things like gossiping, lying, cheating, etc."
Building a team from scratch
Ali, who has coached wrestling since his sophomore year in high school, decided to start Ma'ruf's first official wrestling team this year. Registered through USA Wrestling, the national governing body of the sport at the competitive level, Ummah Wrestling Club members are allowed to compete in official tournaments, including state, regional and national championships.
Ali hired O'Bryan Mungon, a two-time state finalist and the 2001 state champion during his senior year at Pulaski High School, as head coach in 2022. Ali is an assistant coach and team manager. He also brought in a strengthening and conditioning coach. 
Together they developed a program for youth, ages 6-17. Ummah wrestlers practice three days a week, an hour and a half each practice, at the Ma'ruf Youth Center, 2110 W. Hampton Ave, Milwaukee. They also get extra practice time in another nearby club "so they can get extra experience with other kids, not just their teammates," Ali said.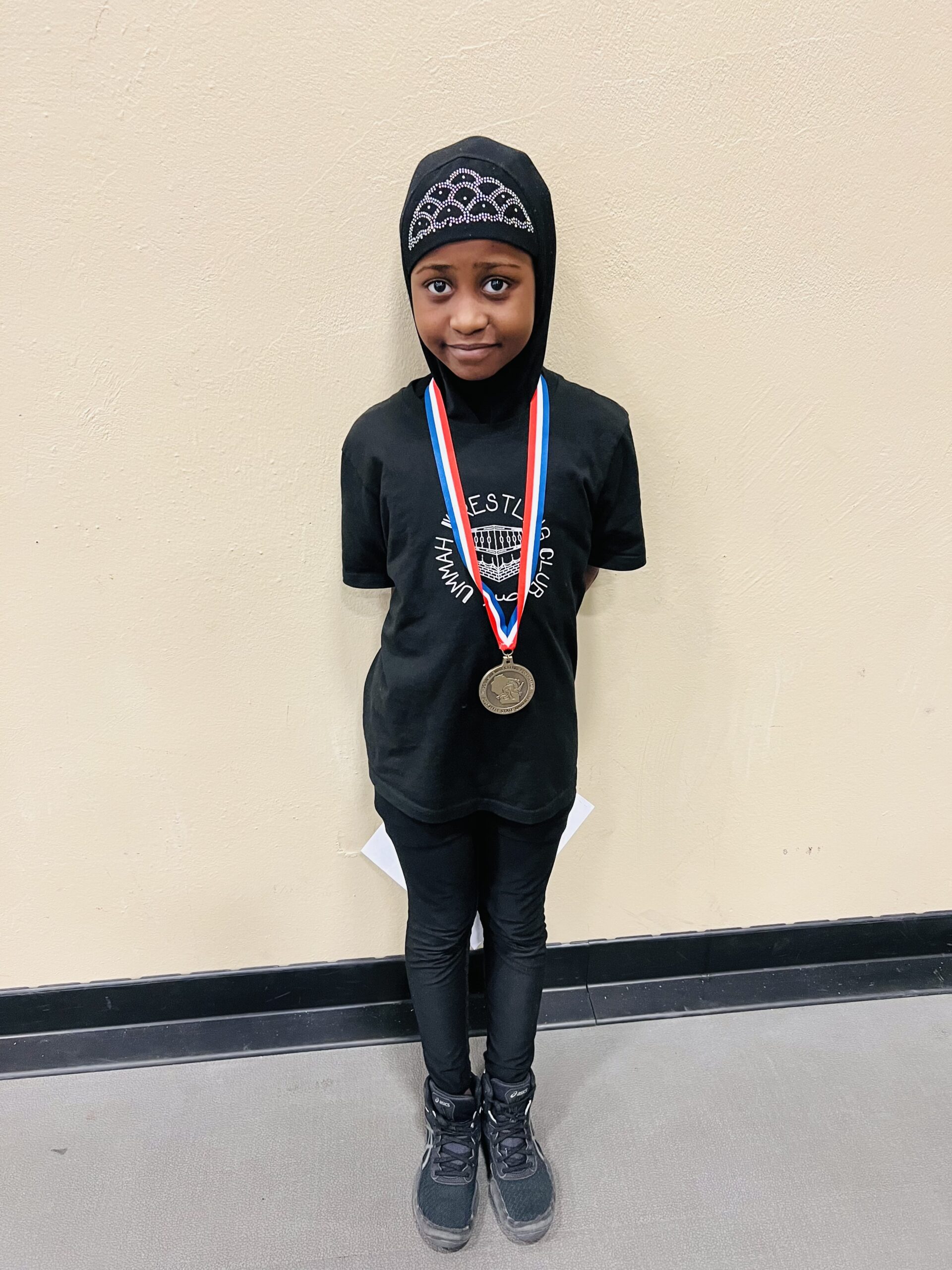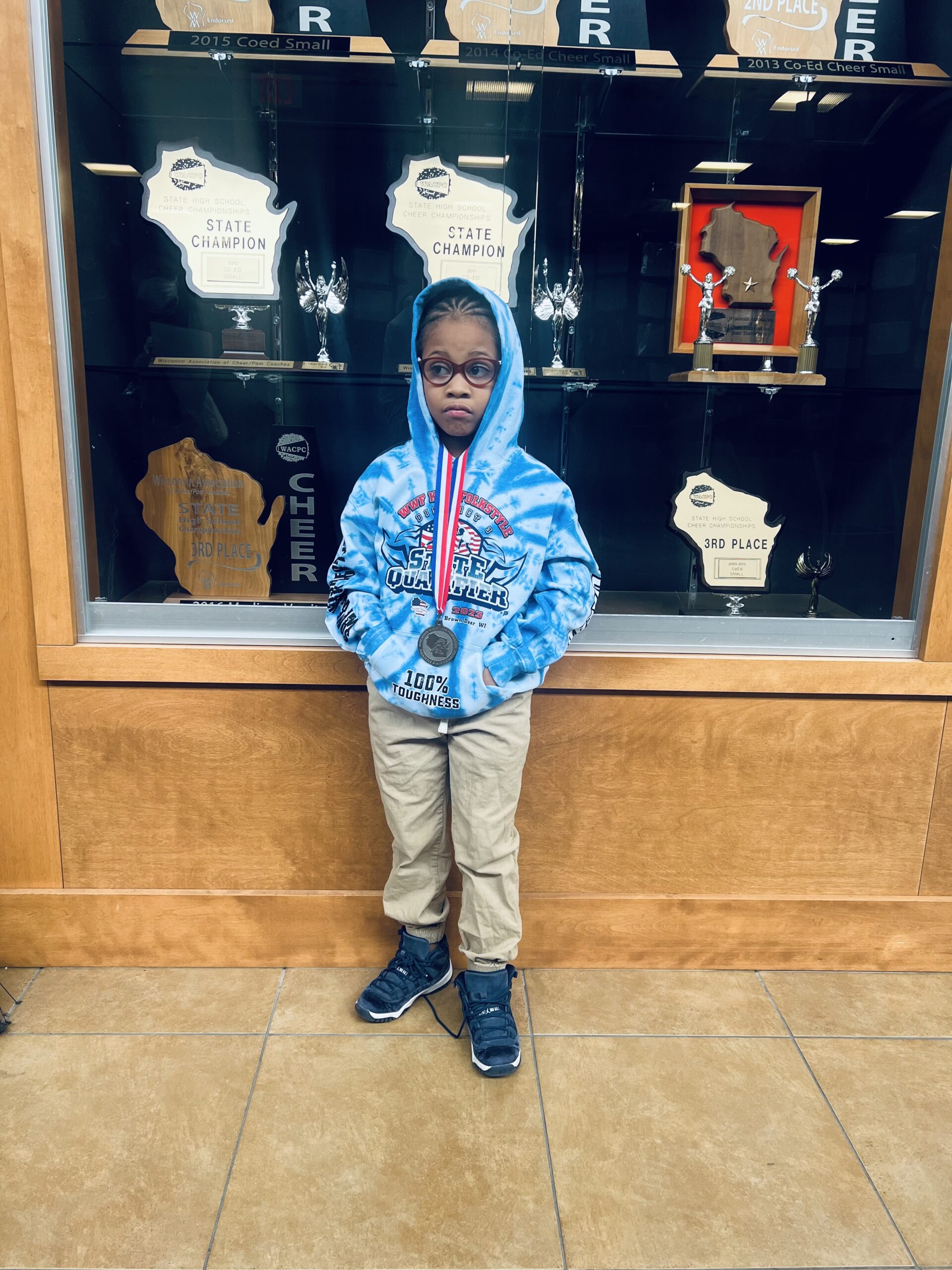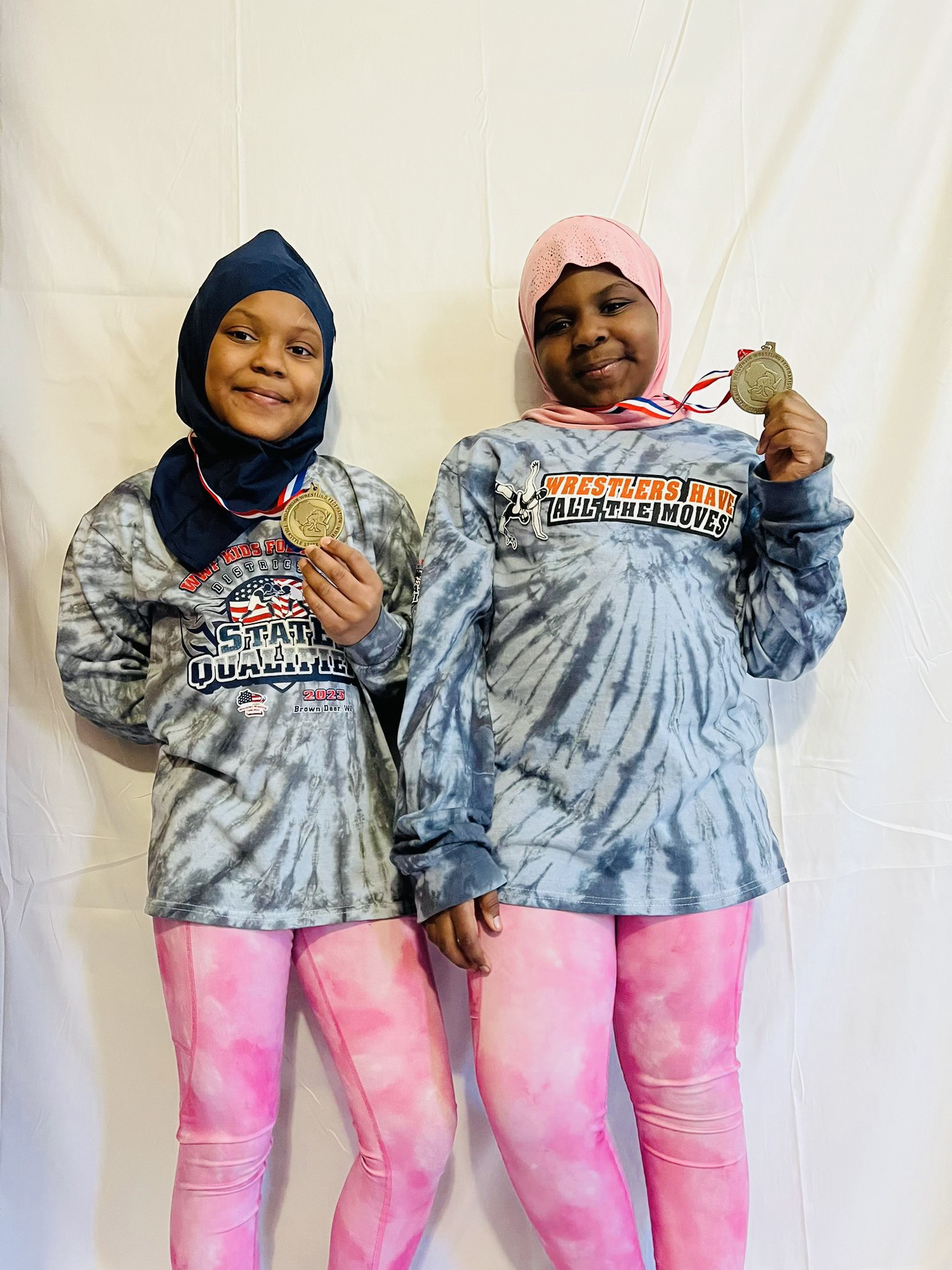 State championship qualifiers: Batula AbdiHakim,  Keng Simmon, J'Lynn Parker Ali and Fatuma Muse. (Photos courtesy of Kofi Ali)
Megene, 10, and Batula, 9, AbdiHakim, sisters from Milwaukee, decided to sign up because they wanted to learn to defend themselves. 
The coaches taught them basic moves they called "Beast-mode Drills"— the bear crawl and crab walk, among others. "We started to incorporate the wrestling moves with the beast mode drills.
"But we didn't want them to only practice," he said. "We put together a full schedule of competition throughout the year. We went to Kenosha Parkside, Campbell Sport in South Milwaukee, Wisconsin Lutheran, a tournament in Menomonee Falls, wherever we could. They had eight tournaments leading up to the state tournament.
"Every tournament, they just kept getting better and learning more," Ali said. "They were outstanding. Even our competitors would come up and give us congratulations on how well our kids did."
The Ummah wrestlers saw it, too. They grew in confidence and motivation, Ali noted.
"I love being on the wrestling team because my coaches teach me a lot," said Keng Simmons, 8.
Vying to be champions
Ummah Wrestling Club took 15 wrestlers to the state qualifying tournament in mid-March. Ten of them advanced to the state championship.
Luqman Mohamed, 8, and Mikhail Bachelor, 8, both made the cut. They were happy they made it, they said. But they also got "nervous" about competing with wrestlers who had been at the state championships before, they said. 
The team traveled from Milwaukee to Madison, where they found themselves in a "really big arena," Ali recalled. But it didn't throw them.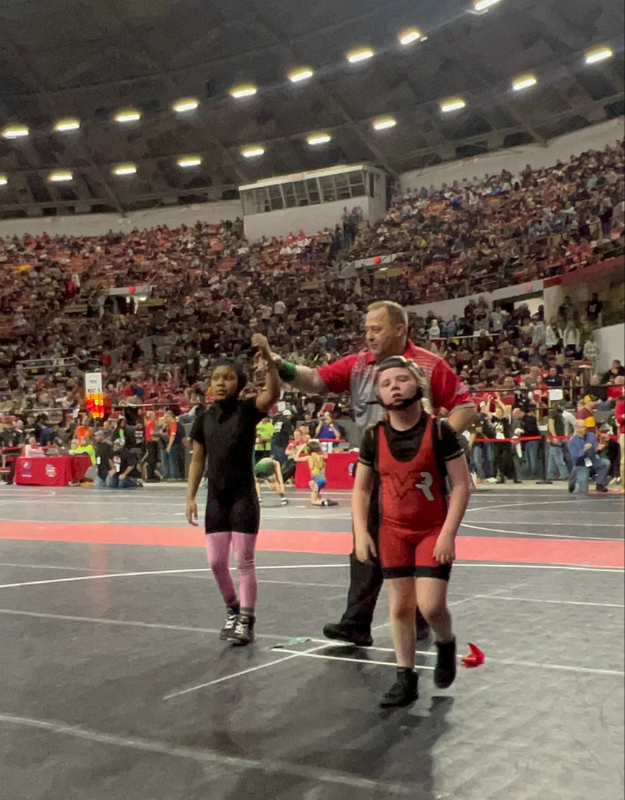 5th grader J'Lynn Parker-Ali wins her preliminary match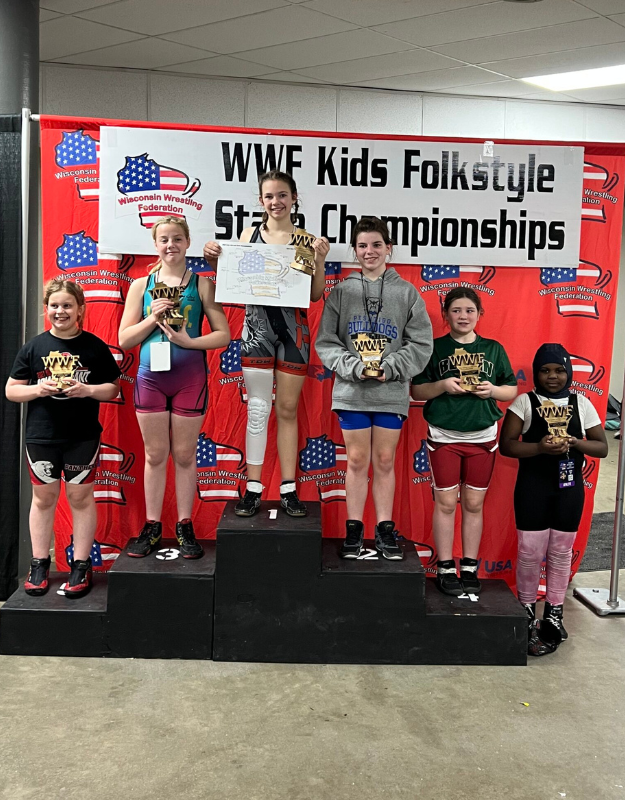 Fatuma Muse (far right) takes 6th place in the 2012-13 birth year/120-pound class.
Seventh grader Khadija Ahmad takes 4th place in the 2010-11 birth year/65-pound class.
(Photos courtesy of Kofi Ali)
Three team members ranked: Khadija Ahmad placed 4th in the 2010-11 birth year/65-pound class; Keng Simmons placed 5th in the 2014-15 birth year/57-pound weight class; and Fatuma Muse placed 6th in the 2012-13 birth year, 120-pound weight class. "She weighed in at 115 pounds and wrestled people who were 120 pounds and up," Ali added.
"We had another wrestler, fifth-grader J'Lynn Parker-Ali, who was a match away from placing and Tarahji Mungon, 9, Mikhail Bachelor, 8, and Luqman Mohamed, 8, all one point away from placing," Ali said. "Our team wrestled against people who have been wrestling since they were five years old and they still did great. They can't wait to come back next year!"
What stands out about your three champions? WMJ asked.
"Khadija is very dedicated and that's the case with all the girls," Ali said. "She's very dedicated and always pays attention. She started off not really confident in her wrestling abilities. She was actually a judo state champion but wrestling was new.
"We had this pep talk. I told her, I don't care if there is a horse on the mat, we are going to wrestle. I don't care if we've got a thousand matches today, we are going to wrestle. We are here to wrestle. You're here in Madison. You can't just walk out and go home. So, all this fear has to leave right now!" 
"She thought, 'Yeah, I have no choice.' She went out on her last match but it was one of the best matches we've seen her wrestle all year. She was up against a tough opponent who had qualified for state before and had been wrestling for years.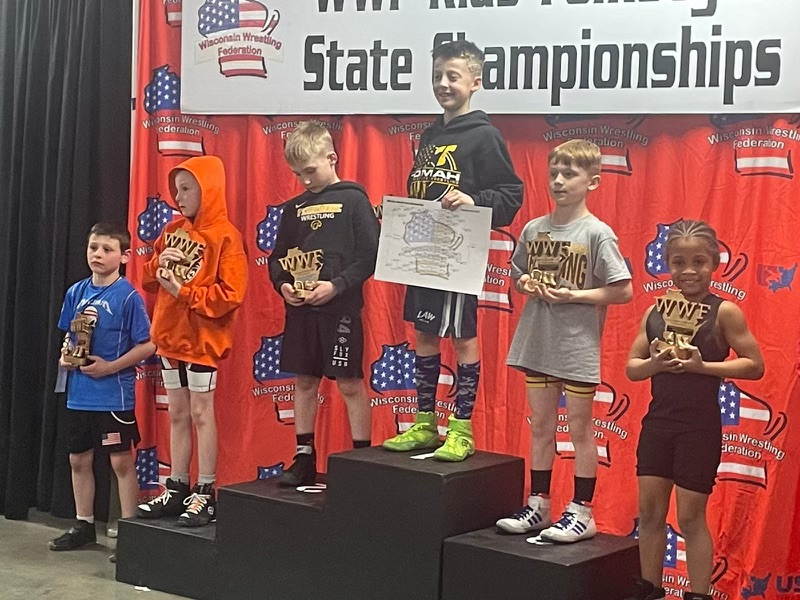 Third grader Keng Simmons (far right) takes 5th place in the 2014-15 birth year/57-pound class. (Photo courtesy of Kofi Ali)
"And Keng, he's super phenomenal, super talented, super athletic. He went undefeated in his first few tournaments until finally he lost. But he just kept coming back.
"When he got to the state tournament, he was energized, ready to go. But it was his first time at a state tournament, his first year ever wrestling, so you can bet there is going to be someone better than him. After he lost one of his matches going for first place, he put his jacket on. He was literally ready to go home. The same thing happened to me in the semi-finals my senior year and I felt the same way. My coach told me, 'This is the finals. Only the warriors show up. Everybody else is gone.' I told Keng that.
"I told him, 'Hey, we going to take our losses. We're going to eat them. That last match is over with. You have to focus on the next match. 
"He took his jacket off, went back out there and gave it his all. At first, he didn't really want to do it. Then the guy came into him really aggressive and it flipped a switch. You could see it. All the emotions came flowing out and he beat the guy, and took fifth.
"Fatuma is super aggressive, which is something I think she didn't know about herself in the beginning. Like all our wrestlers, there are a lot of moves she didn't know. At the same time, she's an extravert. She went out there with excitement and fun. It was like it was her day. She went two and two at state. She lost to a former state champion. That's very impressive for a first-year wrestler!"
Ali is very proud of the performance of the Ummah Wrestling Club, he said.
"We had more heart than moves. They went out there with just the basics," Ali said. "And courage. That's what won matches for them."