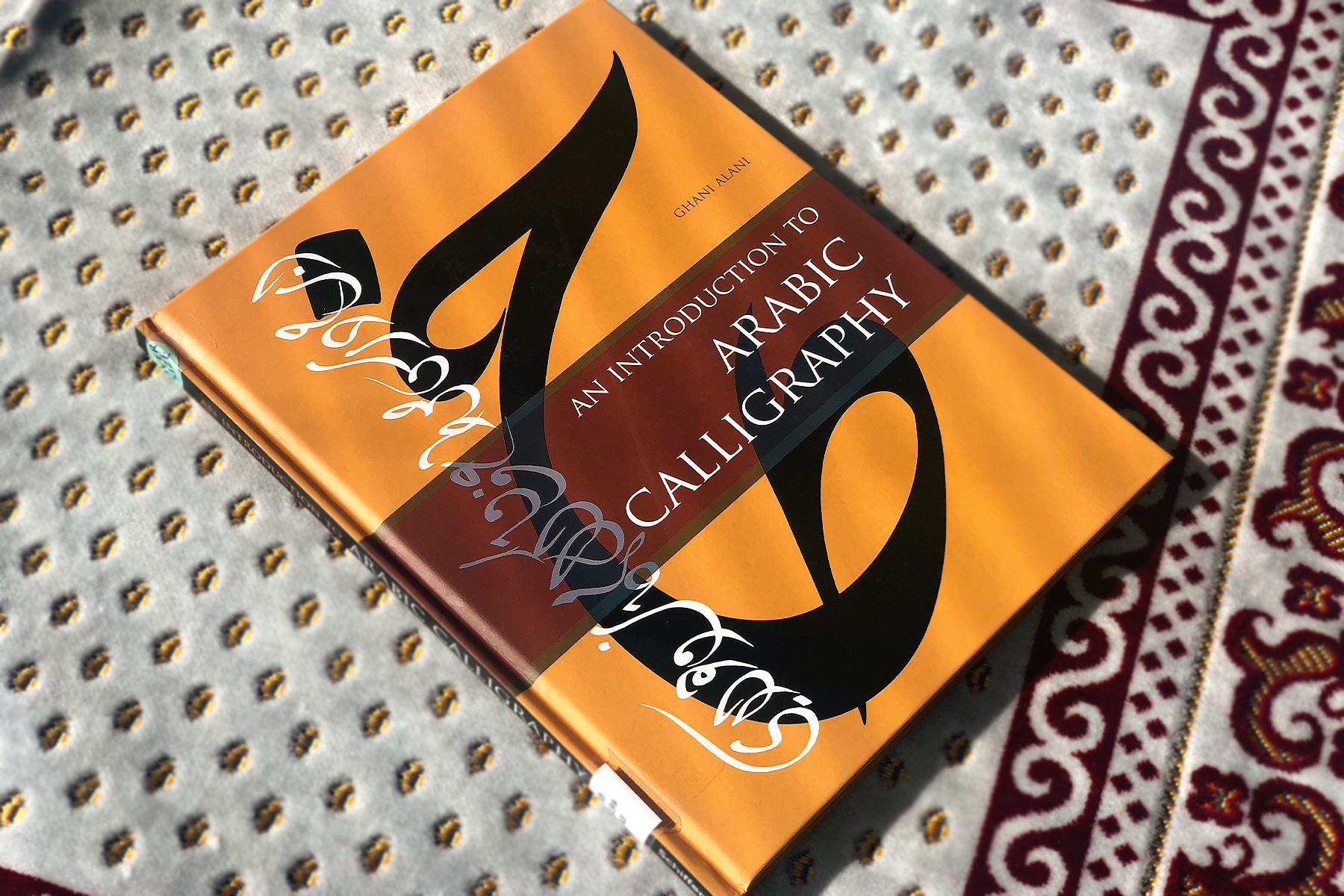 Elise Bellin, Librarian of the Islamic Resource Center, wrote this book review as part of an ongoing series that focuses on a range of books within the IRC collection as a service to the community.
An Introduction to Arabic Calligraphy
by Ghani Alani, © 2016 –ISBN:9780764351730
With its prohibition against iconography, Islam and Islamic cultures have a rich history of art that has nothing to do with people, animals, or other living organisms. One of the most well-known forms is that of calligraphy. Beautiful brushwork and intricate designs swirl across pages. Bold carvings and overlapping letterings form sculptural pieces with written messages. Holy relics are covered in calligraphy so intricate that, in some cases, it takes calligraphy scholars to decipher the letters. While Chinese and Japanese calligraphy is probably more well-known in the Western world, Arabic calligraphy is a full-fledged genre of art with its own schools of study and artists that work their entire lives perfecting their own particular script.
That being said, everyone must start somewhere and, not living in an Arabic speaking country where such script is seen on a regular basis, those of us in the West might feel somewhat intimidated by the process of learning Arabic script styles. That is where Alani shines.
In An Introduction to Arabic Calligraphy, author Ghani Alani attempts to show not only how to do calligraphy, what materials to use, and some of its history, but also some of the current artists and trends that suffuse this medium. You are introduced to various different schools of thought and styles of script. An Introduction to Arabic Calligraphy is filled with full-color illustrations, photos, in-depth calligraphy diagrams and paintings. This book is a great start if you are interested in learning more about Arabic calligraphy and the artists that make this their form of expression.
Founded in 2010, the Islamic Resource Center (IRC) is the first Islamic public lending library in Wisconsin. The IRC aims to provide resources to educators, students, health professionals, interfaith groups, and any members of the Milwaukee community that want an accurate understanding of the Islamic faith, its practices, and its people.