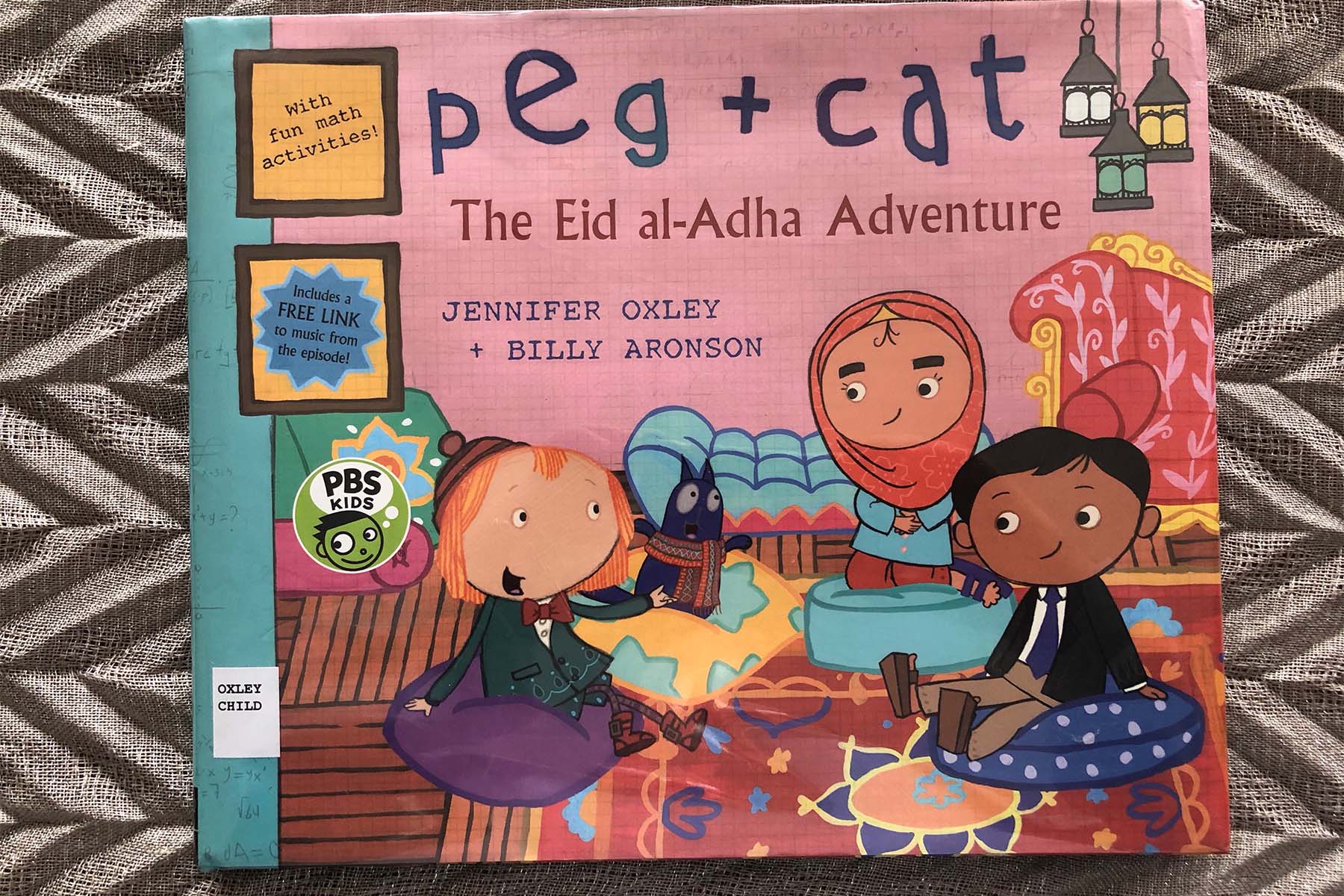 Elise Bellin, Librarian of the Islamic Resource Center, wrote this book review as part of an ongoing series that focuses on a range of books within the IRC collection as a service to the community.
Peg + Cat: The Eid al-Adha Adventure
Peg + Cat: The Eid al-Adha Adventure by Jennifer Oxley & Billy Aronson © 2018 – ISBN: 9780763699321
With so many Christian and Jewish holidays coming up, not to mention Kwanza and whatever else is approaching to put us in a festive mood, it has me thinking: We have so many wonderful Islamic holiday books these days, even if it isn't the correct season for those in particular, it is still a wonderful time to remind children of the richness of their own culture as well as others. Okay, so maybe this is technically the wrong time of year to be thinking about Eid currently, but is it really ever too early to start thinking about a holiday where children are concerned? I know of many children that are obsessed with holidays. They will happily read about Christmas in June or September or Valentine's Day during the final weeks of October. Maybe it is time to look at some Islamic holiday books out of season.
With that in mind, today's book is a Peg + Cat book. For those of you with younger children, especially those who allow their children to watch PBS or other educational television stations, chances are you have run across their series. With fun shapes and colors, somewhat unrealistic illustrations that look to fall somewhere in the spectrum of what adults draw when they are attempting to draw like a child, these two characters explore their world and learn a great deal in the process.
In this particular book, Pet + Cat: The Eid al-Adha Adventure, Peg and her pet/friend Cat visit their Muslim friends/neighbors during the holiday of Eid al-Adha and learn something about this particular holiday, its values and importance, as well as some math lessons and general education. For instance, the tradition of sharing food with neighbors and those less fortunate is turned into a lesson in division, weight, and proportion. It is also a terrific lesson in what greater than and less than mean, including the mathematical symbols.
If a child you know who is Muslim and wants to read about one of their own holidays, or if you know a non-Muslim child who wants to explore other cultures, this is a nice, easy entry into the topic while also educating on other topics as well without being obvious about either. Personally, I am thrilled that so many mainstream children's series are starting to look at Muslim holidays. The more I see of these series, not only are these holidays more recognizable to younger readers later on but they have the ancillary effect of making books on the subject for older readers more main stream and basically boosting everyone's visibility. This is a wonderful step in that direction.
Founded in 2010, the Islamic Resource Center (IRC) is the first Islamic public lending library in Wisconsin. The IRC aims to provide resources to educators, students, health professionals, interfaith groups, and any members of the Milwaukee community that want an accurate understanding of the Islamic faith, its practices, and its people.