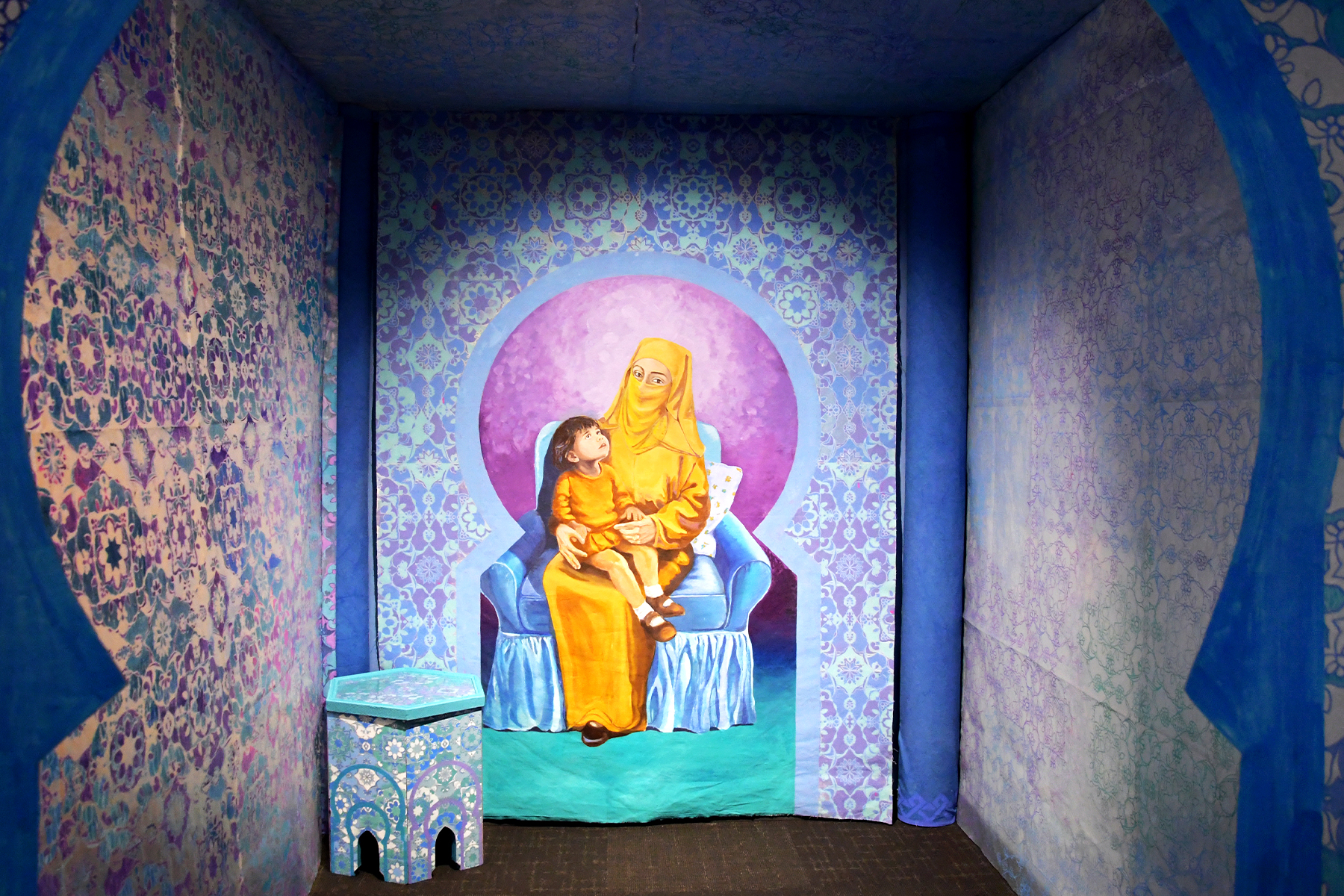 Milwaukee Institute of Art & Design's (MIAD) Frederick Layton Gallery recently concluded an extensive exhibition, I Contain Multitudes. The exhibit invited viewers to examine how multiculturalism and differing social norms affect the artists, as well as how they relate to issues of immigration and diversity. The Exhibition was supported in part by the Mary Nohl Fund of the Greater Milwaukee Foundation.
Running from January 18 – March 19, 2019, the artists featured were Nina Ghanbarzadeh (also curating the exhibition), Hend Al-Mansour, Susan Armington, Nida Bangash, Roya Farassat, Farida Hughes, Ifrah Mansour, Kimberlee Joy Roth and Helen Zughaib. Many of the artists featured were born in Muslim and/or Middle Eastern countries or in American homes that were multicultural, all of the artists currently live in the United States.
The art varies in media from painting, drawing, mixed-media objects and installations. Curator of I Contain Multitudes is Nina Ghanbarzadeh, who was born and raised in Tehran, Iran and then immigrated to the US. Ghanbarzadeh changed her career from chemistry to art, her focus is in painting, drawing and graphic design.
The other artists featured in the exhibition included:
· Hend Al-Mansour, a former cardiologist who is now an artist and lecturer on Arab art.
· Ifrah Mansour, a Muslim Somali refugee who is now a multi-media artist and educator in Minnesota.
· Susan Armington, an American artist with teaching experience in Japan.
· Nida Bangash, a painter born in Iran and raised in Pakistan.
· Fawzia Khan, a former OB/GYN who is a Pakistani-American mixed-media artist, she was born in Nigeria.
· Farida Hughes, an abstract artist of Asian-Indian/American descent
· Roya Farassat, an Iranian painter and sculptor based in New York.
· Helen Zughaib, a Washington DC artist, originally from Beirut, Lebanon.
· Kimberlee Joy Roth, a ceramicist who is based in Minnesota.
The curator statement summed it up: "this exhibition affirms in a unique and inspiring way what we already know: that art matters, and art can change lives. Several of these individuals changed careers, becoming artists as a response to changes in their own lives. As they moved from one definition of themselves to another, visual media became the most direct form of communication, transcending language, to express the multitudes within themselves. As personal as each work is within this exhibition, I Contain Multitudes also addresses the universal human condition – every person is multi-faceted and multi-dimensional. We are the sum of our personal histories, cultures, languages, genealogy, and unique experiences. Through participating in this exhibit, we are encouraged to examine our own 'multitudes.'"