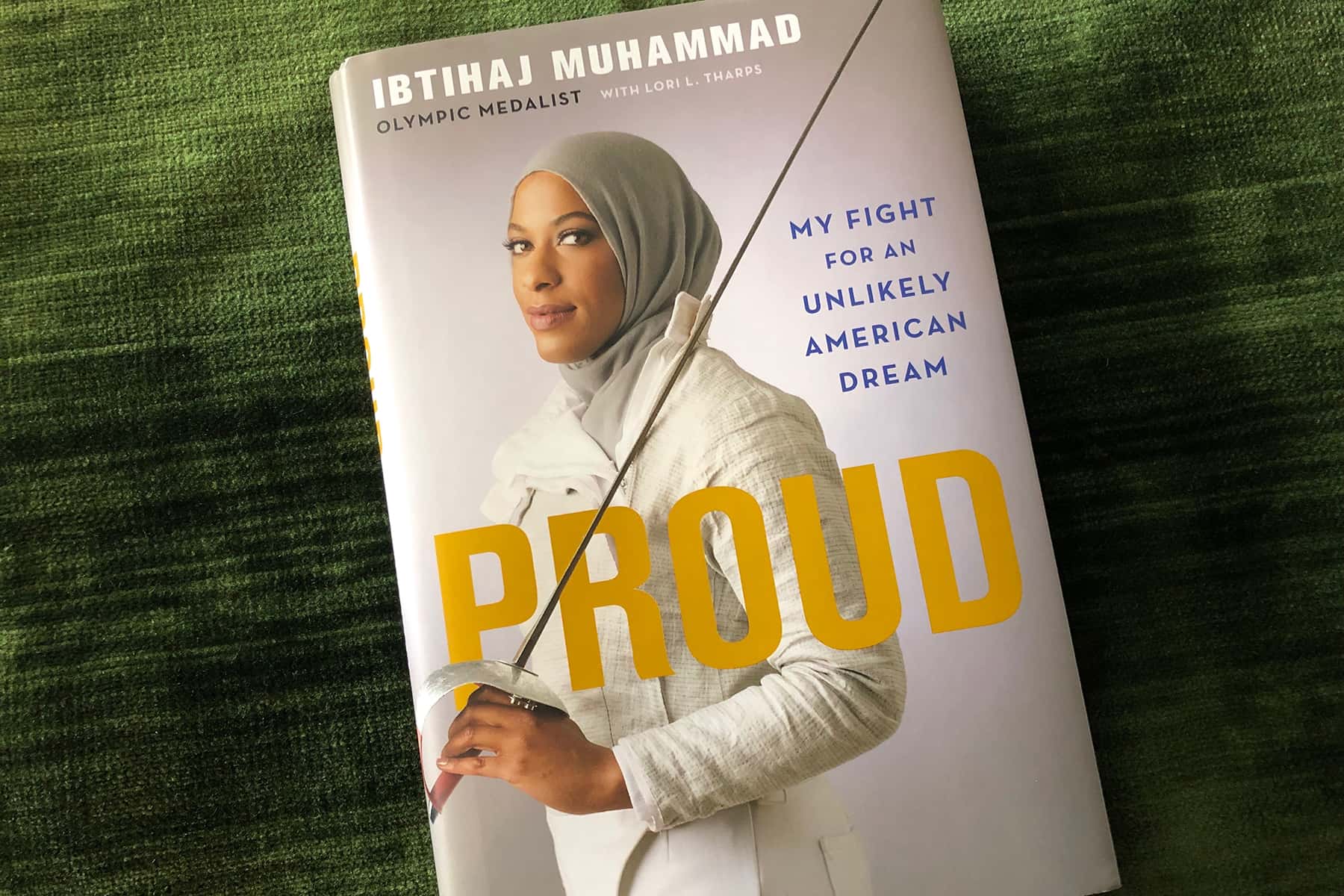 Elise Bellin, Librarian of the Islamic Resource Center, wrote this book review as part of an ongoing series that focuses on a range of books within the IRC collection as a service to the community.
Proud: My Fight For An Unlikely American Dream
by Ibtihaj Muhammad with Lori L. Tharps, © 2018 – ISBN: 978031651863
Ibtihaj Muhammad is the first American Muslim woman to compete in hijab and medal at the Olympics, and the inspiration for the first "hijabbied" Barbie doll. She has been named one of Time Magazine's 100 Most Influential People. How did she get to this point? That is the story Proud seeks to tell.
Ibtihaj Muhammad was born in Maplewood, New Jersey, to African American Muslim parents. Her father, Eugene Muhammad, is a retired police officer and her mother, Denise Muhammad, is an elementary school special education teacher. Both are devout Muslim converts and raised Ibtihaj and her siblings to love their faith.
According to the US Fencing official bio, Ibtihaj's parents recognized her desire to play sports and actively looked for a sport that would fulfill her desire while allowing her to fully adhere to the tenants of her faith to cover her body. At the age of 13, she began fencing and never looked back.
Being an African American Muslim female in what in the US is a primarily White male non-Muslim sport is not an easy task. Throughout her book, she mentions hurdles she had to overcome in school, in competition, and on stage, but she has never let the preconceptions and prejudices that follow her stand in her way and she sure doesn't let it affect her siblings or mentees when she mentors inner-city kids through fencing. She has turned her fierce determination and drive into a beautiful motivational tool with which to inspire future generations.
If you want a fiercely motivational, unflinchingly honest memoir from one of the nation's most inspirational athletes of the modern age, a story told with grace and compassion, this just might be the book for you. This book is also available in a young readers' edition.
Founded in 2010, the Islamic Resource Center (IRC) is the first Islamic public lending library in Wisconsin. The IRC aims to provide resources to educators, students, health professionals, interfaith groups, and any members of the Milwaukee community that want an accurate understanding of the Islamic faith, its practices, and its people.