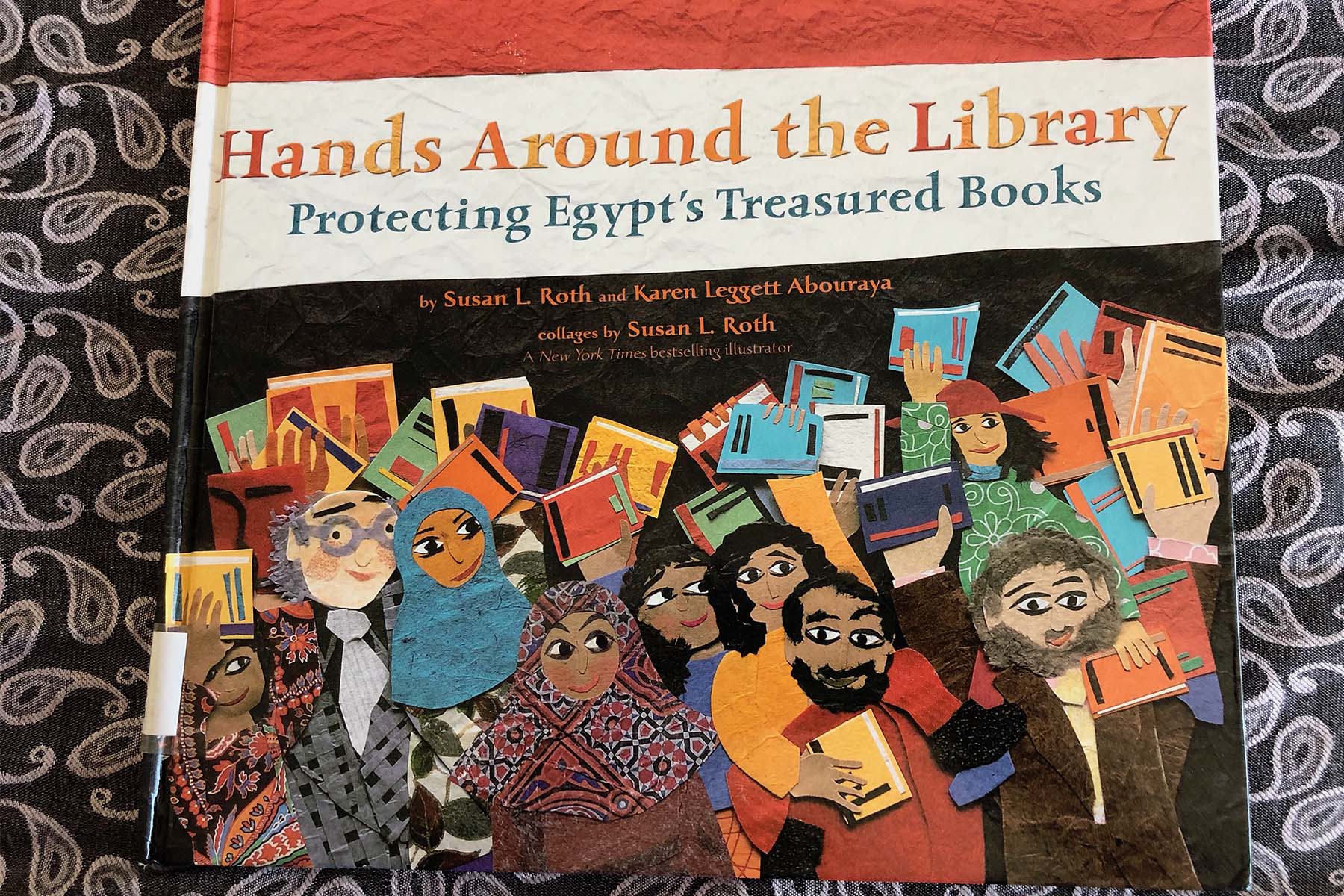 Elise Bellin, Librarian of the Islamic Resource Center, wrote this book review as part of an ongoing series that focuses on a range of books within the IRC collection as a service to the community.
Hands Around the Library: Protecting Egypt's Treasured Books
Hands Around the Library: Protecting Egypt's Treasured Books by Susan L Roth and Karen Leggett Abouraya, collages by Susan L Roth, a New York Times bestselling illustrator © 2012– ISBN:9780803737471
I know I could argue for the importance of privacy, the need for better funding, half a dozen different issues all rolled into one, all leading toward a free and educated society, but when it comes right down to it, whether you have any of that or not, without the foundations, those don't really matter. There is nothing more important to a free society than access to information. What better symbol of such access than a library?
Take for example the actions of those intrepid individuals, young and old, library staff and public, who stood together during the height of the Arab Spring to protect the Bibliotheca Alexandrina in Egypt from vandalism. Many stood with the protestors seeking freedom of expression and freedom of representation from their government. Violence broke out in numerous areas of the country and, with all of the social upheaval that was going on around them, these would-be demonstrators realized that, like the Great Library of Alexandria before it, they could easily lose their treasured library along with its history and what little freedom they still had. Banding together, these brave souls ensured that nothing happened to their treasured library.
Through a mix of brightly-colored, intricate collages and photographs, the authors expertly recreate this relatively recent event (being less than a year prior to the book's initial publishing) and bring readers into the tense, complicated world of the Arab Spring. To add depth to the proceedings, extensive information is given at the back including further background on the library, ancient and modern, the Arab Spring, and some of the words from the protest signs. All is written in an easy to understand manner without getting too bogged down in specifics. It serves as a good introduction to the situation and a wonderful story of standing up for what you believe in and protecting those ideals.
Founded in 2010, the Islamic Resource Center (IRC) is the first Islamic public lending library in Wisconsin. The IRC aims to provide resources to educators, students, health professionals, interfaith groups, and any members of the Milwaukee community that want an accurate understanding of the Islamic faith, its practices, and its people.