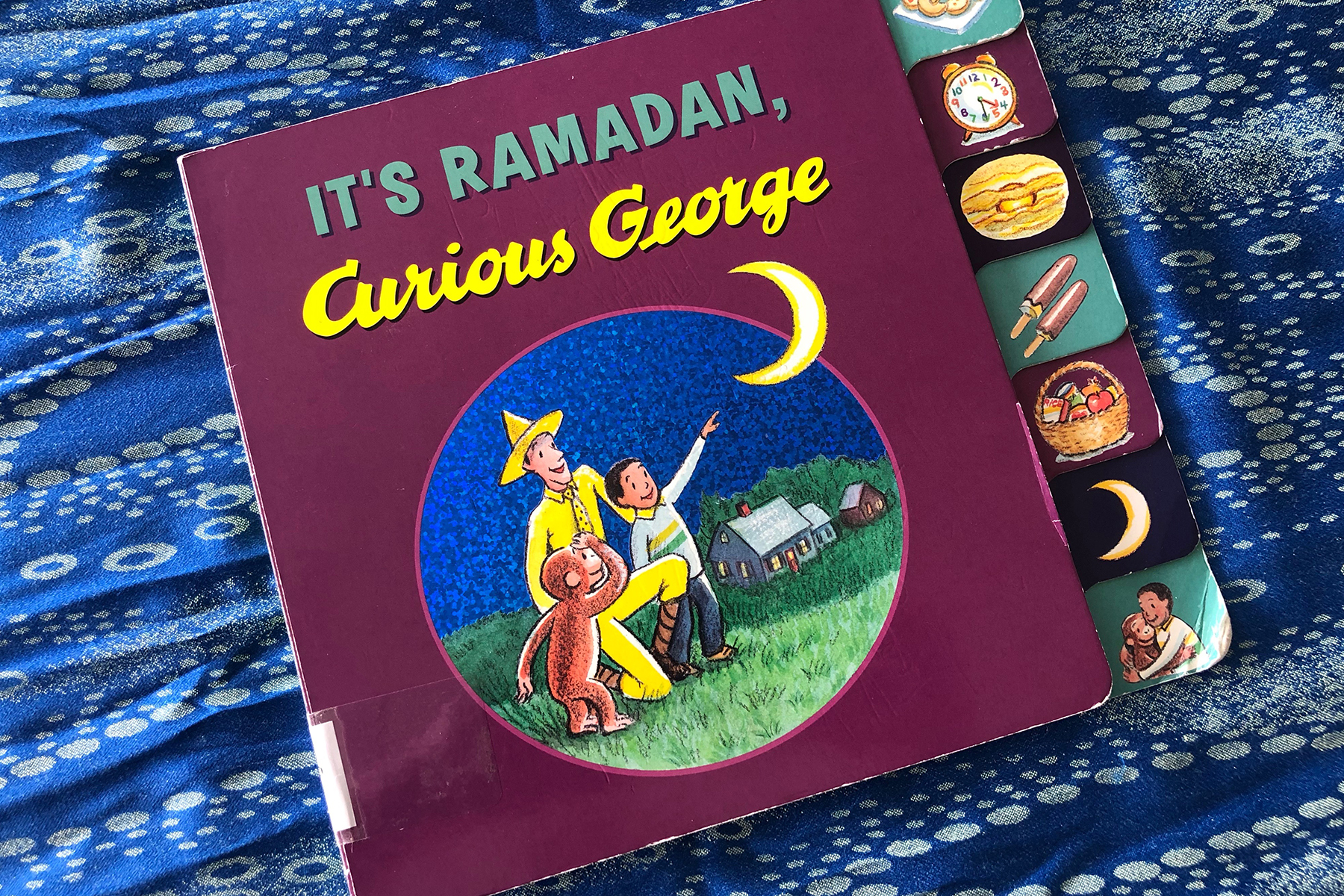 Elise Bellin, Librarian of the Islamic Resource Center, wrote this book review as part of an ongoing series that focuses on a range of books within the IRC collection as a service to the community.
It's Ramadan, Curious George
by Hena Khan, illustrated by Mary O'Keefe Young © 2016 –ISBN: 9780544652262
Hena Khan is a Pakistani-American Muslim born and raised in Maryland. She is the award-winning author of Golden Domes and Silver Lanterns: A Muslim Book of Colors, Amina's Voice, and Night of the Moon: A Muslim Holiday Story, among others.  She has been a longtime advocate and editor for various international health and aide organizations around the world. Her simple, straight-forward prose has brought joy and understanding to children around the country.
Curious George is part of the iconic series of children's books relating the adventures of an orphaned monkey named George who was brought to his new home from Africa by "The Man in the Yellow Hat."  Originally written by Hans Augusto Rey and Margaret Rey, the series have since passed  to numerous writers and illustrators including the current illustrator Mary O'Keefe Young.   It has captured the hearts of millions of beginning readers around the world since the 1940s, with all titles in the series never going out of print.  Curious George has had television series, movies, and even video games devoted to his adventures. He has discovered all sorts of things including such holidays as Christmas, Easter, St. Patrick's Day and Hanukkah.
In this book, Curious George discovers what Ramadan is all about! In it, Curious George is shown some of the main activities done during the month by his friend Kareem. He learns about fasting, goes to a mosque, helps with a food drive, and gifts are exchanged. We even get to see the Man with the Yellow Hat in a yellow fez. Houghton Mifflin Harcourt, the book's publisher, was nowhere near expecting the success of this title. It is a book that has garnered so much attention and popularity that within a couple months of its initial printing it had to go into reprint twice! The pictures are in classic Curious George style and, as stated earlier, the prose is simple and straight-forward, allowing for a nice, general understanding of what the month-long holiday entails as well as some idea of the reasons behind it, all packaged neatly in a beautiful purple tabbed board book.
Founded in 2010, the Islamic Resource Center (IRC) is the first Islamic public lending library in Wisconsin. The IRC aims to provide resources to educators, students, health professionals, interfaith groups, and any members of the Milwaukee community that want an accurate understanding of the Islamic faith, its practices, and its people.