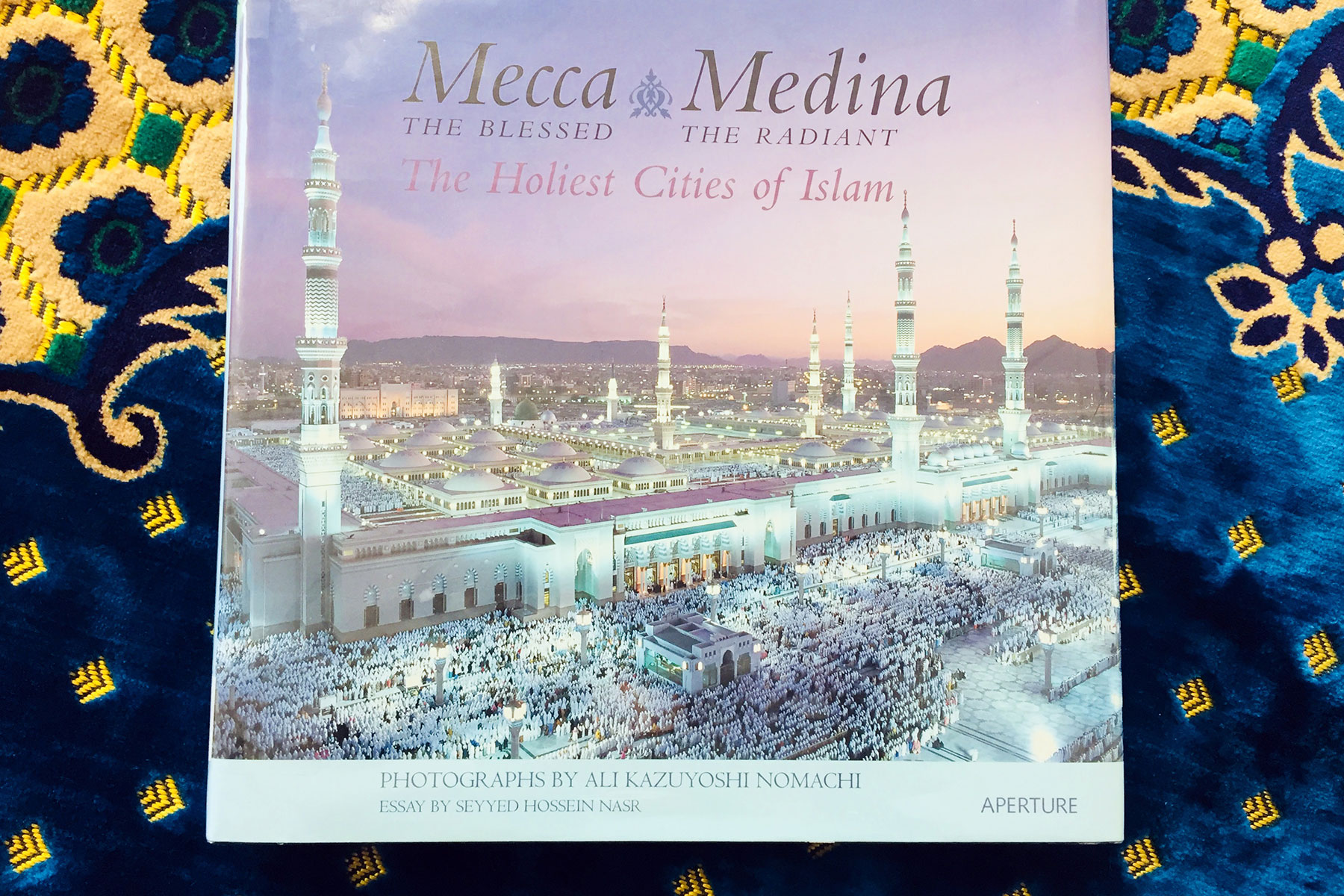 Elise Bellin, Librarian of the Islamic Resource Center, wrote this book review as part of an ongoing series that focuses on a range of books within the IRC collection as a service to the community.
Mecca the Blessed & Medina the Radiant: The Holiest Cities of Islam
Photographs by Ali Kazuyoshi Nomachi; Essay by Seyyed Hossein Nasr, © 2013 – ISBN: 089381752x
Mecca and Medina are two of the most mysterious cities to the outside world, in part because both of them are exclusively open to Muslims. Because of this, most of the outside world has never seen the wonders within their walls outside of books.
That is what makes books such as Mecca the Blessed & Medina the Radiant so spectacular. Filled with stunning photographs by Ali Kazuyoshi Nomachi, this book captures some of the splendor that resides within these ancient and sacred cities and allows outsiders one of the rare looks within their walls.
We see the Mosque of the Prophet illuminated in the twilight, filled to bursting with pilgrims. We see the many different ethnic attires of the pilgrims from all over the world; men in military garb standing outside the Ka'bah, women in traditional African patterns and styles, old men reading Qur'an and young boys learning to recite its sacred text. We get to see outside of their walls as well. The beautiful, sun-drenched cliffs and lush, green valleys stand resplendent in two-page spreads as do pages of traditional activities such as camel racing and similar activities.
All is accompanied by essays and text by Seyyed Hossein Nasr who explains beautifully the historical and religious importance of various locations within the book, the actions taken, the reason for the pilgrimage and, of course, information on the Prophet Muhammad and his history within these sacred cities.
Whether you are interested in gorgeous vistas, important historical landmarks, going on Hajj, or really, just want to have a beautiful and unique coffee table book, this book is for you.
Founded in 2010, the Islamic Resource Center (IRC) is the first Islamic public lending library in Wisconsin. The IRC aims to provide resources to educators, students, health professionals, interfaith groups, and any members of the Milwaukee community that want an accurate understanding of the Islamic faith, its practices, and its people.