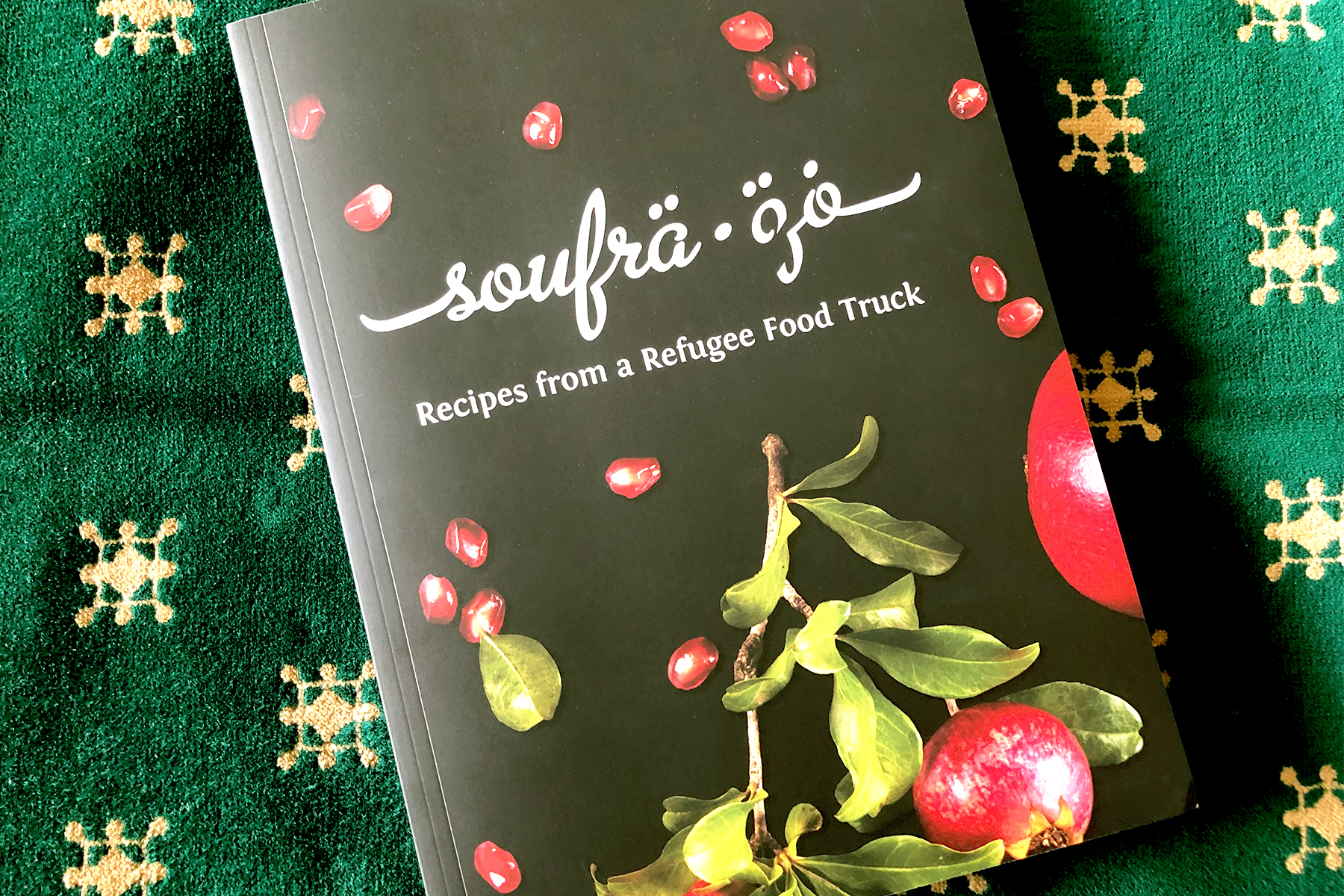 Elise Bellin, Librarian of the Islamic Resource Center, wrote this book review as part of an ongoing series that focuses on a range of books within the IRC collection as a service to the community.
Soufra: Recipes from a Refugee Food Truck
by RebelHouse Publishing, © 2017 –ISBN: 9780999259306
The refugee crisis seems to be at an all-time high. It seems like the whole world is running from some conflict or economic collapse. The situation is so dire in some cases that individuals live their whole lives in these camps from birth to death. They are usually shanty towns across the world with people scrambling just to make a living. Often individuals can't hold jobs citizens of these countries take for granted, sometimes not even having documentation due to their hasty evacuation, and none having the financial means to relocate. Sometimes those living there are even faced with violence from an ignorant public. There is little future there, and yet going back to where their parents came from isn't a viable option. That is part of the reason why it is so inspiring when individuals find a way to break through and get out of there. It is also why supporting refugees and the organizations that work with them is so important.
Mariam Shaar, founder of Soufra, falls into both of these categories. She spent her entire life in Bourj el Barajneh, a refugee camp south of Beirut, Lebanon. Denied access to more traditionally lucrative jobs, Shaar joined the Women's Program Association (WPA) in the camp and through their connections and her drive, Shaar created her own food truck and branched out, eventually acquiring a fleet of food trucks all manned by refugees from the camp. This year, the Milwaukee Muslim Film Festival is showing the documentary on their remarkable journey to success. A food tasting experience will accompany the show.
This cookbook is about these remarkable women. With stunning full-color images both of the dishes and the women that create them, it serves as both advocate and fundraiser. The recipes are clearly written in large type. Every recipe is paired with a full-page color photograph of the dish in question and each section has brief quotes on the topic from the cooks. The book is interspersed with images of their daily lives. While beautifully created, the book is a little more expensive than one would expect from a book this size, proceeds go to benefit the refugee agencies working with refugees. A limited supply of the books will be available at the Film screening for the $40 cost set by Soufra.
If any books remain after the screening, they will be available for purchase at the Islamic Resource Center. The show will screen at the Oriental Theatre West House on Sunday, April 28th as part of the 5th Annual Milwaukee Muslim Film Festival in partnership with Milwaukee Film.
Visit Oriental Theatre's website here for more information or to purchase tickets.
https://mkefilm.org/oriental-theatre/events/milwaukee-muslim-film-festival-soufra
Founded in 2010, the Islamic Resource Center (IRC) is the first Islamic public lending library in Wisconsin. The IRC aims to provide resources to educators, students, health professionals, interfaith groups, and any members of the Milwaukee community that want an accurate understanding of the Islamic faith, its practices, and its people.