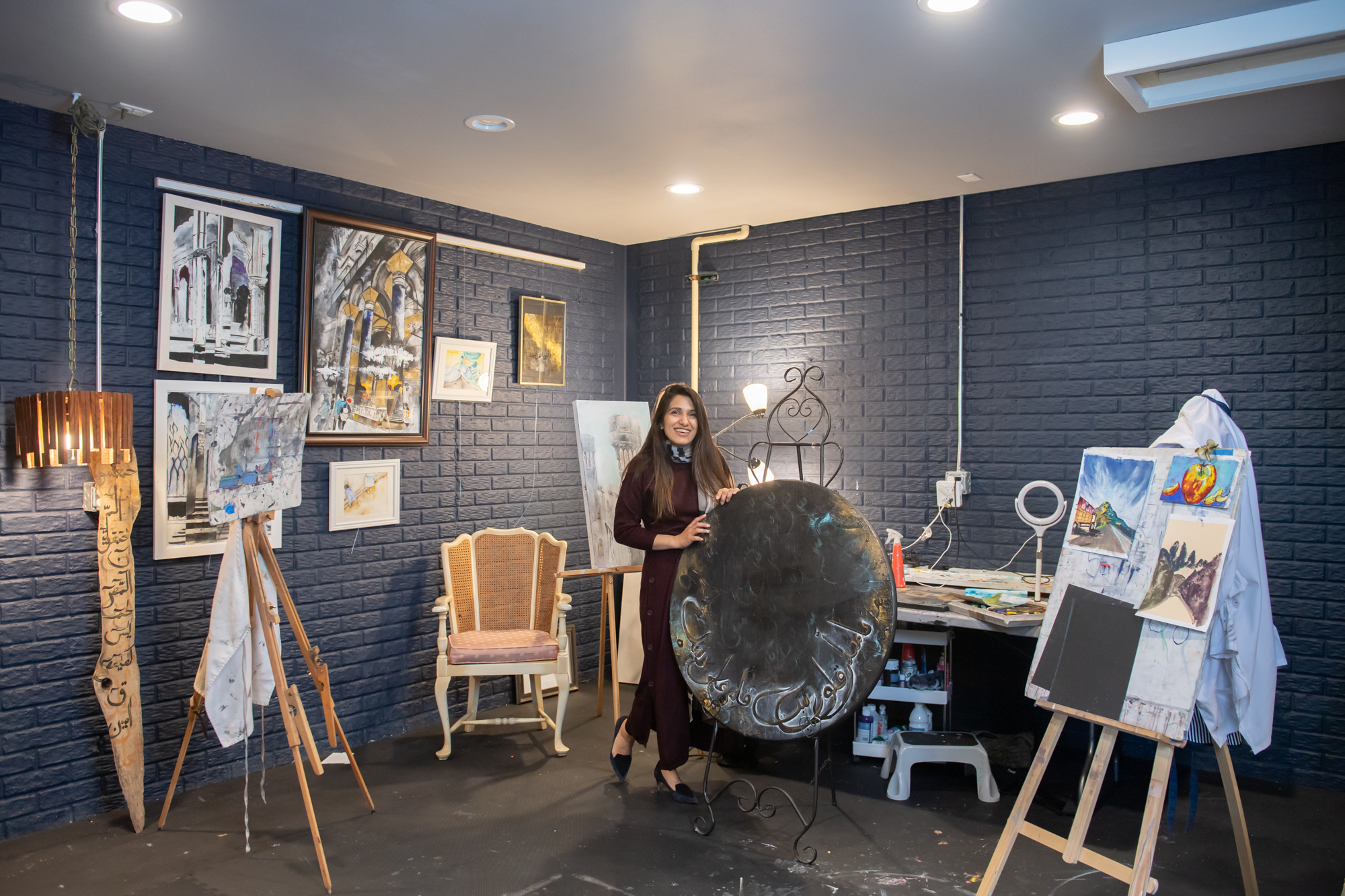 Photos by Mouna Photography
Artist Rida Fatima creates modern Islamic art and architectural paintings in her studio in Pewaukee.
Artist Rida Fatima's professional life has had a recurring pattern: move to a new city, create a studio and work schedule, develop her business, then move and start over, a consequence of following her husband's path from medical school to residency to fellowship to professional opportunities.
Along the way, the 32-year-old artist has paved a trail of success. Since moving from Pakistan to the United States 11 years ago, her architectural drawings and calligraphy have been exhibited in galleries in New York, Chicago, St. Louis, Richmond, Columbus, Portland, New Brunswick and Laguna Beach, California. Her work won "Best in Show" at an exhibit at the Old Orchard Gallery in St. Louis. One of her designs was chosen by a company for its logo. The Council on American-Islamic Relations (CAIR) has displayed her work at its annual banquet in Cleveland for three years running.
Now in Wisconsin, it looks like Fatima, her husband and two children will stay put. Fatima's husband is working at the Medical College of Wisconsin and "likes it very much," she said.
Sitting at a computer in her studio in the basement of their Pewaukee home, speaking with Wisconsin Muslim Journal over Zoom, Fatima shared her journey as an artist and the design of her new life.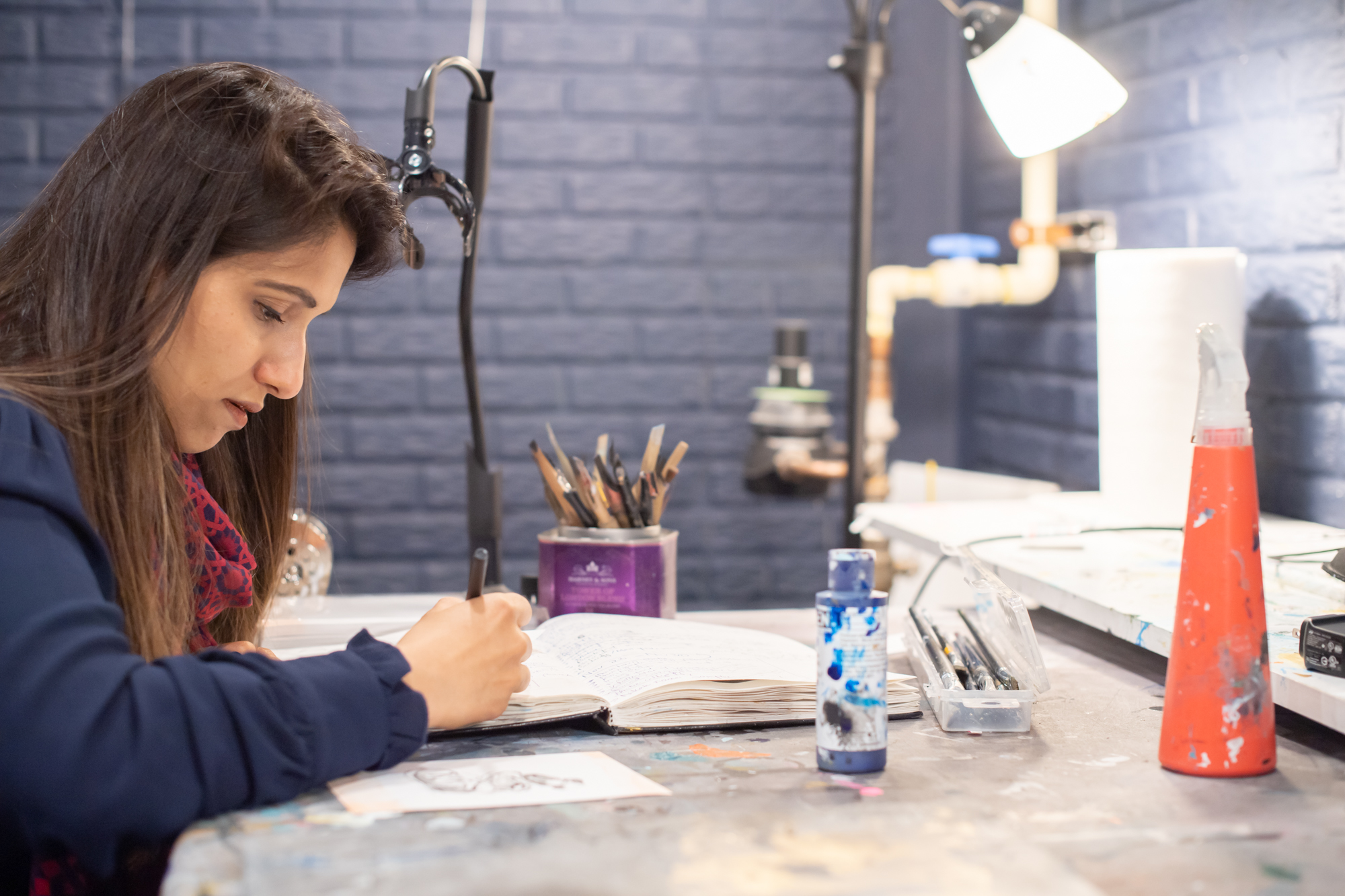 Rida Fatima learned kufic script from master calligrapher Rasheed Butt, who told her, "When you are so into calligraphy that you can't go to sleep until you have had it in your day, only then will you be ready to practice with a bamboo pen."
In her mother's studio
Fatima's journey as an artist began in her mother's studio in Islamabad. "I was born into a family that appreciated art. I am the youngest of my siblings and I was the lucky one who spent a lot of time with my mother," she said.
"There was always a lot going on in her studio and I was always there. She loves to sew and do carpentry, making wooden furniture."
Like Fatima, her mother moved every couple of years, following her husband, an air force officer. In every new house, her mother looked for space to make her studio. "It wasn't fancy, sometimes an extra store room, sometimes a space under the stairs. But she made amazing stuff in those small spaces," Fatima said.
"She was self-taught," Fatima said. She recalled that when she was studying for her A levels in high school, her father was building a house. "My mom would make amazing things with the leftover wood.
"For me, the seed was always there. I knew from an early age I wanted to do something with art."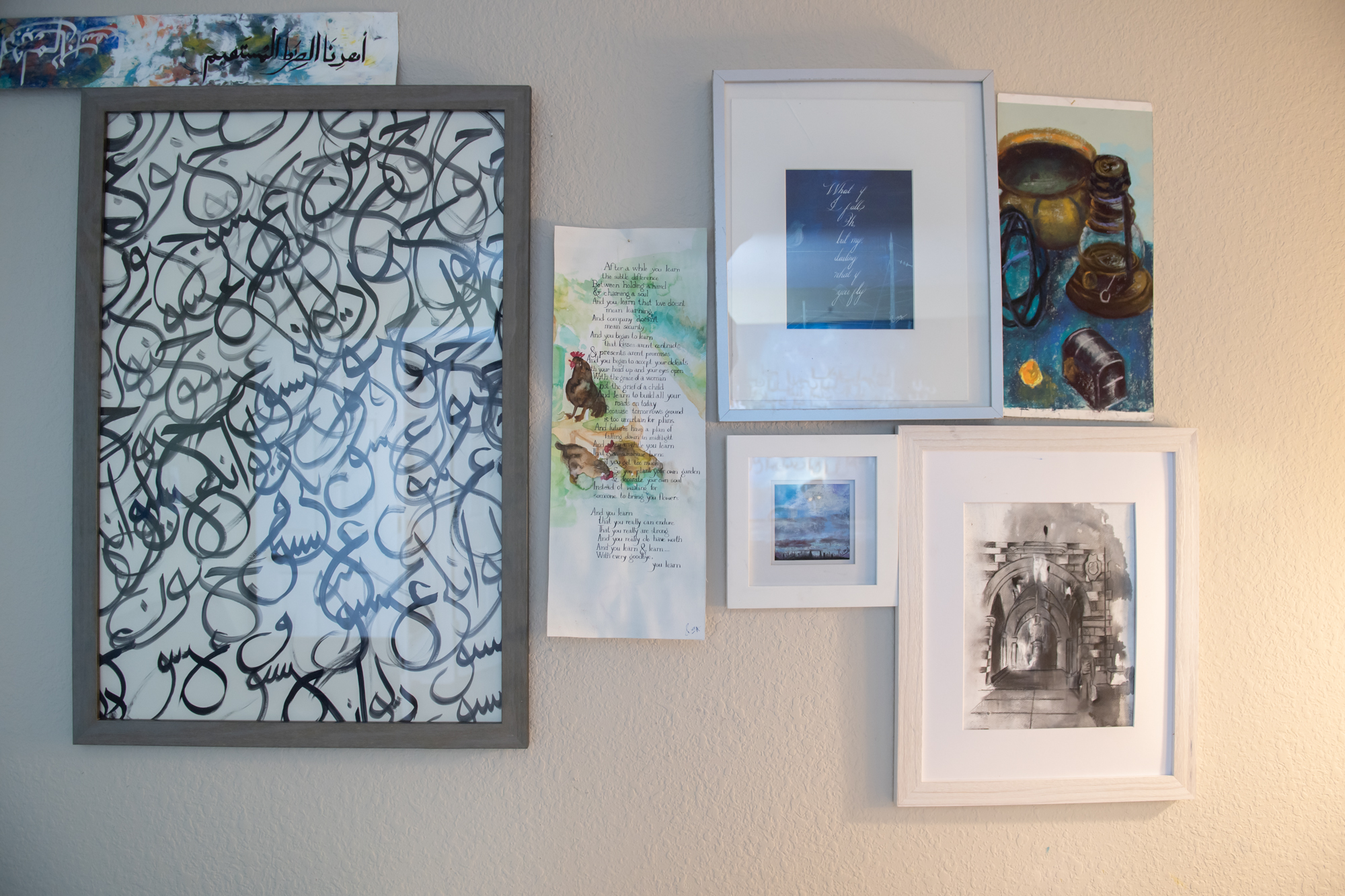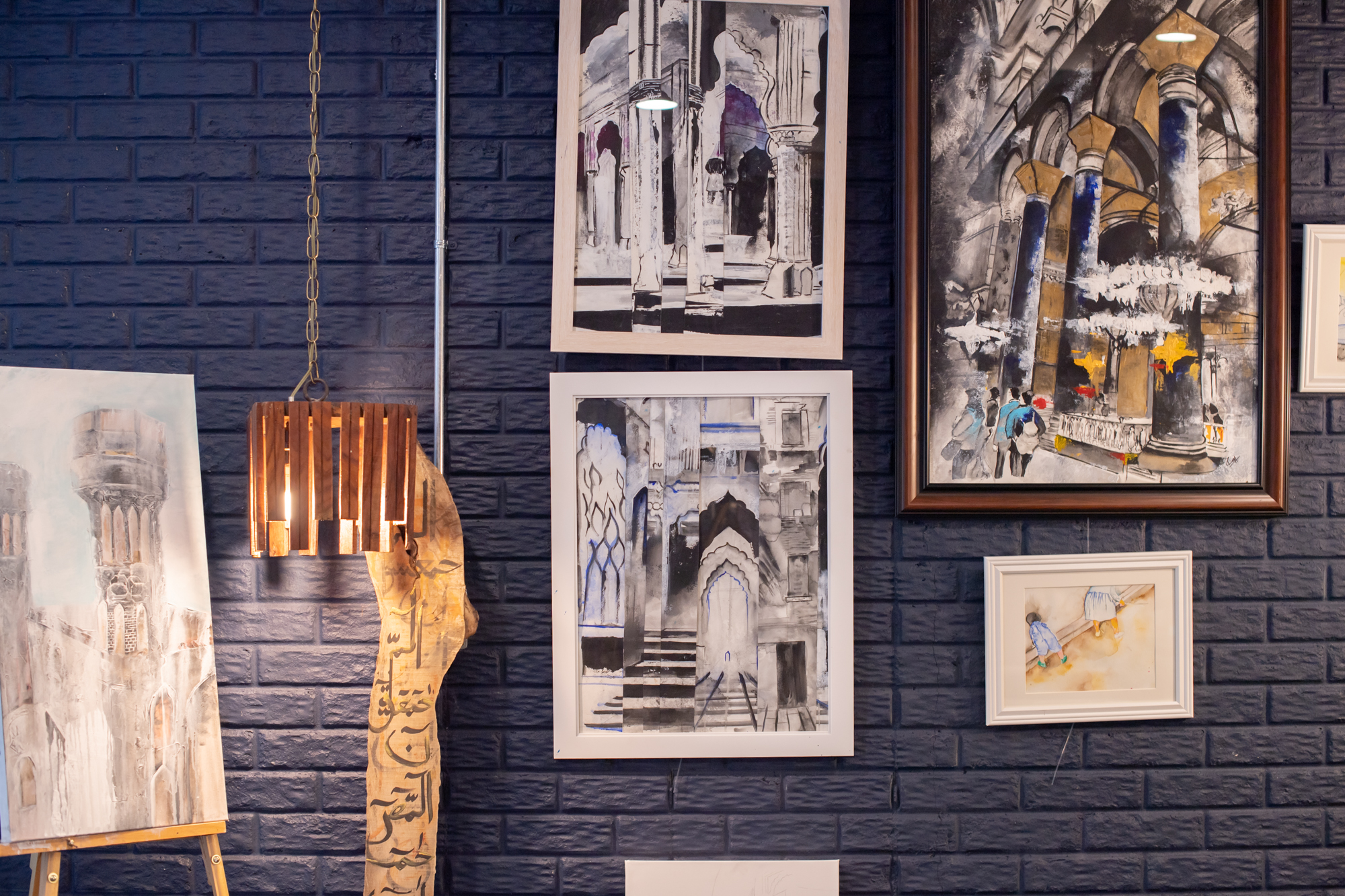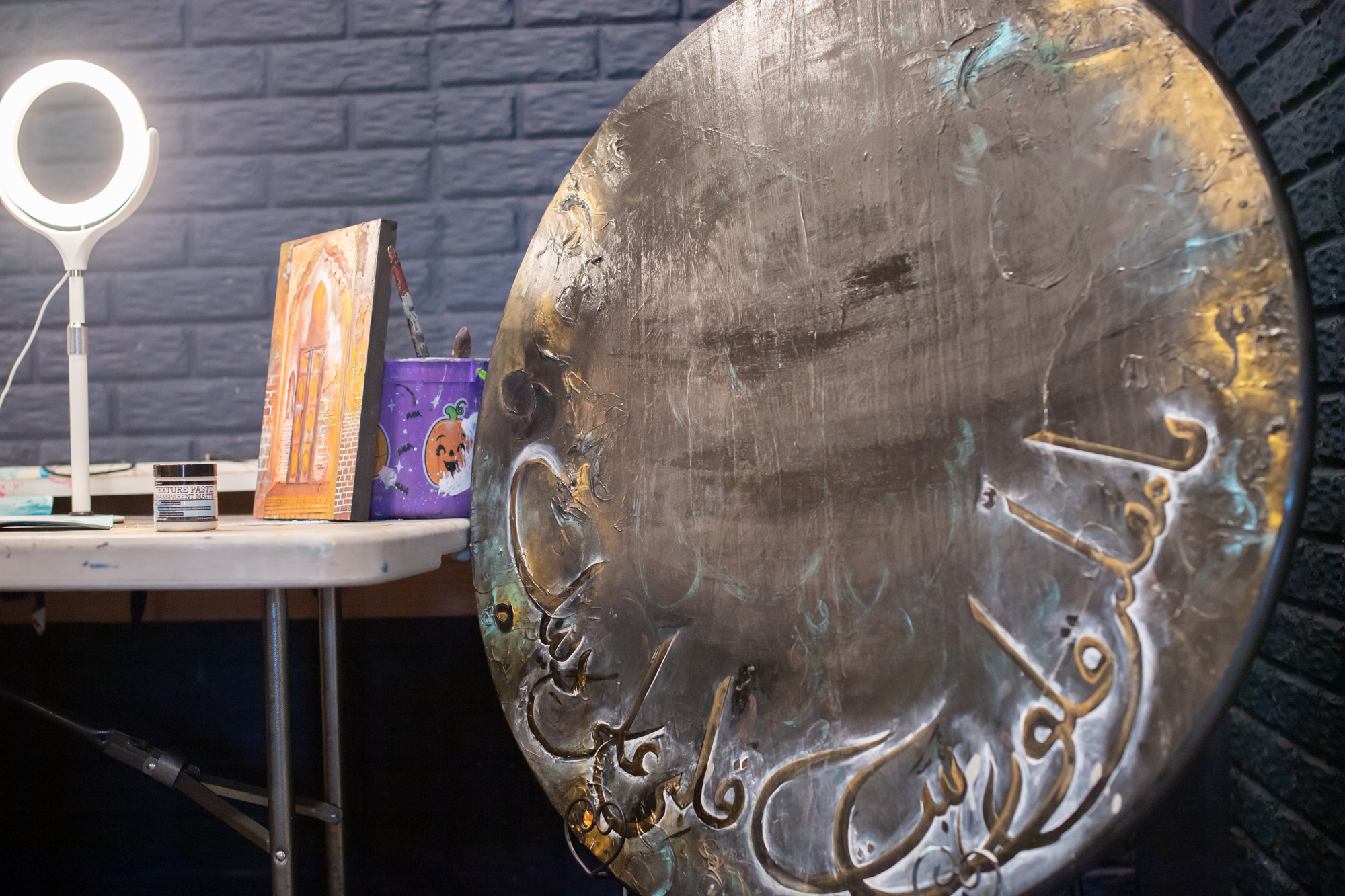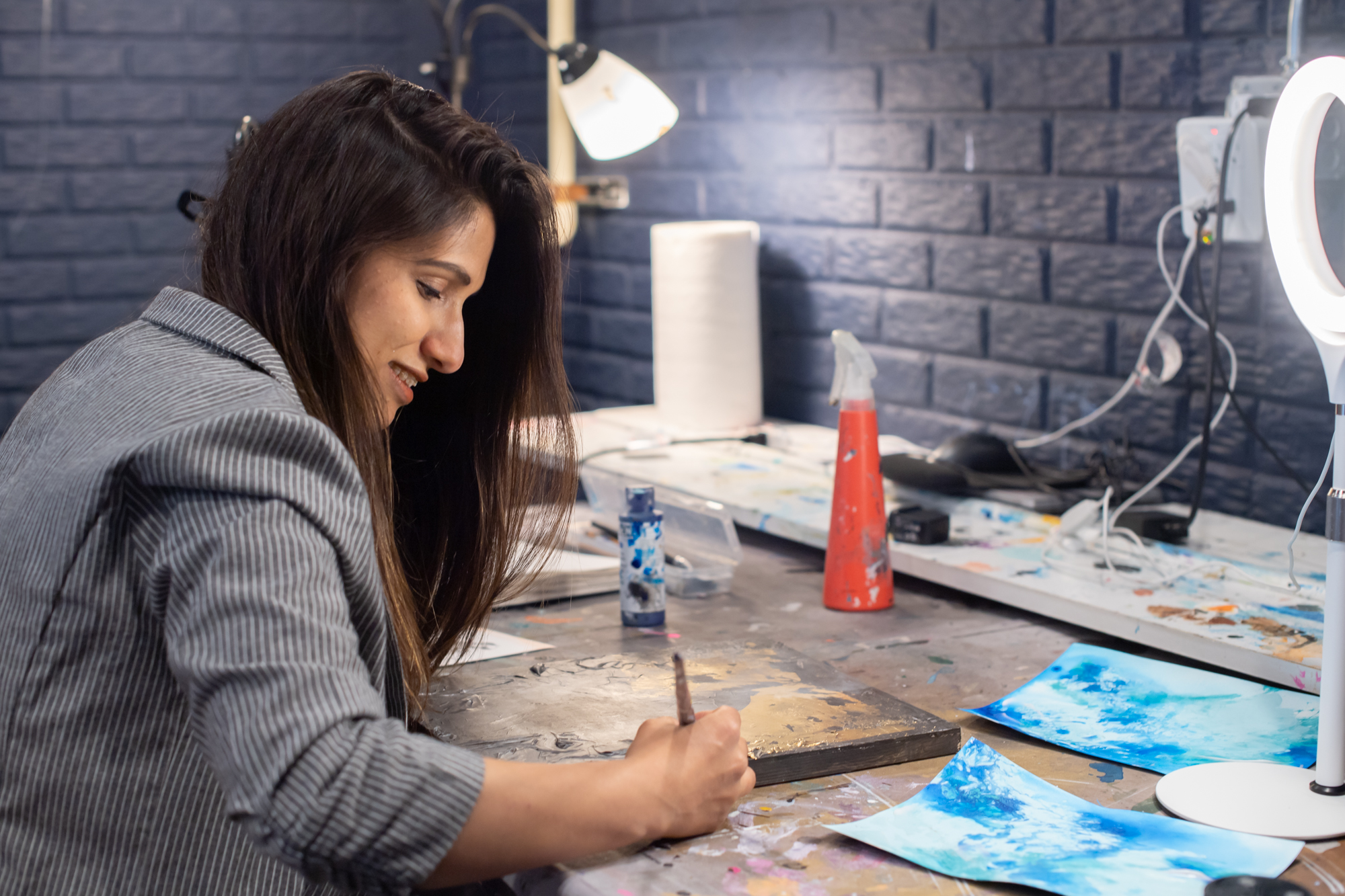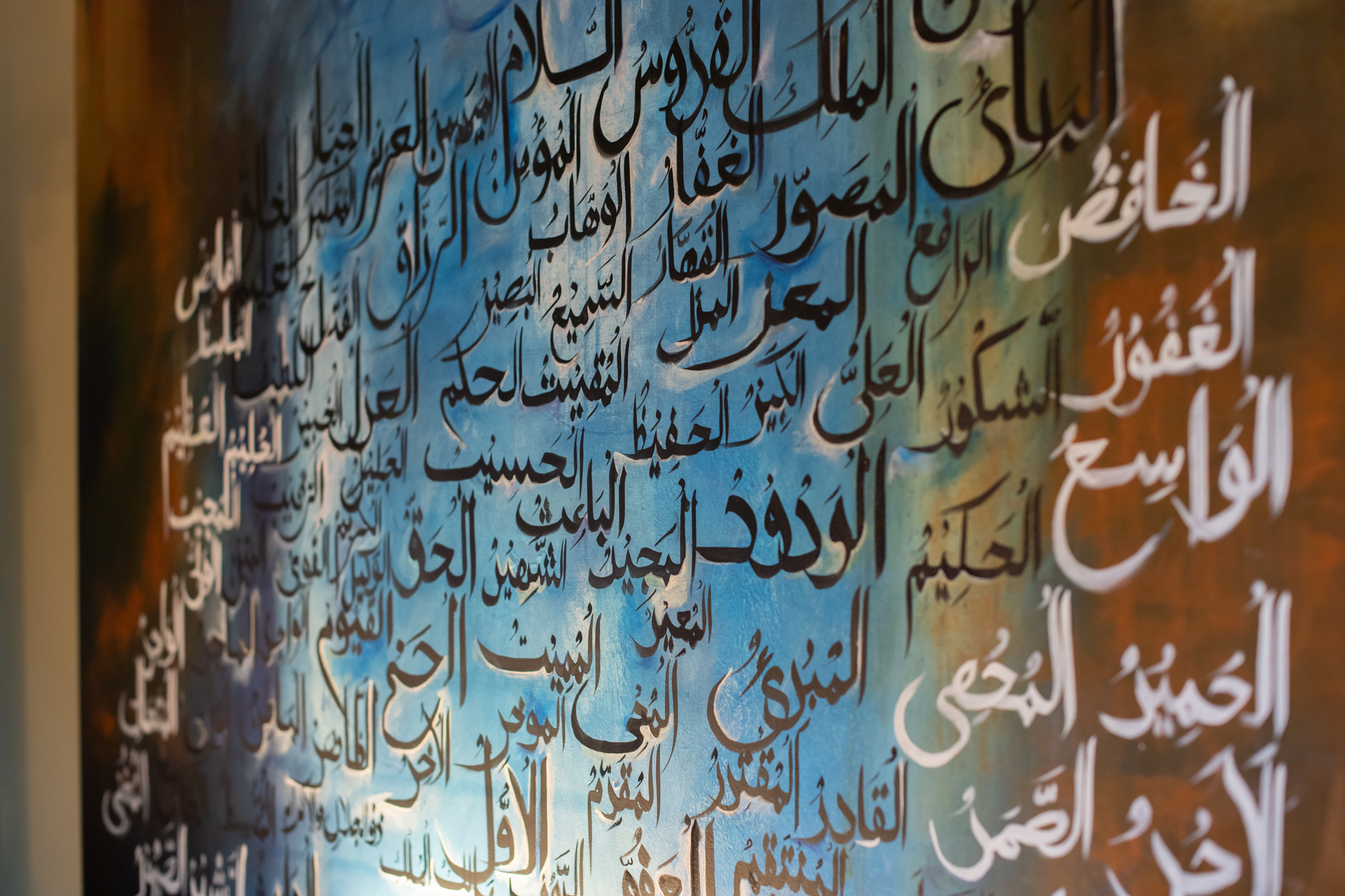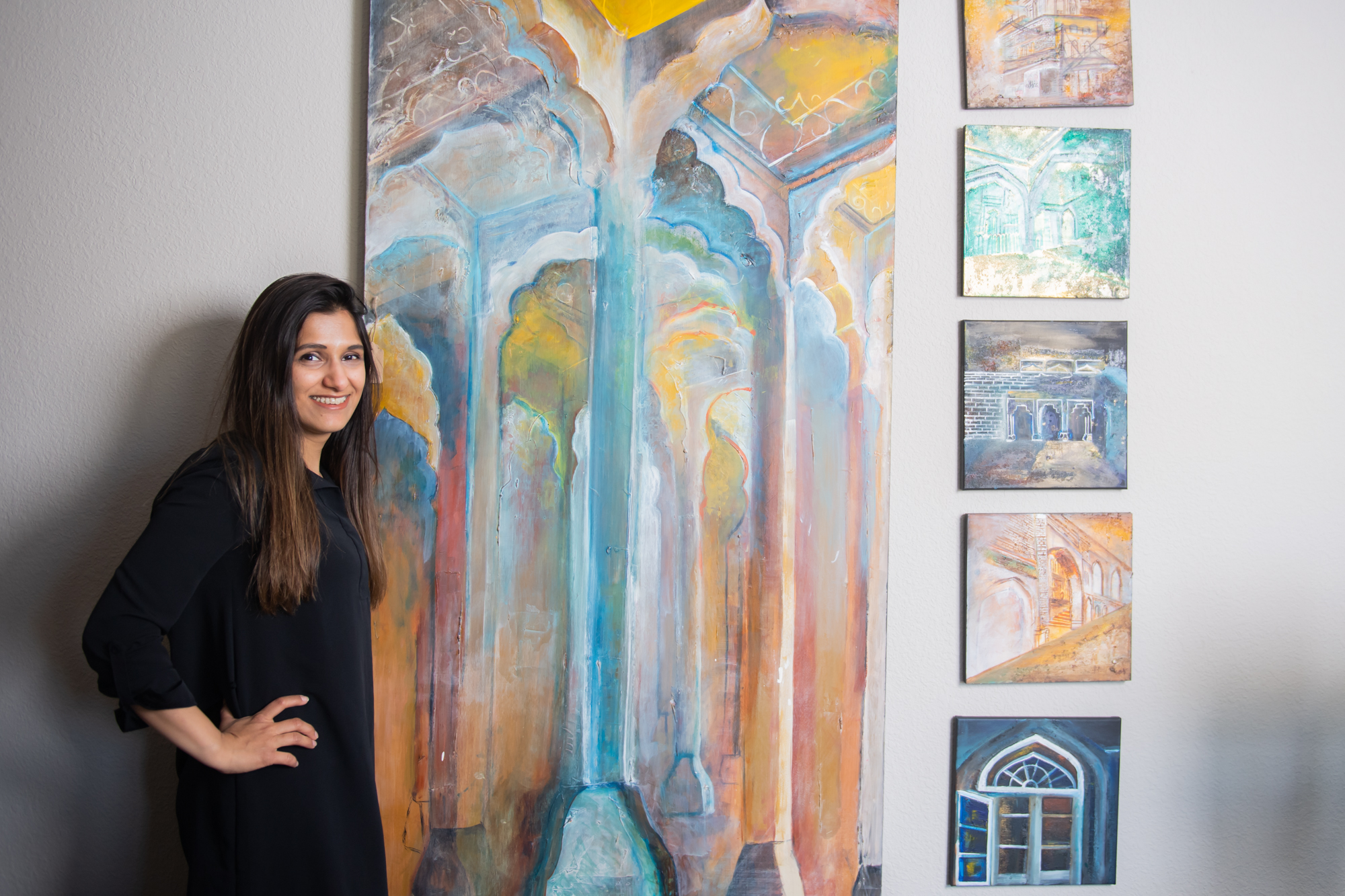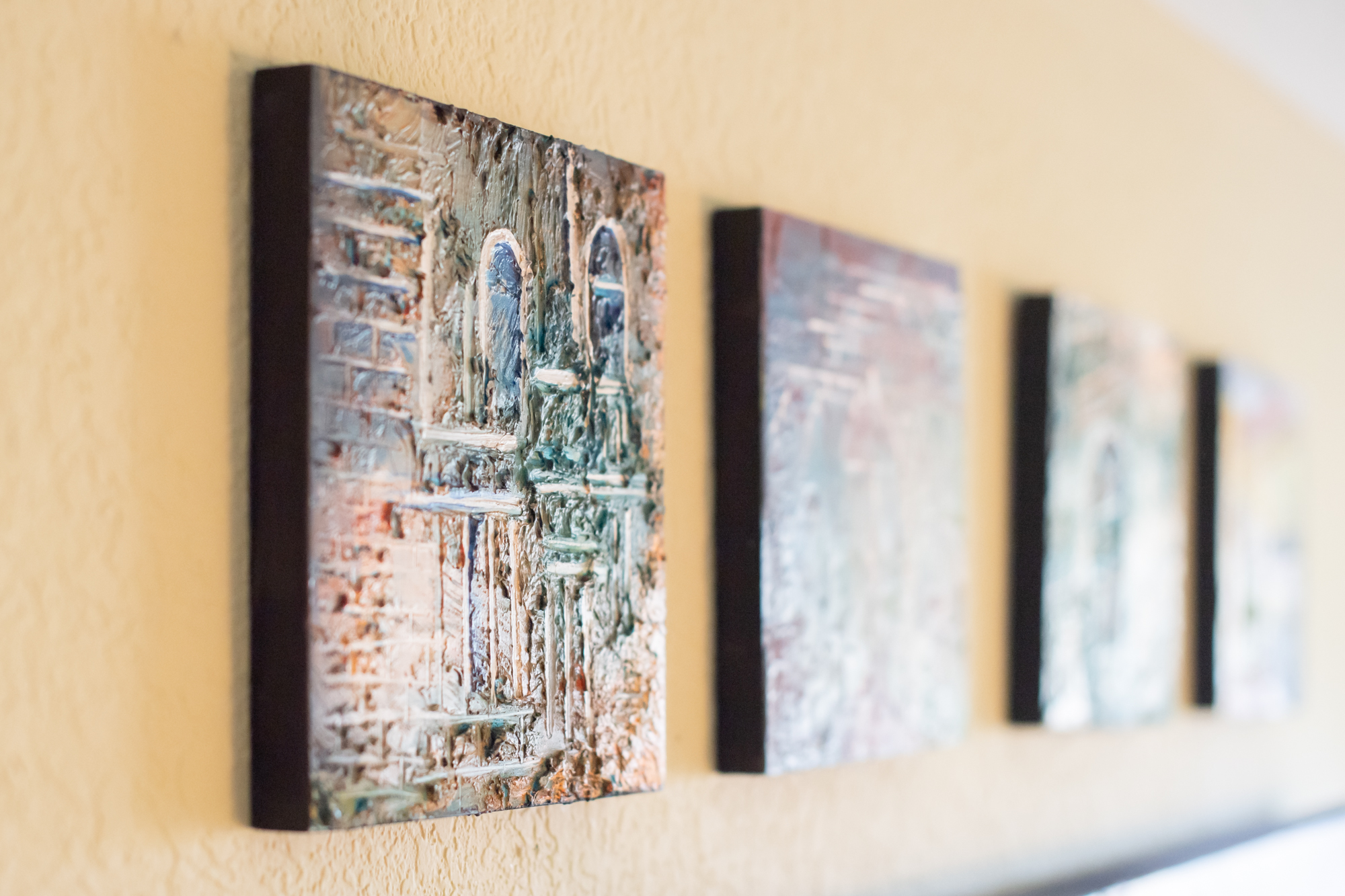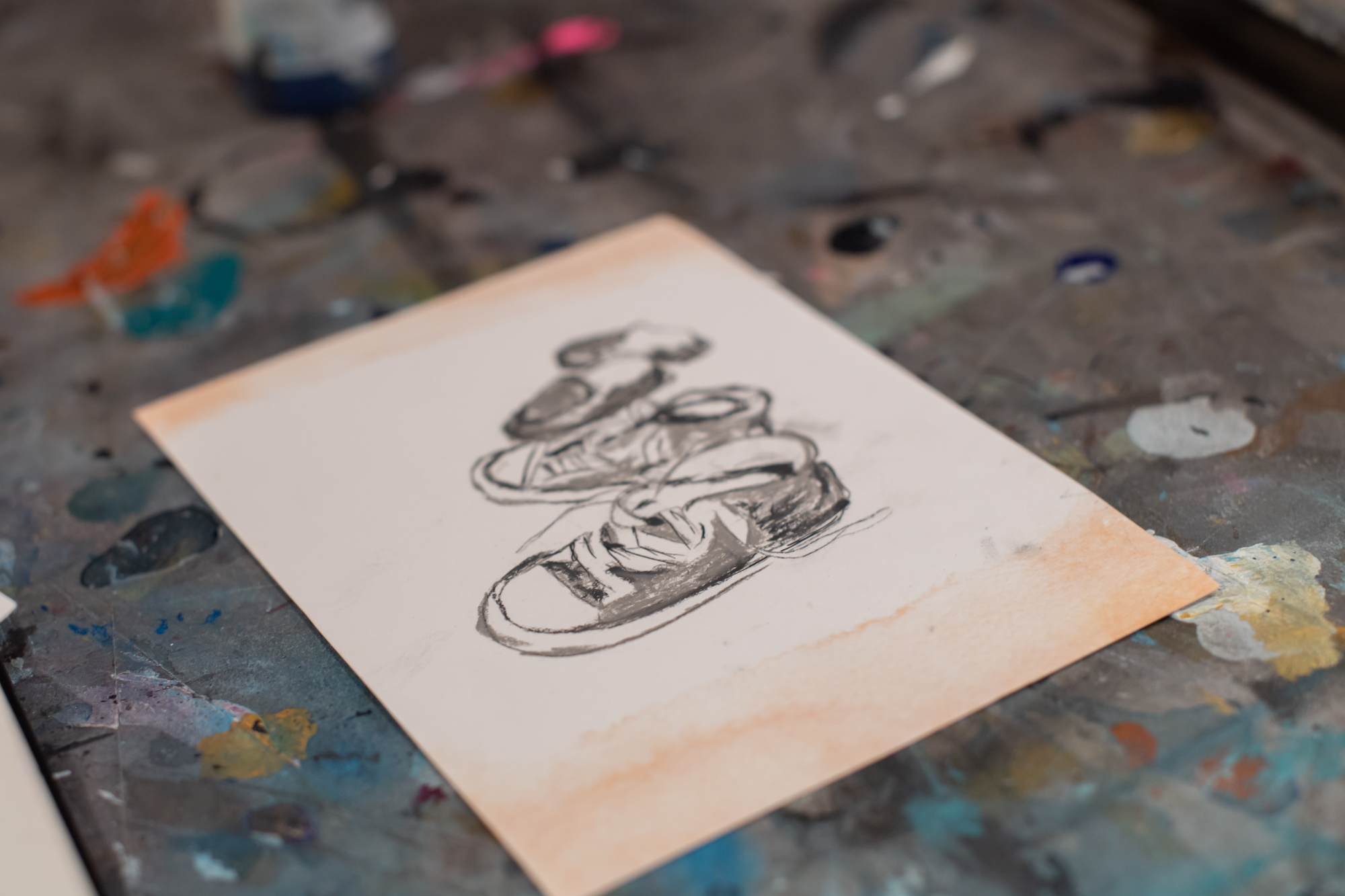 Fatima studied interior design at Hunderkada College of Visual and Performing Arts in Islamabad and did a few commercial projects after completing her associate's degree. The drawings she did for interior design led to her interest in architectural paintings, she said.
Calligraphy entered Fatima's repertoire when well-known calligrapher Rasheed Butt visited her college to offer the students a three-day workshop. "I just loved it," Fatima recalled. "I talked to my mom after the workshop and told her I wished I could get a hold of him to take classes."
That same day, Fatima went with her parents to an art store and she heard a familiar voice. Butt was there with his daughter. Fatima couldn't believe her luck.
"I asked him if I could take classes from him and he agreed," she said. For a month, he taught her kufic script, the earliest Islamic style writing, used by the early Muslims to record the Quran.
"He didn't charge any money for it," said Fatima. "'Just come and show me you really want to learn,' he told me."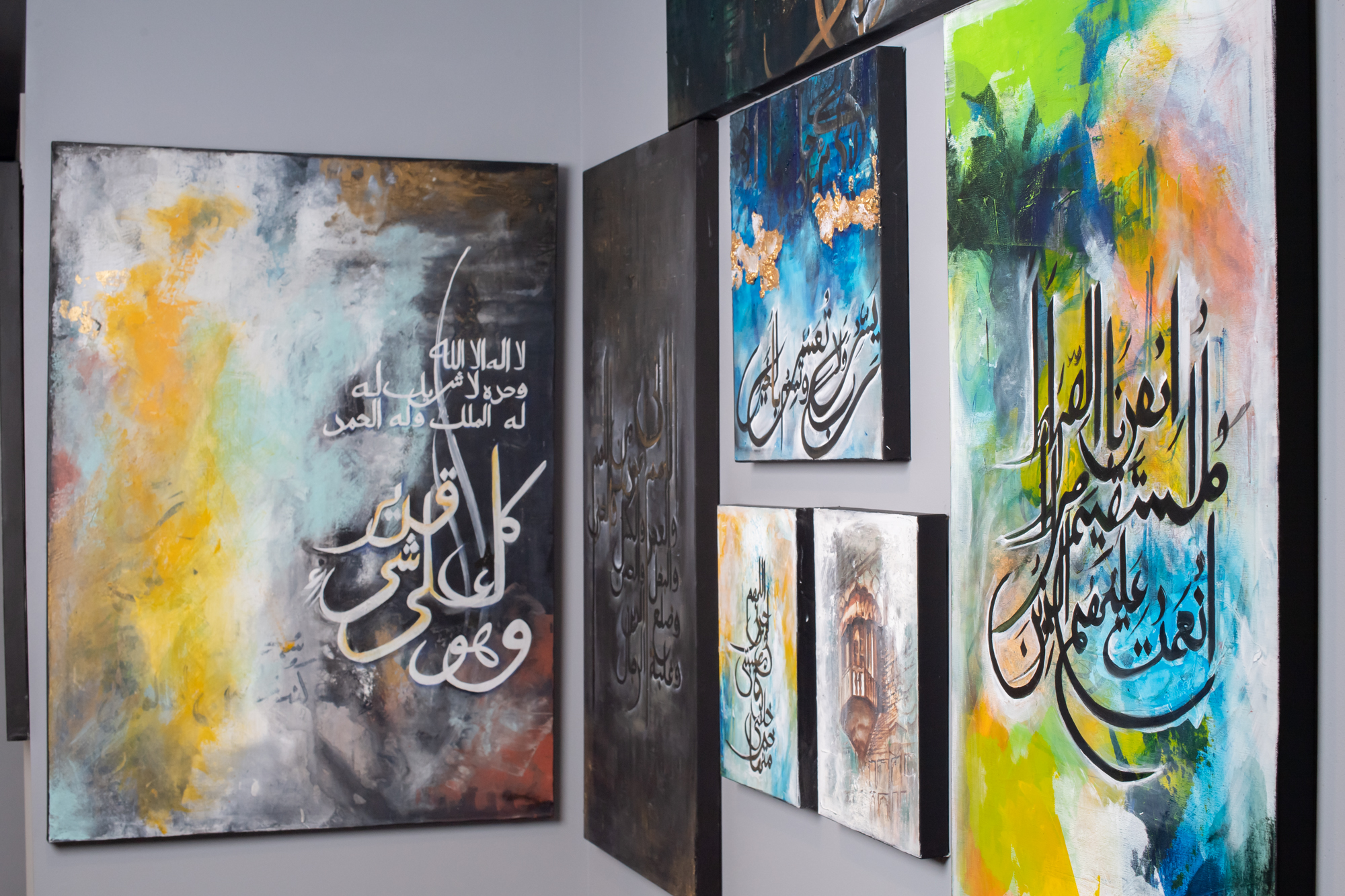 The road to Milwaukee
At 22, Fatima married and moved to Cleveland, Ohio. In the dead of winter, her husband busy in his residency, "art was almost the only thing that kept me sane," she said. "I like the therapeutic effect it brings."
Art proved to be her consistent companion as the couple moved about every two years as her husband's career developed.
After a year and a half in Cleveland, the couple moved to St. Louis. In another two years, they were in Richmond. And from Richmond, they moved to the Milwaukee area.
"I like meeting people and I am thankful for the people who have crossed my path, but it takes time to develop friendships. I have my art to submerge myself into. Art has been my biggest support."
Art also connected her to each new community. "Every city had different opportunities," she said.
In Cleveland, Fatima taught art in a home for older residents as a volunteer. She was also a regular at CAIR's annual banquets, displaying her calligraphy. "A lot of people in the organization became my good clients, who would come back and would refer me to others," she said. In St. Louis, she worked in a gallery, where she also displayed her art.
"In Richmond, I really started to get into architectural paintings with texture and wood. A lot of people in Richmond in our community were really into art. The business was booming there."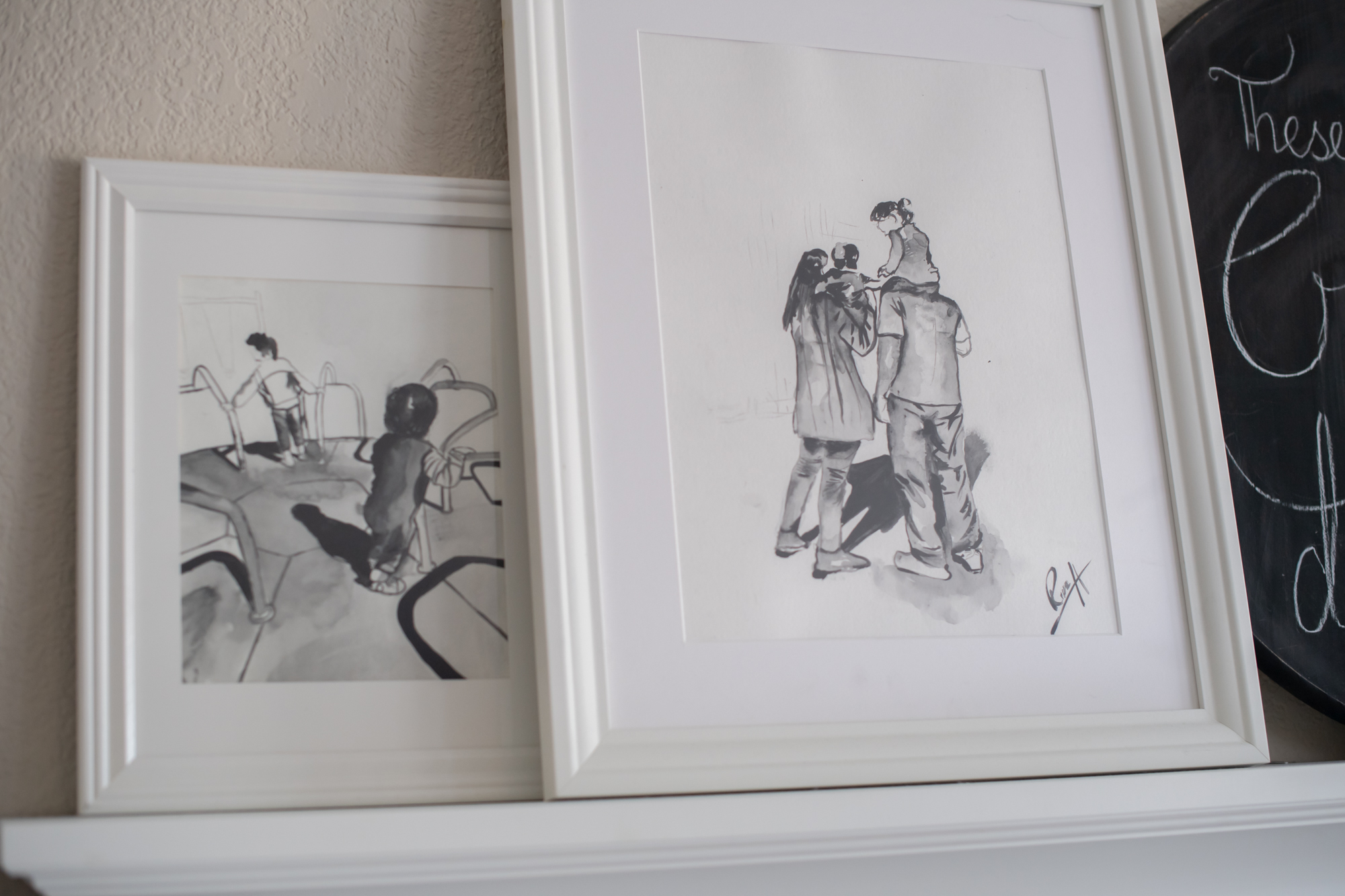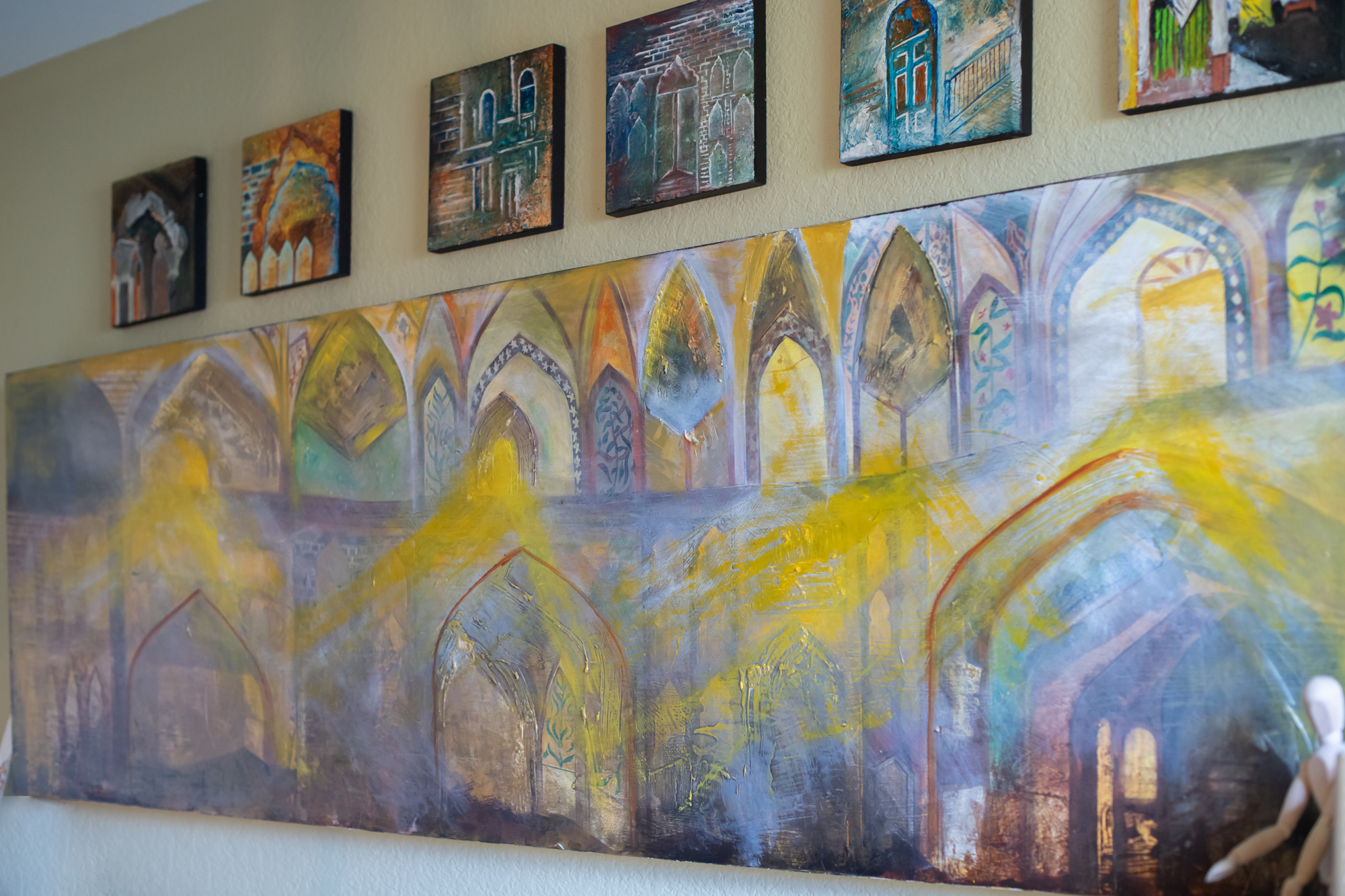 Creating art and life in Milwaukee
Islamic art is characterized by repeated, stylized patterns known as arabesque. It is used to symbolize the transcendent, indivisible and infinite nature of God, says "Introduction to Islamic Art," on online course from Lumen Learning.
Like Islamic art, Fatima arranges the space and time of her life into repeated patterns. Her time with her children seems to flow naturally in and out of work space and professional life.
A move to a new home meant establishing a new studio, just as it did for her mother. An opened basement with big, opened spaces became her studio, where she set up stations. A calligraphy table that tilts to make drawing more comfortable rests against one wall, with a collection of bamboo pens and inks.
Another area is for her acrylic and texture painting work. "On the side sometimes, I like to experiment with wood here and there. I don't sell my wooden pieces. That's for myself. So that's in the corner," she said.
An extra room became a classroom where she offers art sessions. She offers calligraphy classes and an introduction to architectural painting.
She sets up stations for her children to do watercolors and, adjacent to the studio, they have a play area arranged with Montessori materials. Fatima likes to join them to share in the activities with them.
Her time is arranged first on schedules. "I love schedules," she said. "I love making files and doing timeslots, and check-marking the timeslots at the end of the day, and at the end of the week." She makes her schedules on the weekends to have an idea of what she will be doing in the week ahead.
On a typical day, Fatima wakes at 4:30 or 5 a.m. A couple of hours in the early morning and another two hours in the afternoon, when her 4-year-old daughter is in school and her two-year-old son naps, "is my studio time," she says. Much of the rest of the day is shared with her children in the studio.
"My kids have been with me in the studio since they were each only a month old," she said. "They grew up with paint stains.
"I consider myself lucky that I have company in the studio. It is just the calligraphy that needs to be done when I am on my own because it is very precise. All the other stuff, I can do with them." In the early evenings, when it's nice out, they go outside together.
Her work process involves sketching or painting samples of the art she plans to create, then moving to a bigger canvas to work in pastel watercolors or acrylic and texture painting on wooden boards.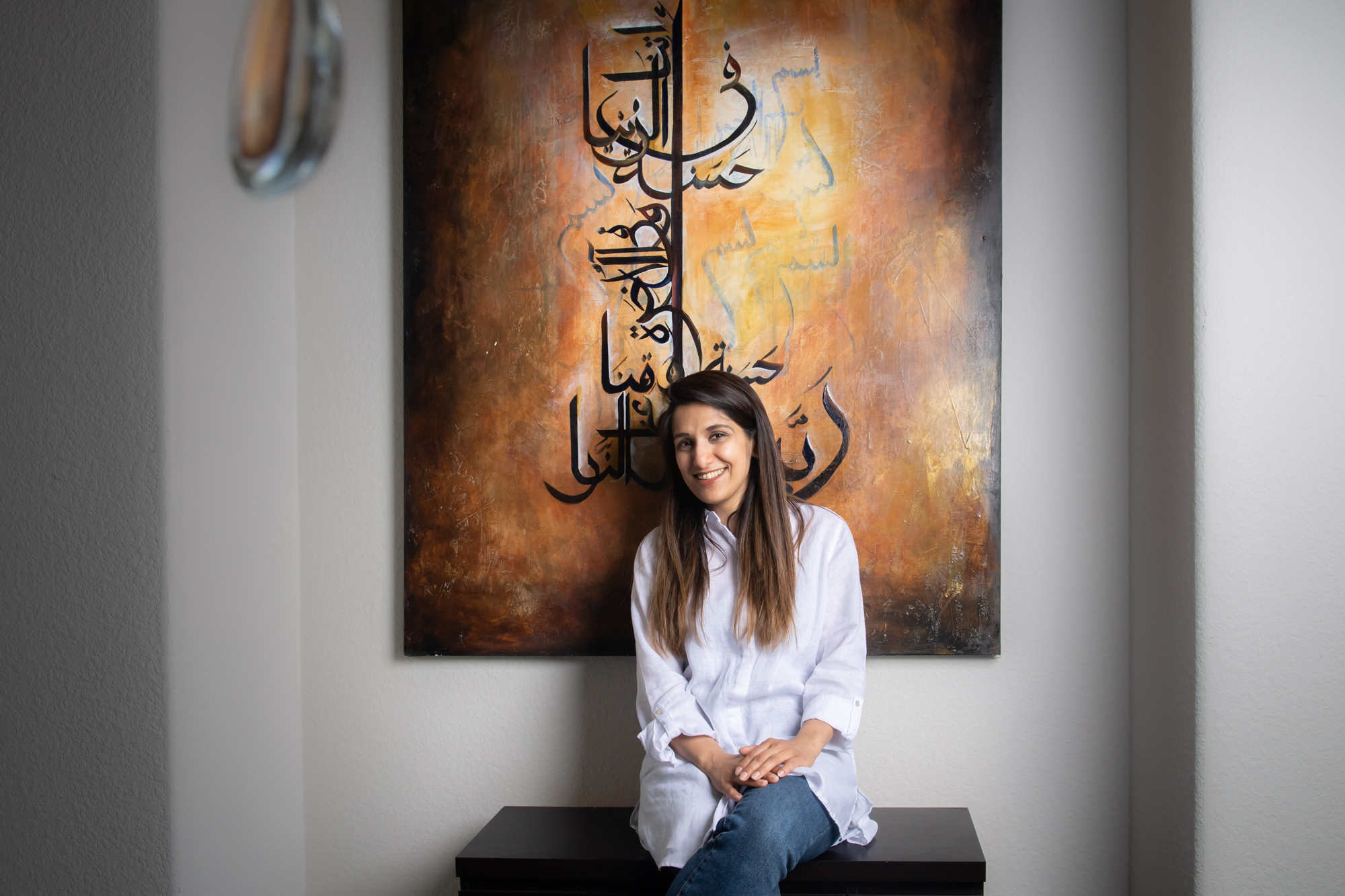 For her architectural pieces, more often than not, she draws on photographs she takes on her annual visits to Pakistan. Her husband's family is from Lahore and she credits her mother-in-law with generously taking her to photograph her favorite sites, Badshahi Mosque, Lahore Qila and Shaalimar Garden.  "Lahore is a city filled with beautiful arches and architecture from the Mughal era (1524 – 1752)," she said.
"I've done about 15 different paintings of Badshahi Masjid from different angles. I go back to that place over and over again," Fatima said. "Pakistan is filled with mosques.  Every few kilometers you drive, there is a mosque. Then, there is another mosque just a few minutes later.
"When I am working, I will have two or three different drawings – one in black and white charcoal and one sample painting, and one the original picture."
While Fatima loves the range of perspectives and dimensions from which she can explore her architectural drawings, it is the calligraphy she considers her Islamic art. "Islamic art is a vast field. A lot of people do a lot of other beautiful things and call it Islamic art.
"As far as I am concerned, it is Arabic calligraphy and the sayings from the Quran or the hadiths that I am writing – that is Islamic art for me."
Fatima is thankful for the lakefront and natural surroundings in Milwaukee, she said. She is happy to see an active Muslim community, but doesn't know much about the art scene yet, moving here shortly before the pandemic closed everything.
She is hopeful that Milwaukee will be a place of growth for her art, her business, her family and personally, she said.