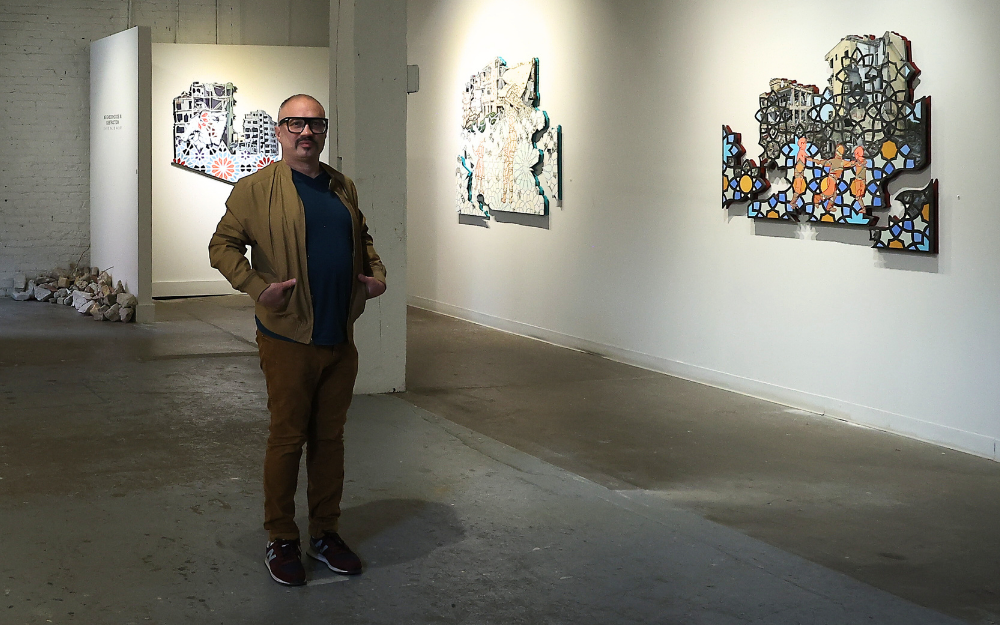 Photo courtesy of Var Gallery
Artist David Najib Kasir's exhibition, "Neighborhoods in Subtraction," will be on display at Var Gallery until Aug 6.
Milwaukee-based artist David Najib Kasir has been drawing and creating for his entire life, but it wasn't until high school that he started to realize the strength of his talents and the possibility of making a career from his art.
In 1988, after high school and with the encouragement of his art teachers, Kasir moved from Chicago to Milwaukee to attend the Milwaukee Institute of Art & Design and has lived here ever since. He also spent time during college studying in Syria.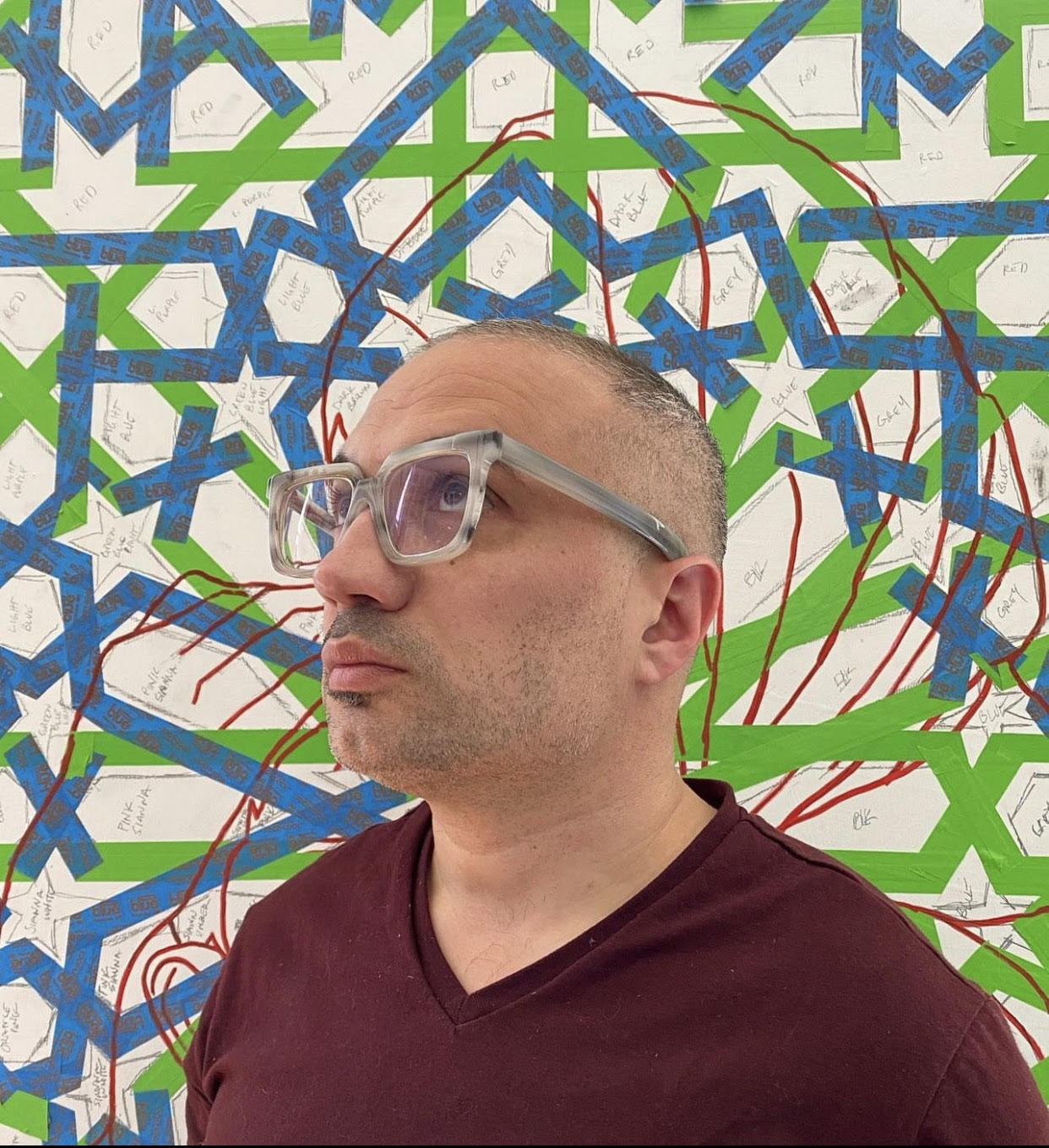 Photo courtesy of David Najib Kasir
Artist David Najib Kasir
"Being an artist is hard in a society of capitalism. It's never a simple lifestyle," says Kasir. "My work is my main drive, but it's hard to depend on selling work consistently."
Despite the challenges, Kasir has managed to live off the fruits of his creative work for many years and carve a prominent space for himself in the local art community. 
This summer, Kasir has a solo exhibition of new paintings hanging in Var Gallery on 5th, 423 W. Pierce St., called "Neighborhoods in Subtraction." (There is another Var Gallery on South 2nd Street, also in Milwaukee's Walker's Point neighborhood)
"Neighborhoods in Subtraction" features 13 pieces of Kasir's work – most of which were completed within the last year – and is open to the public through Sunday, Aug. 6. 
On Tuesday, Aug. 1, Kasir will give a presentation at Var Gallery on 5th Street. For more information about this event, go here. 
"I've noticed that most people have been very positive about his technique advancement over the past few years," says Var Gallery owner, Josh Hinz. "Whether that's with the painting itself or with his bold new decisions on how to frame the subject with new materials and methods."
The subject matter of Kasir's colorful and powerful art stems primarily from his family's stories and their countries of origin.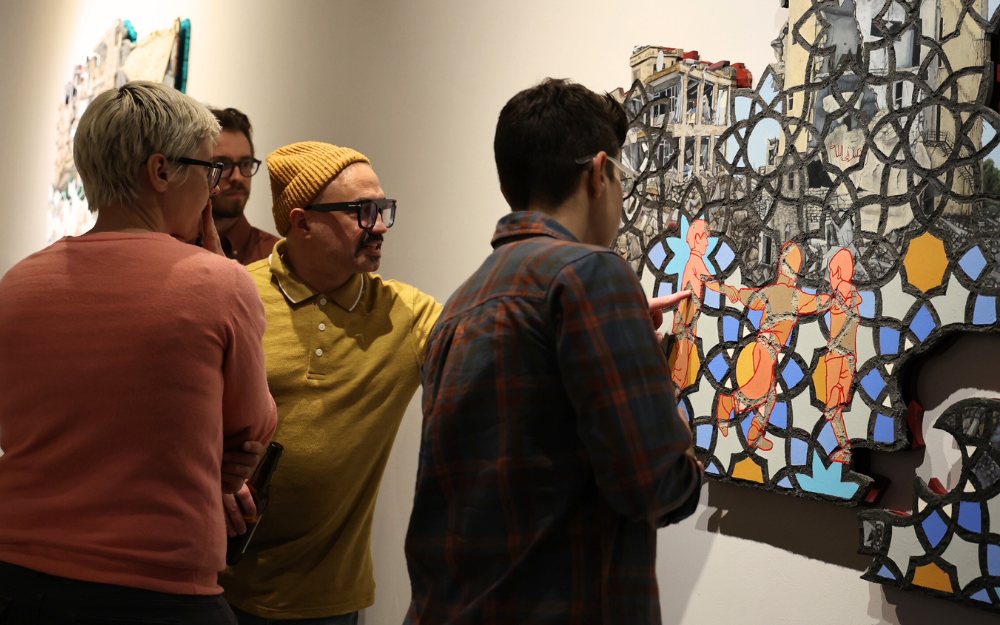 Photo courtesy of Var Gallery
"Iraq is my father's country and Syria is my mother's – as well as the second home of my youth. It is where my aunts, uncles and cousins are still living. It is where there are buildings where I slept in and streets where I played tag and other games as a child," says Kasir. 
The chaos and war these countries have endured greatly affect Kasir's work. "I've witnessed years of destruction of my countries from United States invasion, with very little regard from Western mainstream media to civilian casualties," he says.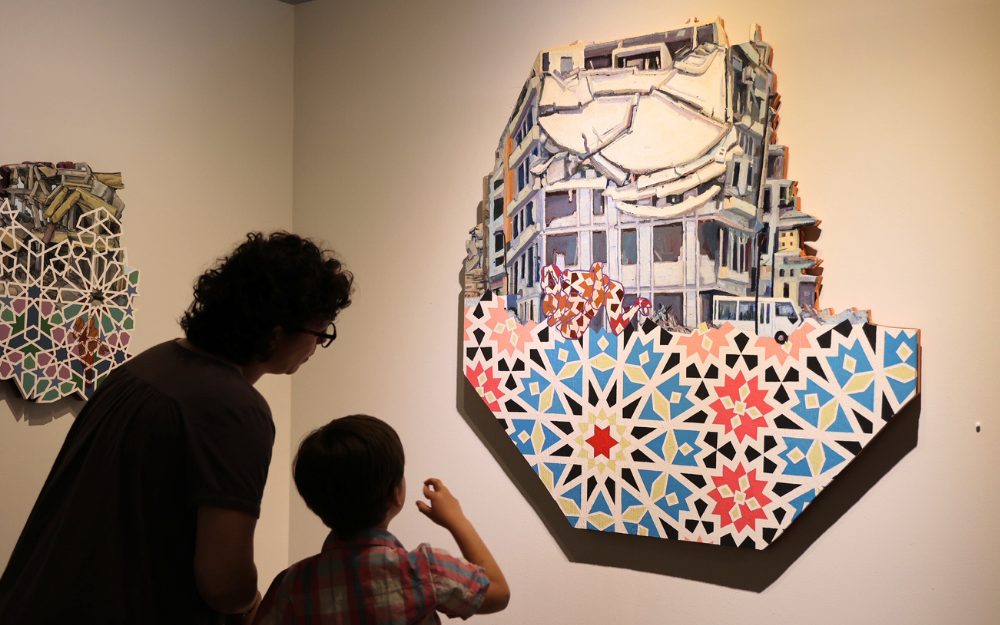 Photo courtesy of Var Gallery
Hinz feels Kasir's body of work has universal appeal and world-inclusive messaging. Prior to "Neighborhoods in Subtraction," Kasir showed his work at Var in a 2017 duo exhibition with Fahimeh Vahdat called "Fragmented Home & Place."
"I think anyone can find themselves exploring the many facets of David's painting technique, but I enjoy the simple dichotomy between these dilapidated, hopeless structures and the immense power of the culture depicted through the Arab Moroccan Mosaic and Zellij designs retaking the environment that one would think is lost," says Hinz.
Photo courtesy of Var Gallery
Kasir was first introduced to zelliij (or zellige) – which is a style of mosaic tile work made from hand-chiseled pieces – as a child. 
"I believe my mom had a jewelry box or frame that had zellige on it," says Kasir. "I also saw it at the Arab church in Chicago."
But Kasir was most drawn to the zellige design when his family was visiting the Middle East and Syria and decided to incorporate it into his paintings.
"It was hard not to be taken by the design and the intricate complexities to them," he says.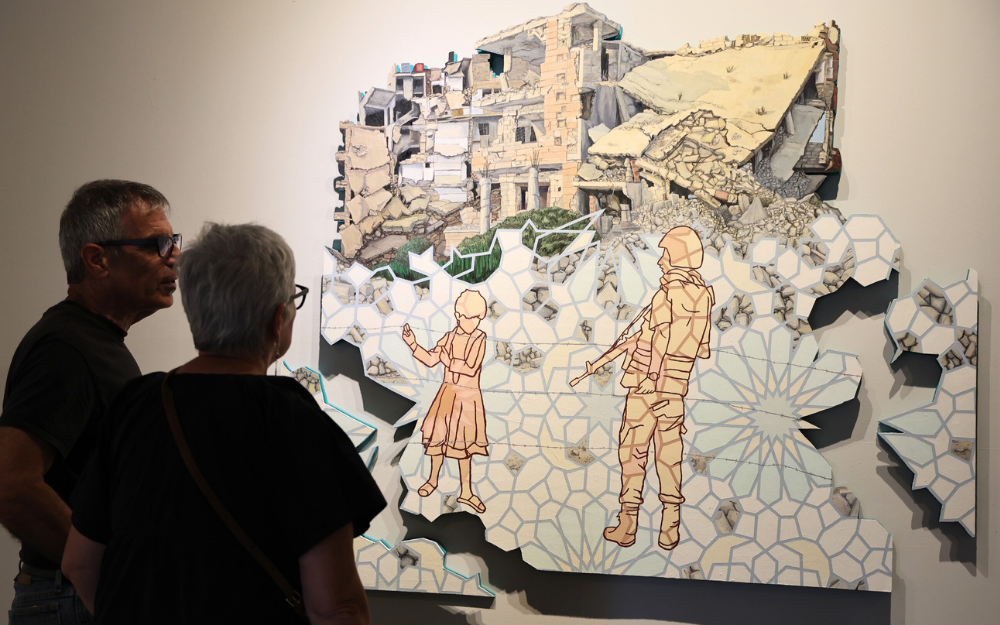 Photo courtesy of Var Gallery
Through his new work, Kasir strives to communicate his personal experiences to strike thoughts and conversations with others who may not comprehend the devastation of the Syrian and Iraqi wars.
"This work just happens to be a part of a world and country that was embedded in the most brutal war and ignored by the media," he says. "A war that accelerated because of the United States involvement in Iraq. I refused to allow others to ignore what was happening."
Photos by David Najib Kasir
From left to right, Sorrow Estimated in Decimals (2023), Exponent of Our Collapse (minus) the Factor of Hearts (2023)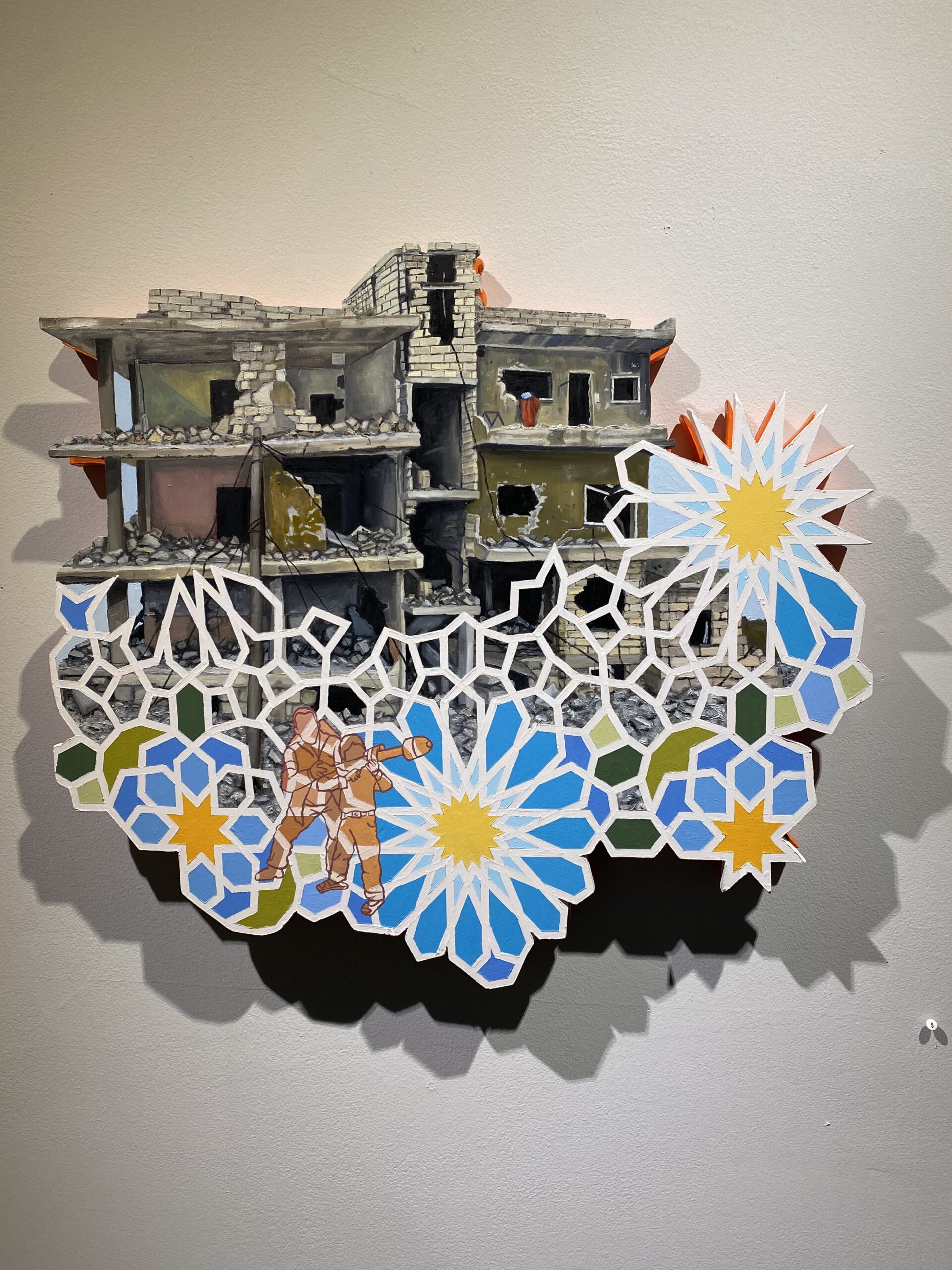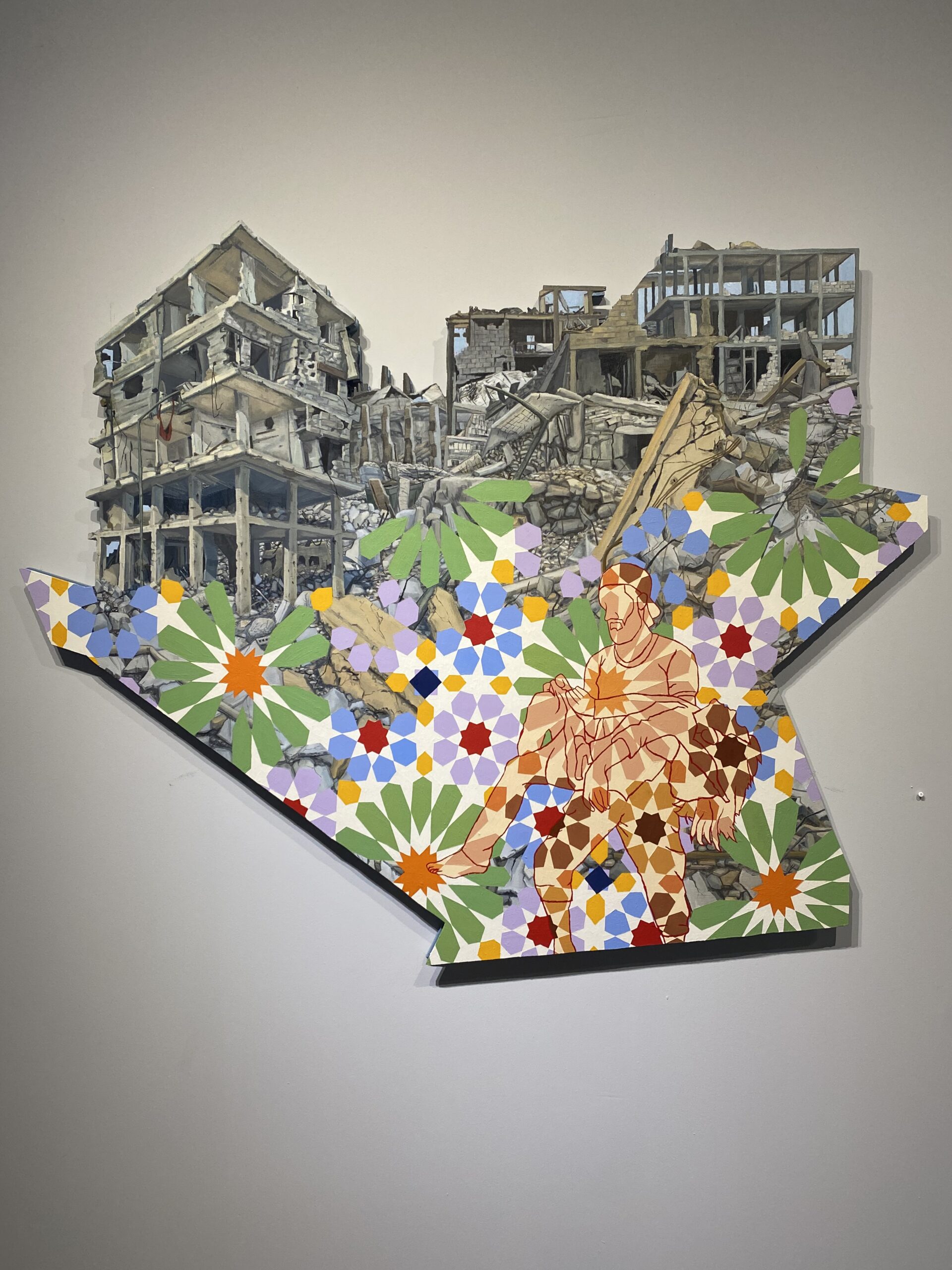 Photos by David Najib Kasir
From left to right, Area of Quadrilateral in Rising Spring (2022), The Average Number of Broken Hearts in Occupied Diameter (2022)
After moving to Milwaukee in the late 1990s, Kasir raised two daughters and served as an active member in the local art community as well as a successful seller of his work. 
"I am lucky to now be able to make a living doing art, but I do work for others when I need to create more income," says Kasir. "There is a price in creating work that is more challenging, and I have always understood that."
Kasir's faith is strong and rooted in art, people and the capacity to understand and care about others with different life experiences and backgrounds. 
"I'm proud to be a part of this community and to witness how much it's grown in many ways over the years," he says.