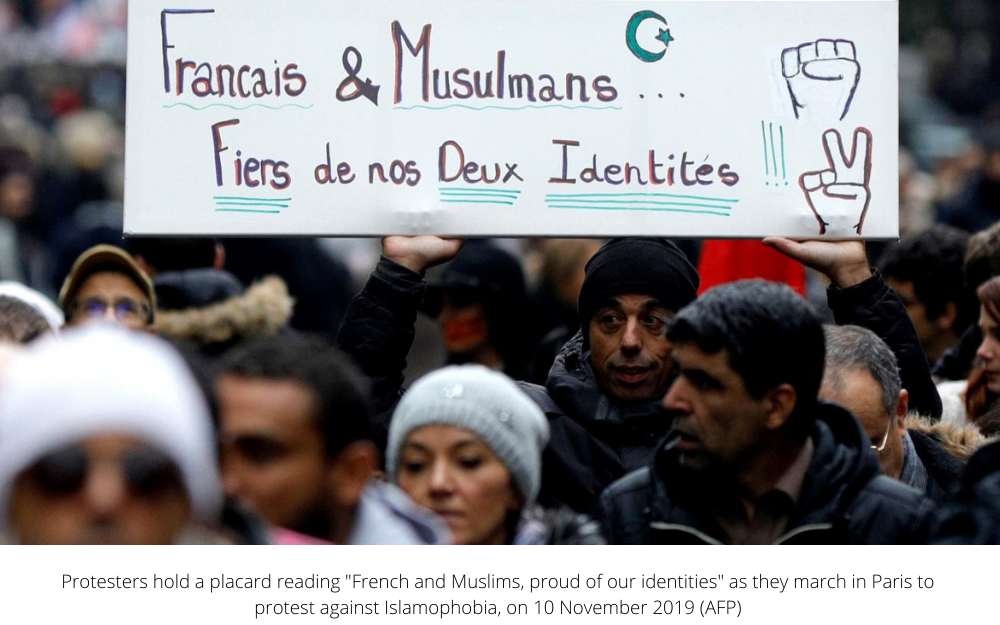 The murder of Samuel Paty, a 47-year-old French father and teacher, by what appears to be a Muslim extremist, has sent shockwaves through France.
For his friends and family, Paty's death is an immeasurable loss. For the nation, it's the latest trauma etched into the public consciousness, just as the trial of the Charlie Hebdo attackers gets underway – a reminder that old wounds are far from healed.
Allegedly enraged by his decision to show a cartoon of a nude Prophet Muhammad during a class on free speech, 18-year-old Abdullakh Anzorov took what initially began as a campaign by a lone parent to confront Paty, and turned it into a bloodbath.
Since Paty's killing on Friday, thousands have rallied in support of "free speech", apparently united in the conviction that this tenet of French identity is under threat. President Emmanuel Macron vowed that "fear will change sides", an ominous oath that – much like his speech on separatism earlier this month – presages increased scrutiny of Muslims in general, not terrorists in particular.
In the firing line
In the wake of the killing, senior ministers promised to close organisations and mosques deemed to be linked to the attack, regardless of how tenuous that link appears to be. For those in the firing line, including charities and an anti-Islamophobia campaign group, the sense of being unjustly targeted and tarred with the terrorism brush runs deep.
Simplistic slogans are now a pillar of nationalism: France is under attack for its values, and all citizens are called to its defence against an amorphous enemy. This enemy is violent because it is Muslim, and so the political logic goes, all Muslims should be regarded with suspicion and any signs of religiosity with fear.
This, despite studies showing religiosity is in fact often a bulwark against extremism, and there is no empirical evidence that religion and ideology are primary motivators for violent extremism, with radicalisation largely identified as a social issue.
Yet, in France, a daily chorus of politicians and pundits debate curbing Muslim religious freedoms in the name of the nation's freedom and security. Chief among them is Eric Zemmour, who despite having been repeatedly convicted of incitement to racial hatred against Muslims, has seen no curb on his free speech, as a remains a regular contributor to French TV and radio, with bestselling books and a warm welcome from many journalists as he broadcasts predictions of impending civil war into French homes.
Sounding the alarm
French nationalism is nothing new, but its veer towards a form of ethno-nationalism should have us all sounding the alarm – not least because it is deeply counterproductive in the struggle against extremism. By gradually alienating more and more Muslims, the French government not only leaves very little space in which French Muslims can exist safely, but also creates fertile opportunities for frustrated, angry minds to be channelled into rebellion against the state.
The problem, however, is that the brutality of Paty's killing makes the broaching of longstanding grievances over social and economic marginalisation, cultural rejection and discrimination virtually impossible for a community only ever interpellated in the media to answer for the violence of alleged co-religionists.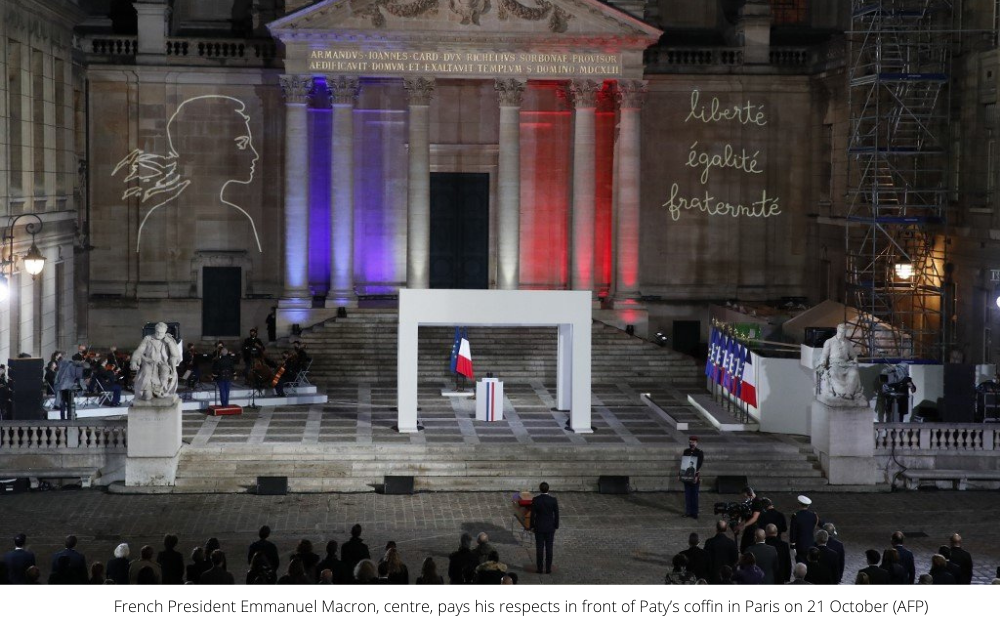 Enduring frustrations among many French Muslims over their treatment at the hands of the Republic – from police brutality, to profiling, to poverty, to job discrimination, to flippant and open disdain for practices at the heart of Muslim identity, including prayer spaces, fasting and dress – are being instrumentalised by hardliners.
The fanatics portray themselves as the liberators of an embattled Muslim community denied its basic religious rights; the politicians, as the liberators of an embattled non-Muslim majority allegedly equally terrorised by beheadings as by halal food aisles and full-body swimming attire.
It has never been more vital to disrupt the binaries – and yet, handed the opportunity to set a progressive agenda, Macron has instead continuously flirted with far-right terrain. He has pushed a regular diet onto the French citizenry of concerns over separatism, peppered by fake news stories and a constant slippage in his discourse between extremism, "communalism" and Muslims. To those half-listening as they prepare dinner for the kids, the message is clear: Muslims are the problem.
Social integration
A 2019 international study highlighted that radicalisation follows a sense of isolation from society. The study's co-lead author, Nafees Hamid, said that "extreme pro-group behaviour seems to intensify after social exclusion". And it's not the only study to corroborate this finding  – previous research commissioned by Manchester Mayor Andy Burnham after the 2017 arena attack identified a lack of social integration as a key factor in radicalisation, which societies ignore at their peril.
France cannot afford its current trajectory. None of us can.
In the wake of Paty's killing, two Muslim women were stabbed under the Eiffel Tower following a row during which the white female attackers shouted "dirty Arabs", in what is being treated as a racist attack. The attack fits a growing pattern of targeted attacks against Muslims, often women.
The problems facing Muslims in France are multidimensional, and to continuously target Muslims as a problem community on the basis of their religious identity – without any attempt to address the systematic issues they face as citizens – is to show a profound disdain for the inequality that plagues French society.
In a debate so focused on freedom of speech, we rarely hear directly from French Muslims. We rarely hear about the range of experiences, outlooks or polemics that this diverse demographic encounters. Instead, either compliant imams or firebrands are invited to make contributions to which few can actually relate.
This failure to understand the historical "other" in France, which today is fully French and rightfully demanding that their whole identity – as citizens, as descendants of the colonised, as racialised groups, as religious adherents – be fully accepted by the Republic as part of its modern incarnation, is the real struggle simmering below the surface.
Grievances ignored
This week, as thousands rallied across France to honour Paty and to defend "free speech", we should be very attentive to what lies beneath such slogans. It is true that acts of violence, such as Paty's murder, threaten free speech when it comes to the dissemination of material designed to shock and offend. But free speech has long been curbed for those whose grievances have consistently been ignored.
Their "free speech" is not about the luxury to offend; it's about the right to be heard when it comes to insecurity, joblessness, discrimination and poverty. This silent majority of Muslims – and their non-Muslim neighbours in the forgotten suburbs – have long been silenced, their speech rarely elevated to public debate, their grievances rarely taken up as a cause celebre for pundits or politicians.
There are many ways free speech can be threatened, and for some, the luxury to be heard has long been in short supply.
If this tragedy should yield some value to the nation, it should be in examining closely who exactly gets to speak, long before that speech itself becomes threatened – and how such suppression feeds the cycle of resentment, frustration and disillusionment.
There is a lesson about free speech here for us all: that being able to speak – and crucially, to be heard – is vital for all in a society. No society should seek the homogeneity of unity, but what it can and should promote is the equality of all citizens.
The views expressed in this article belong to the author and do not necessarily reflect the editorial policy of Middle East Eye.