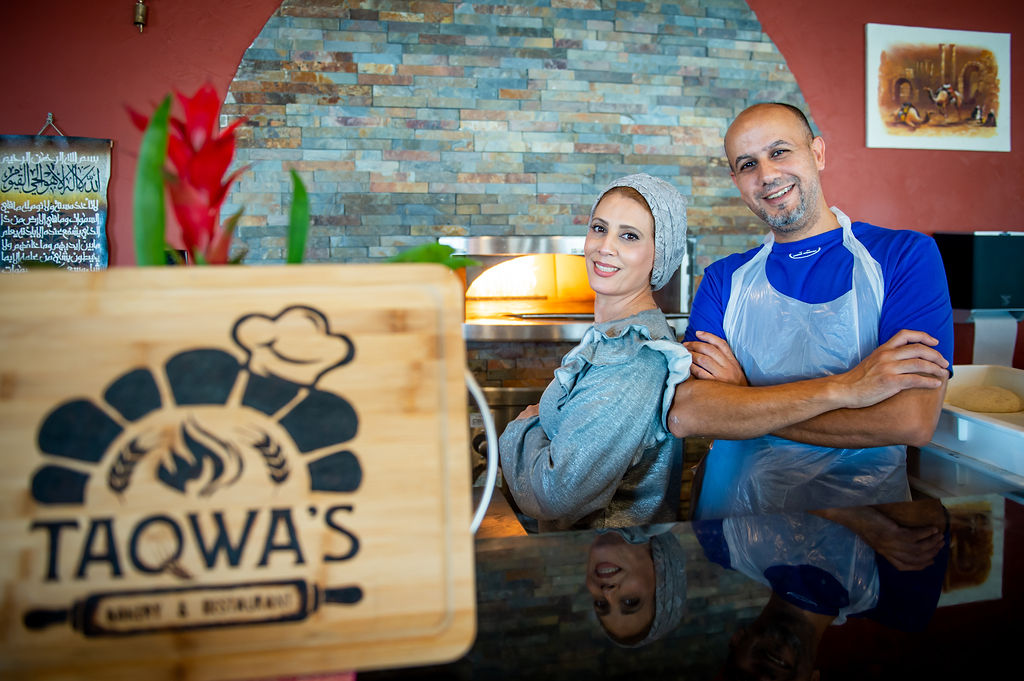 When WMJ stopped by Taqwa's Bakery & Restaurant on Thursday, August 27th for an interview and photoshoot, it happened to be Taqwa Obaid's forty-second birthday. And that meant it was her husband Abdulla Habahbeh's birthday as well. The two, who met when they were both sixteen, were born on the same day.
So it was no surprise then, when five of the restaurant's female employees suddenly emerged from the kitchen with a cake that said, "Happy Birthday Abood and Toto" and began singing.
What seemed more unusual was the genuine affection Taqwa's employees had for their boss. The hugs and laughter brimmed with warmth. Many businesses claim to be a family, but this one seemed actually to be one – and a happy family at that.
Taqwa's Bakery & Restaurant is a place designed for celebration. It opened this year on July 31 during Eid al-Adha. The restaurant's décor, planned and chosen by Abdulla, was designed to be reminiscent of an Arabian tent, and in one corner a nook filled with pillows and wall-hangings was created as a place for families to have their pictures taken. "I wanted to bring the culture in," Obaid said.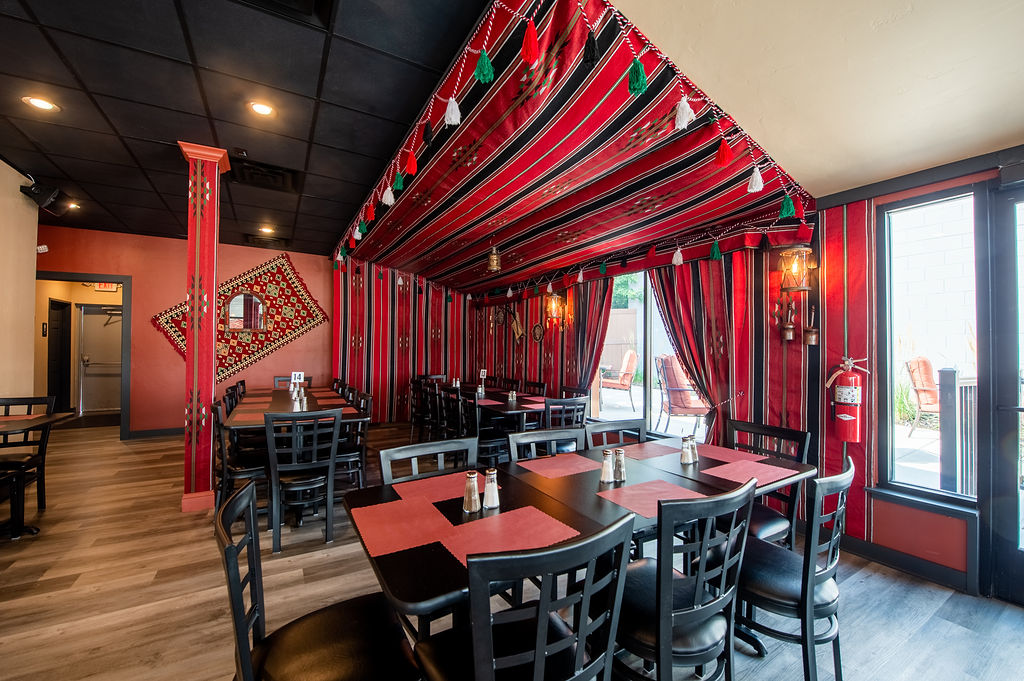 To create the restaurant's authentic atmosphere, Obaid and her husband bought the rugs, pillows, and other decorative items in Jordan, including nearly wall-sized photographs of Petra and Jerusalem.
Customers have responded. Despite opening during the covid-19 pandemic and operating indoors at 50% capacity, with patio dining and take-out available, Taqwa's has been an instant hit. Taqwa Obaid didn't have to sell the community on the quality of her food. They've long been anticipating an opportunity to enjoy it on a regular basis.
Obaid's journey to opening her own restaurant began six years ago. After moving to Milwaukee from Virginia, she "noticed that [for] a lot of our community, there is no bakery, there is no taboun bread," she said. A soft, chewy flatbread, taboun is a Palestinian and Jordanian tradition. "For our breakfast, for us, it's a must," Obaid said. "Pita bread is different," she said. The smaller pita loaves are "more for sandwiches."
But Obaid's first step wasn't to open a bakery. Instead, she did what many of the community's successful Muslim restauranteurs have done. She consulted her mother. "My mother came for three months to teach me and my husband how to make taboun bread. And within three months, I got all her secret recipes."
When they first started out, Obaid and her husband made taboun bread at home and were soon selling 20 to 30 of the flat loaves a day. Then she began to rent space at a local middle eastern grocery on the south side and sales "jumped to 100 a day," she said. She began making fatayir, a traditional middle eastern pie filled with beef, cheese, or spinach, and selling 100 of those per day as well. "At such a cheap price," she said.
Within three years, Taqwa and Abdulla decided to go into the catering business, to employ more of her mother's recipes. "She taught me the taste of traditional food," Obaid said. But sadly, shortly before the catering business opened, Obaid's mother Sriya passed away at age 62, "with nothing wrong with her," Obaid said. "She had 13 kids. She was famous in Virginia with all of the college students, cooking for Ramadan. . . . It was hard for me to open without her."
Despite the loss of her mother, Taqwa became well-known as a caterer. "I catered weddings and showers in Brookfield and on the North Shore," and for IRC, MMWC, the masjids, Salam School, and MATC. The couple's children, ages 9 and 10, attend Salam School
Once people were acquainted with Taqwa's food, people began to sing its praises. "I had heard of her throughout the years – everyone kept raving about how great Taqwa's food was," said Sausan Naji, a member of the Milwaukee Muslim Women's Coalition board of directors. "I would attend events that she had catered, and the food was amazing."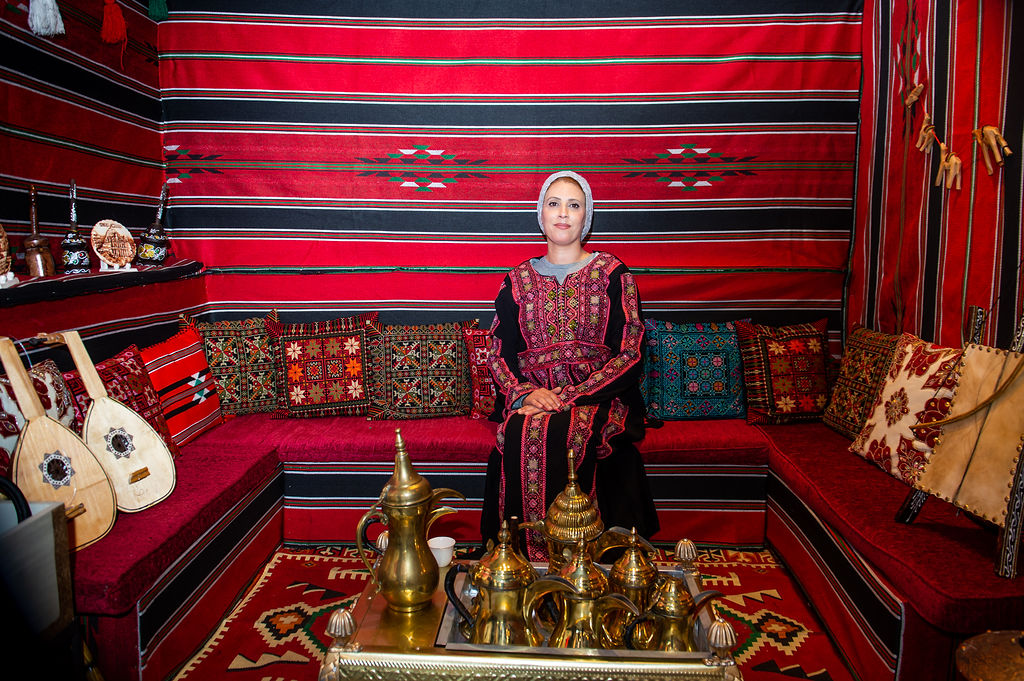 The next steps were inevitable. A friend, Luran Allabadi, offered to partner with Obaid to manage the kitchen. Obaid's brother-in-law had just bought the old Burger King location near 27th and Layton, originally planning to open a fried chicken restaurant. But when he learned of Taqwa and Abdulla's plans, he opted to rent the space to them. The city of Greenfield issued the permits last July, and extensive remodeling began. Taqwa's opening has been eagerly awaited by the community ever since.
"I have customers who come in the early morning for bread and come back at night to eat with their families," Obaid said.
The only Muslim woman semi-truck driver in Milwaukee, Maysa stopped by in the late morning to buy bread. "She has the best food, the best bread in the whole city, plus all of her sweets," Maysa said.
Taqwa's menu is extensive, and features well-known dishes like hummus, baba ghanoug, falafel, and tabbouleh salad as well as foul modamas, a dish made of cooked fava beans with middle eastern seasoning; grilled Mediterranean cheese; grilled shish kabob and kufta kabob; and signature entries like mosakhan – carmelized onions on taboun bread served with a half chicken – and dawalee, the stuffed grape leaves for which Obaid is known. The entire menu, including fatayir and a range of bakery items like baklava, hareesih, and maamoul, is available for take-out. Large party orders include fatayir and platters of mixed grill served on taboun bread. The halal meats are grilled to perfection.
"Taqwa's has become my family's go-to restaurant," said Sausan Naji. "The staff instantly welcomes you. The restaurant is clean and spacious. [And] the food is outrageously mouthwatering. Our favorite is the dawalee. This place will be one of my top restaurants that I will take out-of-town guests to."
Obaid says she "appreciates the whole Milwaukee community" and their support, and that includes Azmi Alaeddin of Aladdin's MKE, a well-established Milwaukee Middle Eastern restaurant. "He's very supportive to me" with ideas and advice, Obaid said. "When I needed help, I always call him."
It would be hard to resist helping Taqwa Obaid if she needed it. She is generous, talkative, and out-going. When the reporter and photographer from WMJ left her restaurant, we carried nearly enough food for a party.
Taqwa's Bakery and Restaurant is open daily from 7:00 a.m. to 9:00 p.m. Taqwa herself gets up every day at 4:00, she said. Abdulla now does all the baking at the authentic wood-fired stone oven that is the centerpiece of the restaurant. I asked Taqwa's husband why he decided to leave his job in telecom to become a baker, and Taqwa instantly answered for him. "Because he loves me!" she said. And Abdulla couldn't help but agree. "Yes, that's it," he said.