Dr. Irfan Omar speaking at the National Muslim and Catholic Dialogue hosted at the University of St. Mary of the Lake
Photo Credit: Karen Callaway/Chicago Catholic
When Dr. Irfan Omar was an undergraduate in the 1980s at the University of Delhi in India, "a country where nearly every religion appears to be represented," he started asking questions about interfaith relations. As a Muslim, he wondered, "What is my relationship with this Hindu or that Christian? Can we be friends? What does Islam say about this?"
More questions followed. "What is the basis for those conclusions that 'my group' will go to heaven and others will go to hell? Does the Qur'an really say that? Does the Bible?
"It is easier to live in an echo chamber, answering the questions based on only what your faith leader says or you can seek and explore the worldview first hand," he said. Omar decided to do the latter, leading to a career of interfaith exploration. 
In almost 20 years at Marquette University, Omar has been involved in teaching and research in the areas of Islamic theology, Peace Studies and inter-religious connections between Islam and other faiths. He found Milwaukee has a long, rich history of Christian and Muslim dialogues, about which he co-edited the book Interfaith Engagement in Milwaukee: A Brief History of Christian—Muslim Dialogue, published in 2020.  
His latest research topic, how interfaith dialogue has continued through the pandemic, is the focus of a series of interfaith community discussions that will launch this week. Funded through a Wisconsin Humanities Council grant, humanities experts, religious leaders and community members will convene for four programs on topics explored through an interfaith lens.
The first, addressing the role of interfaith engagement in strengthening social justice movements in Milwaukee, will be held at Marquette University and streamed online from 6 – 8 p.m. Thursday, Aug. 5. 
Speakers include:
Pardeep Kaleka, executive director of the Interfaith Conference of Greater Milwaukee

Janan Najeeb, president of the Milwaukee Muslim Women's Coalition

Rhonda Hill, director and co-founder of Race and Faith

Kaitlyn Daly, Duke University Ph.D. student/co-editor of

Interfaith Engagement in Milwaukee

Irfan A. Omar, Associate Professor of Islamic and Interfaith Studies, Marquette University
Each speaker will discuss social justice from their own organizational and faith points of view, sharing what work they have been doing in social justice and why that's important for them, Omar said.
The public is invited to join the conversation in person or online. Please register at Eventbrite.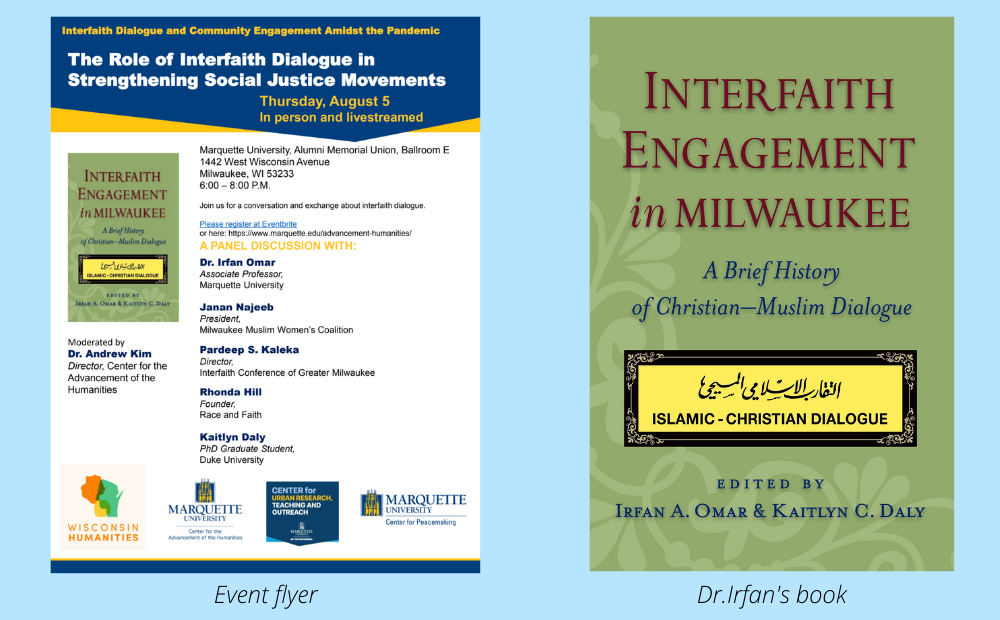 Future topics and tentative dates are:
Bridges or Barriers? Shared Figures in Islamic & Christian Traditions –Thursday, 9/23/2021

Listening to Stories of Hope and Resilience from Community Activists and Leaders – Thursday, 11/18/2021  

Interfaith as Interdisciplinary: Reflections on Pedagogy – Thursday, 2/24/2022 
An interdisciplinary collaboration at Marquette University won the grant from the Wisconsin Humanities Council, which supports projects that benefit the greater community. The collaboration includes: MU's Center for the Advancement of the Humanities, Center for Urban Research, Teaching and Outreach, and Center for Peacemaking.
"These conversations will highlight the transformative teachings and practices within Islam and Christianity while deepening the community's understanding of how to examine and use faith and knowledge to promote the common good," the project abstract states.
Looking through an interfaith lens
"The interfaith lens is necessary in everything we do today because we live in a world which has this rich diversity. Our neighbors are Christians, Jews, Hindus, Muslims, Buddhists, Sikhs and more – and this is God's way of asking us to learn about ourselves, especially through others' perspectives, which necessitates engaging with others. This is what interfaith dialogue is about," Omar said. 
For many faith leaders, social justice work is part of our practice of faith, Omar said. "Faith is about peace, personal peace but also social peace. Standing together for justice is not optional; it is a mandate for anyone who claims to be a person of faith. Faith demands believers to take action that contributes to the common good. 
"The interfaith lens shows us the beneficiaries of our actions should not just be people who believe, dress, or eat like me. When you apply the interfaith lens, it becomes clear that my actions should benefit others regardless of faith, color or any other marker of difference. If we believe in a God who is the God of and for all, we must learn to reject exclusive claims."