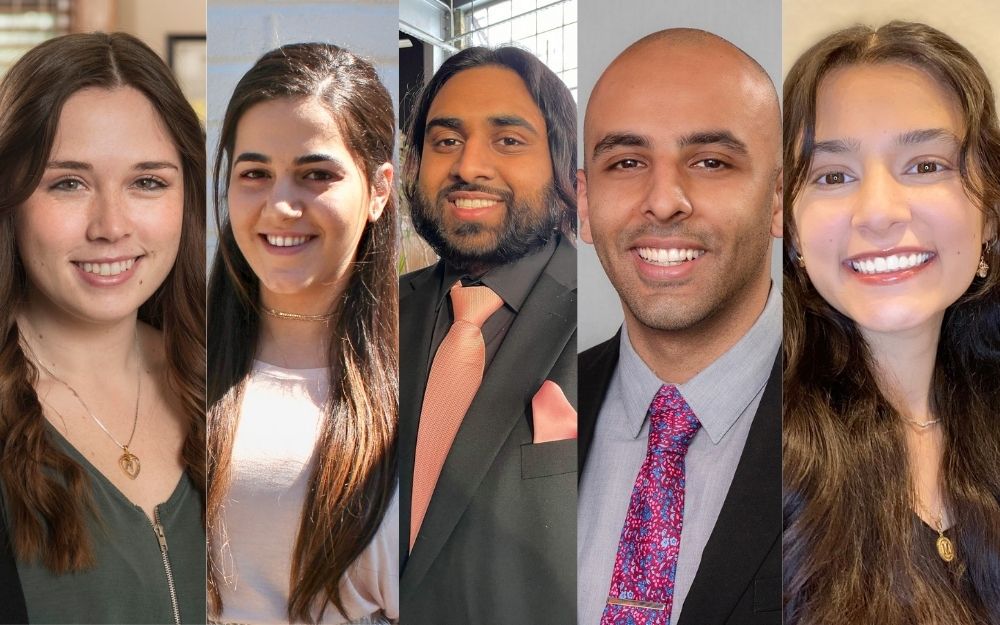 Marquette University's Muslim Law Student Association founders (left to right): Maggie McLoone, Eman Daas, Ali Mahmood, Mahmood Abdellatif and Miskat Torania
When Muslims go to law school in the United States, it takes a while to find other Muslim law students or even non-Muslims with any knowledge about Islam, say a group of Marquette University Law School juris doctor candidates who graduate in May. New friends in 2019, in their first year of law school, they founded an association that aims to solve that problem—the Marquette University Muslim Law Students Association. 
Over the past two academic years, Marquette's MLSA created programs and fellowship for Muslims and non-Muslims that provided education and networking opportunities for the MU Law School community. It also launched social media campaigns that showed "who real Muslims are," dispelling stereotypes with accurate information. 
Through it all, they gained valuable experience in organizing events and working with diverse people, within and across organizations. Along the way, they celebrated and mourned together, encouraged each other, coped with stress and developed lifelong friendships.
Now they hope someone among Marquette's Fall 2022 entering J.D. class will take the baton.
"Even if it is just one Muslim student who is able to work with non-Muslim colleagues, they can revive MU's Muslim Law Student Association," said co-founder Eman Daas from the U.S. Virgin Islands. "That is what Maggie showed us," she said about Maggie McLoone, a fellow MLSA co-founder who is not Muslim. McLoone is from Stanley, a northern Wisconsin town near Eau Claire with a population of 2,000. "You don't have to be Muslim. It's a way to educate yourself and those around you," Daas added. 
"They won't have to build it from nothing the way we did," said co-founder Ali Mahmood from Schaumburg, Illinois. "We've laid out all the information about what we did, our contacts, our vendors, everything." 
The founders left a blueprint.
Starting the MLSA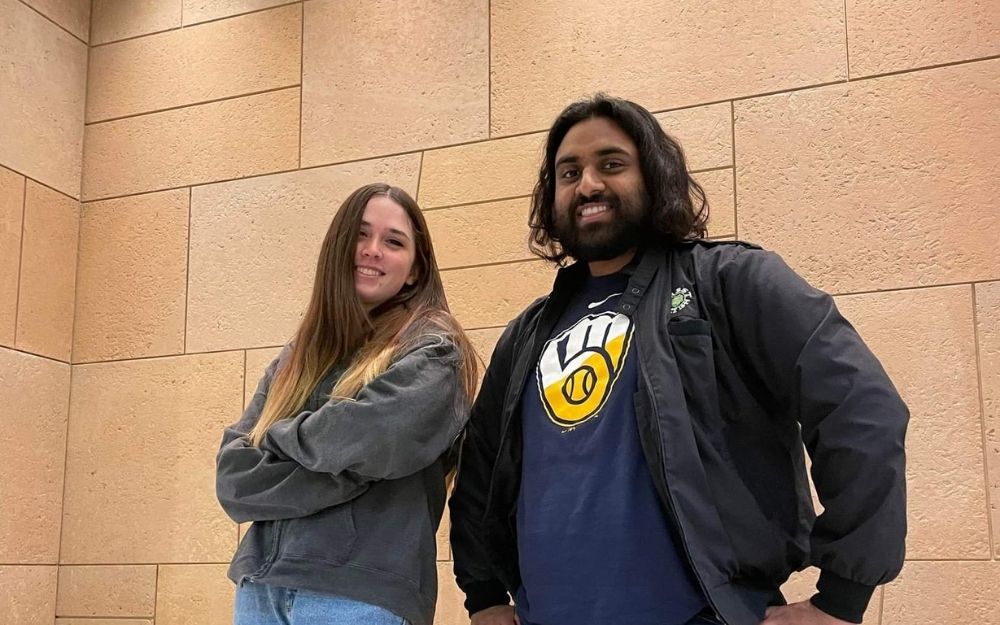 Maggie McLoone (left) is pictured with Ali Mahmood (right). McLoone, who is not Muslim, joined the Muslim Law Student Association to support her friends and educate herself about Islam and Muslim Americans.
In Fall 2019, Ali Mahmood and Mishkat Torania of Brookfield, new students at Marquette University Law School met. The two Muslims noticed "there's not a lot of representation," Mahmood said. 
That's not surprising. The law profession itself is not very diverse. The American Bar Association's 2021 National Lawyer Population Survey shows 85% of practicing lawyers today are white and 63% are male. 
Torania introduced Mahmood to Eman Daas, another Muslim student in a different section. The three of them started talking about creating "an organization to advance the Muslim legal community at Marquette," Mahmood said. They reached out to another first-year Muslim student, Mahmood Abdellatif from Rome, Georgia. Then they were four.
MU Law School requires five students to begin a new organization but they didn't know any other Muslims at the time. One of their classmates, Maggie McLoone, had become a new friend. She is not Muslim but she was interested in the opportunity to learn more about Muslims in America and Islam. She also wanted to support her new friends. With McLoone joining their board, they were able to start the MLSA. They decided to share the leadership and all became co-presidents of the organization. 
Since they officially launched in Fall 2019, they have learned of two other Muslim students in the law school but they weren't interested in participating, Mahmood said.
An auspicious beginning
Soon after they formed the MLSA, an attorney from New York contacted them to ask if they would like to join with other law student associations, Muslim American bar associations and Creating Law Enforcement Accountability and Responsibility (CLEAR) as amicus curiae in a case under appeal against President Donald Trump over the what became commonly called "the Muslim travel ban."  Amicus curiae is Latin for "friends of the court." They submit a brief in a case in which they are not a party of the action but have a strong interest in the matter. 
Marquette's MLSA joined law student associations from Boston University, George Washington University, Harvard, Rutgers, the University of Chicago, the University of Michigan, the University of Virginia and Yale University. 
"One of the first things we did together was draft a statement about our perspective on the travel ban," Mahmood said. "It was great to be a part of that and nice to see our name next to other student and Muslim legal organizations." 
Dispelling stereotypes
"Our main mission was to show ourselves as part of our law school community and basically speak for ourselves," Daas explained. "Muslims are often construed very differently than we actually are. Our representation in the legal profession, where you don't see a lot of Muslims or people from the Middle East or Southeast Asia, is very important."
To tackle common misconceptions, the MLSA decided to hold "Tea Talks" in the law school. They set up a table in a lobby where they offered cups of tea and answered questions about Muslims and Islam.
 "We were there to give most law students their first real impression of what a Muslim looks like," Mahmood said. "We'd just handed out tea and answered questions about Islam generally and about Muslim Americans, what we are about and who we are."
Though not Muslim, McLoone also participated in the Tea Talks. "I have definitely learned a lot since we started the organization. I just try to listen as much as I can and ask questions when I'm not sure."
"One student asked me if all Muslims have beards like me," Mahmood said. "Another asked if all Muslim women wear the hijab, the head scarf. I explained it is a personal decision, that Islam allows for personal decisions to be made." 
"A core misconception is that all Arabs are Muslim and all Muslims are Arab," Daas noted. "It's a very simple thing that confuses people."
Another approach to tackling stereotypes is MLSA's social media campaign on Instagram. "We started doing a Muslim spotlight, highlighting a prominent person who is also Muslim. We wrote about NBA star Kareem Abdul-Jabbar, boxing legend Muhammad Ali, Congresswoman Ilhan Omar and others," Mahmood said. "We also did a 'Spark Notes' version about some Muslim holidays like Ramadan and shared them with our fellow law students.
"A big part of our goal was to explain and better convey what Islam means to us so that our fellow law students get a better understanding of what that looks like," Mahmood added.
Interfaith iftars and lectures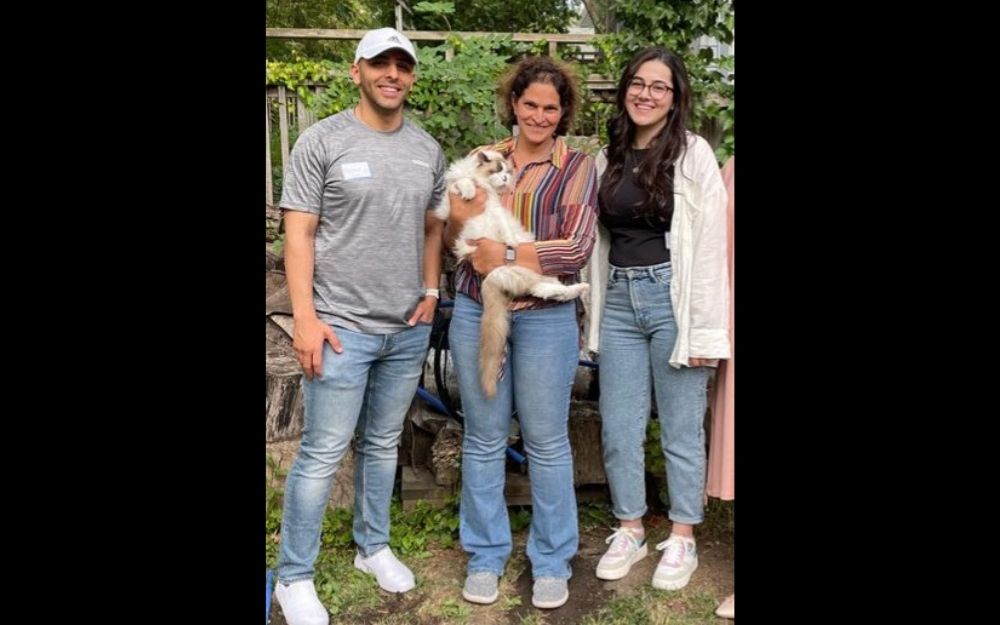 Mahmood

Abdellatif (left) and Eman Daas (right) from the Marquette MLSA join University of Wisconsin – Madison Professor Asifa Quraishi-Landes, UW-Madison's MLSA advisor, at a Muslim law student meet-and-greet in Madison 
MU's MLSA held annual Ramadan iftars, dinners held during Ramadan for the breaking of the fast, and invited the larger law school community. By hosting a dinner with fellow law students, Muslims and non-Muslims could interact socially and get to know each other, the board agreed.
They also hosted lectures opened to fellow students.  One lecture last year featured MU Professor Ryan Scoville, an expert on international law, about the International Criminal Court's investigation into possible war crimes by Israeli authorities in the occupied territories. 
"We have the privilege of having a professor who is very familiar with the international courts," Mahmood said. "The case was very confusing. It was really nice to have him describe to us what was happening and what it meant."
The MLSA also initiated a program on women in law that it launched in collaboration with other diversity and affinity organizations on campus, Daas said. MLSA created a collaboration with the Black Law Student Association, the Hispanic/Latino Law Student Association, the Asian Law Student Association, the Jewish Law Student Association, the Association of Women Lawyers, First Generation Professionals and Out and Allies, an LGBTQ-friendly organization on campus.  
"It is an important program that is very beneficial. We did it annually. I hope it will continue," Mahmood said. "We have an attorney describe their pathway to becoming a lawyer. It is understandably difficult for women to succeed in law because it is such a male dominated field. And it is especially hard to find women of color or diverse backgrounds." 
"I loved having these events because I think it's very important to have this space, to have women come in and talk," Daas said. "Like Ali said, it's definitely harder for a woman and woman of color in this legal profession because we're such a minority. Just hearing their stories about what they faced makes me feel that what I'm going through is validated and will work out in the end."
McLoone added: "It's just so easy to get like caught up in schoolwork and what you're doing. The events and the panels have provided so much advice that helps us figure out things, like what area of practice we want to do and knowing what is happening in our field."
Even the experience of organizing it was exciting, Daas said. "I pitched it to the board members. I just said I feel like we need to create a space for women of color to come in and talk to us. Everyone loved it. Then we started talking to other organizations. We just jumped on (Microsoft) Teams and started planning."
Looking ahead
"Being able to be a part of like this shared leadership of this organization, working together with each other and with different leaders is going to help me as a future public defender," said Mahmood, who has accepted a position in Sheboygan after graduation. 
"It's been an opportunity to advocate for yourself and those brothers and sisters of yours who are of color," Daas said. After graduation, Daas plans to take the bar exam in Florida and practice there. "I think that's important, especially in a legal profession that is predominantly white, carrying that push for diversity. I've learned so much from this experience. It will be important to carry that on in the future and educate the people around me in the legal community. 
"Seeing how many events and activities we were able to put on is really cool," McLoone said. "I have been able to learn so much about about Islam, about planning activities, about listening to everyone. McLoone will join a law firm in Eau Claire after graduation. 
They all agreed that founding Marquette Law School's MLSA has been a big part of their law school experience. "We hope some of the new students in the fall will want to continue it," Mahmood said.