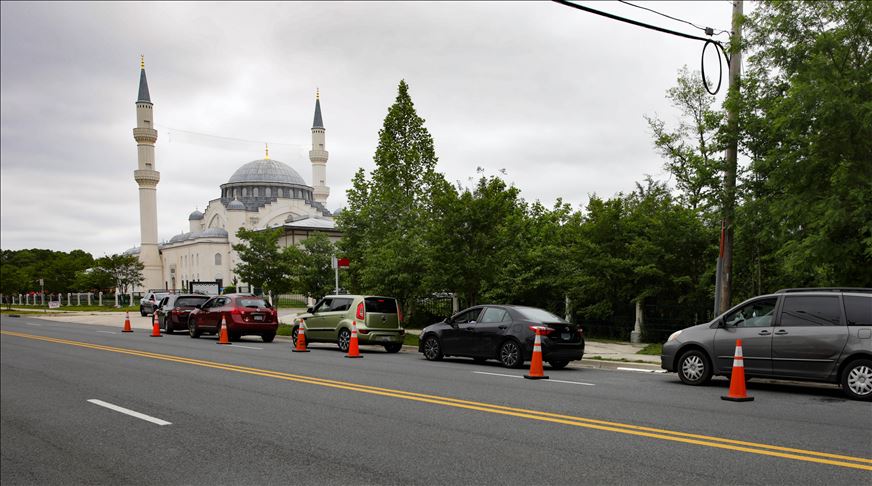 Muslims performed congregational Friday prayers in the states of Maryland and New Jersey for the first time since coronavirus lockdowns were lifted.
Nearly three months after restrictions were rolled out to curb the spread of the COVID-19 pandemic, Muslims gathered at the Diyanet Center of America in Lanham, Maryland for the service.
Hundreds of worshippers filled the mosque's courtyard and garden to perform the prayer in line with social distancing guidelines.
The Center's chairman Bilal Kuspinar said during this sermon that all measures have been taken for worshippers to "healthily perform their prayers."
Mosques in New Jersey opened their doors which have been closed since mid-March due to the virus that has infected millions of people in the country.
The US has the highest number of infections and deaths from the virus. The first death occurred in Washington state in late February.
Bergen Diyanet Mosque and Cultural Center, in Cliffside Park, hosted hundreds of worshippers for the Friday service. Congregants brought prayer mats, wore face masks and practiced social distancing.
In line with an earlier notice, those younger than 14 and older than 70, as well as anyone who tested positive for virus in the last month, were asked not to attend the service.
In both services, worshippers dispersed without shaking hands and hugging, a frequent practice before the pandemic.
As of Friday, the disease has infected more than 2.2 million people and killed nearly 120,000 across the US, according to John Hopkins University in Maryland.