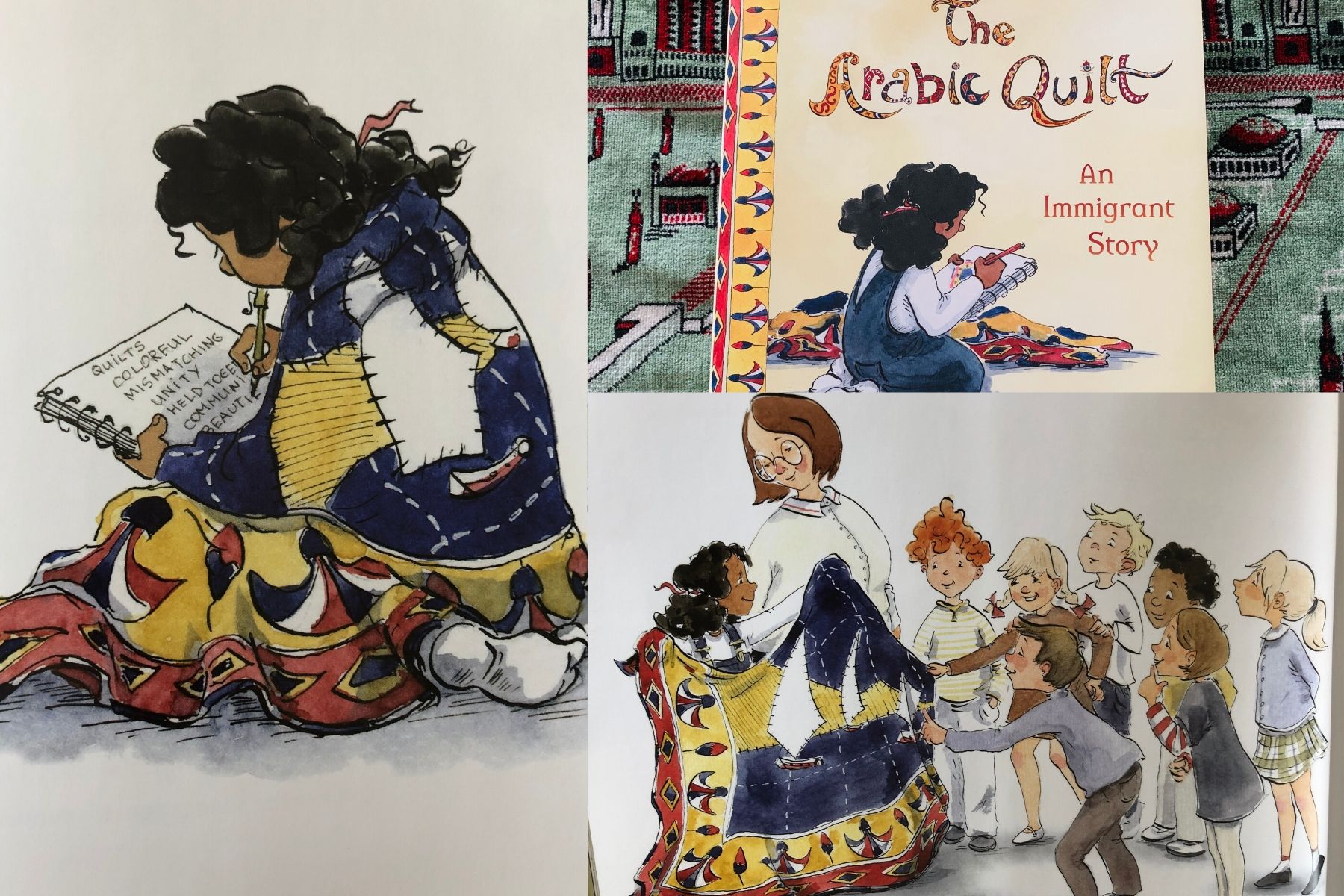 Elise Bellin, Librarian of the Islamic Resource Center, wrote this book review as part of an ongoing series that focuses on a range of books within the IRC collection as a service to the community.
The Arabic Quilt: An Immigrant Story
The Arabic Quilt: An Immigrant Story by Aya Khalil, Illustrated by Anait Semirdzhyan
ISBN: 9780884487548
Kanzi moved with her family from Egypt to America. She is smart and caring. She loves swimming, poetry, and her Teita's quilt. And all she wants to do is fit in. She even puts her own likes and home culture aside, hides them down deep, to better assimilate. But some people are harder to please than others. Kanzi soon finds herself being picked on for her differences. Through the efforts of an understanding teacher and a supportive mother creating a class project to make a quilt with everyone's name written in Arabic, even those with reservations and learned prejudices come around.
Expressive color pen-and-ink drawings in a classic illustration style, The Arabic Quilt is a heartfelt examination of a young immigrant's experiences going to a new school in a new country. Without getting too harsh, we are shown one little girl already aware of the cultural differences she will face and another with observable learned prejudices that we know come from her mother. We are shown a way to overcome those differences in a nice, productive manner. Some of the wording seemed awkward, but that could just be a matter of I am not used to reading a story fully in the present tense. Despite any structural or linguistic issues I might have, this book brought me to tears during the closing poem.
There are a few books that I go to automatically to teach these kinds of lessons. It can be difficult to find just the right one, but from what I've seen, this book is one of those that I will happily add into the lineup. Every title like this brings us closer to cultural understanding across the board. Very well done. Good for ages 6-8.
Founded in 2010, the Islamic Resource Center (IRC) is the first Islamic public lending library in Wisconsin. The IRC aims to provide resources to educators, students, health professionals, interfaith groups, and any members of the Milwaukee community that want an accurate understanding of the Islamic faith, its practices, and its people.