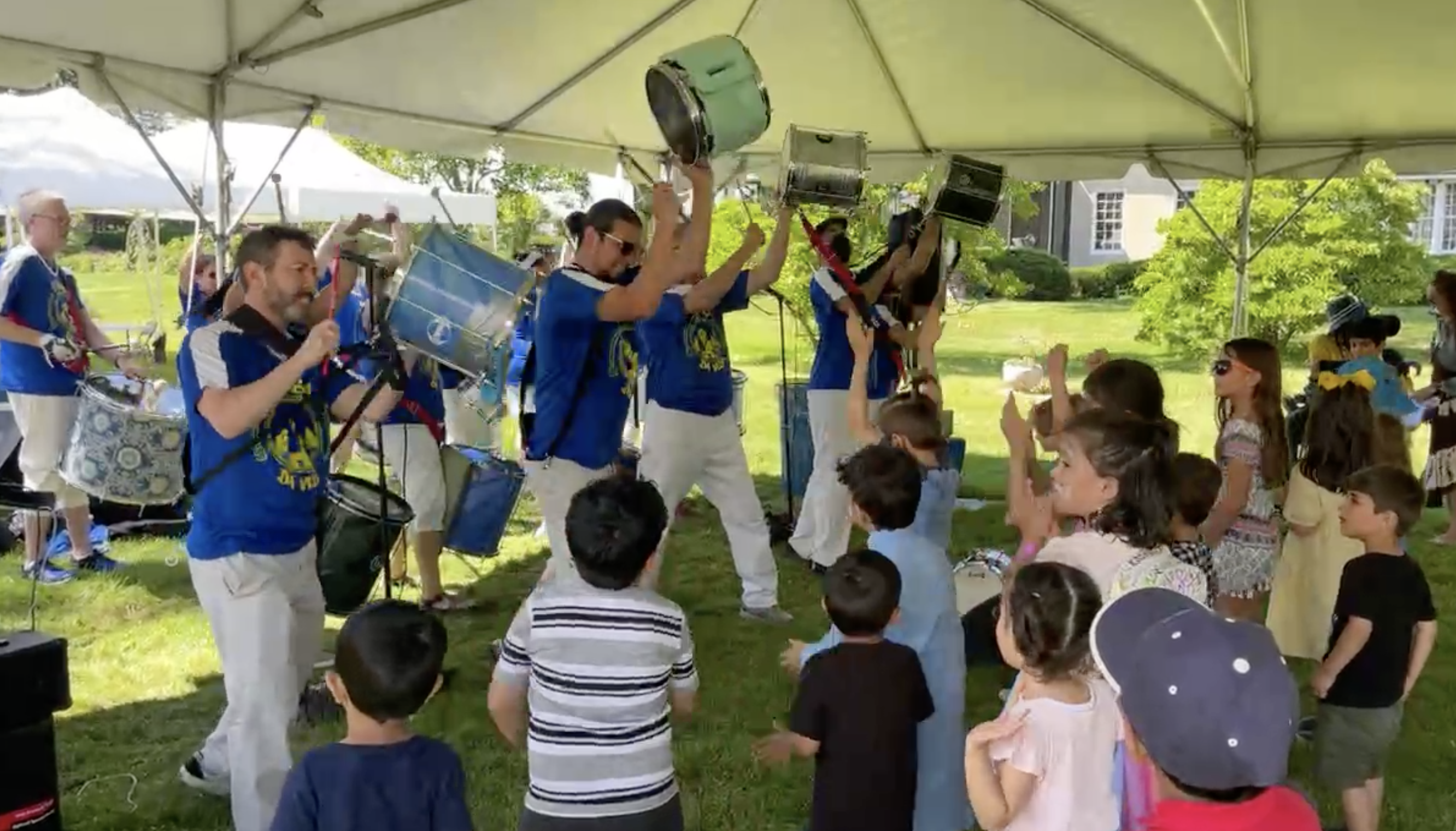 Samba de Vida MKE provided Brazillan Samba music as the finale for the World Refugee Day 2022 celebration at Lynden Sculpture Garden in Milwaukee.
"This last year has been incredibly challenging," Wisconsin Department of Children and Families Secretary Emilie Amundson said about efforts to meet the needs of refugees who recently arrived to Wisconsin in an online discussion last week.
Amundson spoke in HOME's virtual celebration of World Refugee Day, June 20, on Lynden Sculpture Garden's Facebook page that launched a series of events and programs to celebrate Milwaukee's refugee communities through art, food, fashion and performance this summer on their grounds. The full list of events can be found on the HOME virtual platform.
HOME is the name given to Lynden Sculpture Garden's work with refugee community leaders, community members, artists and allies, which began in 2019. It builds "a space of leading, coming together and celebrating refugees," said Kim Khaira, as she introduced the online program. Khaira is the HOME Program Coordinator and Lynden Sculpture Garden's community engagement specialist.
"It's an honor to be here today to recognize and celebrate World Refugee Day, especially when we are still in a moment of great global need," Amundson said.
Lynden Sculpture Garden's HOME 2022 program hosted a virtual celebration on World Refugee Day that featured representatives of agencies and organizations serving refugees, and leaders of Milwaukee refugee communities.
The virtual celebration included presentations of proclamations by Gov. Tony Evers and by Milwaukee Mayor Cavalier Johnson, declaring June 20, 2022, a day to honor refugees and the people who serve them in the state and city respectively. It also featured leaders of refugee communities, community leaders and government officials who shared their experiences with Wisconsin refugee resettlement. 
International World Refugee Day
The United Nations designated June 20 as World Refugee Day. It "celebrates the strength and courage of people who have been forced to flee their home country to escape conflict or persecution," says a statement on the United Nations High Commissioner for Refugees, known as the U.N. Refugee Agency. It is "an occasion to build empathy and understanding for their plight and to recognize the resilience in rebuilding their lives."
UNHCR's theme for World Refugee Day 2022 is "Whoever, Wherever, Whenever." Its guidelines explain:
"Whoever they are, people forced to flee should be treated with dignity. Anyone can seek protection, regardless of who they are or what they believe. It is non-negotiable: seeking safety is a human right.
"Wherever they come from, people forced to flee should be welcomed. Refugees come from all over the globe. To get out of harm's way, they might take a plane, a boat, or travel on foot. What remains universal is the right to seek safety.
"Whenever people are forced to flee, they have a right to be protected. Whatever the threat – war, violence, persecution – everyone deserves protection. Everyone has a right to be safe.

Praise Wisconsin's refugees and the agencies, organizations and volunteers supporting them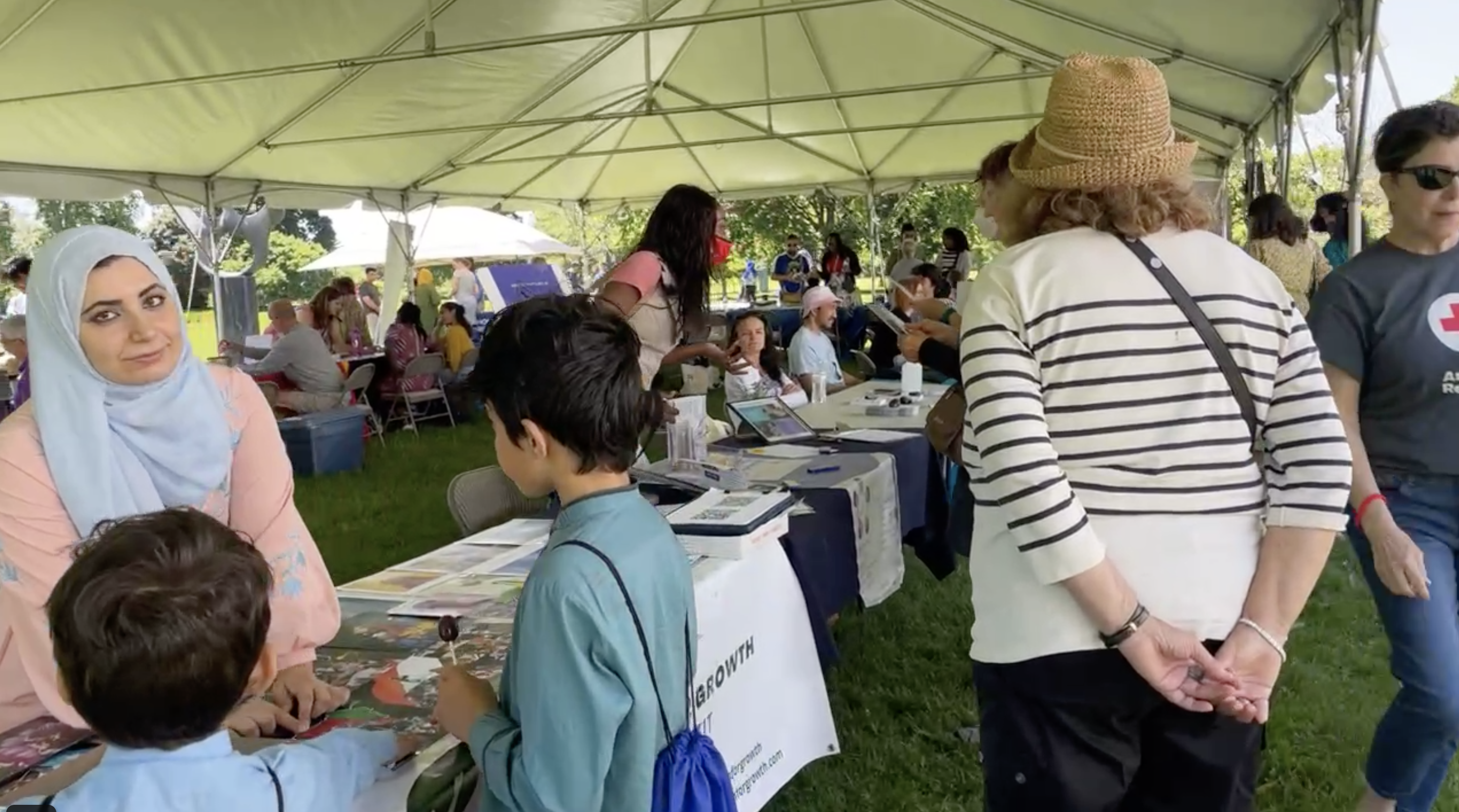 Nada Alzalloum (left),  founder of Bloom for Growth, a nonprofit organization bringing awareness of refugees through art, sells her prints in the vendor tent.  
"Since the first Hmong refugees arrived in the 1970s to the over 840 Afghan who recently arrived, Wisconsin has become home to over 75,000 refugees," DCF Secretary Amundson said. "To put that in perspective, that's about the size of the city of Racine.
"A majority of these individuals have achieved economic self-sufficiency, working and contributing to our communities, thanks to the passion and dedication" of our local refugee resettlement agencies, community partners, volunteers and others who help refugees find resources, housing and employment, learn English and provide other services "absolutely critical to helping our new neighbors thrive," she said.
"Those services were put to the test over and over again last year, as we not only welcomed … Afghan individuals and families to communities across Wisconsin, but also temporarily housed over 12,000 Afghans at Fort McCoy as part of Operation Allies," Amundson added. "Without hesitation, state, federal and local partners stepped up and worked together to ensure our new neighbors had the resources and supports needed to not only navigate the resettlement process in our state, but to also feel welcomed and part of a community. 
"To the refugees here with us today, we are so happy to call you neighbors. I know the decision to come here may not have been easy because even though things in your country were dangerous or challenging, it is still home. Your resiliency and perseverance to build a new life in an unknown country is truly inspiring. Thank you for making our state more dynamic and diverse.
"In this moment of great global need, Wisconsin, as well as the nation stands, ready to support and welcome any new neighbors that will call our state home," she declared.
U.S. Office of Resettlement Wisconsin State Refugee Coordinator Bojana Zoric Martinez noted many who work in refugee resettlement have been refugees themselves, as she has.  "They are teaching us. They are helping us build and shape programs so it will be easier for those who come," she explained. "It's important to pay it forward."
Hasina Begum, a refugee leader for Myanmar and Malaysia, and a member of Tables Across Borders, a global food collaboration highlighting the cuisines of refugee chefs in Milwaukee, shared her experience as a refugee. "World Refugee Day is a day that brings happiness but also sadness because we remember the difficulty of the past and our people back home," she said.
Maryam Durani, Afghan community leader and woman's rights activist who recently resettled in Milwaukee after the Taliban took over her country, discussed the challenges Afghan refugees faced in the past year. "The migration of a large group of people took place very quickly and without any plans or preparation. The rapid and unprepared relocations posed many problems for both migrants and service providers. 
"They are in a different situation than other immigrants. They need more attention psychologically. They've gone through a very stressful and challenging situation. Most of the families have not been able to bring some of the family members with them. There have been wives, children or some parents left behind."
As a result, they face trauma in addition to the challenges of learning a new language, new laws and culture, and the lack of awareness about how to access resources that many refugees face, she said. "It should not be forgotten."
In addition to these speakers, the following community leaders spoke: pastor and poet Gwendolyn Sutton; Pardeep Kaleka, executive director of Interfaith Conference of Greater Milwaukee; Kai Gardener Mishlove, director of the local Jewish Community Relations Council and founder of Tables Across Borders; Sadek Ahmad and Mary Flynn of Lutheran Social Services; Alexander P. Durtka, Jr., Suan Neam, Lucien Masudi, Shafi Malyar, Pretty Mujanyi, Ryan Hussin and Brian Curry of the International Institute of Wisconsin; Edumakono Zetho of Catholic Charities; Helima Aichoune and Muhammad Amin of Hanan Refugees Relief Group; Halyna Salapata of Wisconsin Ukrainians – Milwaukee Branch; Po Too, Tessy Sheidun and Nawpaw of Aurora Walker's Point Community Center; Tailor Manerson and Kuku from the Neighborhood House of Milwaukee's International Learning Program; and Kourosh Hassani of the Milwaukee Board of School Directors, who presented a video message from several MPS students who are refugees.
Translators Nurhayati Ali and Khatera Nazeri also shared their own stories as refugees, and Gwendolyn Sutton also represented the HOME Refugee Steering Committee.
Lynden Sculpture Garden's in-person celebration features art, stories and international food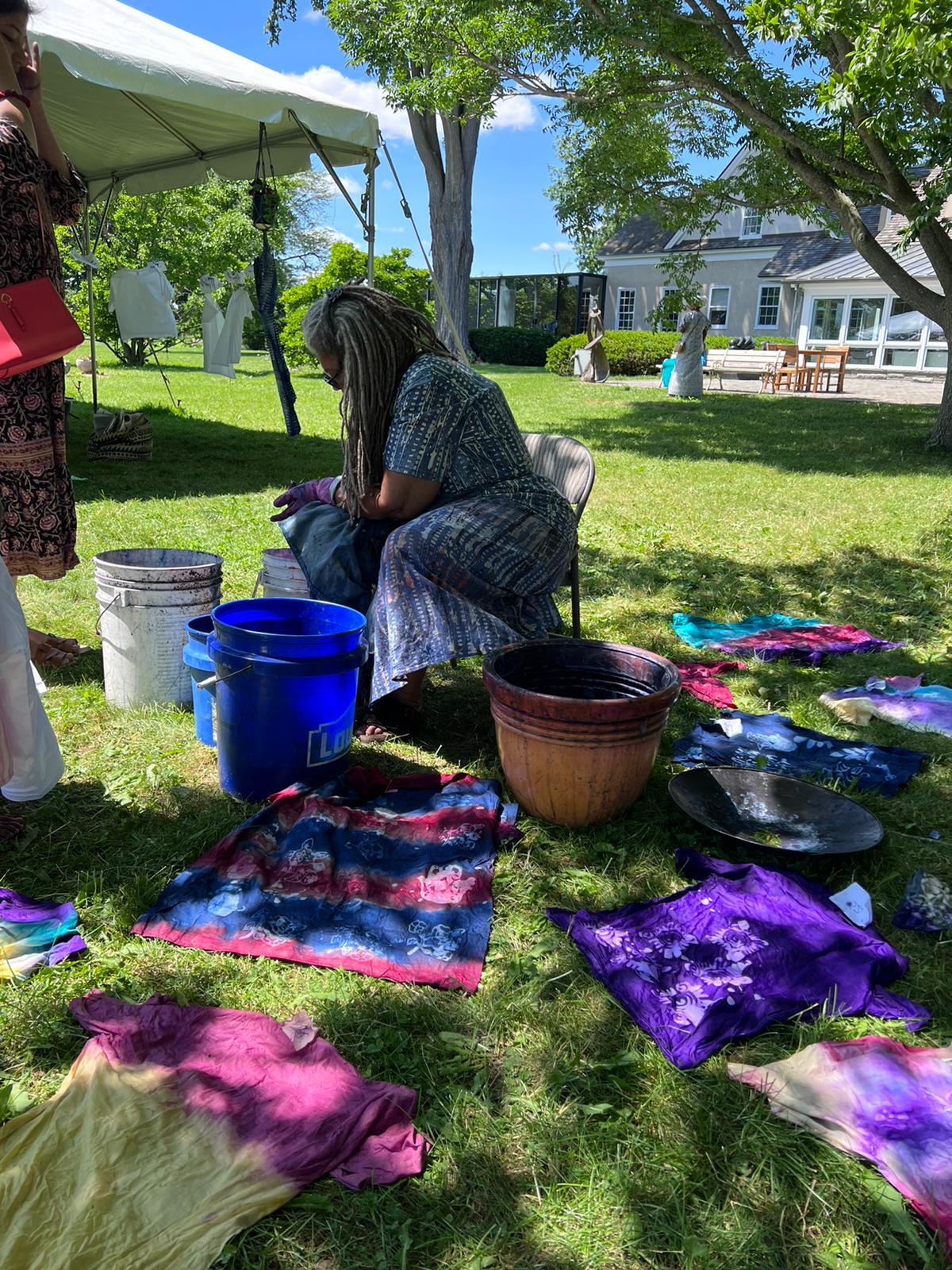 Arianne King Comer demonstrated hands-on batik dyeing.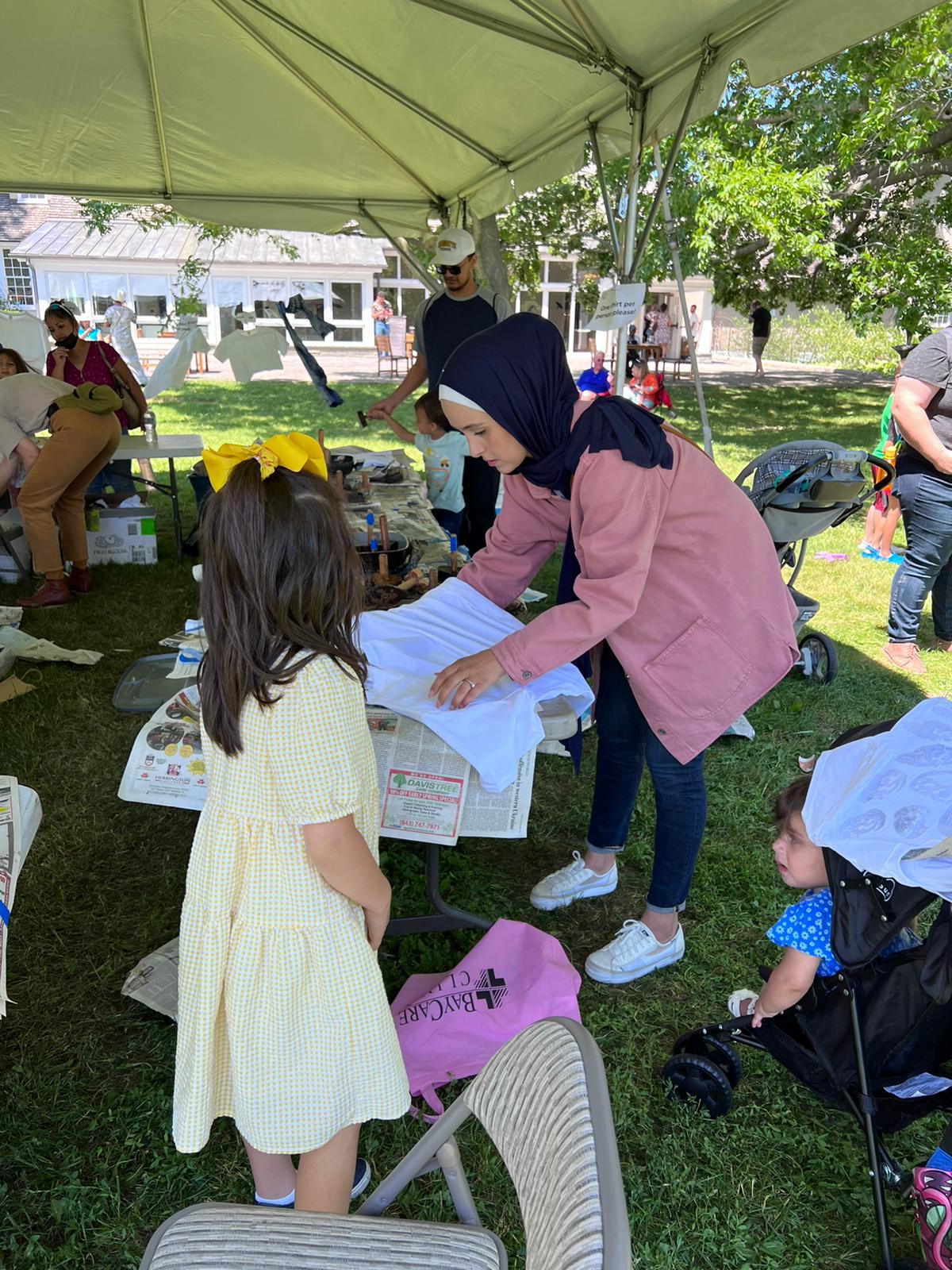 Children enjoyed making crafts. 
An in-person celebration at the Lynden Sculpture Garden in Milwaukee, Sunday, June 26, 2022, provided a resource fair with information about services available to refugees and a celebration that included art, food, storytelling, poetry and music. 
Participants in the resource fair included Anthem Blue-Cross Blue-Shield; Wisconsin Department of Workforce Development, Division of Employment and Training, Worker Connection Program; Hmong American Friendship Association; Hanan Refugee Relief Group; Milwaukee Public Library; Community Center for Immigrants; Milwaukee Public Schools – Department of Bilingual Multicultural Education; Milwaukee Muslim Women's Coalition; Bloom For Growth; American Red Cross; Catholic Charities Milwaukee; Institute of World Affairs, University of Wisconsin-Milwaukee; Essentially Empowered, Inc.; Burmese Rohingya Community of Wisconsin, Hayat Pharmacy and more.
More to come
HOME 2022 World Refugee Day celebrations launched a series of events that feature music, dance and fashion (both ethnic and traditional), and two markets offering handicrafts and homemade goods.
See more information about upcoming HOME 2022 events below:
• HOME Music Day, July 16, 12 – 5 p.m.
• HOME Dance Day, July 30, 12 – 4 p.m.
• HOME Fashion Day, Aug. 6, 2 – 4 p.m.
• HOME Craft Market, Aug. 20, 11 a.m. – 4 p.m.
• HOME Craft Market, Sept. 17, 11 a.m. – 4 p.m.