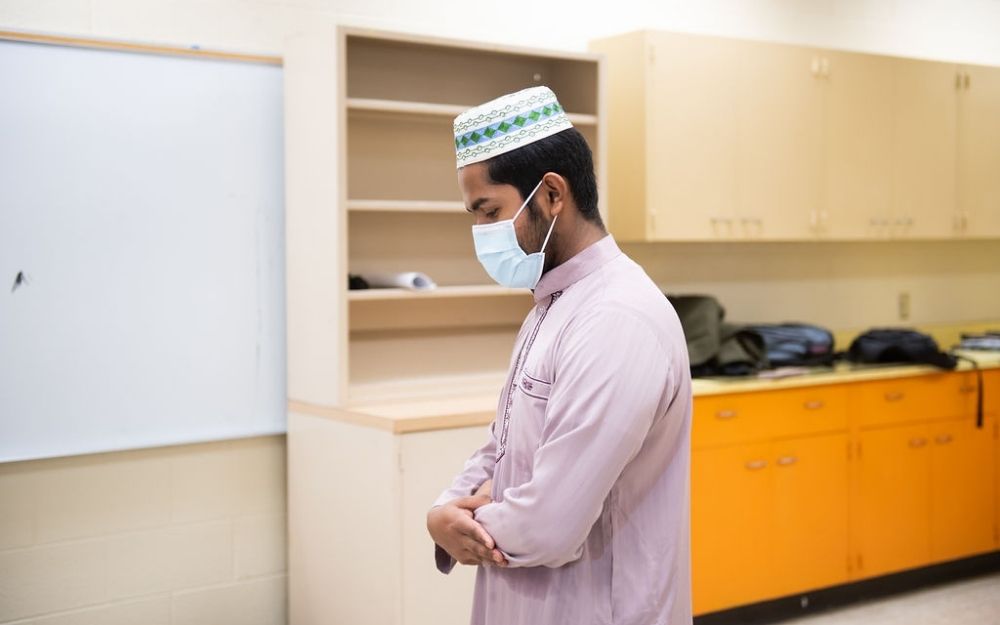 Photos by Mouna Photography
South Division High School student Mohamad Shafik Mohamed Rafik prays Dhur, the midday prayer.
A student at Milwaukee's South Division High School asked English as a Second Language teacher Francisca E. Meráz where he could pray Dhuhr, the midday prayer, one of five obligatory daily prayers for Muslims. He told her he especially wanted to pray during Ramadan, which falls in April this year.
Meráz didn't know exactly what was needed to open a space and make it comfortable for Muslim's to pray but she pursued his request.
She found a supportive school administration, a helpful colleague and information from nearby Muslim organizations. By the time students returned to school from spring break on April 11, Muslim students found a place available to pray.
In an email, Milwaukee Muslim Women's Coalition president Janan Najeeb congratulated the SDHS teachers who made it possible "for valuing your students and the diversity in your school. This is a wonderful model for other schools, especially in our polarized world."
Wisconsin Muslim Journal visited South Division High School last week to learn what it took to create a place and process to help Muslims to pray during the school day.
Understanding the need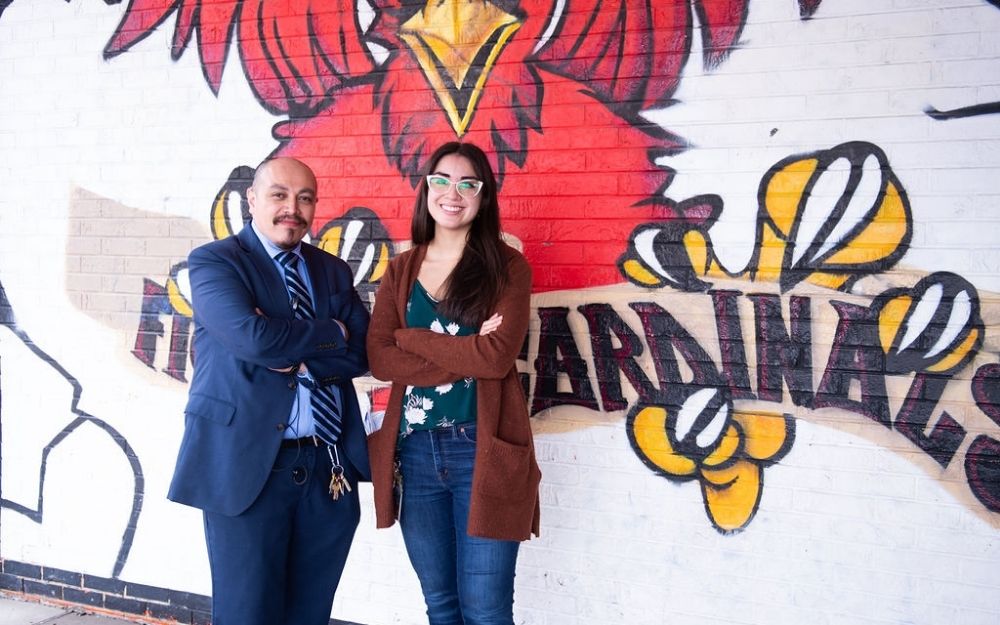 SDHS Principal José Trejo (left), ESL teacher Francisca E. Meráz (right) and support teacher Samantha Epstein (not shown) responded to a Muslim student's request to create an opportunity for students to pray the midday prayer at school.
The first step is listening to students.
South Division High School, 1515 W. Lapham Blvd., Milwaukee, is one of Wisconsin's most diverse schools. It serves refugees, immigrants and the children of immigrants, among other students. 
"I work with students from all over the world," said Meráz, an ESL teacher of grades 9 – 12, who teaches English to students from beginning to advanced levels. "Many of our Muslim students are refugees but a few of them grew up here. We have refugees from Myanmar, including Rohingya." Milwaukee is thought to have one of the largest populations of Rohingya in the United States. 
Predominately Muslim and stateless, Rohingya people have suffered discrimination and persecution in Myanmar for decades. A large exodus of Rohingya from Myanmar took place in 2017 as violence against them escalated, and the emigration has continued, according to the United Nations Refugee Agency. 
"We've always had Muslim students," said Samantha Epstein, a support teacher who has been at SDHS for 10 years. "We serve a large refugee population from South East Asia. We also have Somali and Somali Bantu students."
In the past, when any SDHS student wanted a quiet place to pray, they could use the library, Meráz explained. However, staffing issues mean it is no longer available, she said. 
Anyway, the library is not an ideal place for Muslim prayer, a Muslim student told WMJ. Muslims prostrate themselves during prayer, touching their foreheads to the floor. An ideal prayer space would provide privacy and be clean, she said. (Muslims don't wear shoes in mosques and other prayer rooms to keep the floor clean. However, they may use small prayer rugs to ensure a clean surface.)
Some students thought they needed permission to pray at school but that is not the case, Meráz said. All students are allowed to pray or not, as they chose, and teachers can help them find a quiet place.
However, Muslim students need some accommodations, and staff willing and available to help with logistics. For example, someone must open a space for them at the appropriate time. (Dhur prayer time begins at about 12:50 and can be prayed until Asr prayer, which begins later in the afternoon.
"No religion other than Islam requires prayer during the school day," she noted. Muslims also need a place to wash before they pray.
This is a first for the school, Meráz said. 
Creating a place to pray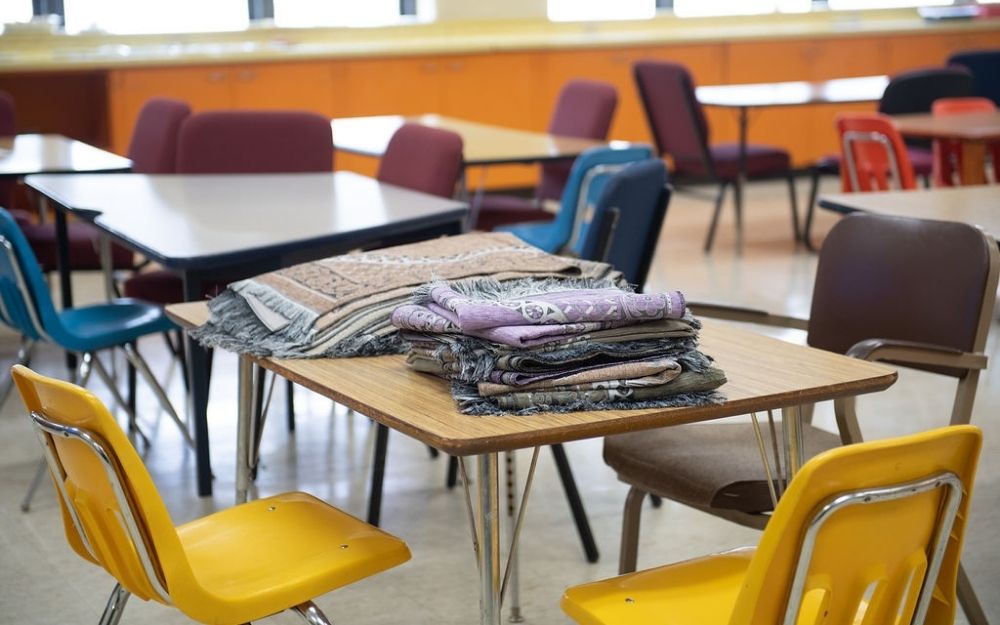 Milwaukee Muslim Women's Coalition donated 30 prayer rugs to South Division High School for its Muslim students.
During Spring Break, April 4 – 8, Meráz told SDHS Principal José Trejo about the student's request. "He was totally supportive," she said. 
Next, she had to figure out what a space would need for Muslim prayer. 
Meráz reached out to her colleague Epstein, who taught previously at Clara Mohammed School, a Muslim school in Milwaukee, and was familiar with the requirements of Muslim prayer. Meráz also contacted the Islamic Society of Milwaukee and Milwaukee Muslim Women's Coalition for information and advice about how to address her student's request. 
"Sister Nadia at the ISM talked me through it," Meráz said. She explained all Muslims are instructed in the Qur'an to pray facing the Ka'aba, the black cube-shaped building at the center of Islam's holiest mosque, which is in Saudi Arabia. Nadia recommended downloading a phone app to find the qibla, the direction for prayer. That would help in orienting the room appropriately. (She used Qibla Finder.) 
The room would also need to be available at the right time. Meráz and Epstein identified a room that would be available at Dhuhr, which begins around 12:50 p.m. this Ramadan (the time moves with the lunar calendar).
The Islamic Society of Milwaukee donated a large rug for the room. 
Meráz also learned males and females usually pray in separate groups for modesty and they would need a place to perform wudu, pre-prayer washing of face, arms, head and feet. Two adjacent classrooms with sink basins created stations for wudu, one for boys and the other for girls. 
"There's about a 50-50 split between boys and girls who want to pray," Epstein said.
Implementing the process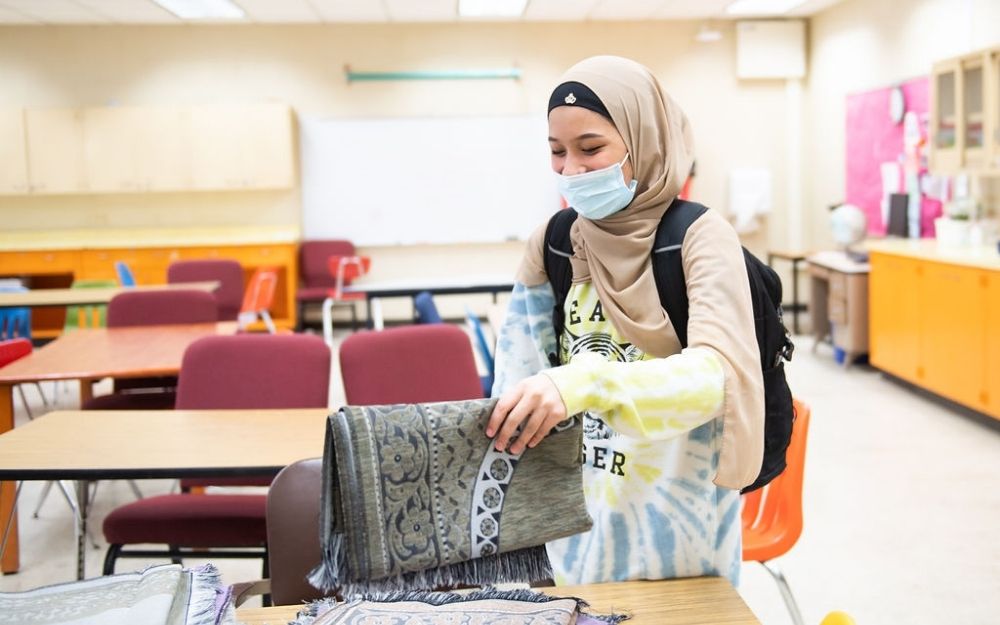 South Division High School student Syamirah Dolah folds a prayer rug.
When students returned from Spring Break on April 4, Meráz and Epstein thought they were ready. Meráz printed 20 passes for students to pick up. "I thought maybe 10 students want to pray," she said. 
Meráz and Epstein were surprised when 30 students prayed the first day. "We worked through it and it went well in the end. The students were so glad to have a space to pray." 
"We wanted to provide a quiet space for them to pray," said Principal Trejo, who helped direct students to the room. "The first day we had more than twice the people we expected."
"We lined up a row of shelves as a divider in the middle of the room," creating separate spaces for boys and girls to pray, Meráz said. "We didn't have it the first day but we were able to learn what worked. 
Milwaukee Muslim Women's Coalition contributed 30 prayer rugs, which helped accommodate the larger-than-anticipated number of students who wanted to pray.
"These students are wonderful with self-directing," she said. No faculty or staff participate or guide them. "This is not my tradition; I would not be able to," she added.
Epstein and Meráz went to the hall in front of the designated classrooms to open the rooms and be available if students need anything. 
"How are you, Aziz?" Epstein asked, as a student approached. 
"How did it go?" Meráz asked a girl after prayer. 
"Great," she answered holding two thumbs up.
"Hussein, how did it go?" she asked another.
He held two thumbs up and headed down the hall.
What it means to students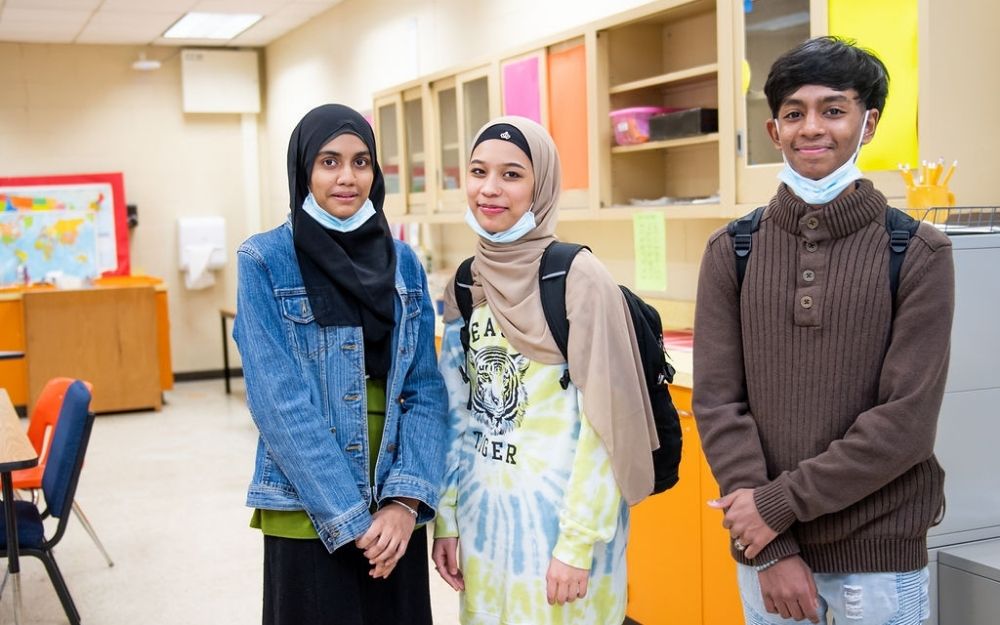 Seniors Rashidah Munir (left) and Nazir Nobi (right) told Wisconsin Muslim Journal they appreciate their school for making it possible to pray Dhur, the midday prayer. Syamirah Dolah (center)
SDHS seniors Rashida Munir, 18, and Nazir Nobi, 17, shared their thoughts about the opportunity to pray at school with WMJ. Both have moved to Milwaukee from Myanmar.
"I feel it is an honor to our community to be able to pray," Munir said. "When I told my parents, they were so happy. It is a good start for our community."
"As teens, we try to be better Muslims and this is a great opportunity to take advantage of," Nobi said.  
When asked if this opportunity to pray in school will continue beyond Ramadan, Meráz responded: "To continue this, we have to figure out how to make it sustainable." Teachers' schedules and room availability change, and it is necessary to have faculty to help facilitate the process, she said. 
"If this continues, it will be very good for students who are Muslim," Nobi said.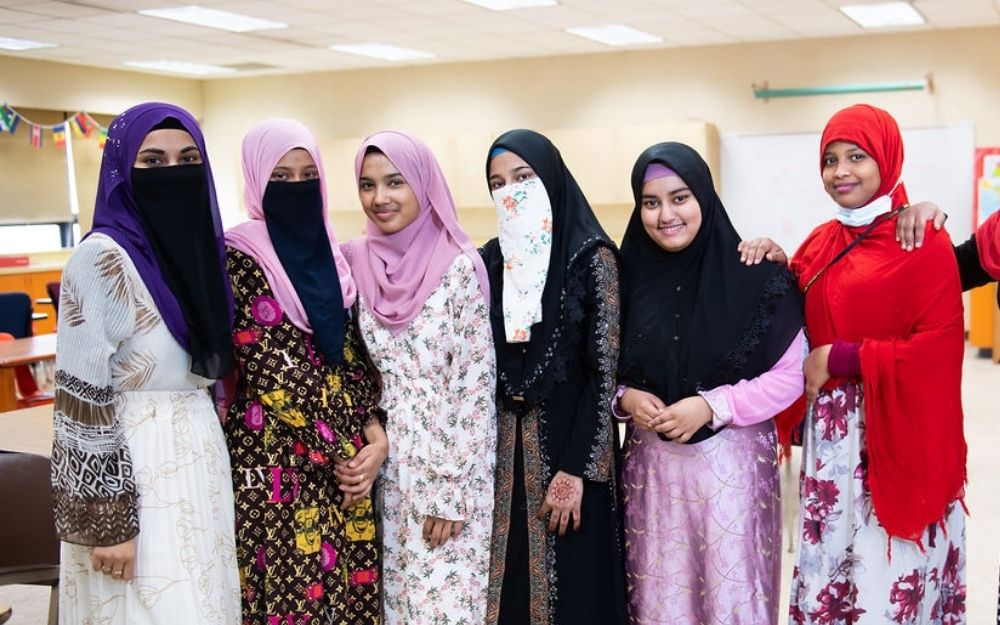 SDHS Muslim students say they appreciate having a place to pray. Left to right: Juhara Bibi Muhammad Rashid, Kunsuma Begum Mohamad Nobi, Muntaz Ali Johar, Inas Zahir, Zurah Begum Mohamad Ariff and Murio Ibrahim