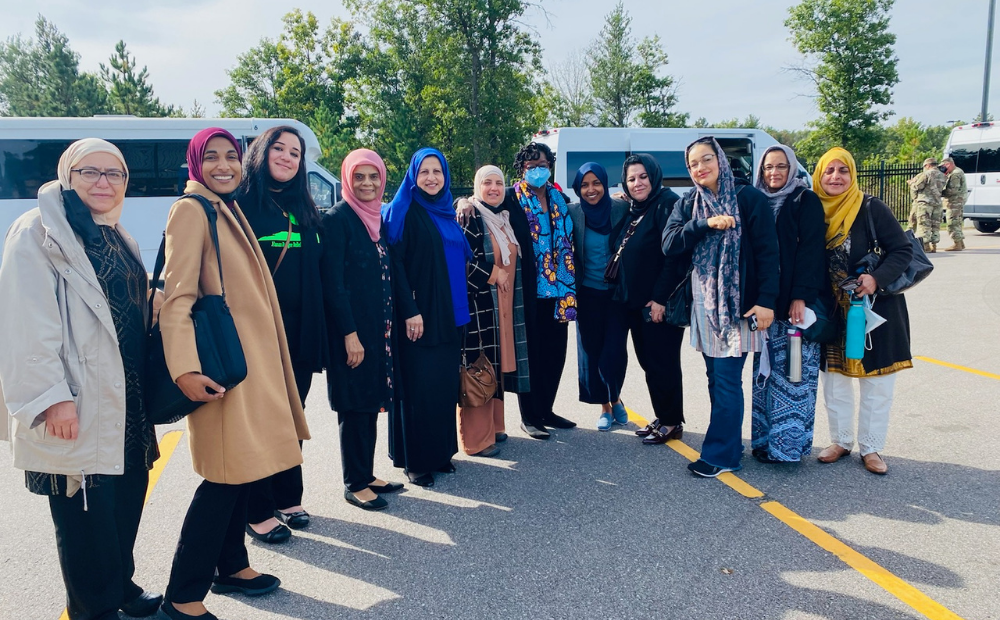 A delegation of 10 Wisconsin Muslim Women, joined by U.S. Reps. Gwen Moore and Ilhan Omar, visited Afghans temporarily housed at Ft. McCoy.
A delegation organized by the Milwaukee Muslim Women's Coalition visited Ft. McCoy Saturday to check on the condition of the almost 13,000 Afghans housed there, waiting to resettle in the United States. U.S. Reps. Gwen Moore (D-Wis.) and Ilhan Omar (D-Minn.) accompanied the group.
Ten Wisconsin Muslim women, including two Afghan interpreters, were the first group of Muslim civilians to visit Afghans who have been relocated to Fort McCoy since the U.S. military pulled out of Afghanistan in August, ending the 20-year war against the Taliban. The group included members of the MMWC and the Hanan Refugee Relief Group. They were from a wide-range of professional fields, including medicine and education.
During the four-hour visit, they met with the Afghans, toured the base and were briefed by military officials about the measures taken to address the needs of the relocated Afghans and plans for their future. Members of the delegation shared their experience and impressions with the Wisconsin Muslim Journal in interviews this week.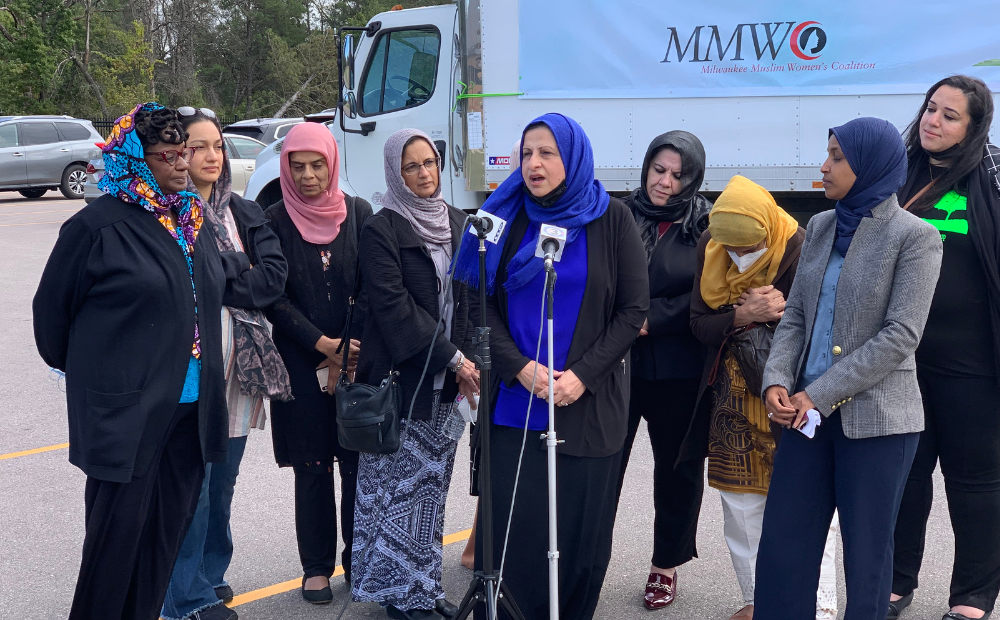 Milwaukee Muslim Coalition President Janan Najeeb spoke to the press after the delegation toured Ft. McCoy.
Addressing concerns
"We were hearing about the condition of the Afghans in Ft. McCoy and had heard that there was not enough food, that people were sitting in the same clothes for weeks and they were in dire need of even the most basic hygiene items," MMWC President Janan Najeeb said. "This concerned me a lot and the fact that media were not allowed to see their conditions raised red flags."
Najeeb shared her concerns with Rep. Gwen Moore (D-Wis) and her staff. "They asked how they could help" and Najeeb proposed a delegation of Muslim women go and visit, "partly to uplift their spirits and let them know they are not alone but also to see for ourselves the conditions they were in." 
Najeeb credits Rep. Moore "for taking our concerns seriously and working to facilitate the tour of Ft. McCoy." 
"We would like to thank Congresswoman Ilhan Omar for coming in from Minnesota and lending her support," Najeeb added. Rep. Omar's family fled the Somali Civil War when she was a child and spent four years in a refugee camp in Kenya before securing asylum in the United States in 1995. In 2000, Omar became a U.S. citizen at 17 and was elected in 2016 to be one of the first two Muslims in the U.S. Congress.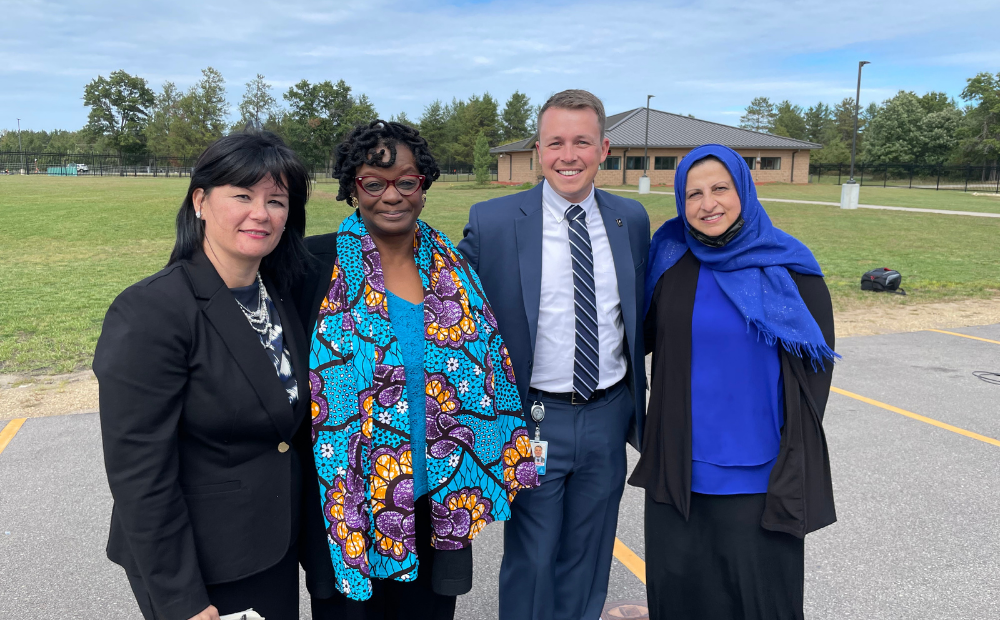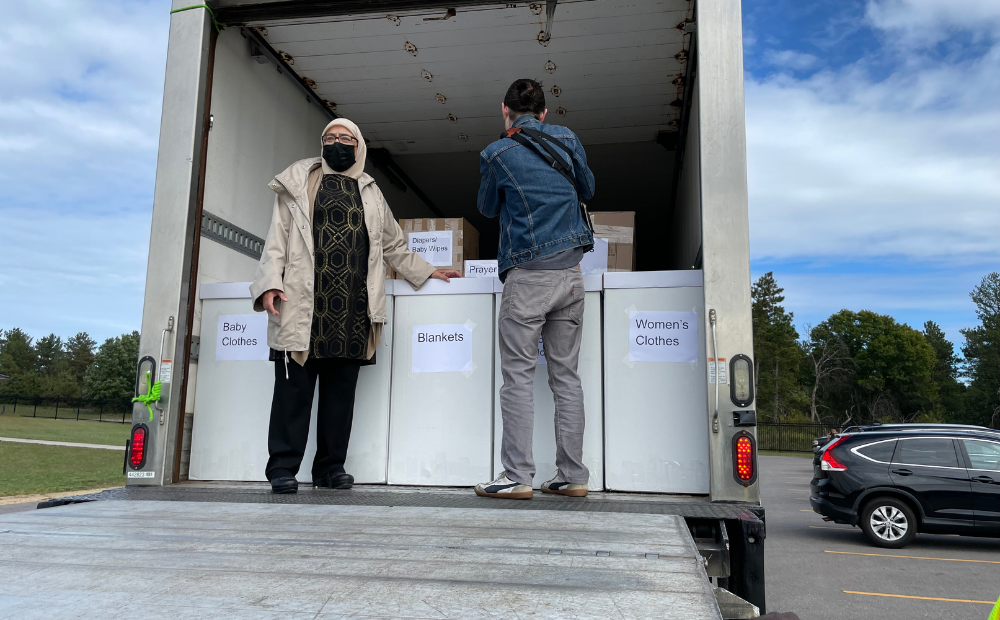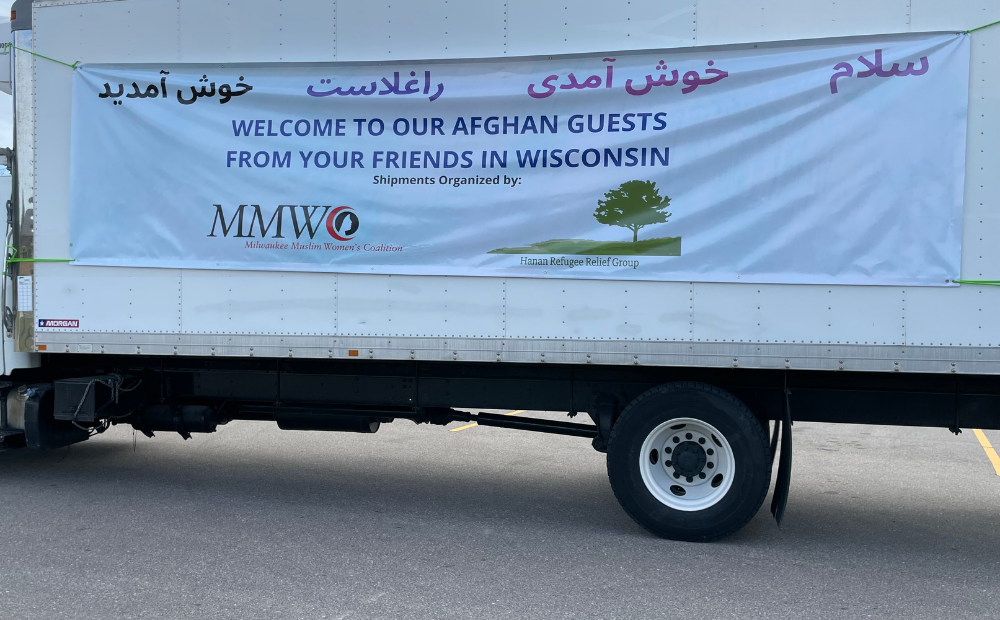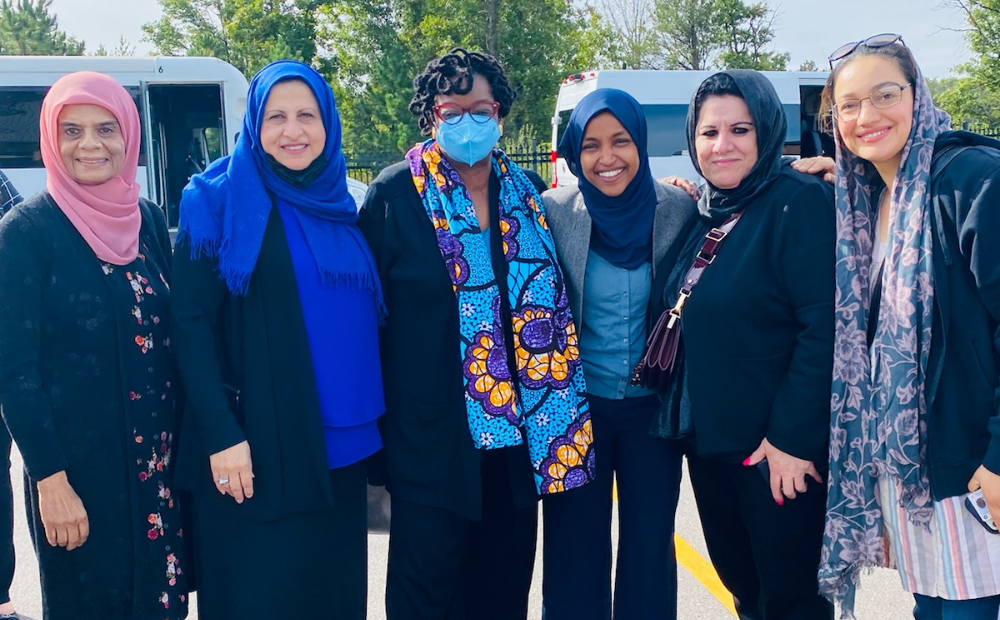 (From left to right:) Naheed Arshad of Mequon, MMWC President Janan Najeeb of Mequon, U.S.
Rep. Gwen Moore (D-Wis.), Rep. Ilhan Omar (D-Minn.), Afghani interpreter's Noriza Imran and Sweeta Khairkhwa
"Congresswoman Omar was invited by Congresswoman Moore in a brilliant move to show the Afghans the opportunities in America," Najeeb said. "Here was a former refugee who became Minnesota's congresswoman.  Many of the Afghans knew who she was.
"Most importantly, we would like to thank Major General Darrell Guthrie and the many high ranking officials at Ft. McCoy who met with us, organized extensive tours of all of the major areas used by the Afghan guests, held briefings and allowed us to meet with and speak to many of the guests. 
"We recognize the challenges that came with accommodating such a large number of individuals in such a short time and their efforts to address them. As was mentioned to us several times, the base went from 1,000 residents to almost 16,000 within a few weeks. That's larger than many towns in Wisconsin. And that doesn't even include the volunteers, interpreters and organizations working on the ground there.
"We look forward to continued communication and working together to assist in this massive operation," she said.
In an interview Saturday following the tour with Madison-based Channel 3000, Moore, Omar and Najeeb agreed the military is doing a good job of addressing the needs of the Afghans under the circumstances. The MMWC intends to continue communication with Ft. McCoy staff on their needs and is working with Hanan Refugee Relief Group and its collaborators to address them. 
The visitors brought a big truck Saturday to Ft. McCoy that was filled with boxes of new, culturally appropriate clothing, winter coats, children and infant clothing, gloves, shoes, prayer rugs, Qur'ans, diapers and other items. "They have not come prepared for [the cold temperatures]," Najeeb said.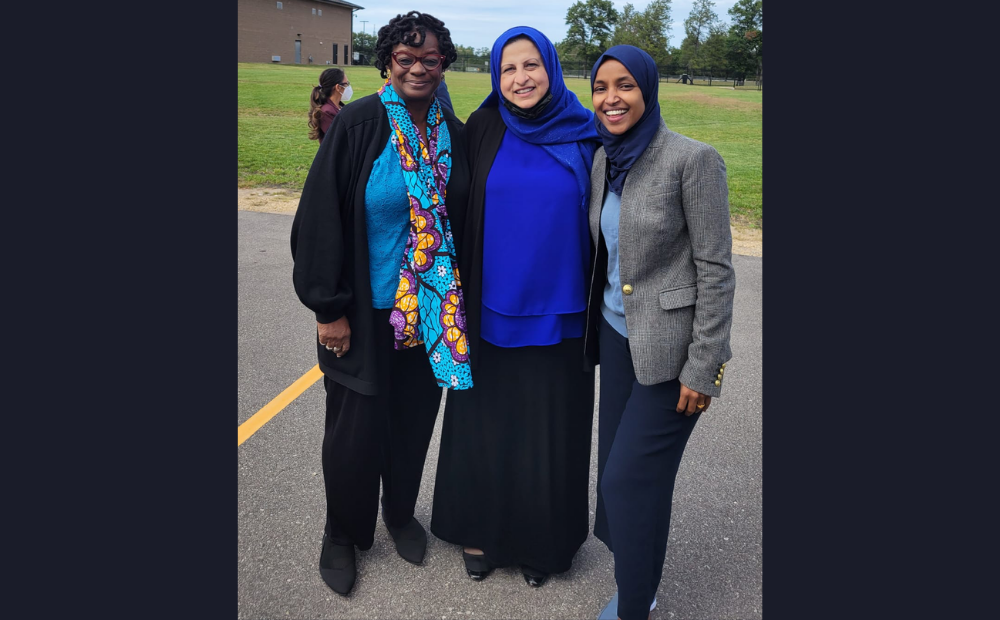 U.S. Rep. Gwen Moore (D-Wis.), MMWC President Janan Najeeb and U.S. Rep. Ilhan Omar (D-Minn.) after touring Ft. McCoy
Support from congressional representatives
The Wisconsin Muslim Journal contacted Rep. Moore Tuesday, who said, "It was my honor to join Milwaukee Muslim Women's Coalition at Ft. McCoy, a visit that was prompted by their concern for the wellbeing of Afghan refugees. In addition to ensuring that our new neighbors had their basic needs met, the Milwaukee Muslim Women's Coalition wanted to empower Afghan women, showing them what is possible for women in America who look like them and share the same religious beliefs.
"During the visit, Afghan women were able to speak with members of the Milwaukee Muslim Women's Coalition, giving them the opportunity to connect with women who understand their culture, religion and the challenges they face. I am so thankful for their leadership and hope similar organizations can visit Fort McCoy to help facilitate culturally competent outreach."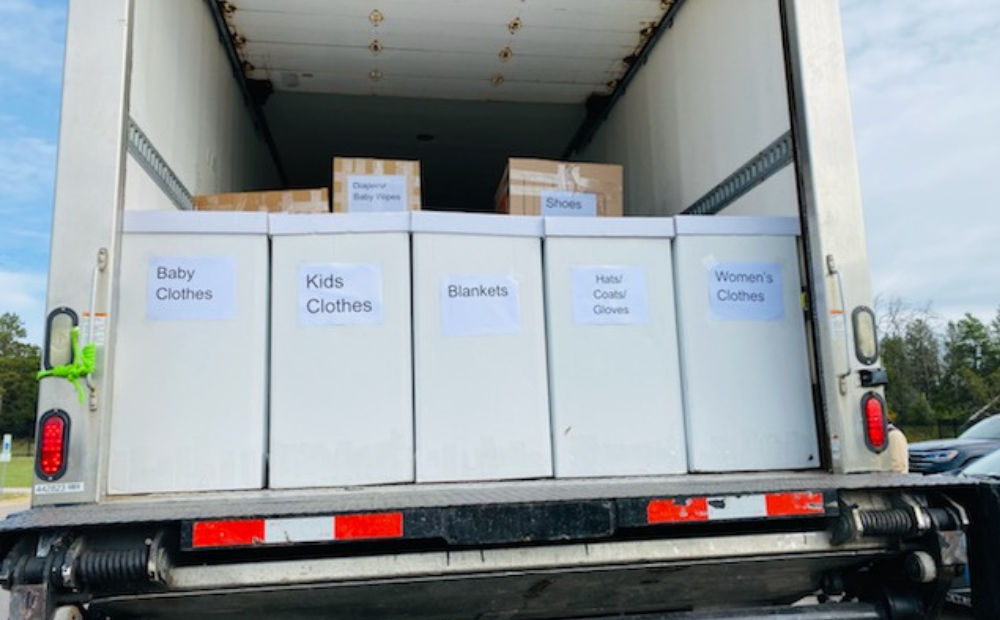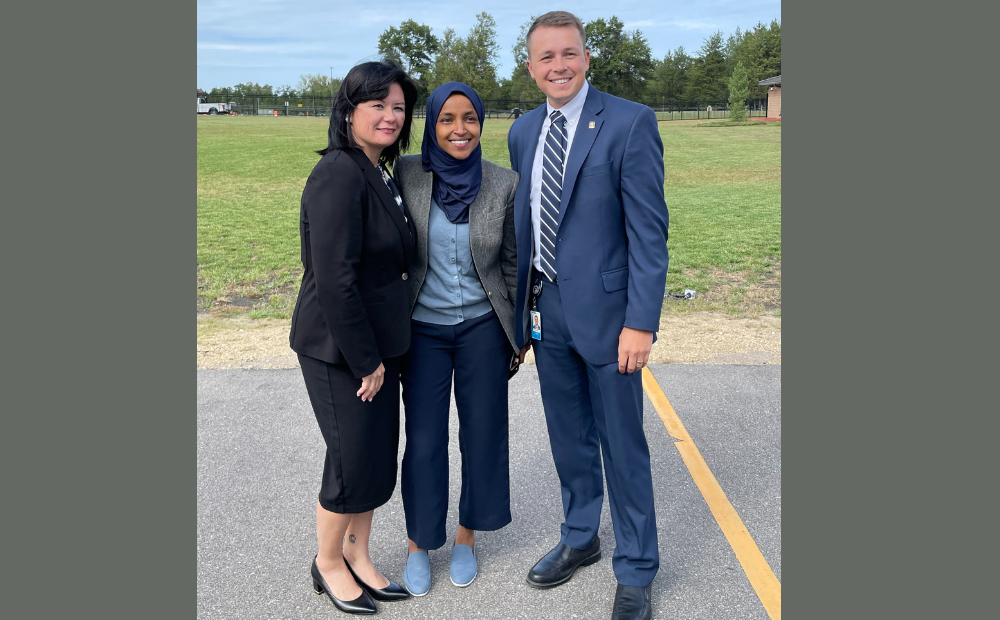 In a joint statement from Moore, Omar and Najeeb issued from Rep. Moore's office, Moore said," "I appreciated the chance to see Fort McCoy's resettlement process for Afghan refugees firsthand … and hear more about efforts to safeguard the health and wellbeing of our new friends and neighbors. I look forward to continuing these critical discussions."
Rep. Omar added, "We must treat our Afghan brothers and sisters with humanity, dignity and basic respect. The Afghans here must have adequate clothing, food and shelter. And they must have their basic needs met before they move on to their final homes here in the United States. 
"So today we were able to tour the facility and meet directly with the military personnel running the facility. We had candid and frank discussions about how to ensure that happens. And I look forward to continuing this dialogue."
For more about Wisconsin's Afghan guests, their needs and how you can help, watch for Part 2 on Friday: What the delegation to Ft. McCoy learned about our Afghan guests
Additional news coverage of this event are in the links below: