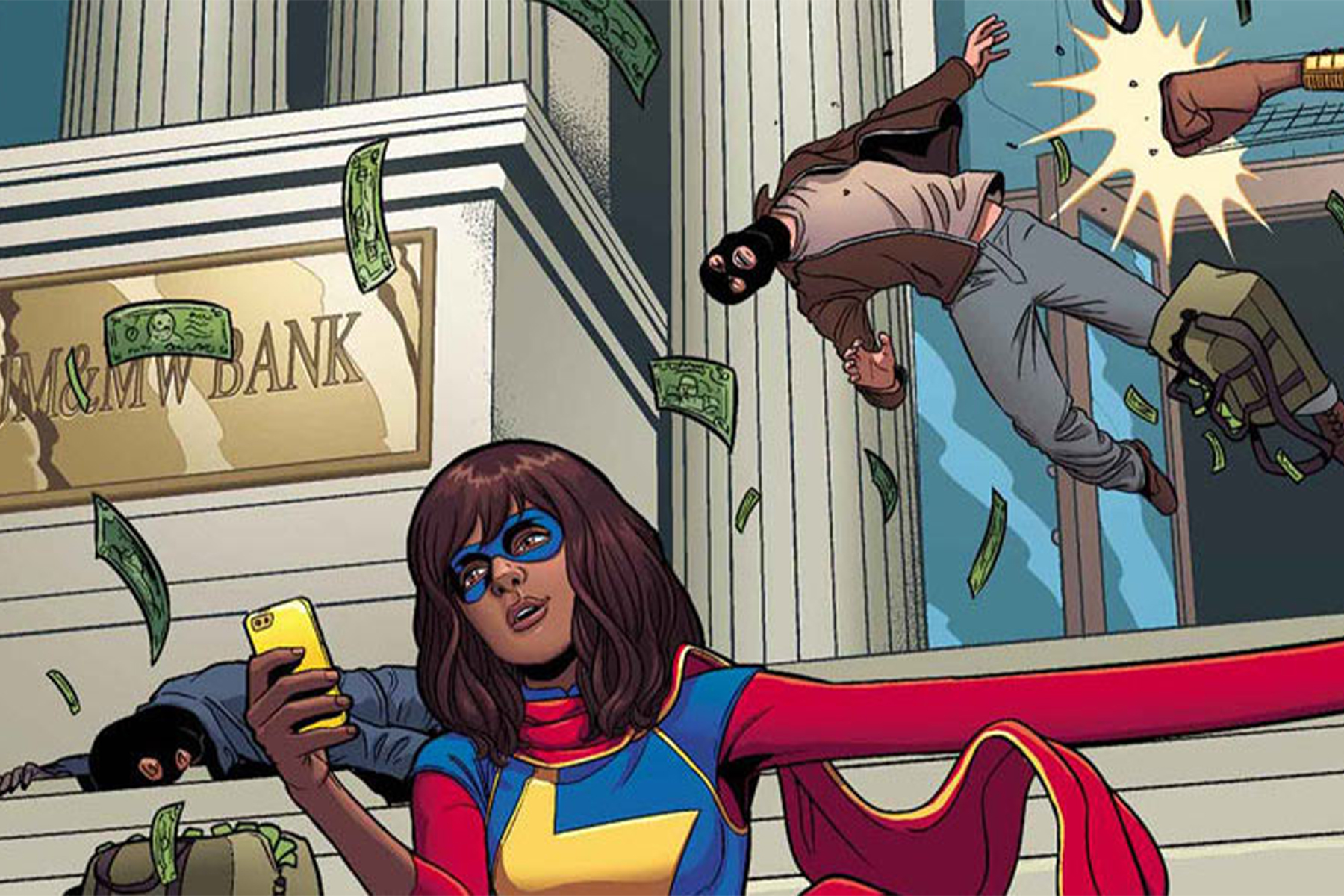 Susana Polo as "Ms. Marvel co-creater never imagined the character on TV, much less Disney Plus" for Polygon
Jamie McKelvie, Matt Wilson/Marvel Comics
G. Willow Wilson isn't sure how Ms. Marvel's powers are going to work in live action — she and her collaborators never considered cinematic visuals when they created Kamala Khan. But that's not to say she isn't excited about Marvel Studios' recently announced Ms. Marvel TV series for Disney Plus.
Polygon spoke to Wilson about the momentous events of this week's Wonder Woman#77, but after Friday's announcement, we had to throw in a question about Ms. Marvel, too. Although a number of folks contributed to the creation of Kamala Khan, the stretchy, shrinky, growy heroine of Jersey City, Wilson was the sole writer to pen her series for five years and 60 issues.
With her first comics appearance coming in 2013, Kamala is the youngest comics character to make the leap to the Marvel Cinematic Universe. And to Wilson, that's "completely wild."
"It is so far beyond what either [editor Sana Amanat] or I ever envisioned going into this series six, going on seven, years ago, that I almost can't process it," she told Polygon. "I think there're some characters who are very much set up for the big screen; they're very naturally sort of cinematic. But with Ms. Marvel, we really weren't interested in creating something that had very obvious film potential. I was really leaning — and I know Adrian [Alphona] and Takeshi [Miyazawa] and all of the artists as well — were really leaning into the comic book-ness of this character. She's got very comic booky powers. God bless them trying to bring that to live action; I don't know how that's going to work out in a way that doesn't look really creepy."
According to Wilson, the creative team behind Kamala never dared dream she'd see a live-action adaptation — they just focused on breathing as much life into her 2D incarnation as possible.
"[Ms. Marvel] was very much a comic book lover's comic book," Wilson said, "for people who'd grown up with superhero stuff. So my ambition, and all of our ambitions, I think, for this character, never transcended that. It was always about the comic books.
"Even metatextually, she's a comic book fan within a comic book! So to see that all resonate to such a degree that, ironically, we ran before we could walk, is really kind of crazy. It's just amazing, and I'm so happy that this character has resonated with so many people. She's going to get even more fans once she's on the screen, and it's just incredible to me to have been a part of that. It was not something that I would ever have had the temerity to dream up for myself."
Marvel Studios has not stated a release window for the Ms. Marvel show, but has confirmed it will premiere no earlier than late 2021 or early 2022.