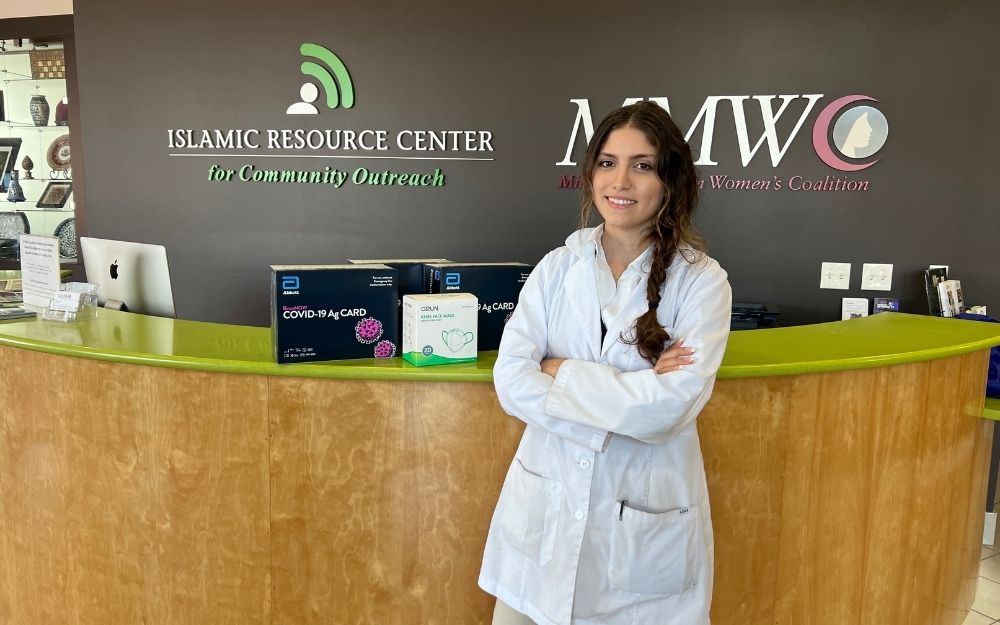 Milwaukee Muslim Women's Coalition's public health coordinator Marlene Zahran works to distribute COVID-19 information to the Muslim community in multiple languages.
Milwaukee Muslim Women's Coalition, Milwaukee Community and Health Center of Wisconsin and the Burmese Rohingya Community of Wisconsin, along with Muslim-owned Hayat Pharmacy, lead efforts to provide COVID-19 health education and vaccination services to Muslim immigrants and refugees in southeast Wisconsin. 
In its effort to address disparities in access to healthcare services in the state, Wisconsin Department of Health Services awarded grants to organizations "to promote health equity in COVID-19 vaccination throughout the state. The investment aims to increase vaccinations by supporting organizations to serve as trusted messengers within their communities and reduce barriers that hinder vaccine access for marginalized or underserved populations," says a DHS press release.
"Ensuring every Wisconsinite has access to quality, affordable healthcare is an essential part of our response to this pandemic and building strong, healthy communities," said Gov. Tony Evers. "We also know we must work to address disparities in access to healthcare services and providers both for the duration of this pandemic and beyond it."
DHS has awarded $8.1 million in grants to organizations to promote health equity in COVID-19 vaccination throughout the state. "These funds will be critically important in our ongoing efforts to make sure every Wisconsin can access the safe, effective, and free vaccine," Evers said. 
Applying organizations each submitted a plan that included the geographic area and target population they would serve and a strategy for overcoming barriers to vaccination. In 2022, 135 organizations received funding of various amounts. MMWC, MCHC, BRCW and Hayat Pharmacy each received grants of $100,000. See the full list of awardees and brief descriptions of their plans.
"We've been very active," said MMWC President Janan Najeeb. MMWC hired a full-time public health coordinator who, in addition to working on MMWC's outreach and COVID-19 education program, is collaborating with Hayat Pharmacy and working to enlist the support of other Muslim organizations to ensure effective outreach efforts.
Wisconsin Muslim Journal interviewed MMWC's public health coordinator Marlene Zahran Monday about their educational and vaccination programs for southeast Wisconsin's Muslim and immigrant communities. See highlights of the interview paraphrased below.
What is MMWC doing about COVID-19 education and outreach to immigrant and refugee communities?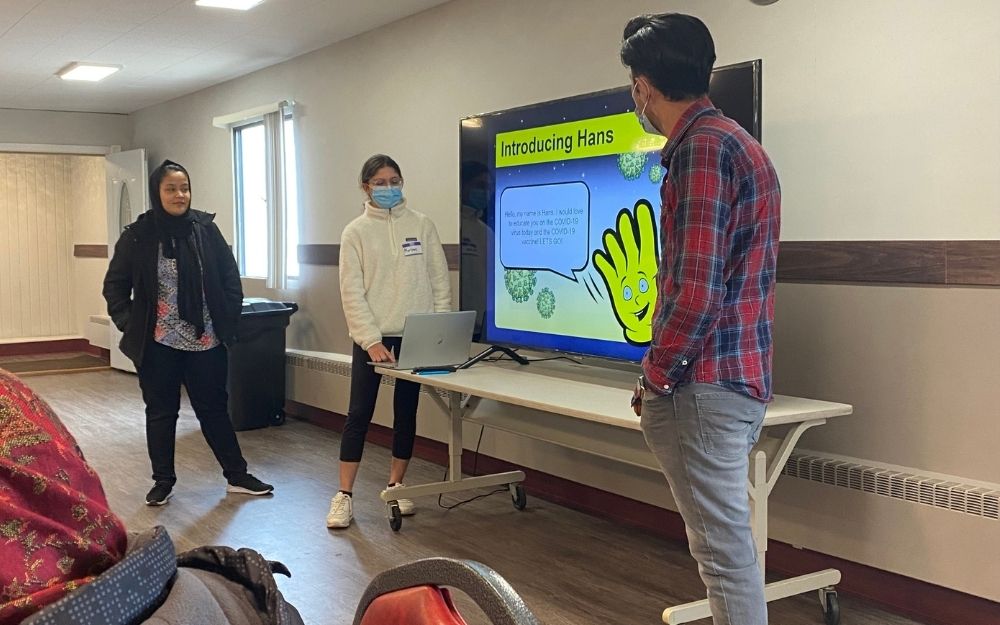 Marlene Zahran, public heath coordinator for MMWC, (center) educates Afghan refugees about COVID-19 facts and misinformation. She is assisted by interpreters who speak Pashto and Dari.
We are providing education and promoting vaccination in the Muslim community, especially among immigrants and refugees. We aim to overcome barriers like language or transportation that impacts their rates of vaccination. We provide translation in their languages and also do our best to reach people where they are, making access easier for them.
We are also working closely with Dr. Aasim Padela, professor and vice-chair for research and scholarship at the Medical College of Wisconsin, to track demographics and other information that will help better serve immigrant and refugee communities in Greater Milwaukee.  Dr. Padela is an internationally recognized research leader in Muslim health and healthcare disparity research.

What is your role?
It is my duty to make sure we complete our project goals and milestones by Oct. 31. They are:
● One-to-one engagement with at least 4,000 adults, including approximately 60 home visits;
● Pop-up information booths at between 35 – 40 community-based events;
● Distribution of approximately 10,000 flyers, translated in four languages;
● Eight virtual community conversations in Arabic, Rohingya, Somali and Urdu, and other
languages if needed;
● Ten or more community education sessions held in outdoor courtyards of community centers
● and mosques;
● Major engagement efforts during Eid al-Fitr in May and Eid al-Adha in July; and
● Ten or more vaccination opportunities, held at locations that are convenient and accessible for members of each target ethnic group.
What is being done to increase vaccination rates among Muslims?
MMWC received a DHS grant last year and focused on COVID education, emphasizing safety measures. This year the focus is on health education about vaccination. We are collaborating with Hayat Pharmacy to provide both education and vaccinations. We also aim to educate people on the aftermath of COVID-19 and how it can affect your health. There can be some really bad impacts like heart problems, kidney failure, liver failure and cognitive impairment. If you're vaccinated, you're less likely to have these residual symptoms; even if you get COVID, your health will be better in the long run if you're vaccinated.
There are some long-term effects for kids, too. We want to make sure parents know about them.
We work with Hayat to have pharmacists go to individual homes to give vaccinations. For immigrants and refugees, transportation is often an obstacle to getting vaccinated. In our educational programs, we tell them about how they can get the vaccination, including home visits. These home visits make a big difference. We can serve people throughout southeast Wisconsin, not just Milwaukee.
Sometimes it is just about them knowing how to get the vaccines. We had an Afghan family call us recently. They just recently came here. They wanted to vaccinate the whole family and we were able to arrange it for them.
Besides transportation, what are other obstacles you face in teaching people about COVID vaccinations?
Another obstacle we face is that people are tired of hearing about COVID. We have to let them know it is still important to address, especially if we face another variant.
We address that by tailoring the talks to the audience. For example, when we visit schools, we try to make it fun and high-energy, with contests and memes that would appeal to them.
Where do you provide education?
We try to go where they are. For example, we visit ESL (English as a Second Language) classes for refugees and speak with them for 10 – 15 minutes and then answer their questions. We have visited ESL classes offered through Hanan Refugee Relief Group. 
Or at MMWC's Buddy Program, which matches Afghan refugee teens with American teenaged buddies. There was one last weekend in Brookfield with 75 people there. We had Dari and Pashto translators. 
We are working on arranging a program at Salam School. We also visit mosques. We reached a lot of people at Masjid Al-Huda in Greenfield. We have a visit to Irqaa Quran School in Greenfield scheduled.
And there is a huge event being planned for the Eid.
We are also creating a podcast series and videos available through MMWC's social media.
Please tell us more about the podcasts.
The podcasts, Al Siha, which means "health," are available on Spotify and Apple through these links. They are in Arabic. The first five episodes, a collaboration between MMWC and Hayat Pharmacy, aim to educate an Arabic-speaking audience on COVID-19, the vaccines and related issues. 
Going forward, Hayat will continue the podcasts to create educational programs for Arabic speakers on other health issues like diabetes and cancer.
What are the reasons some Muslims in your target audience resist taking the vaccine?
We have noticed a lot of misconceptions. One man said he would not get vaccinated because Muslims are not supposed to put anything in their bodies that is harmful. That person needs that objection addressed from a religious perspective. Also, there is a lot of mistrust of the healthcare system and of the government. Some people will refer to testing of drugs on Muslims in China or that the government is having a microchip placed in you in order to track you. There are new conspiracy theories all the time.
What are you doing to address their misconceptions?
We've been listening and collecting information about all the myths and misconceptions people have. We are developing education that addresses them and we're having that information translated. We will create flyers and social media messaging about them. 
We are also creating videos. In one released last week, Dr. Zulfiqar Shah, the religious director of the Islamic Society of Milwaukee, explained that Muslims can be vaccinated while fasting during Ramadan. We plan to have a healthcare provider speaking about their experience treating COVID patients, another with someone who was hospitalized with COVID sharing their story and a third with someone who lost a loved one to COVID. 
What other obstacles do you face in trying to get people vaccinated?
With the Rohingya and Burmese community, the household is very patriarchal. A lot of the women will say they can't get vaccinated until they ask their husband. So, we need a strategy that takes that into account.
Another issue is people are saying the pandemic is over. It is still dangerous for people who don't get vaccinated.
What do you hope the research with Dr. Padela will contribute?
There is almost no published data about COVID and the Muslim community in the United States. Because neither Muslims nor the main ethnic groups that include Muslims are counted on the U.S. Census, it is difficult to find information about them. Having information can help create better intervention programs.
When I studied for my master's degree in public health, the approach I learned to use to develop interventions is to first do background research and identify all the different types of interventions that have been used and the data that's already been collected, but with these populations, there is no data. We are starting from scratch.