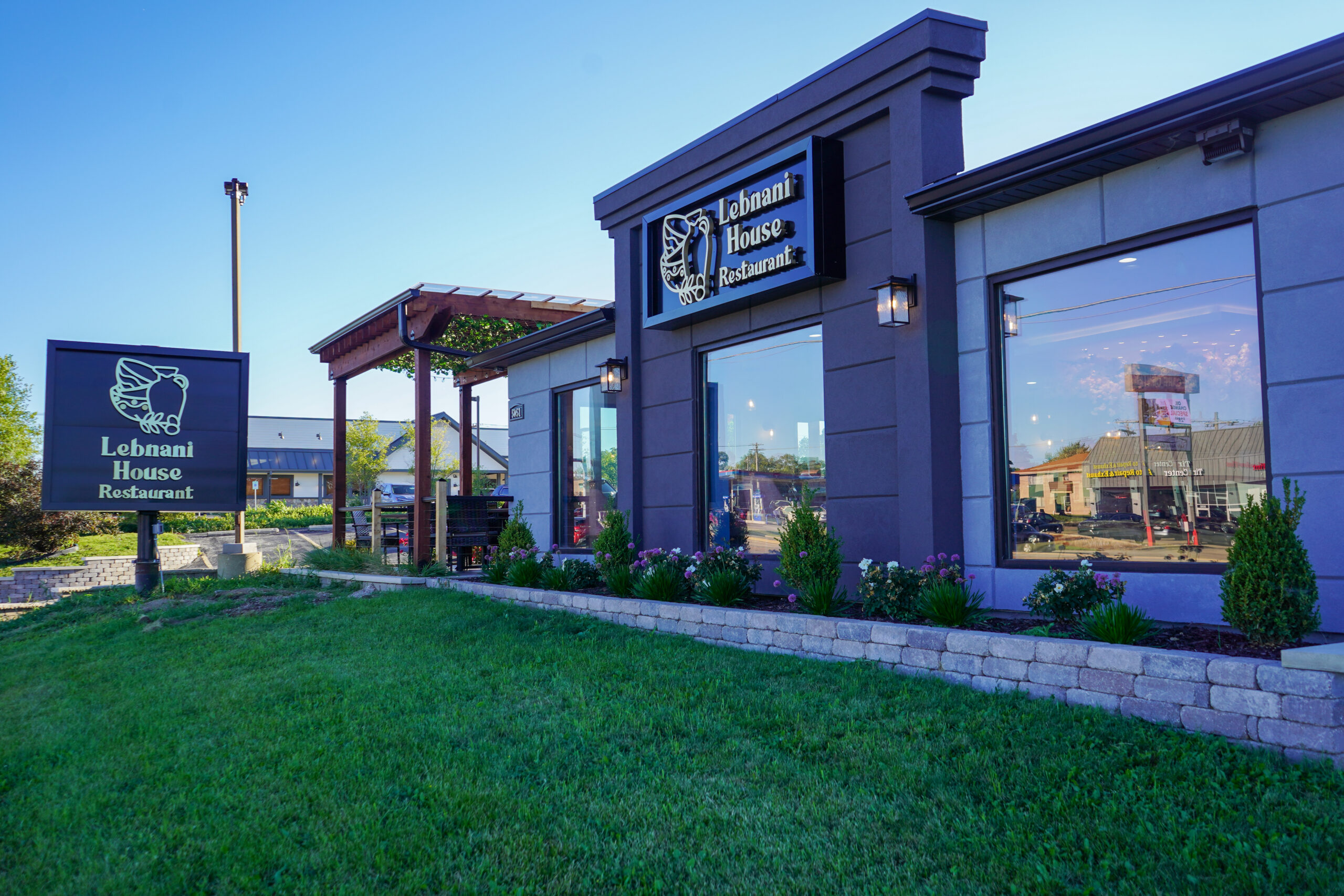 Photos by Kamal Shkoukani
Lebnani House, 5051 S. 27th St., Milwaukee, offers Levantine fine-dining.
When a new restaurant opened down the street from the Islamic Resource Center on South 27th Street in Milwaukee, the IRC staff took notice.
As they drove home from work, they passed the once abandoned Pizza Hut building. It had transformed into an attractive slate-gray building. Patio diners sat outside under a wooden trellis with decorative greenery, reminiscent of leisurely afternoons in the shade of grape vines of the Levant.
Soon IRC director Janan Najeeb stopped in for lunch at Lebnani House, 5051 S. 27th St.  Friendly restauranteur Naser Abdelfattah invited Najeeb, who is also president of the Milwaukee Muslim Women's Coalition, to bring MMWC board members for an evening of taste-testing. He was eager to have them try his array of Syrian, Lebanese, Jordanian, Palestinian and Armenian dishes, he said.
A new venture
Abdelfattah has lived 33 years in Milwaukee. A businessman at heart, he ran a local car dealership for 25 years before a new project caught his eye. On a visit to Jordan, he was introduced to Lebnani Snack, a well-established casual dining stop in Amman. Knowing a good thing when he sees it, he partnered with its owner to bring its menu to Milwaukee, but in fine-dining style.
"I made five or six visits to Jordan and got all the ideas," he told Najeeb.
Abdelfattah also shipped furnishing from Jordan—pastel chairs and rugs in blues and pinks and colorful artwork, including multi-color blown-glass chandeliers and glittering pictures, one a decorative map of Palestine, his ancestral home. 
"We started construction two years ago and then we were hit by COVID," he said. With the help of his family, he plowed ahead.
Milwaukee businessman Naser Abdelfattah opened Lebnani House in July.
Abdelfattah's daughter, Asmaa, 21, helped with the décor. She studied graphic design at the University of Wisconsin-Parkside, she explained. Asmaa and one of her brothers created the restaurant's centerpiece, a lush pink and white flowered tree of paper mache. "He made the trunk and I did the flowers," she said.
"Asmaa helps a lot with social media and marketing," her proud father proclaimed.
Paying attention to atmosphere and service, and hiring a talented chef, Abdelfattah opened his fine-dining restaurant, Lebnani House, in July. Thick, cream-colored leather menus introduce a broad selection of Middle Eastern courses: salads, cold and hot mezza (appetizers), fukhara (vegetables and meat cooked with spices in clay pots), grilled meats, main dishes and desserts. White linen table cloths pop against the bright blue walls.
Chef Khaldon Mousa, 30, moved from San Francisco to Milwaukee to take the lead in Lebnani House's kitchen. He's professionally trained and naturally talented, Abdelfattah said. 
"Everyone is talking about his food. It is different from anyone else's. Everyone loves it. When we opened two months ago, one customer asked, 'What took you so long?'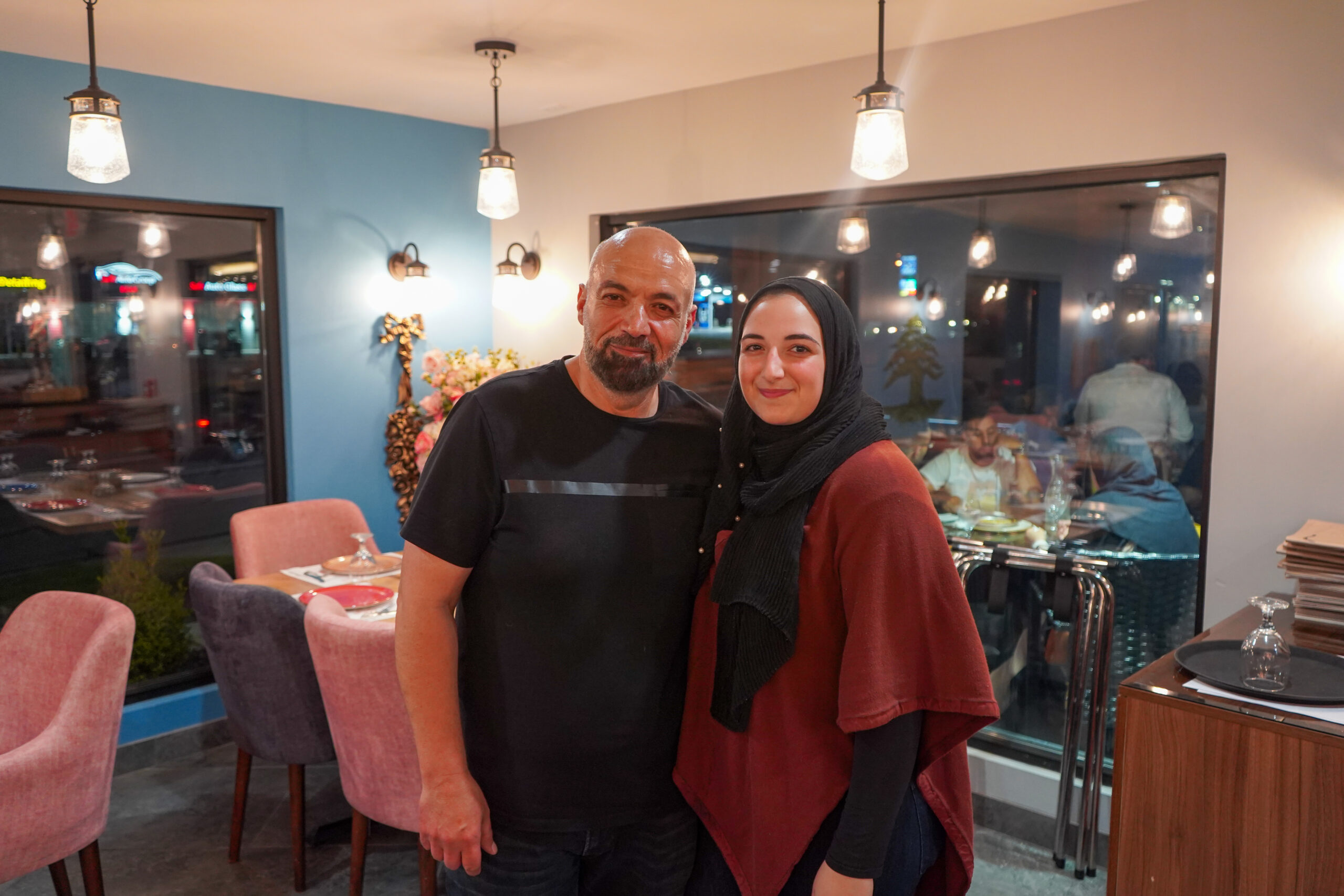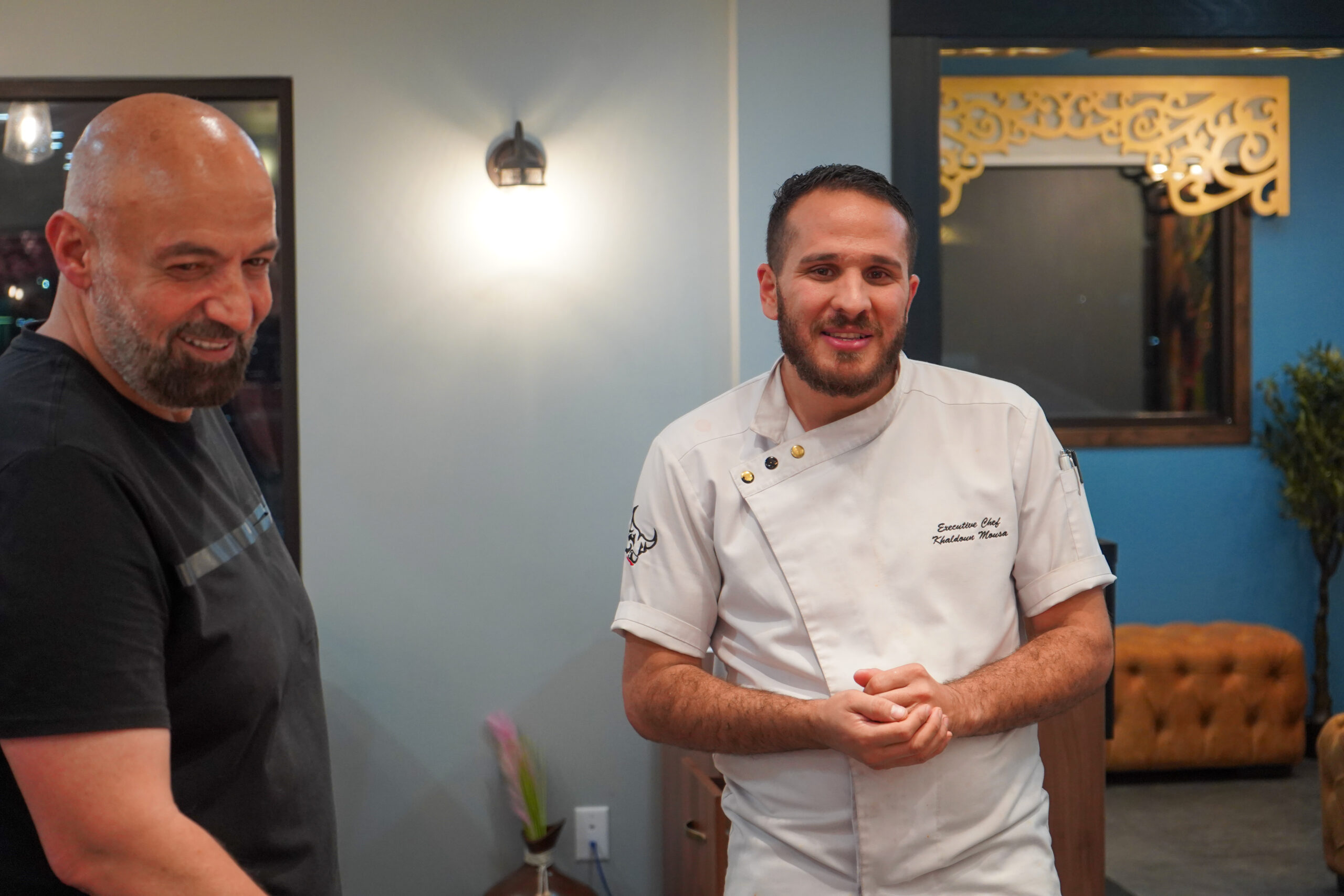 Naser Abdelfattah and his daugher Asmaa; Abdelfattah introduces chef Khaldon Mousa; Lebnani House's interior features a paper mache tree with cascading flowers.
Appetizing appetizers
Najeeb extended Abdelfattah's invitation. Two board members and MMWC's director of special projects joined her Tuesday evening, along with Wisconsin Muslim Journal photographer Kamal Shkoukani and this lucky reporter.
Inshirah Farhoud, former MMWC vice president and a pediatric nurse, and Aishah Aslam, D.O., a Milwaukee cardiologist, were at Lebnani House for the first time. So was Cherrie Hanson, MMWC's special projects manager. 
Mint lemonade proved to be the group's favorite beverage. We sipped as plates of appetizers began filling the table. Classic tabbouleh with a surprise of fresh pineapple and the house fattoush were tasty, all agreed.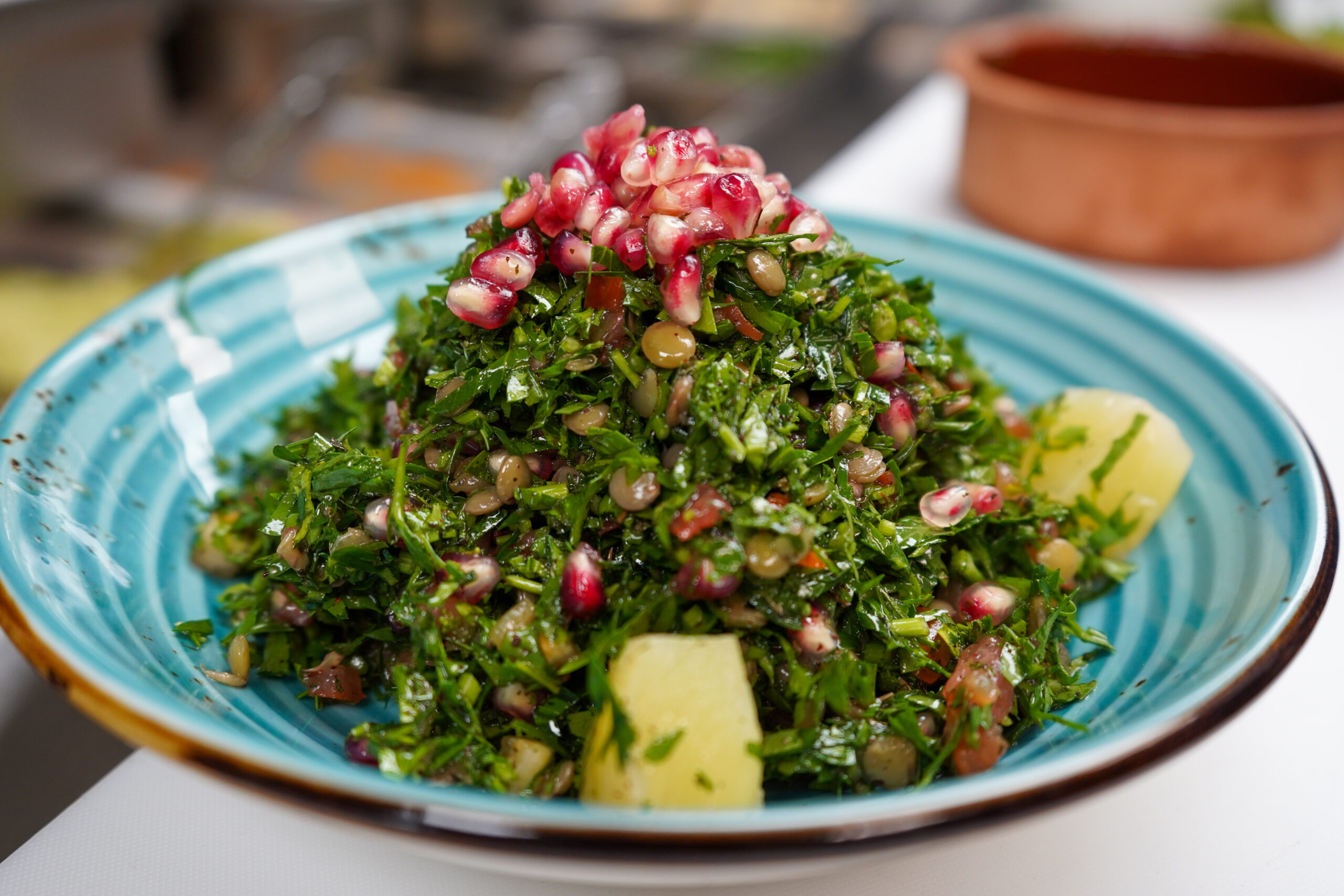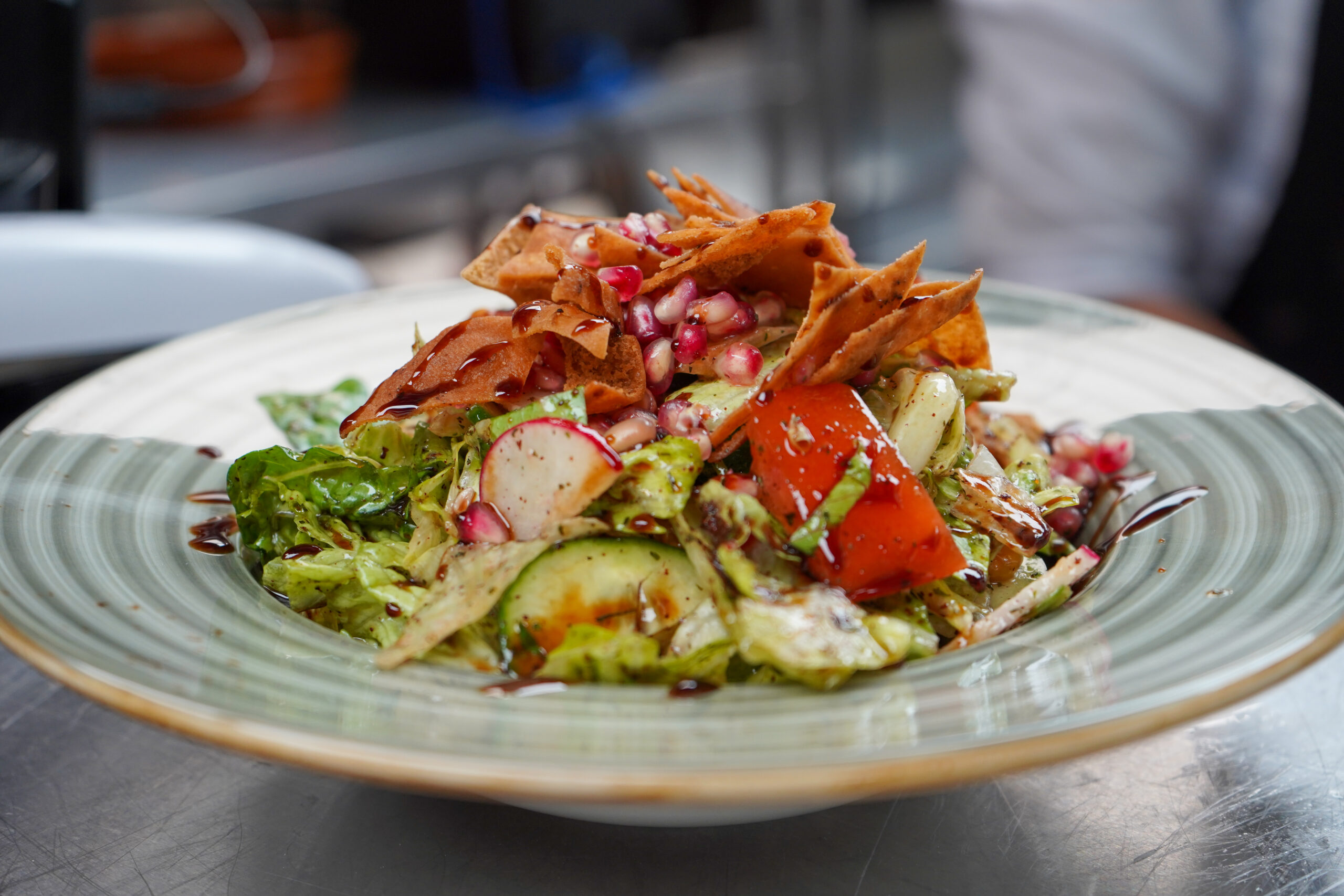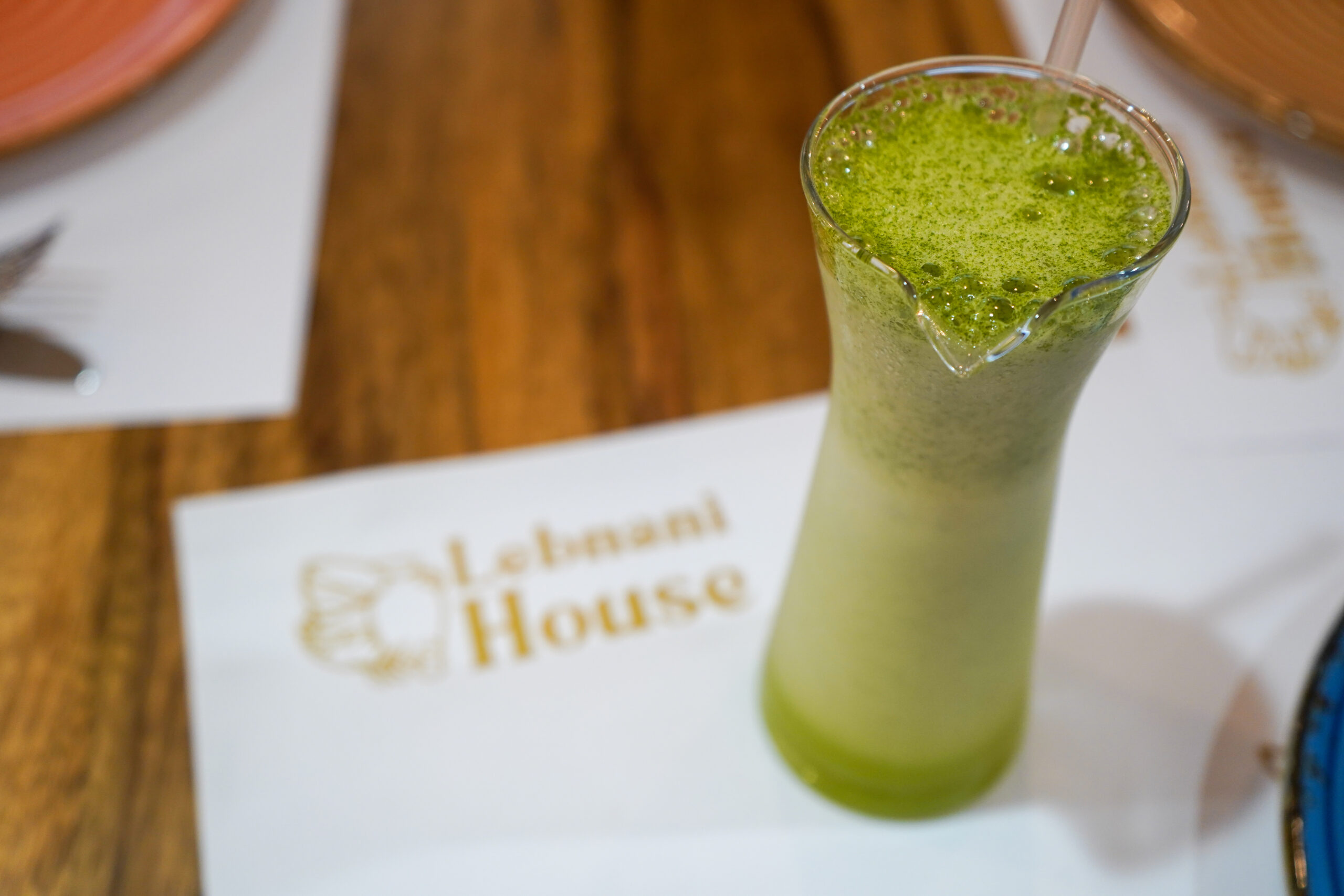 Tabbouleh; fattoush; mint lemonade
The bomali salad delighted. Bite-sized pieces of pomelo (something like grapefruit, if you haven't had it) covered in the creamy house dressing "is incomparable," Hanson declared. "And the beet hummus has no parallel."
"These are the best mozzarella sticks I've had in my life," Shkoukani exclaimed, as Farhoud nodded in agreement.
"The hummus has a nice bite," Aslam said of the bekmaz hummus.
"What a great variety of appetizers," Najeeb exclaimed.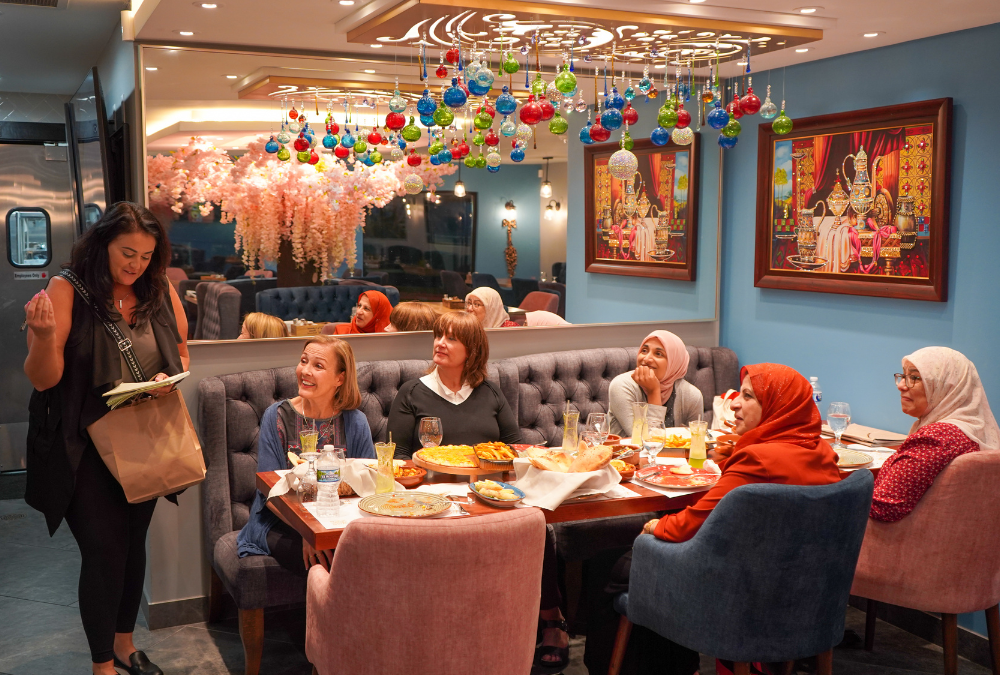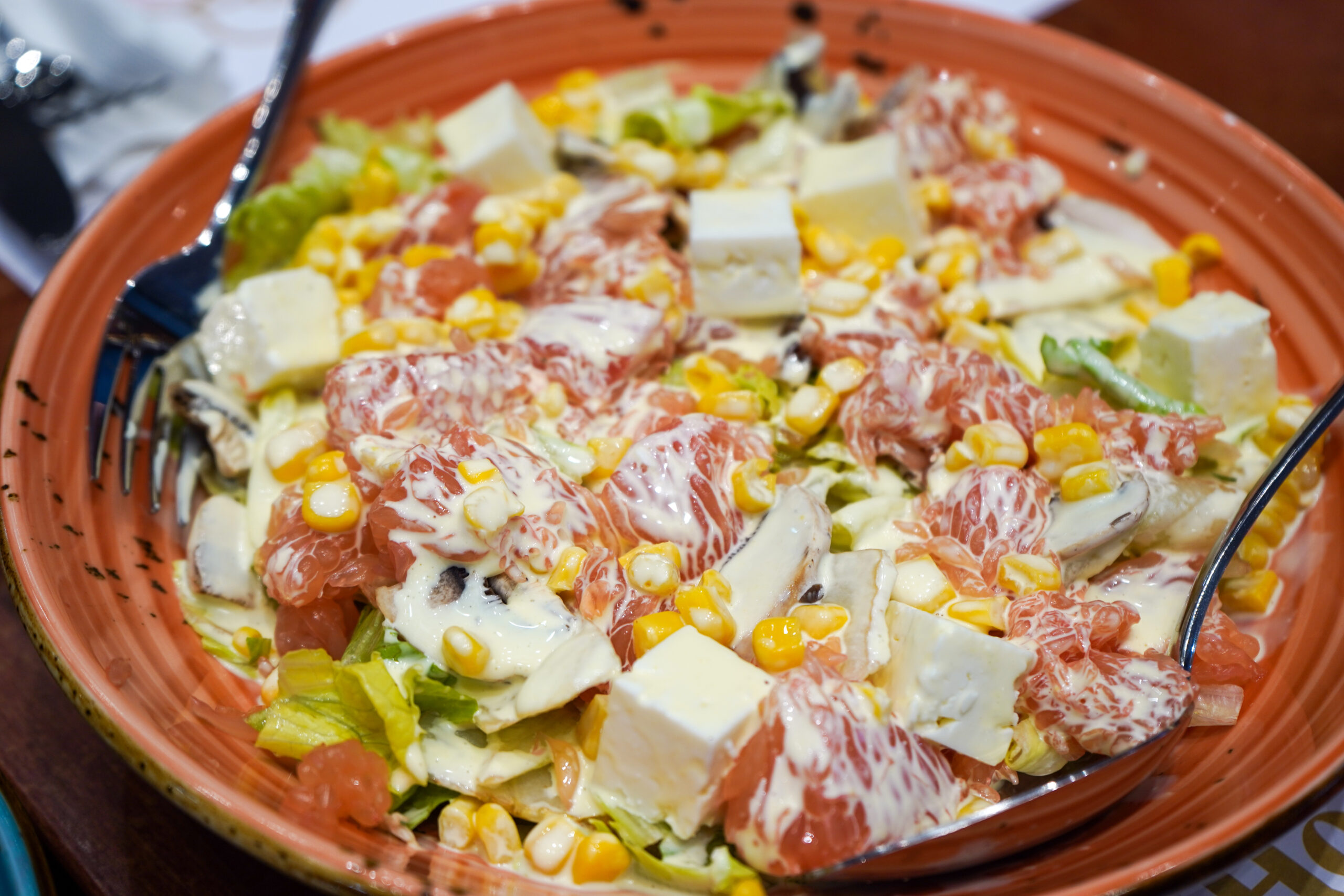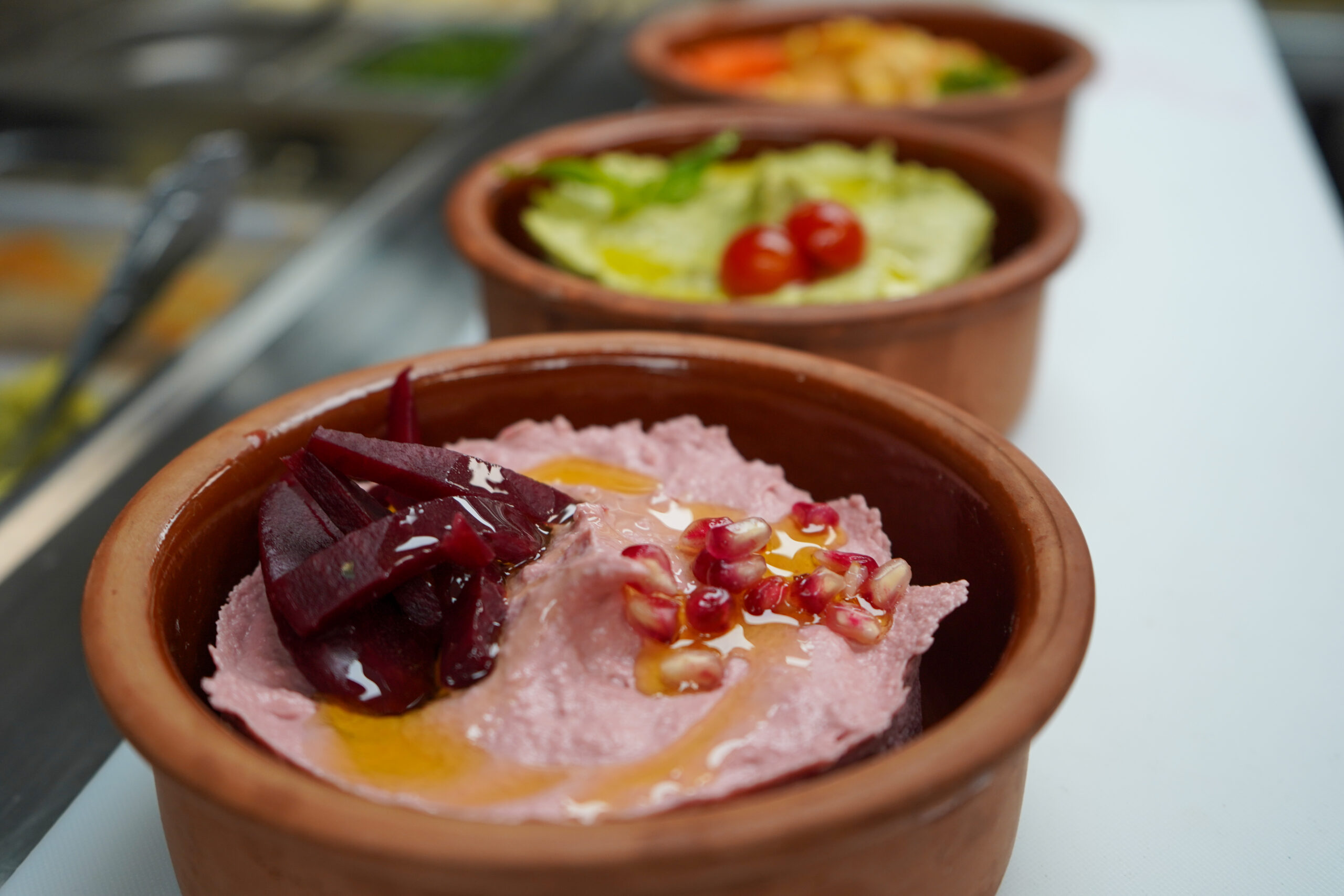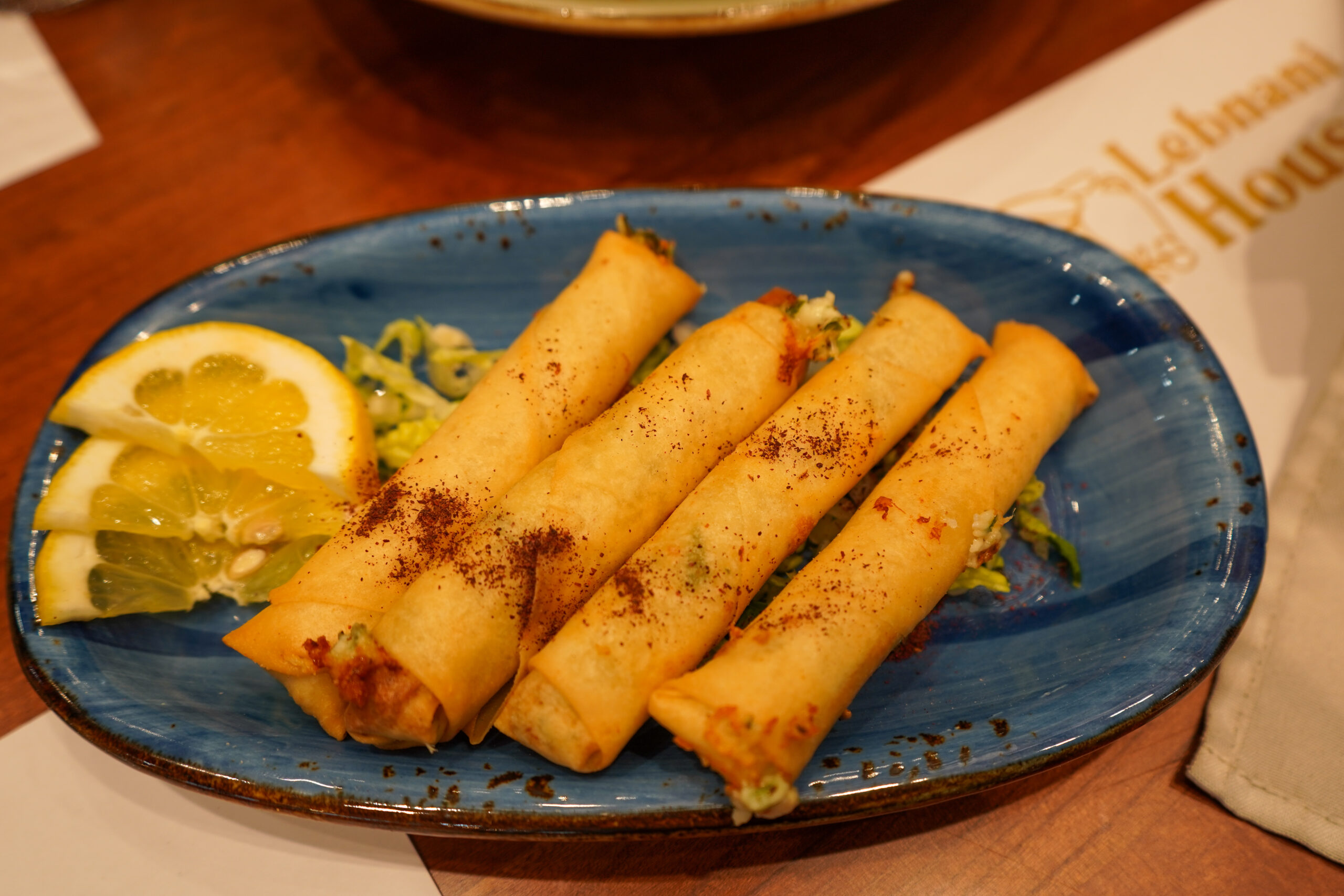 Diners under a blown glass chandelier; bomali salad; hummus trio (beetroot, pesto and bekmaz); cheese rolls
"There are more to come," announced Abdelfattah.
"I wish I had known about this place when my parents were here," Aslam lamented.
"Where do they live?" Farhoud asked.
"Michigan. They'll be back."
"We'll be back," three diners who were leaving the restaurant said in chorus.
"I came here before with my family," Shkoukani said. "The service is really good."
"If I brought my mom, she'd be raving," Aslam agreed.
"The bomali salad reminds me of back home," said Faroud, a Palestinian. "I once ate bomali in Jericho."
"What do you like best of the appetizers?" I asked.
"The kafta (ground beef, onions, parsley and spices) with tahini (sesame seed paste) is good but I prefer the kafta in tomato sauce," Aslam said.
"It's all so flavorful. How can you decide?" Najeeb replied. "Look at how thin the crust is," Najeeb said, holding up a slice of manoushe, Lebanese flatbread topped with cheese.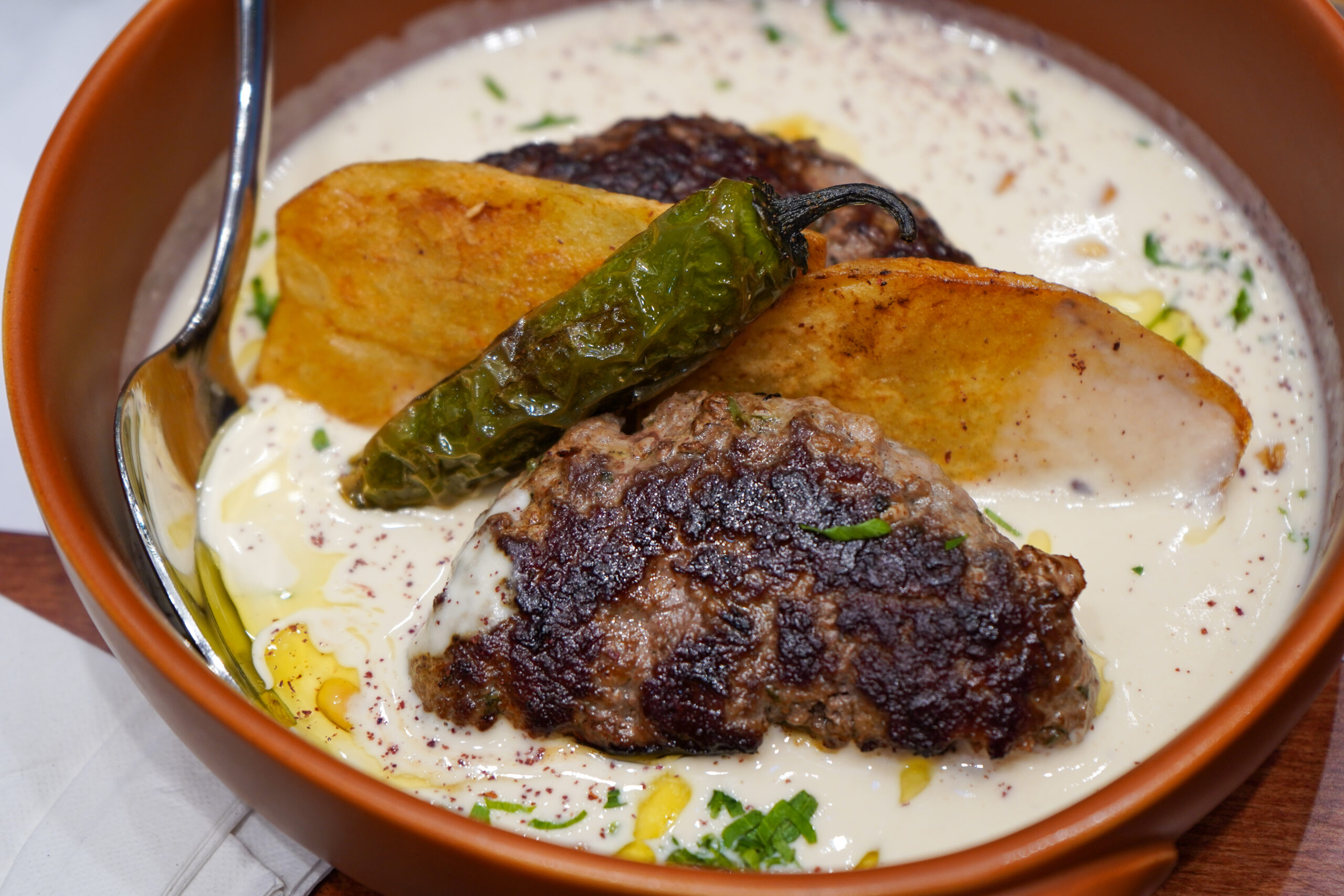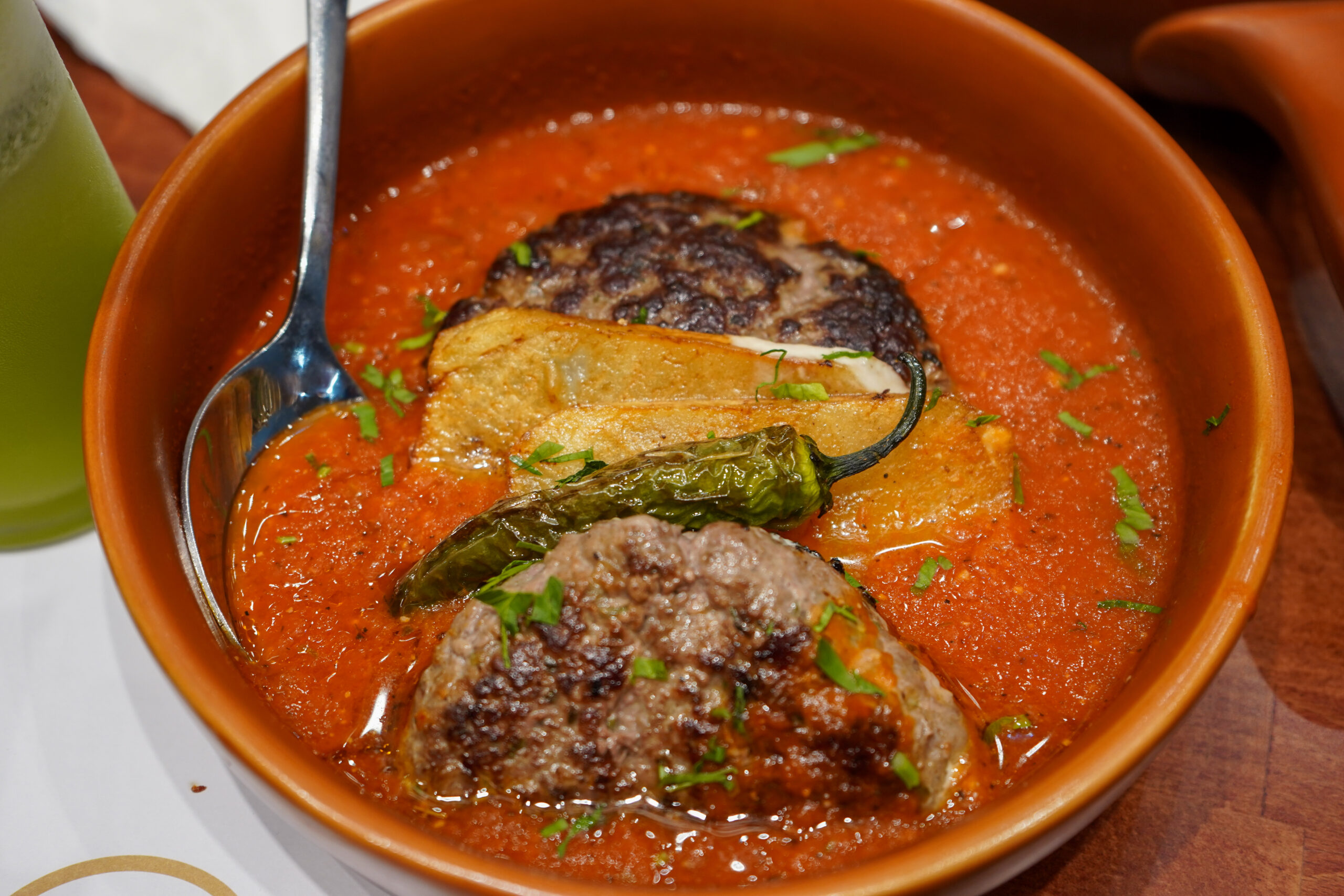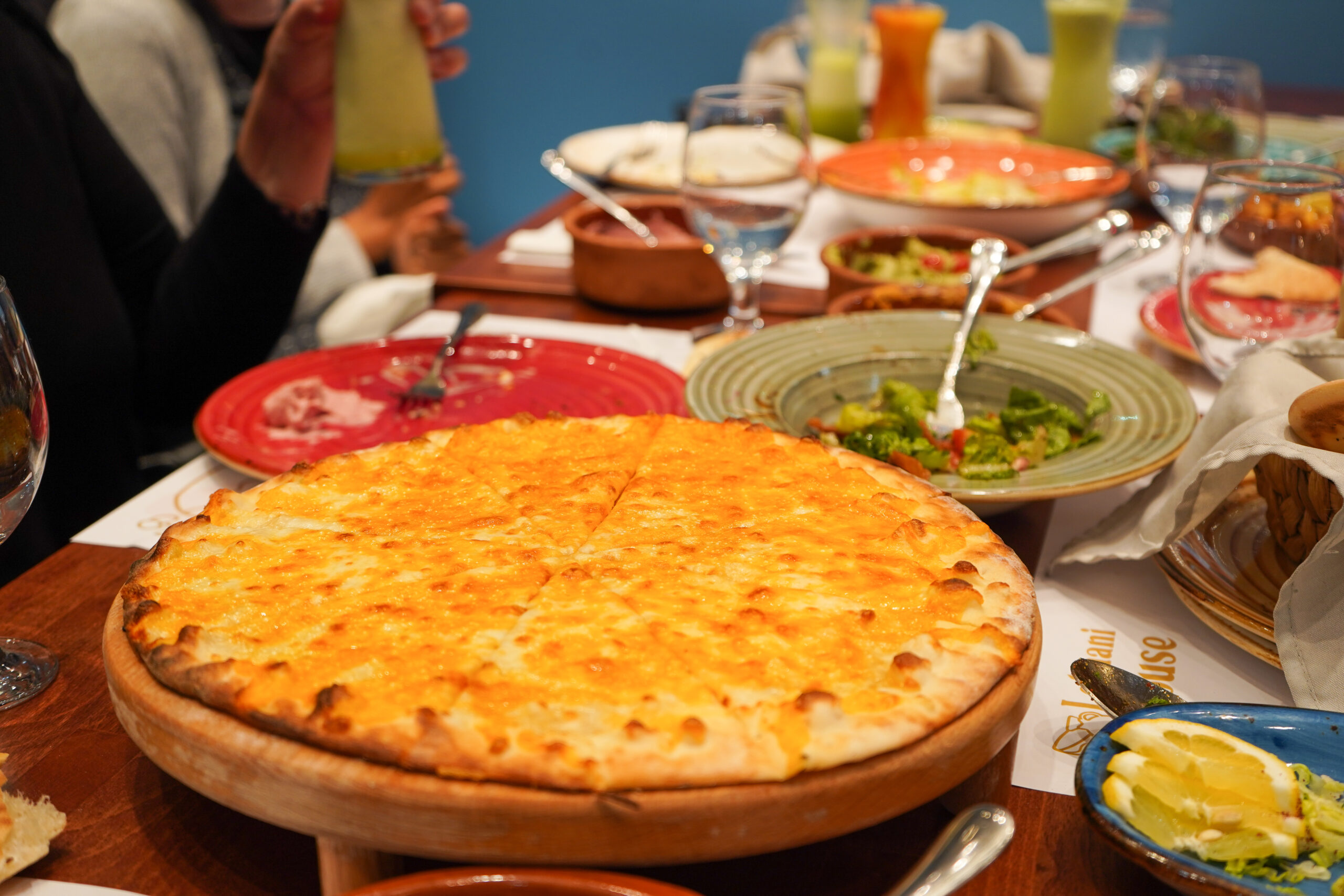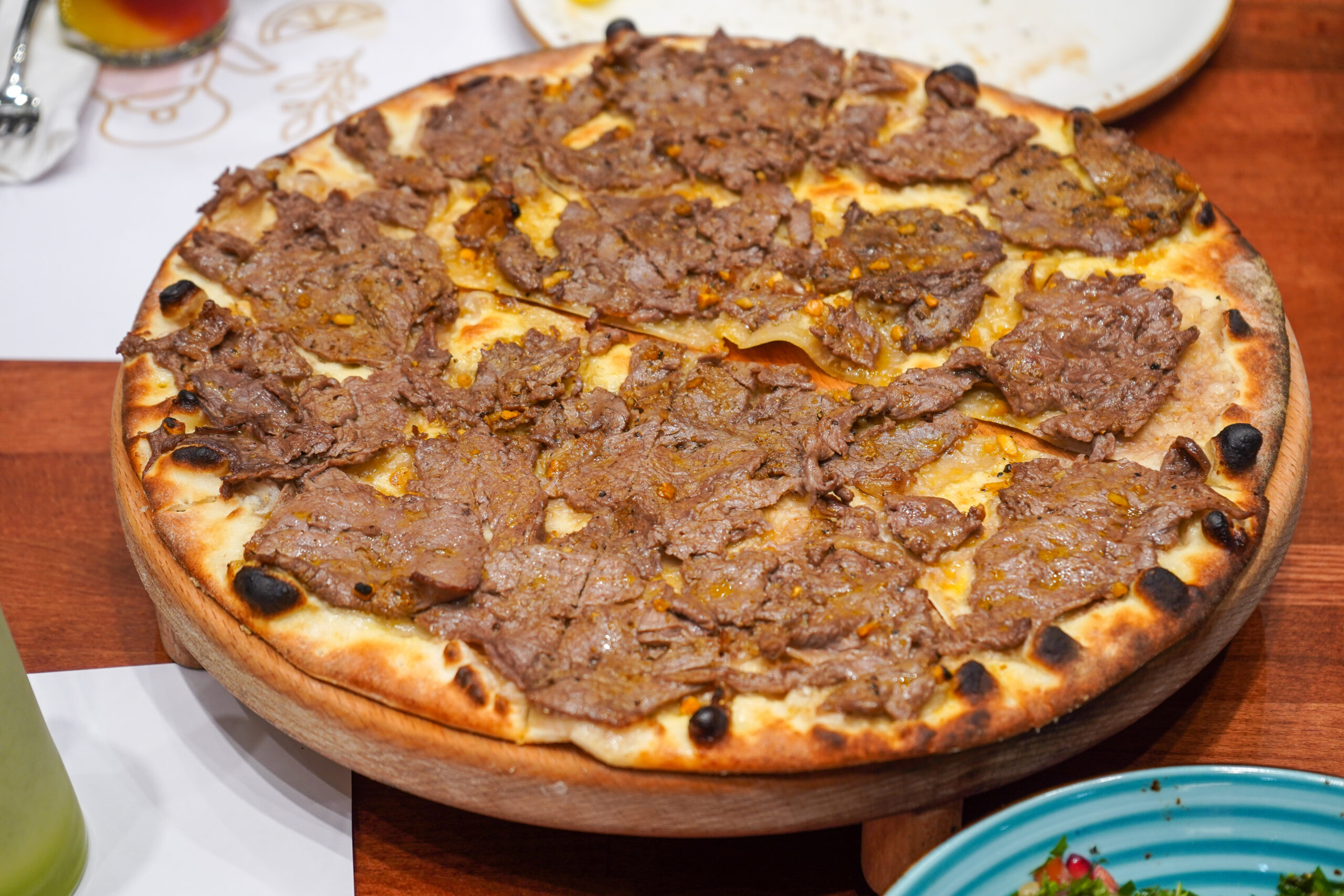 Kafta in tahini sauce; kafta in tomato sauce; cheese manoushe; beef filet bil ajin
Finding room for the main course
"What would you like for the main course?" Abdelfattah asked.
Najeeb replied, "What do you recommend?"
"Fish or maybe the prawns, shrimp. The sauce is amazing."
"On second thought, we're all so full," Najeeb said. "We'll all be back."
"I've already got mixed grill coming," Abdelfattah said, before heading back to the kitchen.
"We had lamb chops when we were here," Shkoukani said. "I recommend you try them next time you come. They're amazing.
"It's all charcoal under the grill, not a gas flame," he added. (He had been in the kitchen taking photos.)
Abdelfattah reappeared with two big platters, one mixed grill and one of lamb chops. "I heard you mention lamb chops," he explained.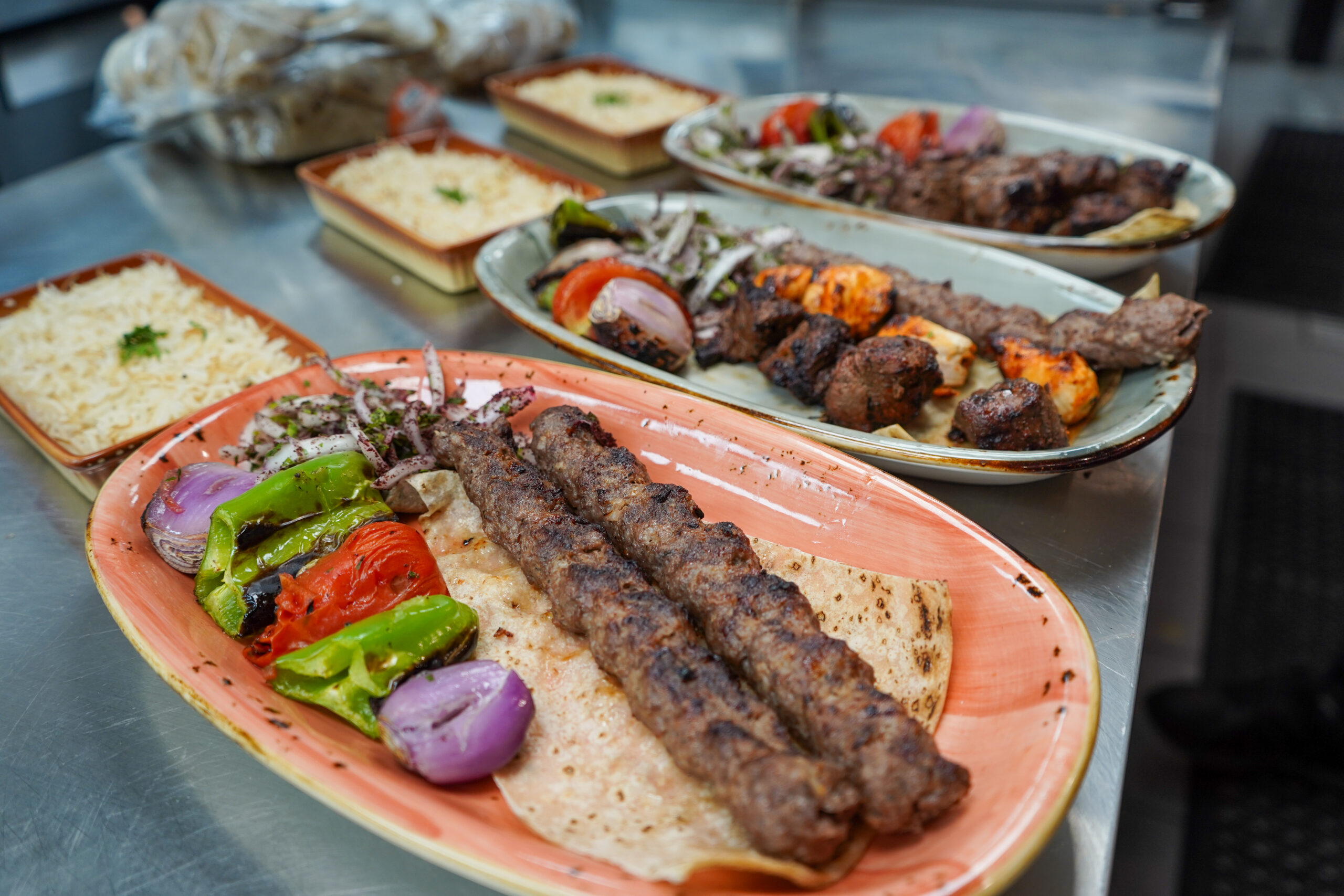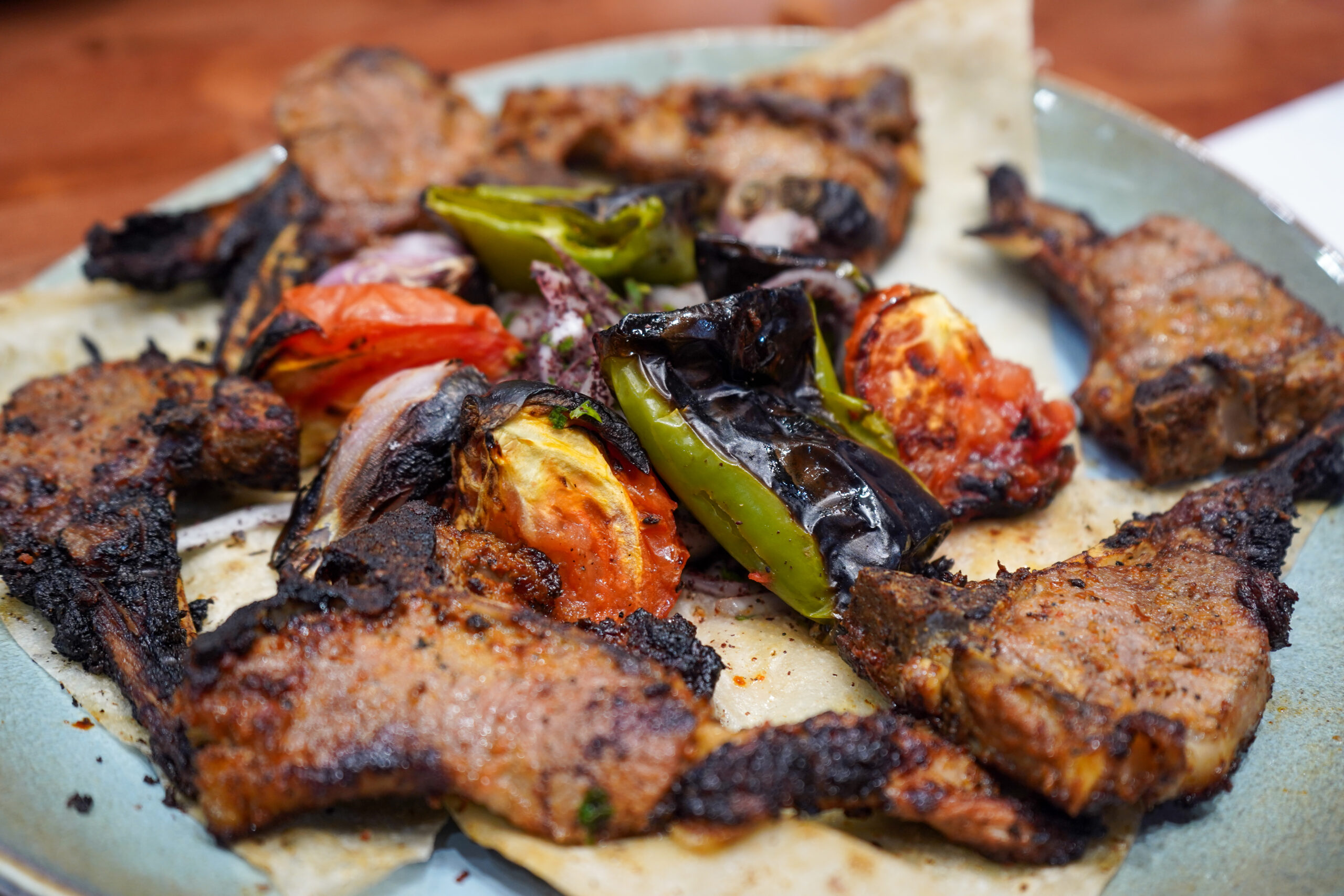 Beef kabob; mixed grill; lamb chops
After we all tried some of each, Najeeb said, "I'd definitely recommend the lamb chops."
"Me, too," Hanson said. "It's my favorite."
"And the mint lemonade," Aslam said.
"And the cheese rolls," added Farhoud.
"These olives are delicious," Hanson said, tasting an oil from a small dish of green olives and pickles.
"Excuse me," said a woman who stopped at our table. "I heard you are writing an article about this place. My friend and I saw a new restaurant in town and just stopped in. It is so amazing!" 
"May I quote you?"
"Yes. I am Shpresa Tairi. I live in Oak Creek."
As Tairi and her friend left, two women walked in. One said to the other, "Look at this place! It is absolutely gorgeous!"
Abdelfattah handed packets of what we thought were wet wipes. Each of us opened our packet to find sterile wet cloth towels scented with jasmine. 
"Nice touch," I thought.