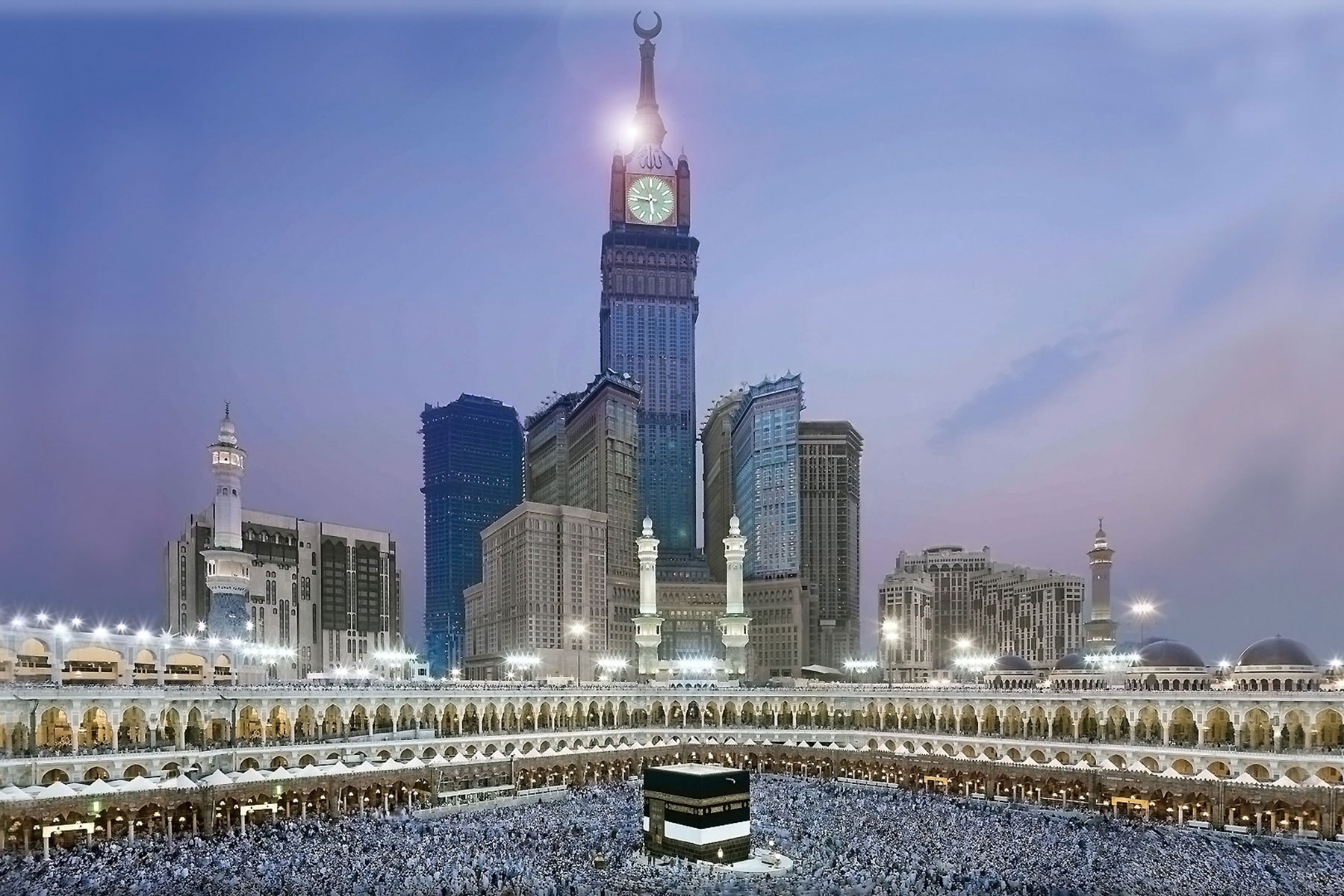 Johnson Controls was awarded the contract in 2010 to provide a building management system (HVAC) for the expansion of Makkah's Holy Mosque in Saudi Arabia, and has kept it temperature controlled for the millions of annual pilgrims.
It took multiple companies to complete the Makkah Clock Tower project, which houses seven towers for residential and commercial hospitality. 27 York multistage centrifugal chillers and 1,000 Saudi-made air handling units were installed at the Shamiyah central utility complex and Ajyad chiller plant, and provide 135,000 tons of refrigeration capacity — the equivalent of what is needed for 12,000 medium-sized apartments.
Using environmentally friendly R134A refrigerant, the chillers are equipped with solid state starters and variable-speed drives (VSDs) that are seamlessly integrated with a Johnson Controls Metasys building management system for a unique, energy efficient solution to the cooling challenges of such a large and unique facility.
Milwaukee-based Johnson Controls formed a joint venture with the Saudi company Al Salem in 1993. All HVAC systems in the Makkah Clock Tower were designed by Al-Salem Johnson Controls, and the equipment is set up in a cooling station located 1.3 km from the clock. The project came on top of operating and maintaining the HVAC systems of the Grand Mosque, that provides cooling and comfort to visitors.
"This particular project at the Holy Mosque is one we can all be proud of, not only because of the facility's significance, but also because of the unique challenges it presents in terms of its size and the numbers of people it attracts," said Saleh Binladin, executive board member of Al Salem Johnson Controls.
The company has won a flurry of mega projects in the Kingdom, according to Basil Abdulaziz, managing Director for Al Salem Johnson Controls, with The King Abdullah of Science and Technology University, King Faisal University, King Abdulaziz International Airport, Hajj Terminal, King Saud University, King Khaled University, Hadeed-Sabic and Princess Noura University for Women among them.
"We are proud to present the Grand Mosque's visitors with comfortable and safe conditions and to facilitate their pilgrimage during the Ramadan and Haj seasons. The Clock Tower project is considered to be one of the most prominent projects we have been working on since 2008," said Mohanad Al-Sheikh, CEO of Al-Salem Johnson Controls. "We have showcased our skill and expertise through our great success in providing the best HVAC services; and by providing year-round maintenance teams at the tower that have the ability to respond to any emergency in record time without disturbing the visitors."
The drive for an energy efficient Holy Mosque is an innovation in a country whose construction market has not entirely taken to sustainable building. Al-Salem Johnson Controls owns the world's second largest cooling station at the Grand Mosque in Makkah, as well as one of the world's largest cooling plants at the Prophet's Mosque in Madinah, providing comprehensive maintenance services to the two Holy Mosques. The company's 1,200-workforce of engineers and technicians is the Middle East's largest after-sales and maintenance team.