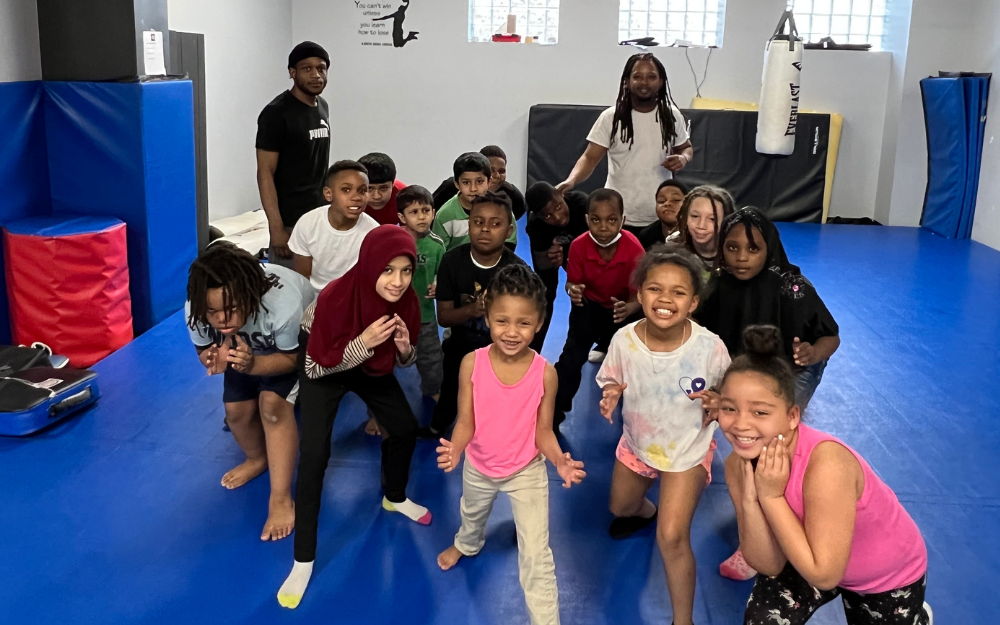 The members of Ummah Wrestling Club at the Ma'ruf Youth Center pose after practice with coaches, Kofi Ali and O'Bryan Mungon.
Wrestling is among the world's oldest sports, a test of physical strength and skill that came naturally to our early ancestors. Like any sport, wrestling is more than a game of win or lose. It can also be a character developing activity, a team building exercise, an opportunity to excel. And wrestling has solid roots in the Islamic tradition.
Kofi Ali, who coaches the Ummah Wrestling Club at the Ma'ruf Youth Center (2110 W. Hampton Ave.), knows something about character, teams, opportunity and tradition. Of West African heritage, Ali was born in Chicago but came to Milwaukee during his youth.  He graduated from Bradley tech high school in 2009, and has a bachelor of arts in exercise science, non-profit management and sociology from Lakeland University in Sheboygan, WI.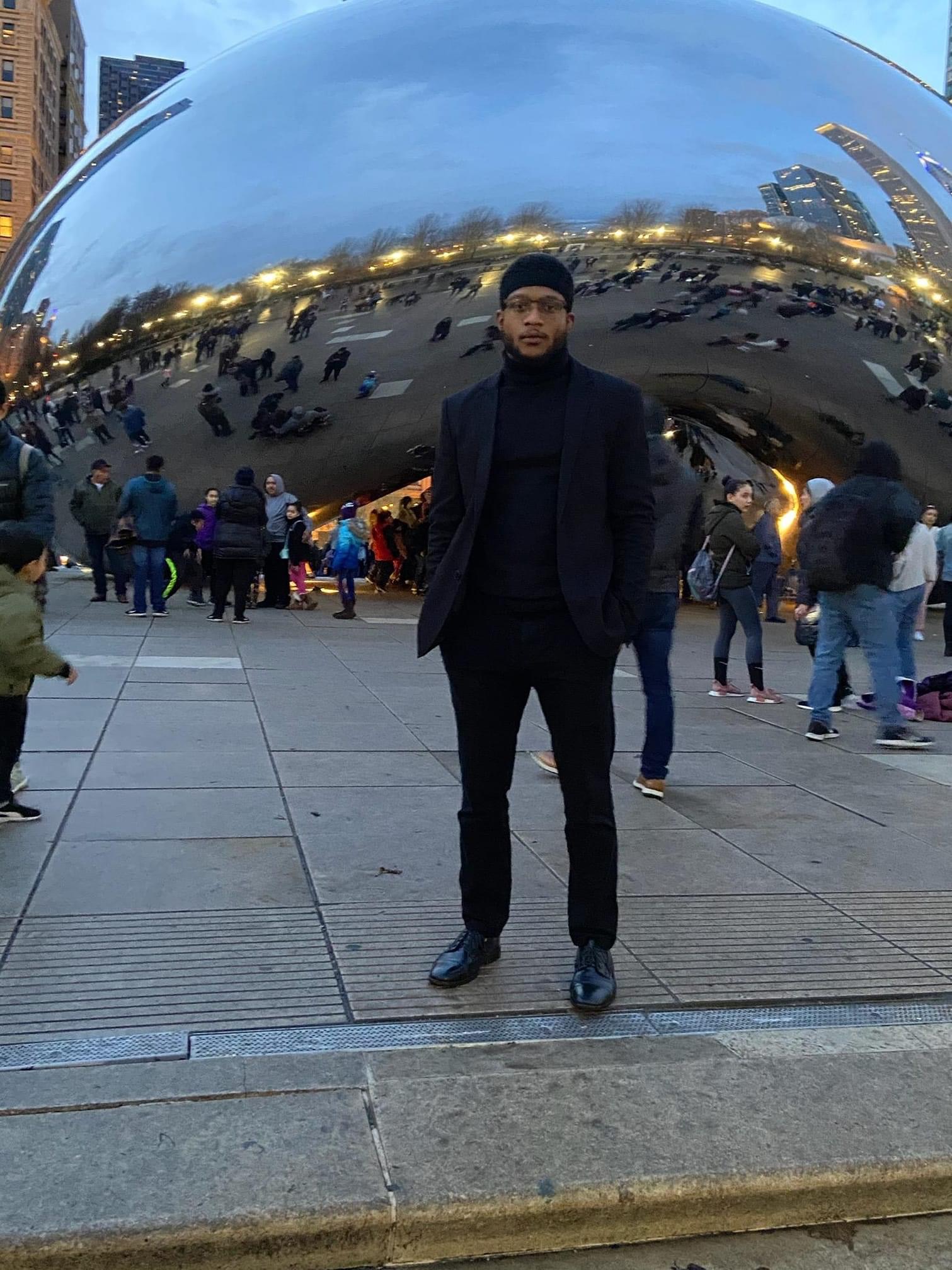 Kofi Ali, coach of Ummah Wrestling Club
"My mother wanted to get away from the government housing projects in Chicago" he explained. "She had a friend that lived in Milwaukee and told her about the lesser cost of rent in Milwaukee."
At age 6, Ali gained his first taste of martial arts in taekwondo, "but I didn't finish due to lack of paying fees." Afterward, he wanted to play basketball, but began wrestling as a high school freshman when "the wrestling coach talked to my basketball coach and asked if he could release me to wrestle. I didn't want to wrestle at first, but my friend encouraged me after we had a playful wrestling match afterschool."
He started wrestling practice several weeks late into the season. "I dominated the practice by being naturally good at it," he recalled with pride. "Having a lot of street fights and older siblings who bullied me—I had a chance to do the bullying on the mat. I naturally did well and made varsity my first dual meet and beat a junior from Slinger High School."
Victory may have been the fuel that drove him at first, but before long, Ali understood the example being set by his coaches as role models. 
"That motivated me to continue wrestling," he continued. "I've always had great coaches and role models who believed in me, and I just wanted to pay it forward to the next generation—of being the help I needed when I was their age. Coach O'Bryan Mungon, Coach Trueman McGee and Coach Stewart coached me in high school. They enhanced my wrestling game as well as my off the mat character. To have them onboard with Ummah Wrestling is a huge blessing. Muhammad Ali said, 'When I retire from the ring, I'm going to do business by making boxers out of other handsome, talented, cultured young men.' So to me it's about passing down the legacy." 
In 2018, Ali began coaching what was called the BraveHeart Wrestling program at Ma'ruf Youth Center. A non-profit organization based in Milwaukee, Ma'ruf was established in 2008 with the mission of improving the quality of life among Milwaukee's disenfranchised and marginalized communities. Ma'ruf's programs include fighting hunger and homelessness and building families by developing strong, successful role models. In 2021, following the example of Ma'ruf's Ummah Judo Club, Ali adopted Ummah, Arabic for community, as the name of his club.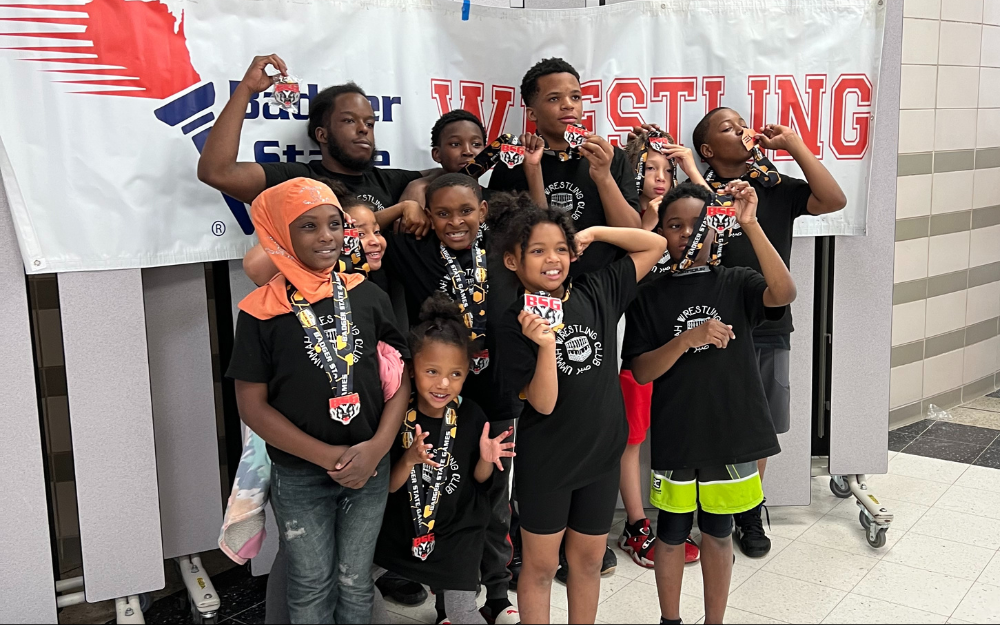 In June this year, Ummah Wrestling Club competed at the Badger Summer Games in Wisconsin.
According to its mission statement, "Club members will learn realistic basic wrestling techniques, tactics and strategies. Wrestling competitors will have the opportunity to compete at tournaments, learn a range of basic to high-level wrestling techniques, and can learn three styles of wrestling (folkstyle, freestyle, and Greco)."
The Wrestling Club includes boys and girls ages 6 to 17 from across the Milwaukee area. "We have Middle Eastern, Black and Hispanic ethnicities on our team," Ali said. "The team is really a joy to coach. They come to practice, they love it, they grow, and they teach it to others."
The club meets 5-6 p.m. Wednesdays through -Fridays and 3-5 p.m. Saturdays and Sundays all year-round. Tournaments are typically on Sundays.
"Not only do I coach them in wrestling, but we also have after practice discussions about life skills," Ali continued. "I would also meet with wrestlers individually weekly and talk about personal development and manhood. I mostly try to instill respect, confidence, self-discipline and teamwork. I try to keep practices fun with playing games doing certain drills that keeps all body parts active and challenges them—gets them motivated." 
I started volunteering when we opened in 2018 as a wrestling coach and became full time in 2021. Ali has other roles at the Ma'ruf Youth Center. He is the manager overseeing the day to day operations and programming at the center.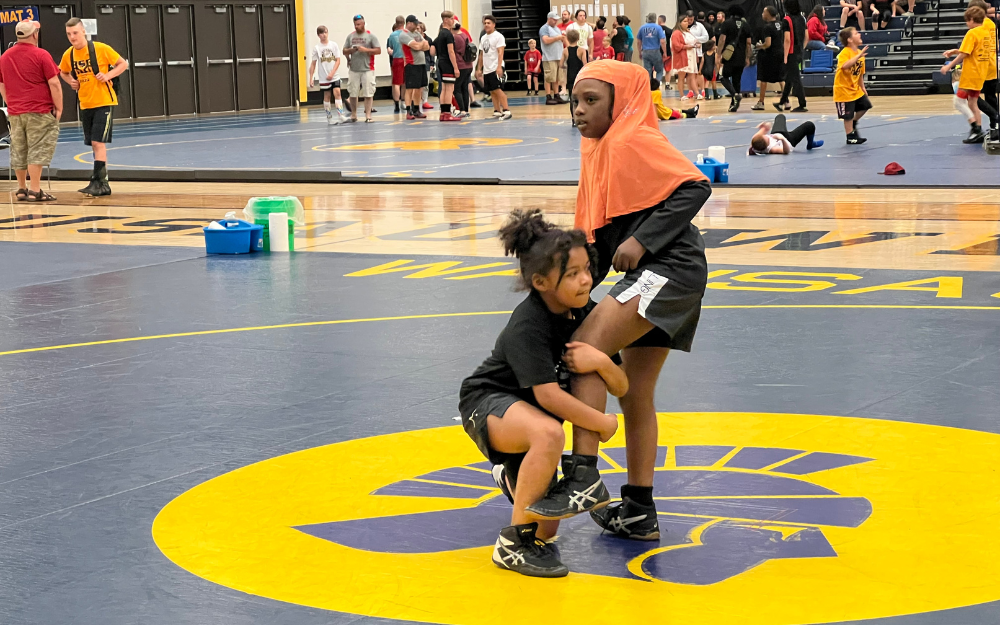 "I am actually the team manager. Coach O'Bryan Mungon has been the head coach, taking the position since January 2022. And Coach Jay Stewart is the head strengthening and conditioning coach. O'Bryan is a state champ from Pulaski High School. Coach Stewart was a state placer from Pewaukee High School. Coach Trueman McGee is a parent coach who does well with team promotion."
What about Islam and wrestling? "In Islam, wrestling is viewed as Sunnah, which is the practice of the lifestyle of the Prophet Muhammad," Ali answered. "In the book of the Hadith (documents based on the Prophet Muhammad's life) it states: Abu Daawood (4078) narrated that Rukaanah wrestled with the Prophet (blessings and peace of Allah be upon him) and the Prophet (blessings and peace of Allah be upon him) threw him to the ground."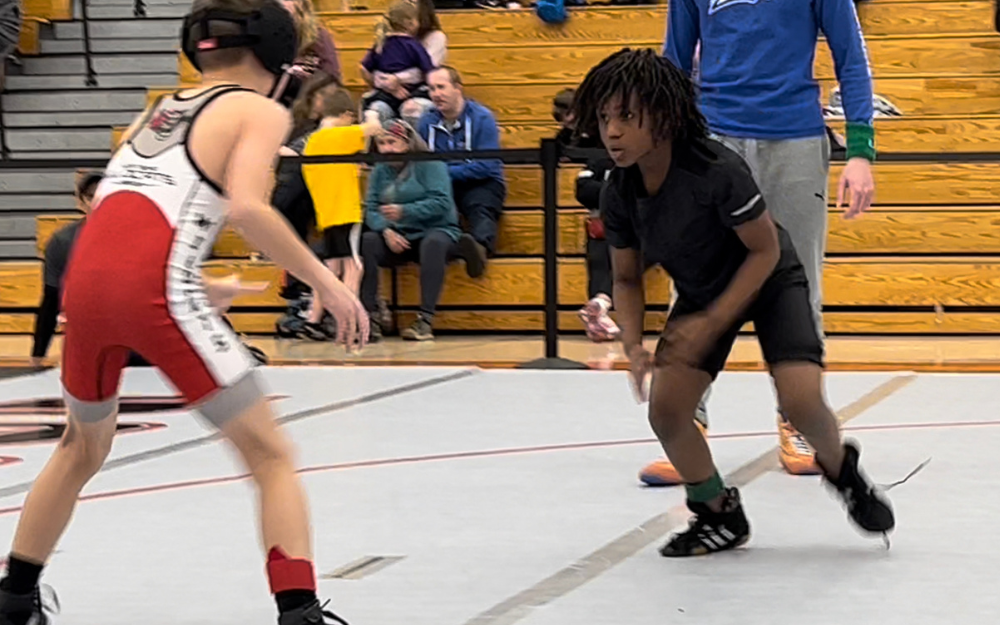 It follows then that there is a spiritual dimension to Ali's work as coach of the Ummah Club. "Yes, peace, patience, and understanding of the creations," he said. "Some of the best ways to deal with things you can't control is to develop peace, patience, and understanding. It helps you deal with difficulty with some ease. When there is no way out, turn to the Creator. 
"Although we do not require participants to participate in any religious activities, we define spirituality as unforeseen things that are out of our control and how we seek refuge to cope or overcome it. For us Islam is a way of life rather than just a set of beliefs."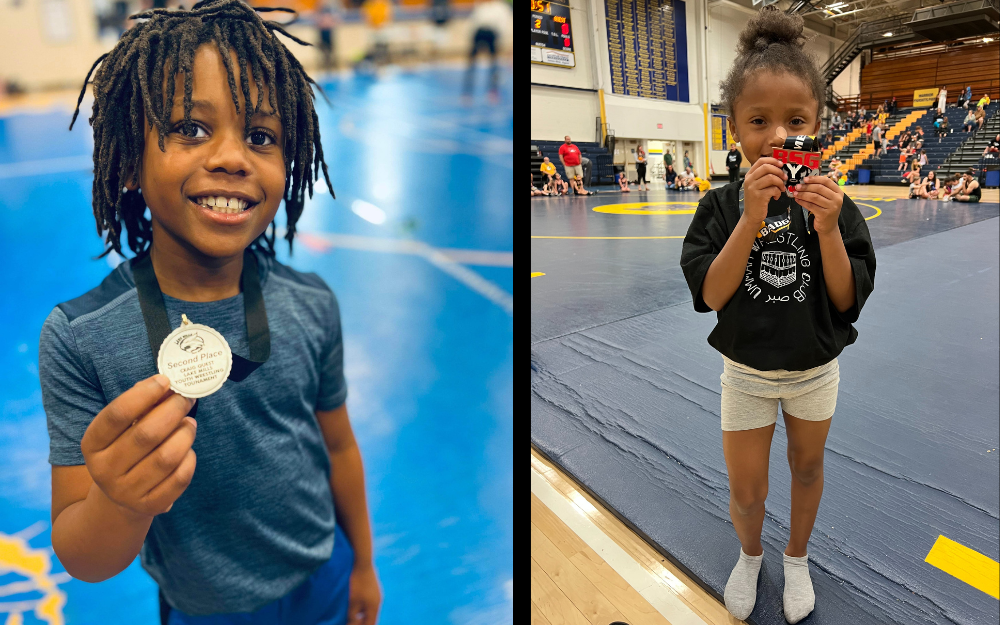 After dominating the tournament, ten year old Kareem F. (left) took home the 2nd place title. Six year old Rhyan M. (right) won 2nd place in the girls division.
Among its many benefits, the Club is a way of building identity and solidarity. "When you learn how to protect yourself, it begins to speak for you—when you learn teamwork you build a community," Ali explained. "You become known to protect yourself and family—and you become known to do more than the average or more than expected. We would like for respect, discipline, teamwork, and confidence to be a reflection of our club's team."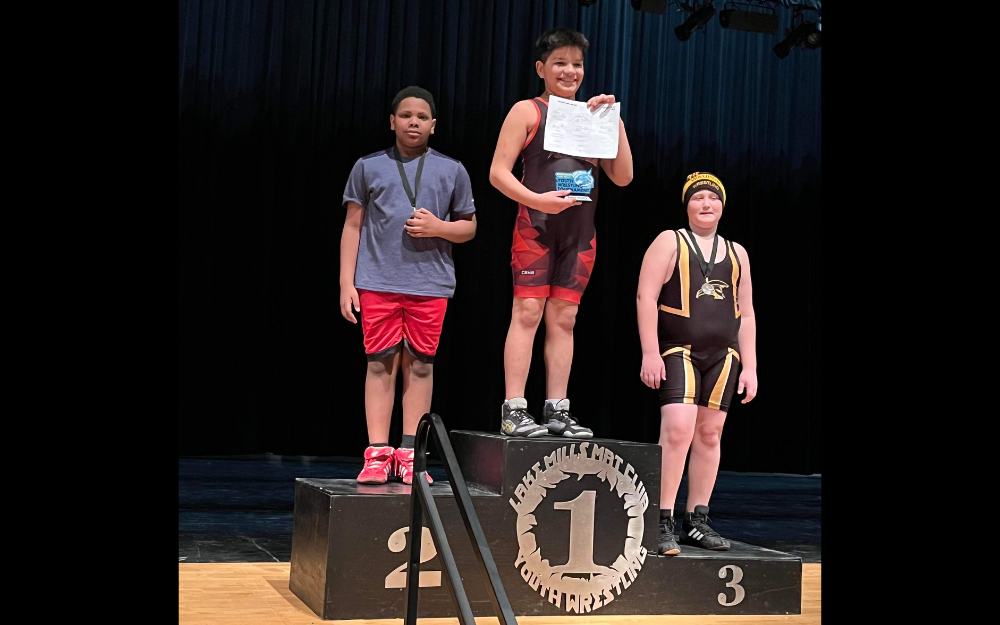 At the Badger State Summer Games, Kofi's team took 1st, 2nd and 3rd place.