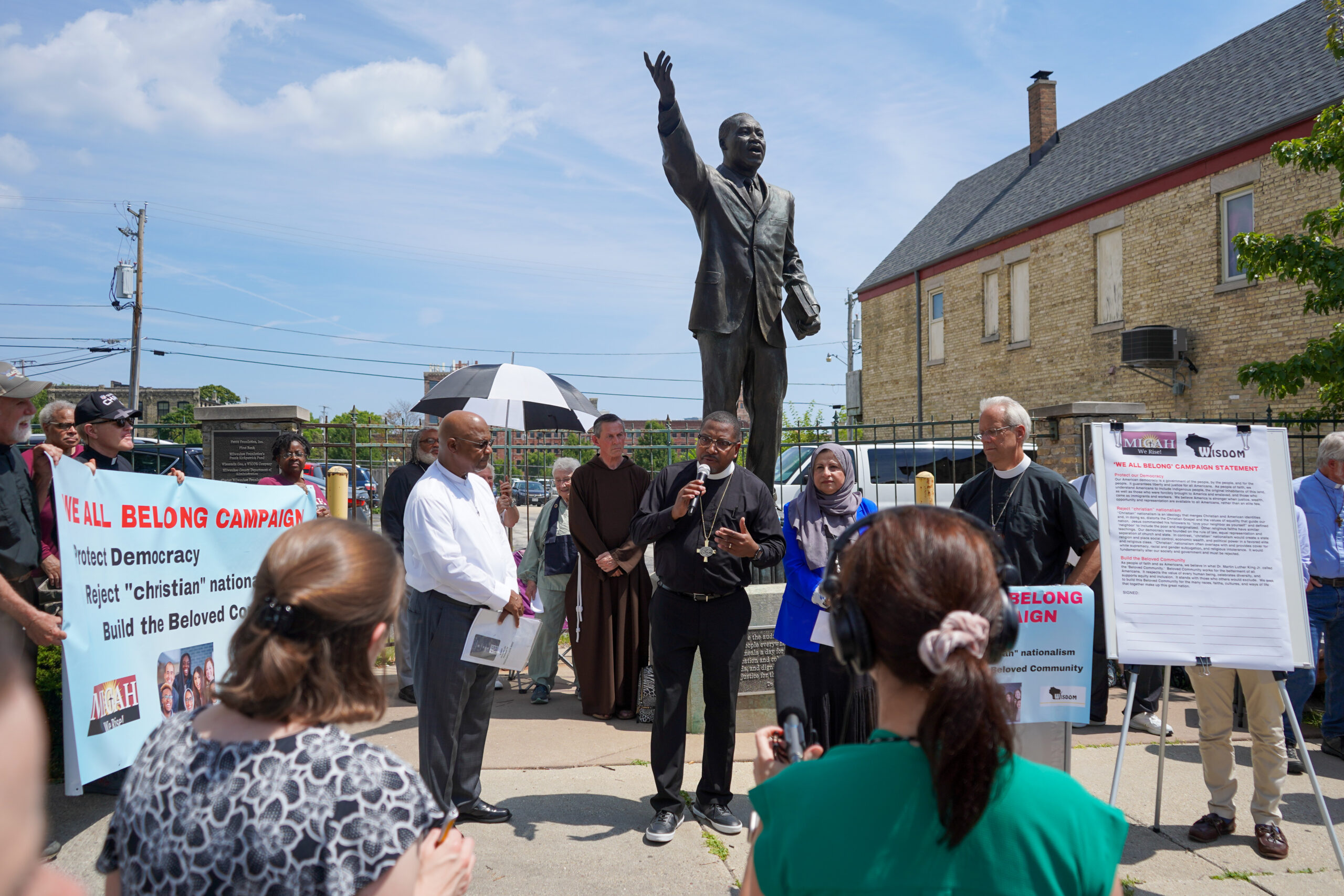 Photos by Kamal Shkoukani
A hundred Milwaukee faith leaders united to launch the "We All Belong" campaign, condemning Christian nationalism and declaring their commitment for the next two years.
On Thursday, Aug 3, Milwaukee religious leaders from various Christian denominations, as well as Jewish, Muslim and Buddhist faith traditions, launched the We All Belong campaign, declaring Christian nationalism a threat to democracy.
The day began with a press conference at the Dr. Martin Luther King Jr. statue at 1740 N. Dr. Martin Luther King Dr. followed by a march to Mt. Zion Baptist Church. One hundred diverse religious leaders were present to address media organizations and sign their names to the We All Belong campaign statement.  
MICAH's (Milwaukee Inner City Congregations Allied for Hope) religious leaders initiated the campaign in response to the rising tide of religious intolerance and racial bigotry. This event is the first of a series of public events and actions that will take place during the next two years. 
In an official statement, MICAH leaders outlined the three objectives: protect our democracy, reject Christian nationalism and build the beloved community. The statement condemns Christian nationalism as "… an ideology that merges Christian and American identities and, in doing so, distorts the Christian Gospel and the values of equality that have guided our nation." 
The Rev. Dr. Richard D. Shaw, president of MICAH and pastor of St. Matthew C.M.E. Church, stated, "So-called Christian nationalism is a serious threat to our multicultural democracy and a dangerous distortion of the Gospel of Jesus." 
Janan Najeeb, chair of MICAH's Religious Leaders Caucus and president of Milwaukee Muslim Women's Coalition responded, "We cannot allow Christian nationalism to succeed in its efforts to privilege extremist versions of Christianity above other faiths in clear violation of the separation of church and state. We want democracy not theocracy."