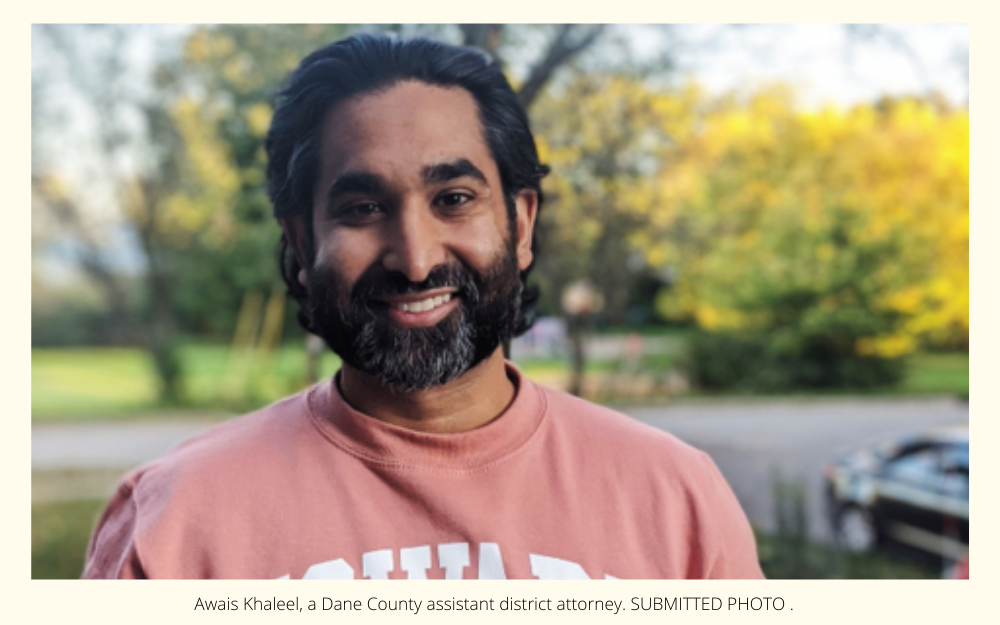 When Dane County Assistant District Attorney Awais Khaleel officially joins the Wisconsin Ethics Commission next week, he's not planning to leave his prosecutorial background at the door.
Rather, the 36-year-old Madison resident said in a recent interview he's looking to rely on his five years of experience in that realm to help him make decisions that are "nonpartisan, non-political and based on evidence."
"I will approach every issue, every complaint we get, with the eye of a prosecutor, someone who wants to look at all of the evidence and make a decision that is for the good of the people, good of the state of Wisconsin," he said.
Appointed to the six-member commission Monday by Democratic Assembly Minority Leader Gordon Hintz, Khaleel is poised to replace chair David Halbrooks, whose term expires May 1. Two other appointees' terms are ending at the same time, but officials haven't yet publicly announced who will step into those roles.
Tasked with overseeing and administering the state's campaign finance, lobbying and ethics laws, the commission was created by Republican lawmakers and former Gov. Scott Walker to replace the defunct Government Accountability Board.
Hintz, D-Oshkosh, praised Khaleel's "years of experience working to engage Wisconsinites in civic life and government."
"I am confident the people of Wisconsin will be served well by his dedication to the public good, his insight and perspective, and his commitment to strengthening our democracy," he added.
With his appointment, Khaleel believes he'd be the first Muslim commissioner of the current body or its previous iteration, the GAB. Currently, he believes he's the only Muslim prosecutor in Wisconsin.
"I've never really thought about serving on the Ethics Commission," he said. "It wasn't necessarily something that I thought was inaccessible to me, but it just also wasn't something that I thought was accessible, it wasn't something that I was like, 'hey, I know how to get there.'
"I am hopeful that having someone like myself on the Ethics Commission will make the Ethics Commission, the Elections Commission, other major state by-appointment bodies or elected bodies seem more accessible to more people, especially people from historically underrepresented communities."
Over the course of his four-year term on the commission, Khaleel said he wants to do his part to uphold the state's democratic system, in part by holding individuals accountable, "regardless of who you are, what you do."
A self-described "progressive prosecutor," Khaleel said "the vast majority" of his cases center around hate crimes, child neglect, sexual assault and felony domestic violence.
But in all the cases that come before him, he said he tries "to find solutions to problems," looking for alternatives to incarceration "wherever possible." Noting that "a significant chunk of the cases" involve some elements of alcohol or drug dependence or abuse, as well as mental health issues, Khaleel said he looks at "ways to intervene with those individuals, regardless of what they're experiencing," such as counseling and therapy.
"What I see is: what can we do as a system to ensure we have fewer victims in the future, fewer crimes in the future?" he said. "And very rarely is the answer to that question lengthy incarceration."
Prior to becoming an assistant district attorney in 2016, Khaleel worked as a civil rights attorney. He's also worked in Democratic politics, including becoming the first Muslim-American student to chair the College Democrats of Wisconsin while pursuing an undergraduate degree at UW-Madison. He was recently appointed to the Department of Corrections' Council on Offender Reentry by Gov. Tony Evers.